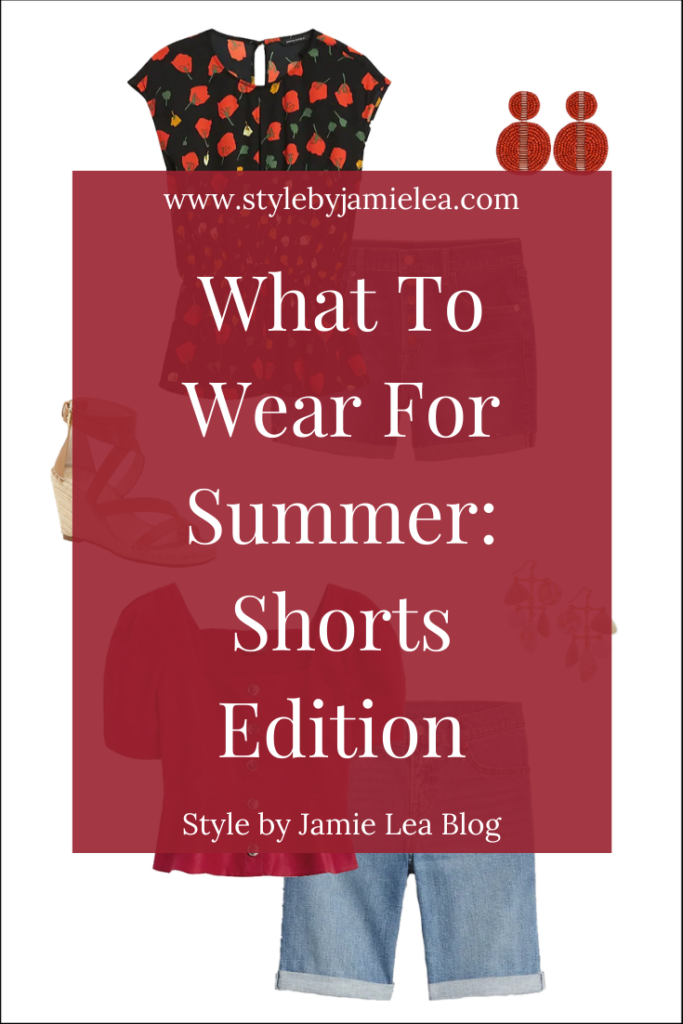 Do you wear shorts in the summertime?  I actually have a lot of women tell me they don't wear shorts. I know, from experience, as we age our legs don't always look like we would like them to. There were a few years that I did not wear shorts because of spider veins until I finally decided to get rid of them with injections. It was so worth it! I still have some but not as much as I use to. I also use a self tanner on my legs to give them a little color but also to cover some of those small veins. With the heat as bad as it is here in the south I honestly don't know what I would do without shorts.
If you are not a fan of shorts I hope you will still consider my styling advice or even give them a try this season!  If not, you can replace the shorts with cropped or ankle pants.  If you can find them, I would recommend wearing fabrics in these styles that are better temperature regulators like cotton, linen and viscose.  Other great options are midi or maxi skirts.
The Bermuda Short
I thought I would start with the longest shorts available on the market, the bermuda short. They are usually 8 to 10 inches or longer in the inseam.  I feel like these are on trend but I do not see a lot of people wearing them.  These are a great option if you want to be comfortable and don't want to show a lot of skin.
If you are over 40 or 50 and are not confident in wearing shorts, this is the perfect option for you because it covers almost the entire top portion of the leg. I also feel they are more appropriate for certain activities or events than shorter shorts.
The outfits below are styled with a top that is not a t-shirt or a dressy blouse. Just a good every day top that you probably already have in your closet. I feel these type of shorts look best this way but you could also pair a striped or graphic tee with them if you want a little more of a casual look.

The Paperbag Waist Shorts
The Paperbag Waist shorts are a new trend that is becoming more and more popular.  If you love higher waists, tie waists and wearing your shirt tucked in these are the perfect option.  They create a cute and casual put together look.  They can also be a little more dressed up or can be completely casual.
The paperbag waist was named this because it mimics when you cinch a paper bag closed with your hand and have excess bag sticking out above your hand.  The waist is actually cinched with a belt or tie and has excess material that sticks up at the top. This is why a top looks better tucked in.
These outfits below are great for daily casual wear in the summertime. Most of the paperbag waisted shorts I found are all a little shorter. I was not able to find ones that were longer like a bermuda.  If you like the idea of the paperbag waist and don't wear shorts than there are plenty of options for ankle or cropped pants out there. I will link some below for you as well.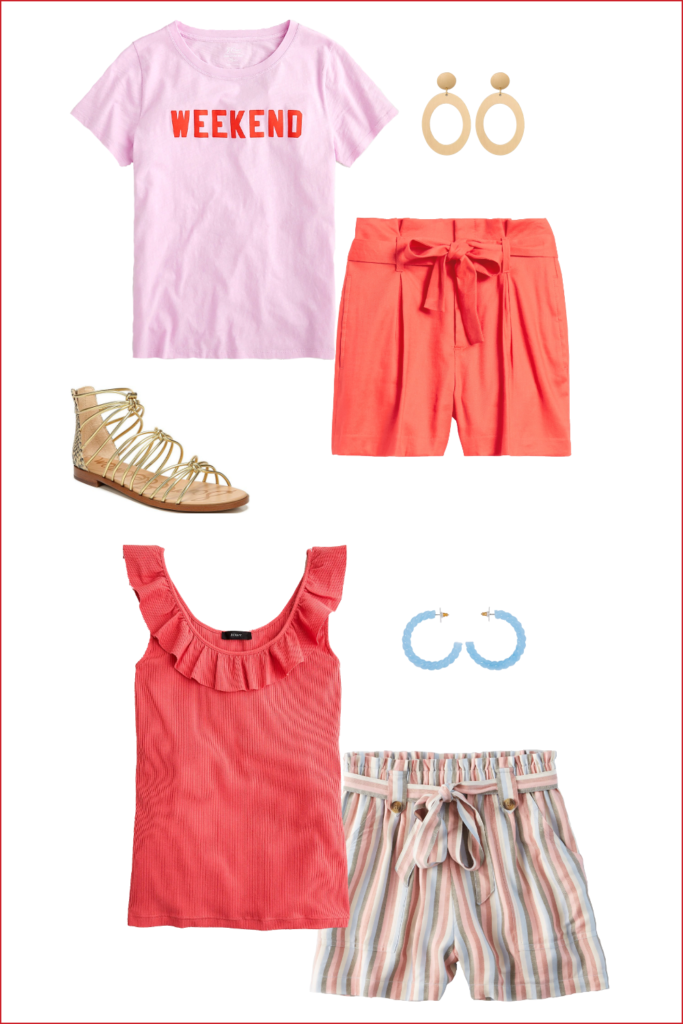 Denim Cut-Off Shorts
Denim cut-off shorts are actually my favorite kind of shorts.  I wear my denim shorts just about daily.  They are comfortable to me and make me feel more stylish than staying in my pj pants or joggers while at home.
I think putting t-shirts and sweatshirts with these are a no brainer for most of us so I styled them below with a couple of pretty tops. I wanted to show you they can be styled a little dressier and cute for when you want to go out for the evening or have a fun lunch with friends.

Pull-On Shorts
Pull-On shorts are the easiest shorts in the world to wear.  They come in all different lengths, fabrics, colors and prints. Most of the pull-on shorts have a tie waist or an elastic waist. I am also a huge fan of these.
They are so cute paired with t-shirts and sweatshirts for a casual and comfy look. Add a cute pair of casual slides or some fashion sneakers to stay with the casual look and be comfy all day for whatever you do!
You will see that I added some cute earrings with the outfits below.  A casual pair of earrings like these Nickel and Suede leather ones elevate the style of your comfy outfits and make everything look a little more thought out.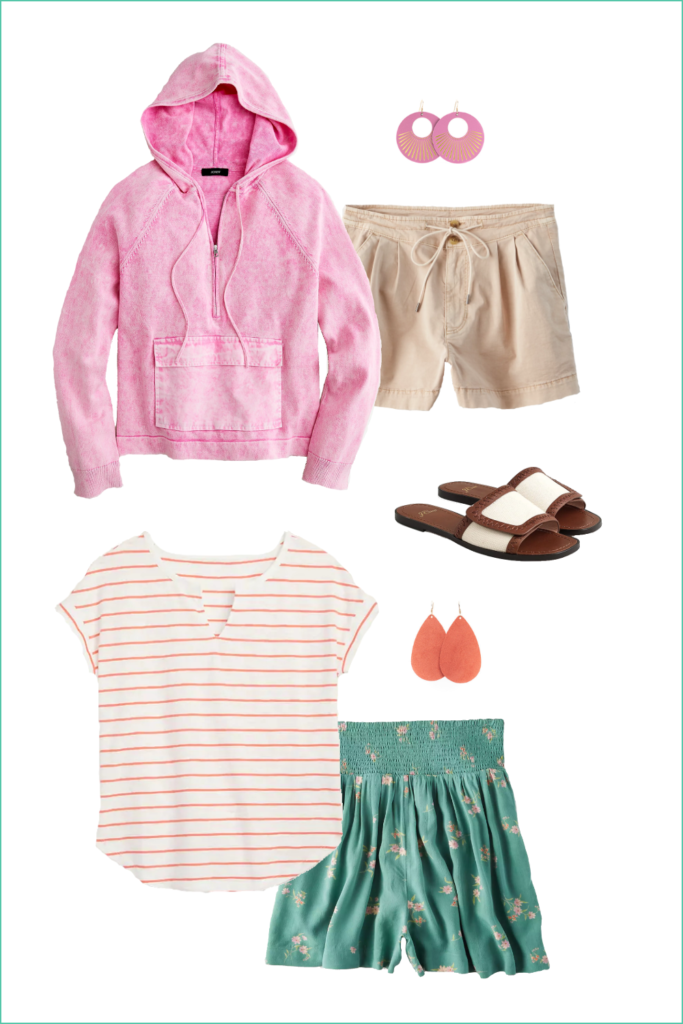 I hope these outfits help you put together some cute looks with simple shorts this season.  There is such an abundance of styles available these days that you should be able to find something you like and feel great in. Let me know in the comments below if this inspired you!
Stylishly Yours,