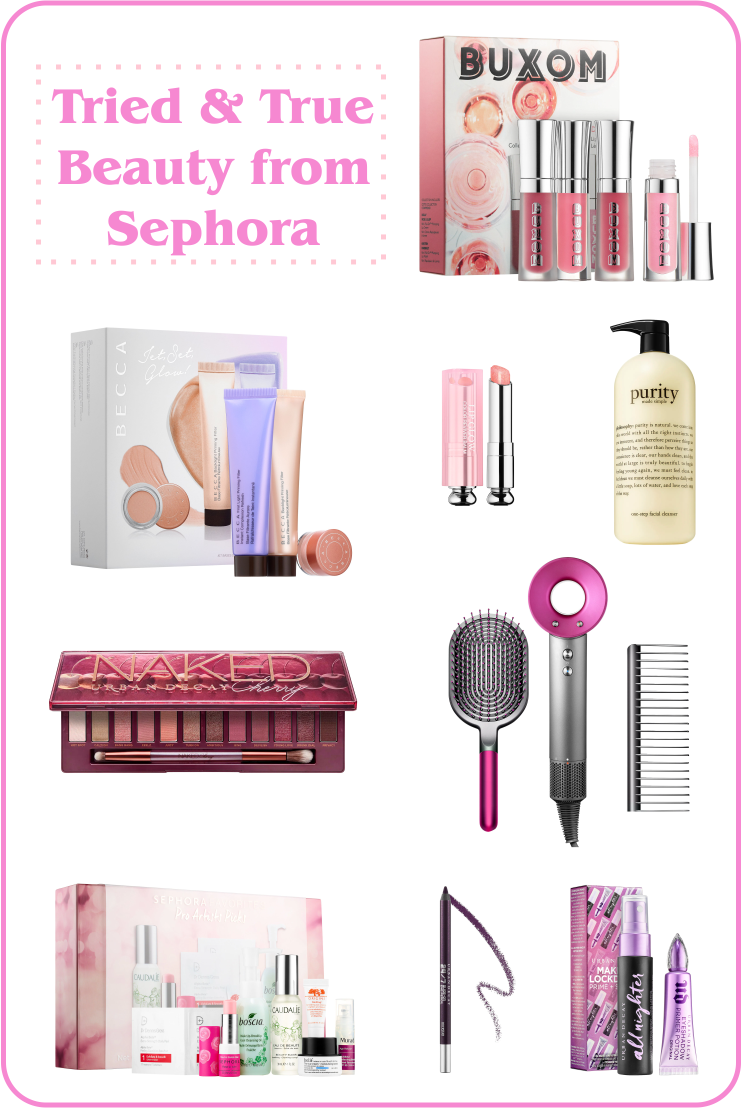 Hey ladies! It is that time of year again! This is one of the two times a year that Sephora offers a special discount for all of the Beauty Insiders.  They are calling this event the Sephora Spring bonus. If you are not a Beauty Insider it is completely free to sign up and it gives you all kinds of good rewards. If you purchase skincare, makeup, makeup tools or hair care you should definitely sign up.  You will automatically receive a 10% discount until May 6 for this event.
The Sephora Insider program has three tiers: INSIDER, VIB and ROUGE. If you are just now signing up you will start out as a Beauty INSIDER for this Beauty Event going on now.  These are the tiers:
INSIDER: New member until you spend $350.
VIB: Upgraded to this status after you spend $350 per year.
ROUGE: Spends $1,000 per year and will get 20% off.
The discounts are the following for each tier during the Sephora Spring Bonus with all tier access being from May 2–6:
Rouge members get 20% off purchases in store and online with code HEYROUGE
VIB members get 15% off purchase in store and online with code HEYVIB
Insiders get 10% off with code HEYINSIDER
I wanted to give you my top picks for things that I personally purchase from Sephora.  They are tried and true products that I have used for a long time. Then I want to tell you about their amazing value set deals that would be great for a nice Mother's Day gift that will not break the bank.
My Picks
I will not go into too much detail about all the products but want to tell you about a few that I use every single day! I have used them for years now and have never found anything better.
Purity Cleanser: This is the best cleanser on the planet to melt away makeup and is gentle on the skin.  I want to use ONE cleanser to take off ALL of my makeup including my eye makeup.  The less products I have to purchase the better.  I have tried other products for removing makeup and always go back to this one.  It is the perfect multitasker and does not bother my eyes one bit.  I also love that my husband will use it as well to wash his face. If you want to use a treatment cleanser after this I would highly recommend it.  I like to remove the makeup with the first cleanse and then use a treatment cleanser if I have one on hand.
Urban Decay Eyeliner: I have used these eyeliners in all different colors for about 5 or more years now.  I have tried others and I always go back to these. They glide on so smoothly and stay on all day.  The colors are very unique and highly pigmented.  I am addicted to Black Market and Rockstar as my daily eyeliners but will also use some other fun colors when I'm in the mood.

Mother's Day Picks 
The value sets at Sephora are phenomenal.  I love seeing what they bring out each season.  They are especially good when Christmas rolls around, which is also the second round of Sephora Bonus time. You will see lots of value sets here but also some palettes and things I love that would make a great gift.

I hope you will take advantage of this great discount because they do not happen very often. Signing up for the Beauty Insider rewards program is free and has lots of great benefits. I do not get any commissions off of you signing up! I do make a commission off of any purchase you make with my links! Let me know if you have any questions or comments below!
Thanks for reading!