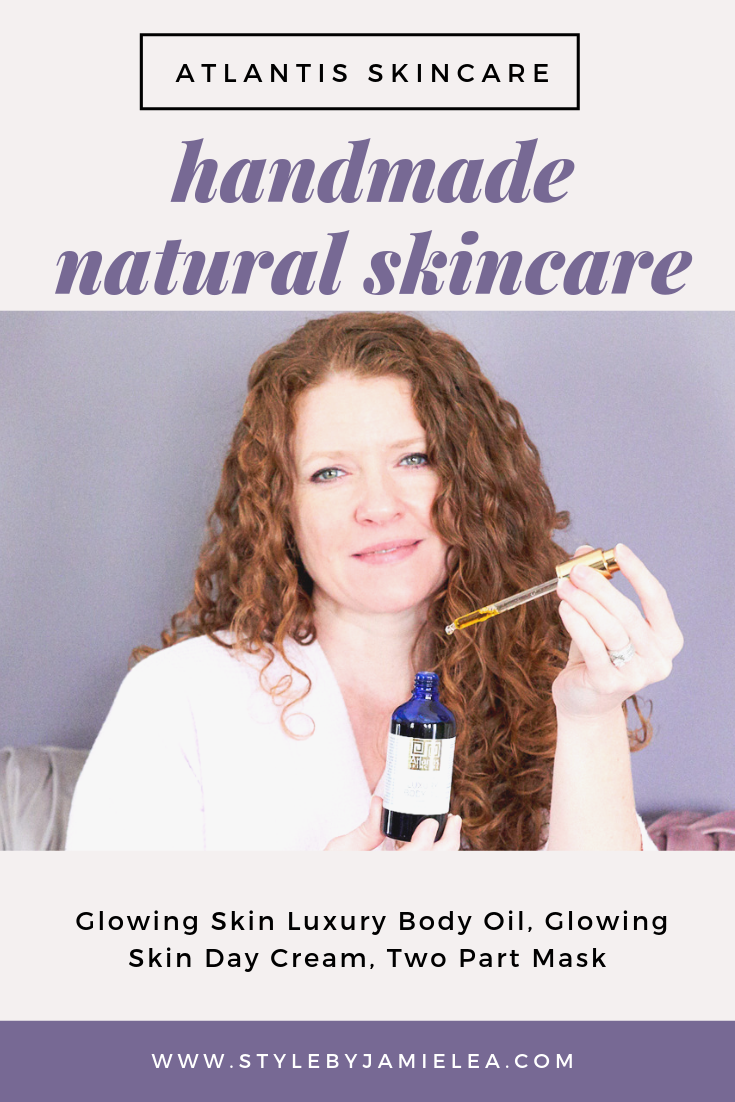 Hey ladies! Get ready to learn about an awesome skincare line that is HANDMADE to order and 100% natural!!!  It is called Atlantis Skincare and I am going to tell you a little bit about the products and give you my review!  I have been using them for a couple of weeks to give you an honest opinion about them.
I encourage you to click the links in this post to read more about the company and the natural handmade products they provide. There is so much more information about them than I can provide you in this short post. I  was given these products and will not be paid on any links clicked or purchases made! All of these opinions are my own!
About Atlantis Skincare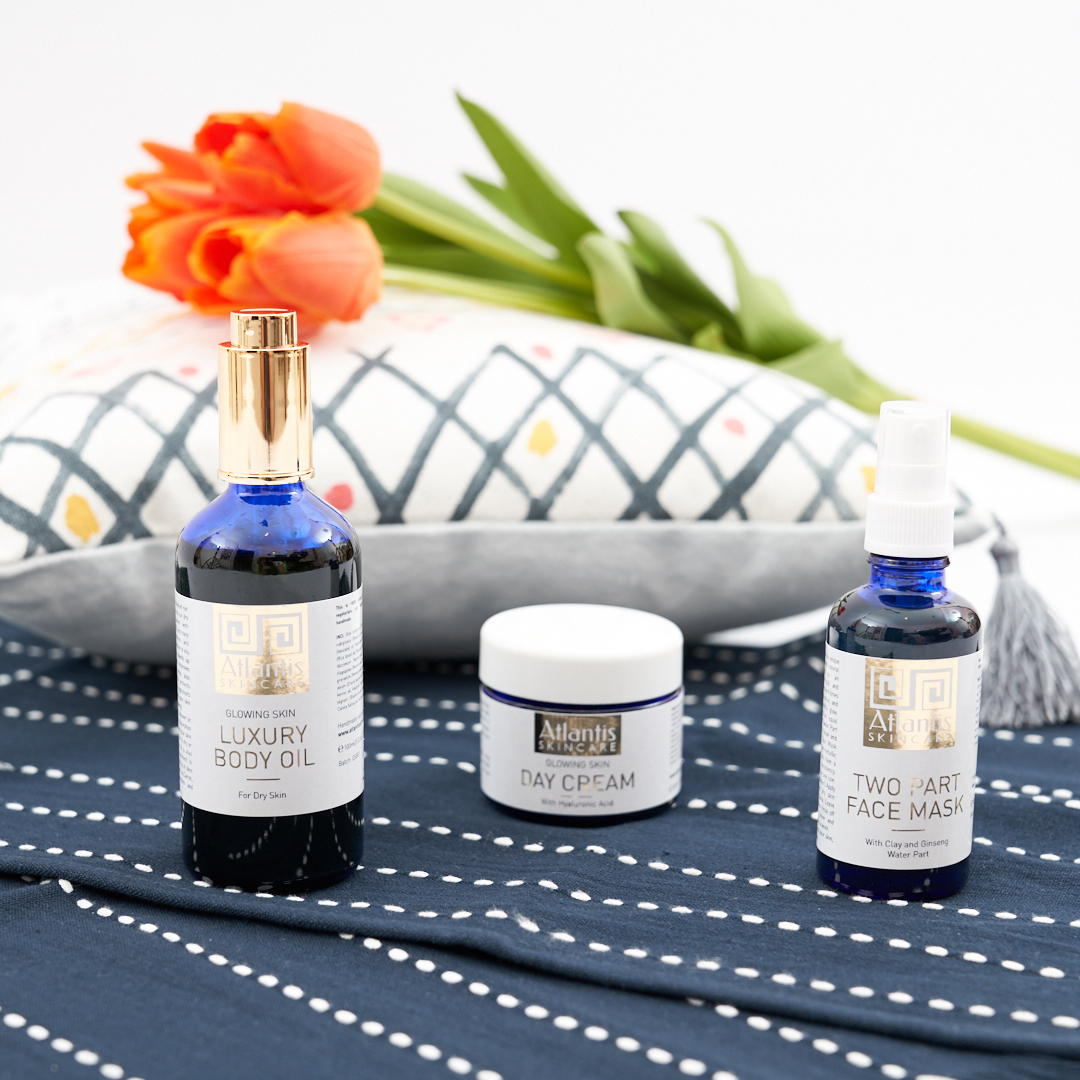 I feel like I would be doing you a major disservice if I did not tell you about this company.  I have reviewed several beauty brands for you guys and this one is by far the most unique and high quality.
Atlantis Skincare was founded by Zane Piese. She named the company Atlantis Skincare after being inspired by her visit to Santorini which is believed to be a part of the long lost Atlantis.
With her extensive background in cosmetology, Zane Piese created her own formulations for her products.  The products are made of very high quality natural and vegan ingredients. The ingredients are carefully composed in each product to work together to create even better results.  All of the products help aid in slowing the aging process.
One of the most impressive facts about Atlantis Skincare products is you will never find water as a main ingredient. They use Hydrosols, which is concentrated water that is produced after distilling fresh flowers, leaves, fruits and other plant materials.
In addition to hydrosols they use herbal extracts and tinctures, plant based oils and butters, essential oils, natural preservatives and emulsifiers.
Your order is HANDMADE when you order! It takes two to three business days to make them and then they ship.
Atlantis Skincare is a UK skincare brand and will ship to you from the UK!
Products and Review
I had the opportunity to try three of Atlantis Skincare products.  The Glowing Skin Luxury Body Oil, Glowing Skin Day Cream and Two Part Mask.
Glowing Skin Luxury Body Oil
The Glowing Skin Luxury Body Oil is used to moisturize and nourish dry skin.  It is loaded with vitamin A,B,D,E, amino acids, antioxidants, proteins and omega fatty acids.  These ingredients help speed up the regeneration of your skin cells and improves the natural barrier to your skin.
Apply right after a shower so your skin is moist.  This definitely makes it easier to apply.
It absorbs quickly and doesn't feel greasy.
A little goes a long way!
100% natural product.
My Thoughts: I LOVE this product so much!  The word "Luxury" is on point!  I feel completely luxurious when I put this on and when the scent of it hits me throughout the day! It has a subtle floral or herbal scent that is perfect. I am usually sensitive to scents and this one does not bother me or my husband, who is sensitive to almost all scents!  It moisturizes my skin all day and just feels completely amazing! I highly recommend this product and it was my top pick of the three I tried!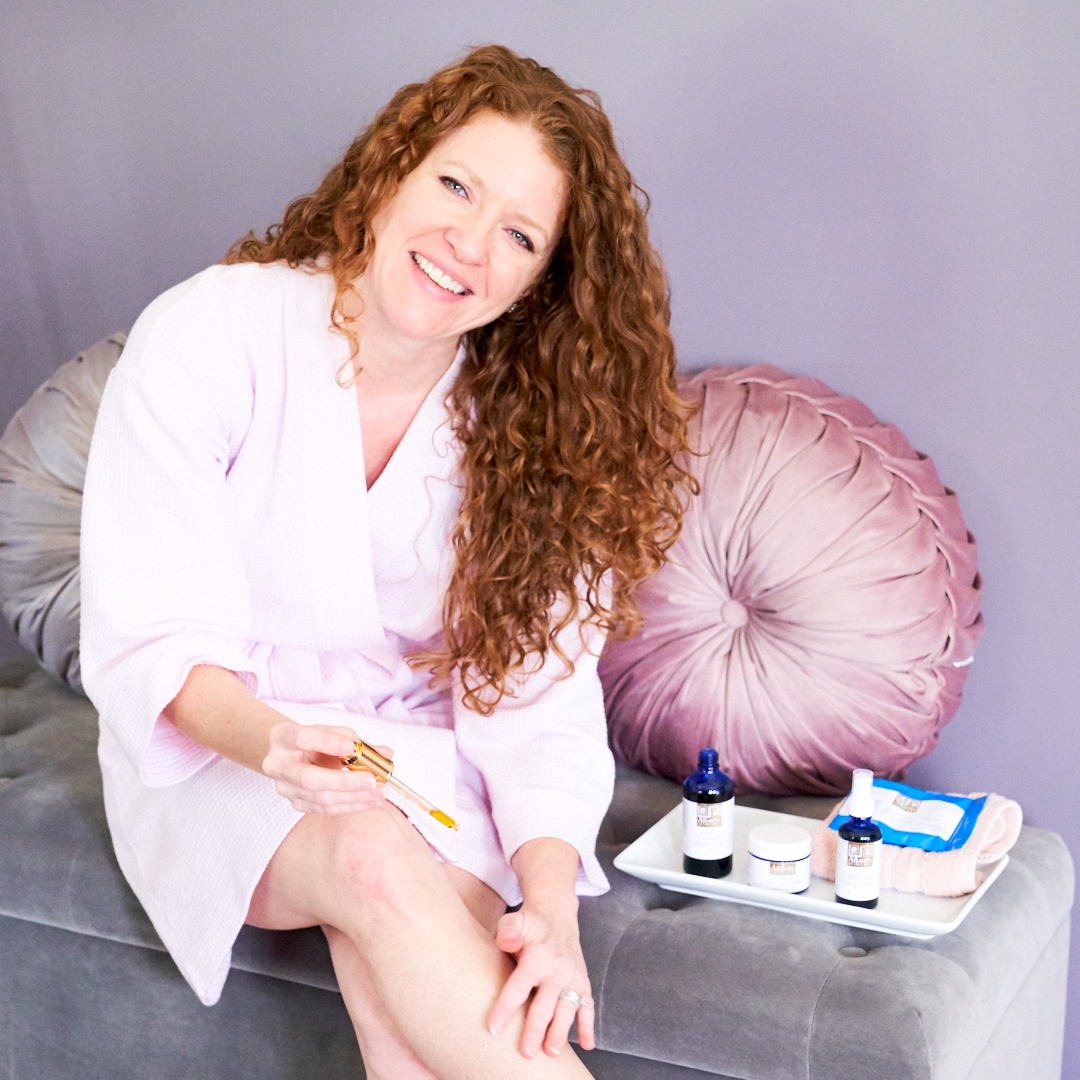 Glowing Skin Day Cream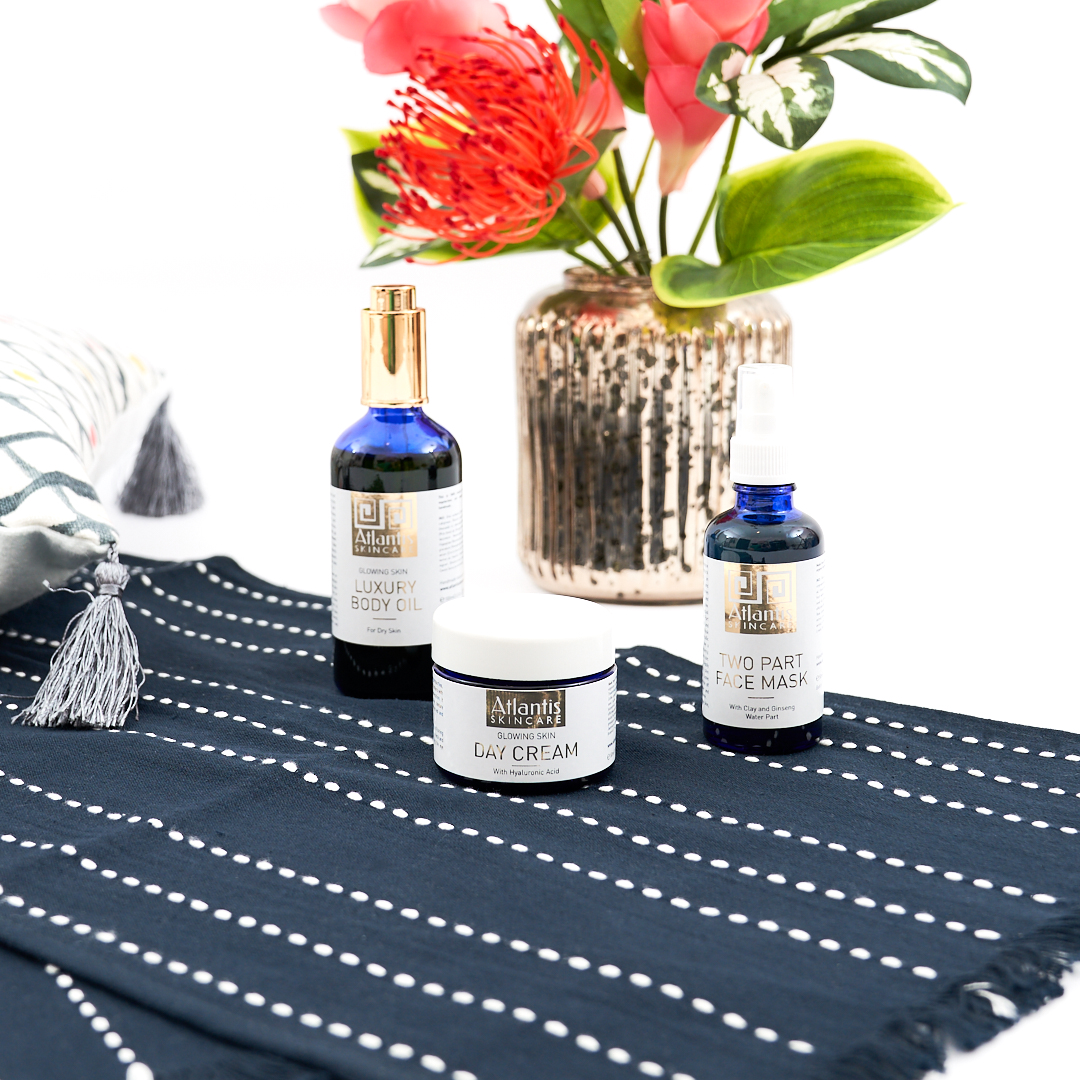 The Glowing Skin Day Cream is for all skin types. It has a silky texture that absorbs easily into the skin and gives your skin a healthy glow.
It contains Hyaluronic Acid and a list of natural seed oils and exotic butters.  These all provide various benefits to the skin to help it naturally regenerate and slow down skin aging.
The Day Cream contains Avocado Oil which provides natural sun protection.
100% natural product.
My Thoughts: This day cream goes on very smoothly and has a fresh clean herbal scent that does not linger after you have applied it.  I prefer unscented facial creams but this one is so light and does not linger so it did not bother me.  I really love this moisturizer for days that my skin is super dull and in need of some TLC.  It is fantastic at moisturizing and brightening the skin which is exactly what it says it will do! I also am a huge fan of any product that has avocado oil in it!
I will have to use this more long term before I can tell you for sure if it really does have anti-aging benefits.  I will say that it is pretty fantastic!
Two Part Face Mask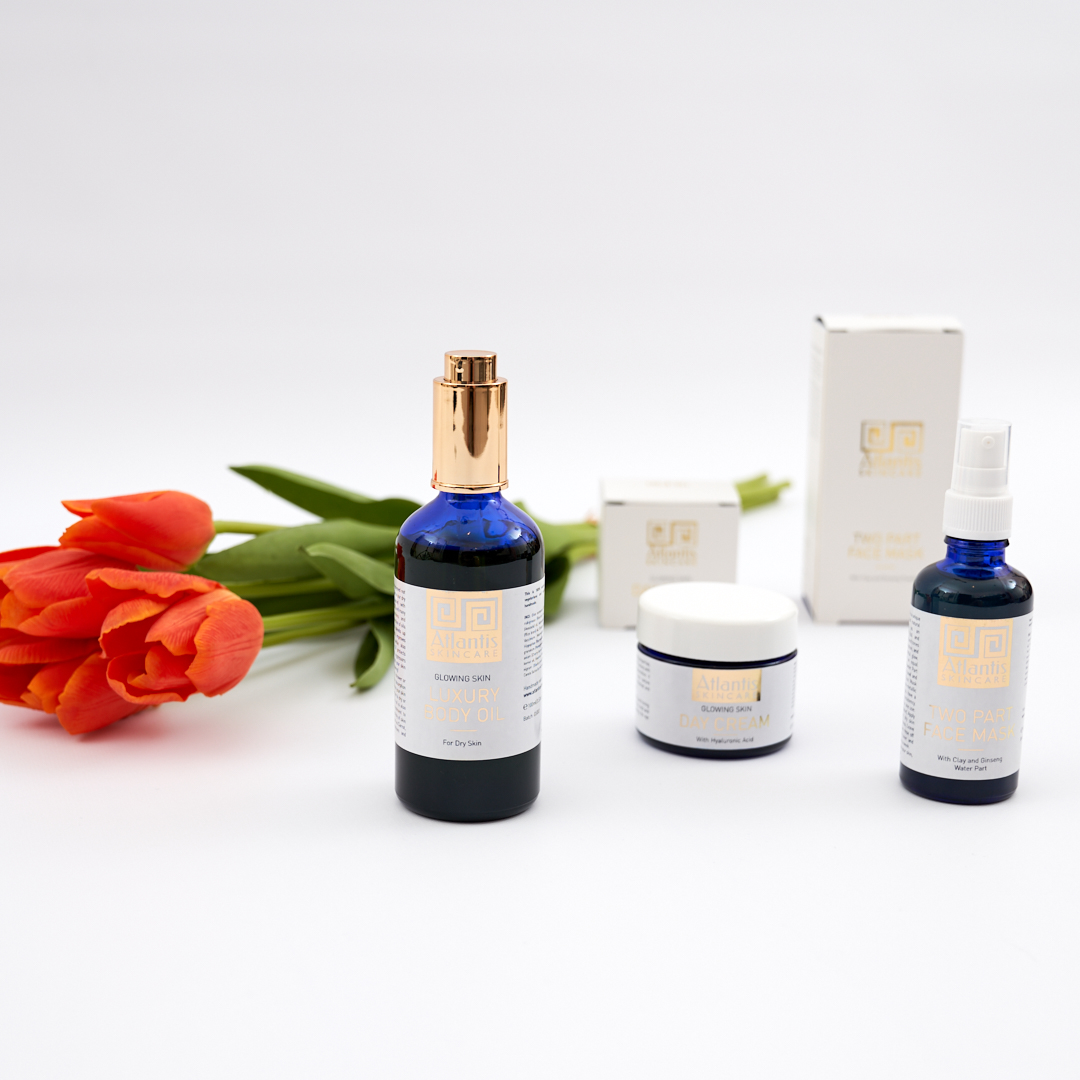 The Two Part Face Mask has two parts: The Powder Part and The Water Part. Both parts contain clay and ginseng.
This is an intensive treatment for tired, dull and sagging skin.
The clay removes impurities and dead skin cells to brighten the skin and the ginseng lifts and tightens the skin.
The water part is hydrosols from various leaves, flowers and fruits.
100% natural product.
My Thoughts: The Two Part Face Mask is the most interesting product I have ever tried!  I used the mask the morning after a very long tough weekend of barre training.  My skin was tired, dull and saggy!!! Just completely BLAH! I used it because it was also the morning of the day I was taking the photos for this post! I applied the Glowing Skin Day Cream right after the mask. I literally have no makeup but eye makeup on in theses photos!!!  I could not believe how awesome my skin looked after I used it! I also did not photoshop anything out of these photos.  Just brightened and color balanced them!
Just an FYI, if you are going to purchase this mask it is a little messy, so apply it over your sink.  It washes off fine but when you put it on it has the consistency of a paste so it will clump.  You may lose a few clumps like I did and it's much better if they land in the sink!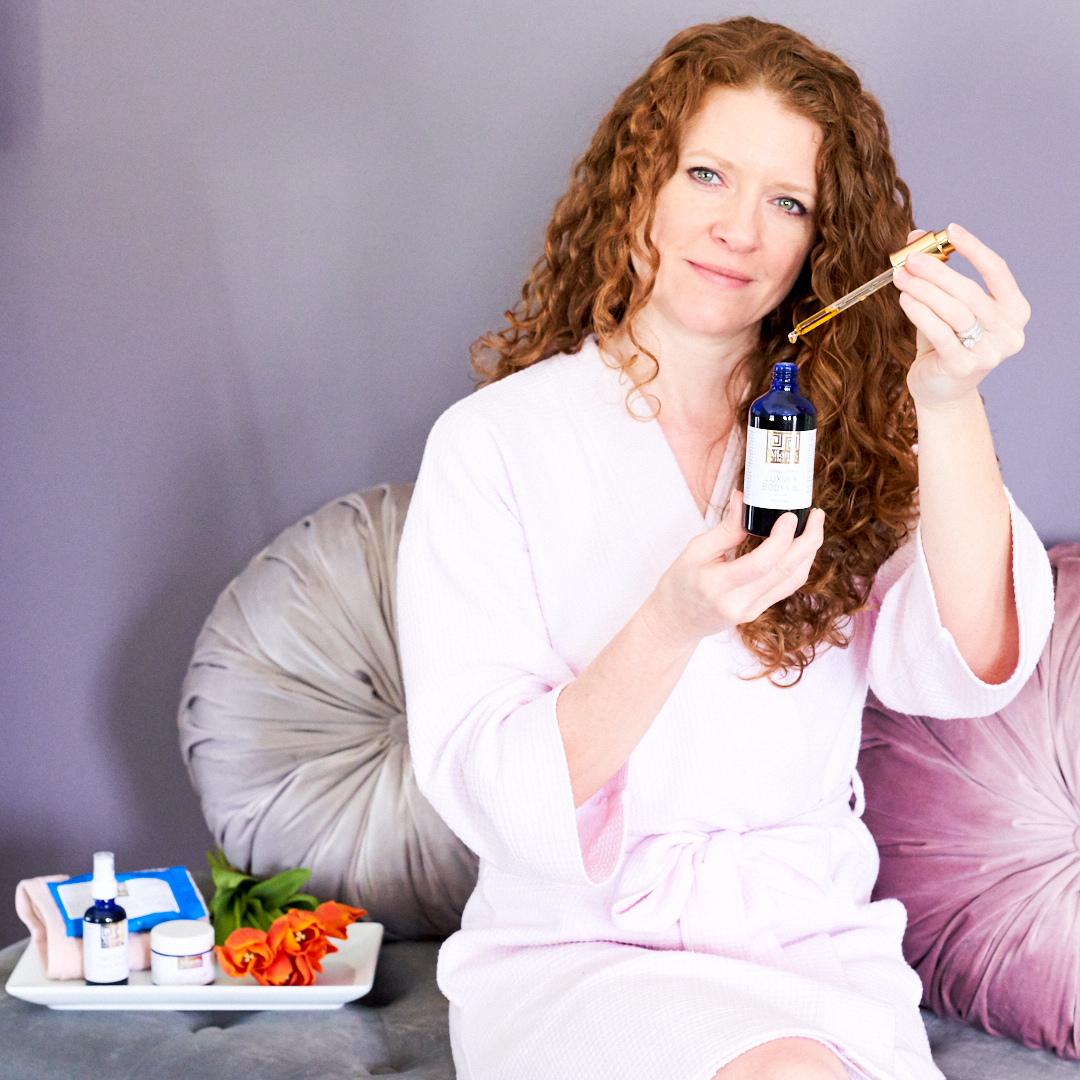 Atlantis Skincare is a one-of-a-kind skincare company.  I can honestly tell they are handmade and that a lot of care went into creating them. If you are looking for an all natural skincare line that is luxurious and smells amazing than Atlantis Skincare will not disappoint! It will actually make you want to take care of your skin every single day!  I highly recommend it!  Let me know in the comment below if you have any questions! I am happy to answer them!
Thanks for reading!