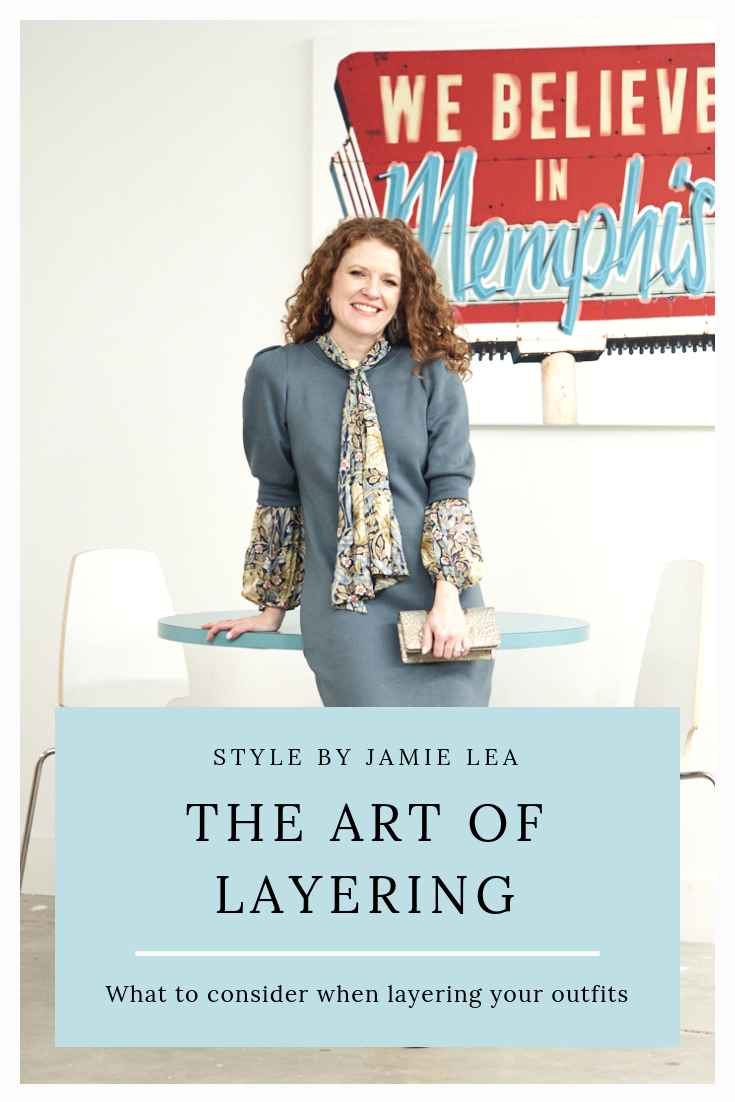 Hey ladies! I am so excited to bring you this article today!  In all my years of retail and personal shopping I have never put anything together like this before.  I envisioned the outfit in my head when I saw the pieces but never in a million years did I think it would look as good as it did! They were so good together that you couldn't even tell they were individual pieces. Hang tight through this article and you will learn how to recreate it!
In good old Style by Jamie Lea fashion I am going to show you the outfit I am referring to and a couple of outfits with the pieces separated!  My goal is to help you make the most out of the pieces you purchase, so I at least want them to work with 3 different outfits.
The Surprising Layered Look
Is it a dress or is it a top and a dress?! That is the question! At first glance you would think it is a dress. That is what I think is so great about this outfit. When something goes so well together you think it was meant to be and that is how it was sold.  This is not the case with this one. The funniest thing about this is that the people that did not read my caption on my Instagram post thought it was just a dress!! That just made me feel even better about the outfit, lol
This is actually not an easy task to complete. Really, even for someone like me that styles things on a daily basis.  To find the perfect pieces that fit together like this is honestly a little daunting. I am going to try to explain to you how you can accomplish this if you feel like tackling that task or you can just copy me and that works just fine! 🙂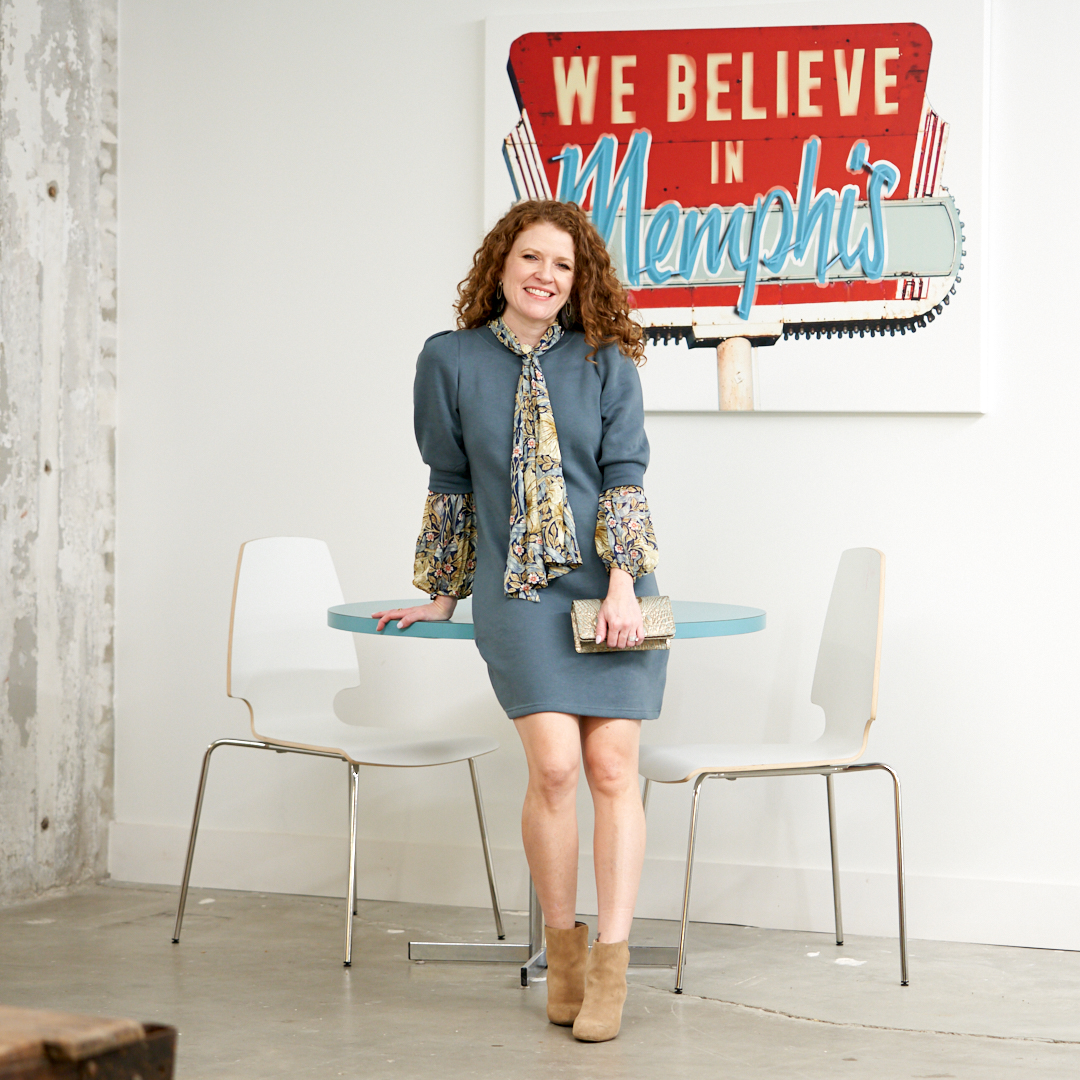 Consider the Necklines of Each piece
There are a few things I want to point out about this.  First, the dress is a crew neck and the blouse has a higher neck than the dress and a bow tie.  These are the key elements to making this work.  If the blouse did not have the bow tie and the dress was a v-neck it would not have made the same impact. It may have worked but not as well.
When looking for a blouse to layer under a dress make sure the neckline is one that compliments the dress. It needs to show and look like it was meant to be there.  Examples are a bow blouse like this, a stand up collar or mandarin collar that has ruffles or is plain, a straight collar like that of a menswear shirt, peter pan collars (rounded) or a turtleneck collar.  A fun one you could also add is a Jabot Collar which has a stand-up collar with a ruffle that hangs down the chest area.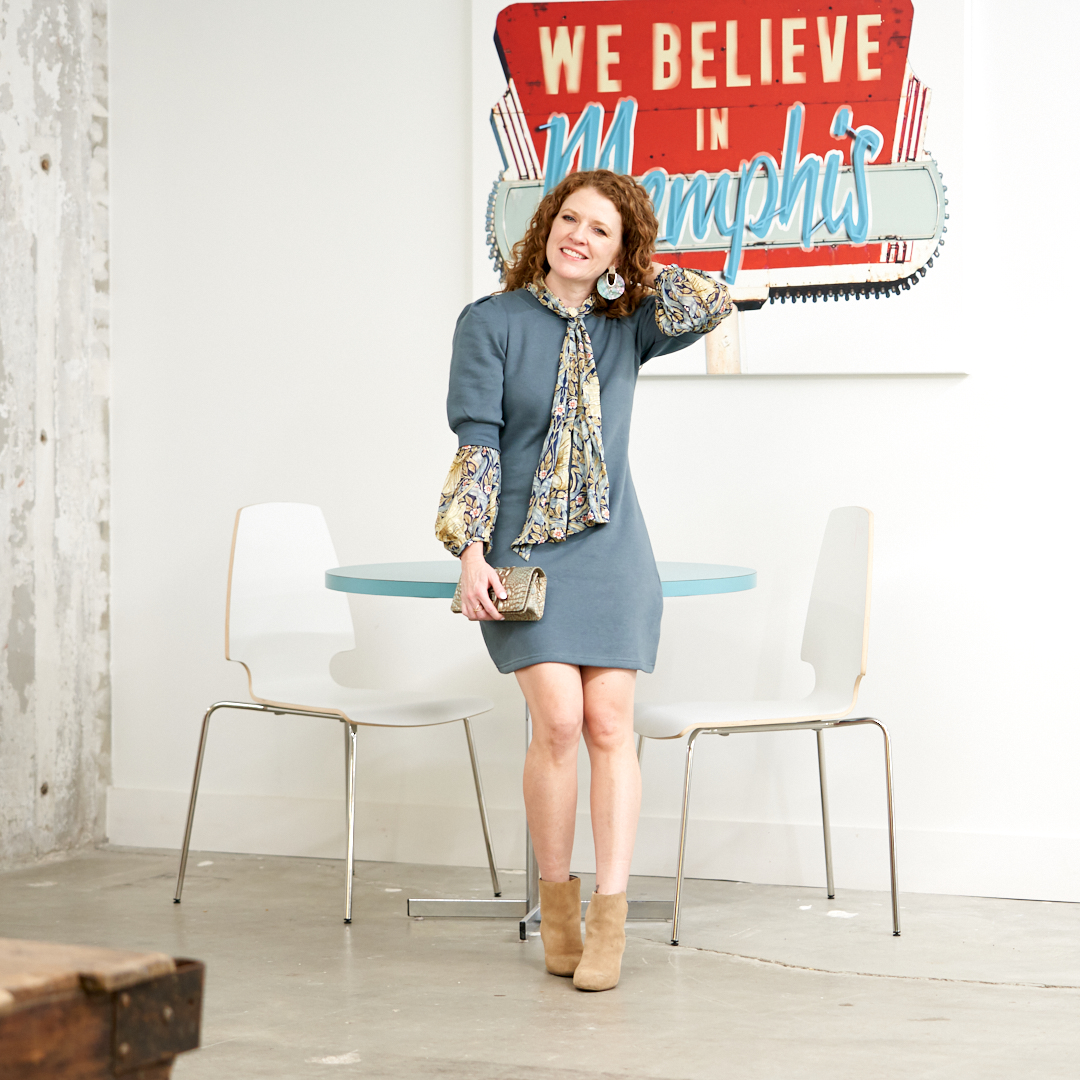 Consider the Sleeves of Each Piece
The second element to consider are the sleeves of both items.  Both the blouse and the dress have a puff sleeve. The dress is short sleeve and the blouse is long sleeve so it makes a bigger impact than if they both had long sleeves.  A common fashion trend these days is to mix fabrics which they call mixed media.  That means you have a fabric like polyester that is used in one part of the garment and something like rayon on another part.  This is exactly what I mimicked in this outfit and what gave me the idea.  They are making sweatshirts now that have the top of the sleeve sweatshirt material and the bottom half a polyester or chiffon flowy material.
The material of each piece is important because they need to compliment each other but also bring some contrast.  You also don't want to layer something made with super heavy material underneath a dress.  It would look too bulky and you would be miserably hot!
Have Confidence and Accessorize Well
I know something like this is really stepping out of our comfort zones. If you are going to do this make sure you do it with the utmost confidence in what you put together.  My motto is if you feel good in it you will look good in it. I immediately felt good in this so I just went with it!
To bring it all together I added the perfect statement earrings by Kendra Scott and the most gorgeous Harley Crossbody/Clutch handbag from Brahmin.  The colors of both went so well and brought everything together perfectly.
The one thing that I struggled with this outfit was the shoes! I felt like it was better with a neutral shoe that brought out the tones in the gold from the blouse so I chose a old pair of tan suede booties. Since this was a sweatshirt dress I did not feel like a pump or anything dressier would be as suitable as a pair of booties.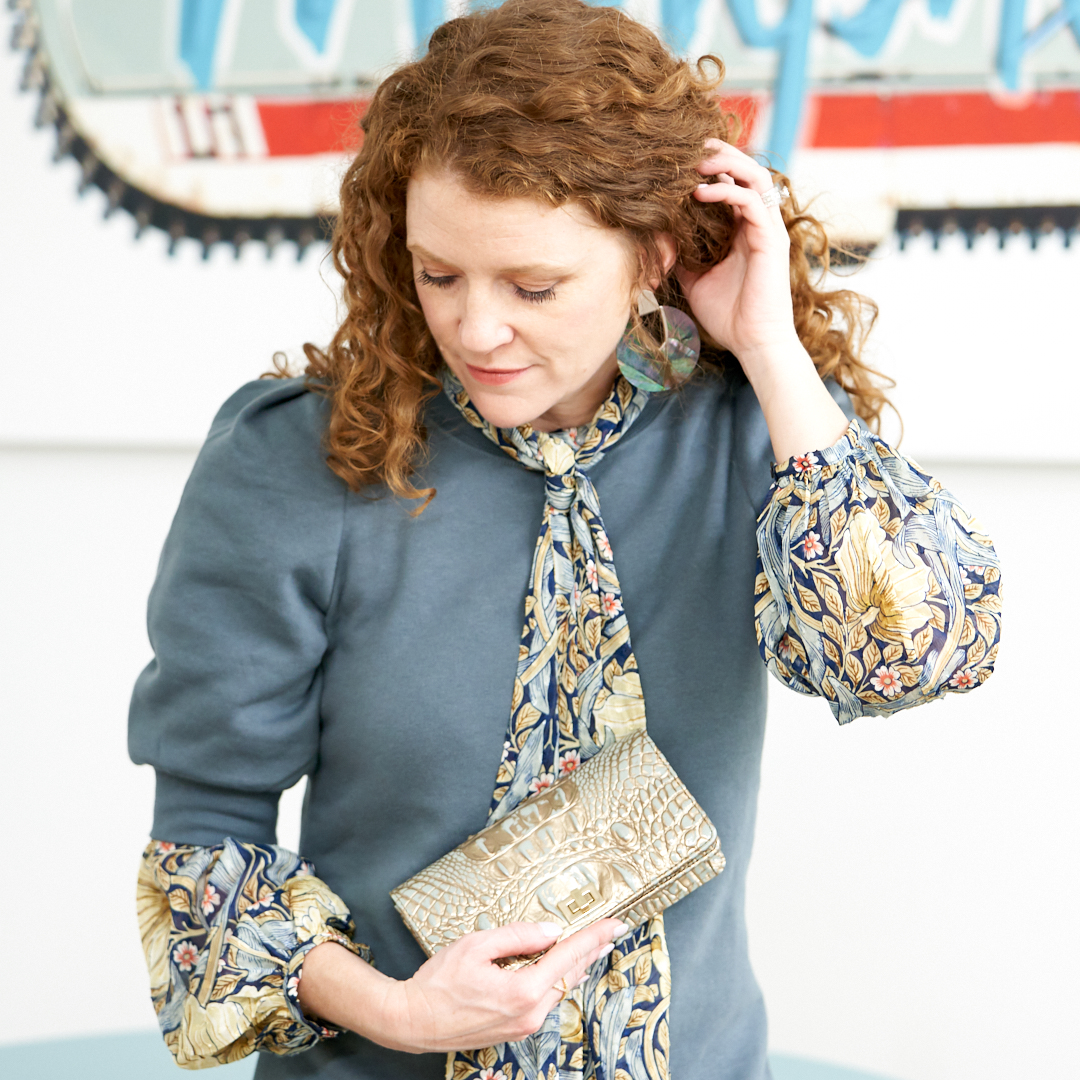 Split Up Your Pieces
The Top with Jeans
These outfits are going to be a little less complicated but still lots of fun. You can see more details in the blouse and how stinkin cute it is! Can you believe this was only $9.99! I thought H&M had lost there minds! It is polyester and fits so well! The main struggle for me in my wardrobe is finding good tops that are cute and fun to wear but not too dressy.  This one fits the bill perfectly.  I can wear it easily with jeans, layer it with sweaters or my dress and even with skirts to dress it up a bit more.  This will be on major repeat for me this fall and winter.  I definitely think I will get my money's worth out of this one!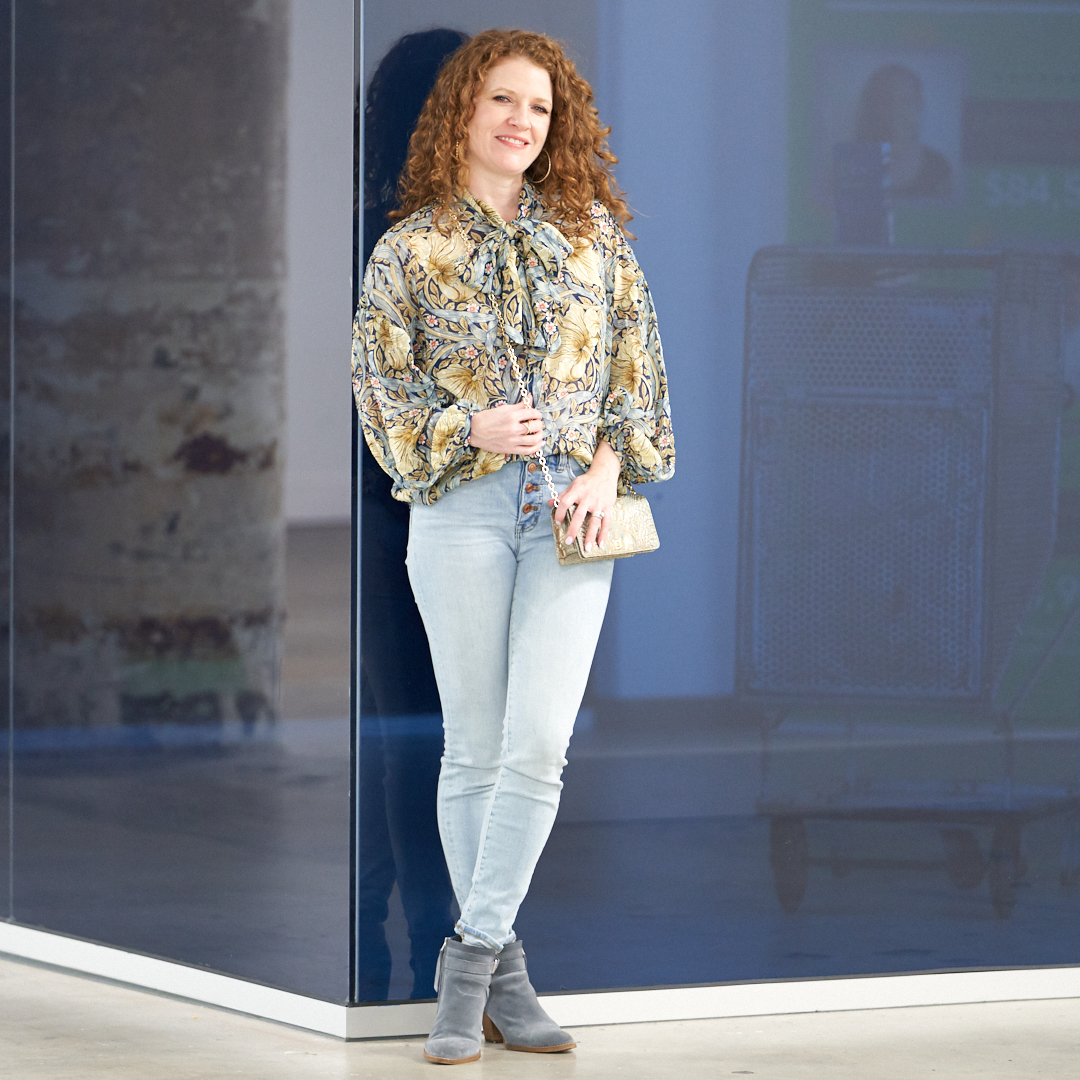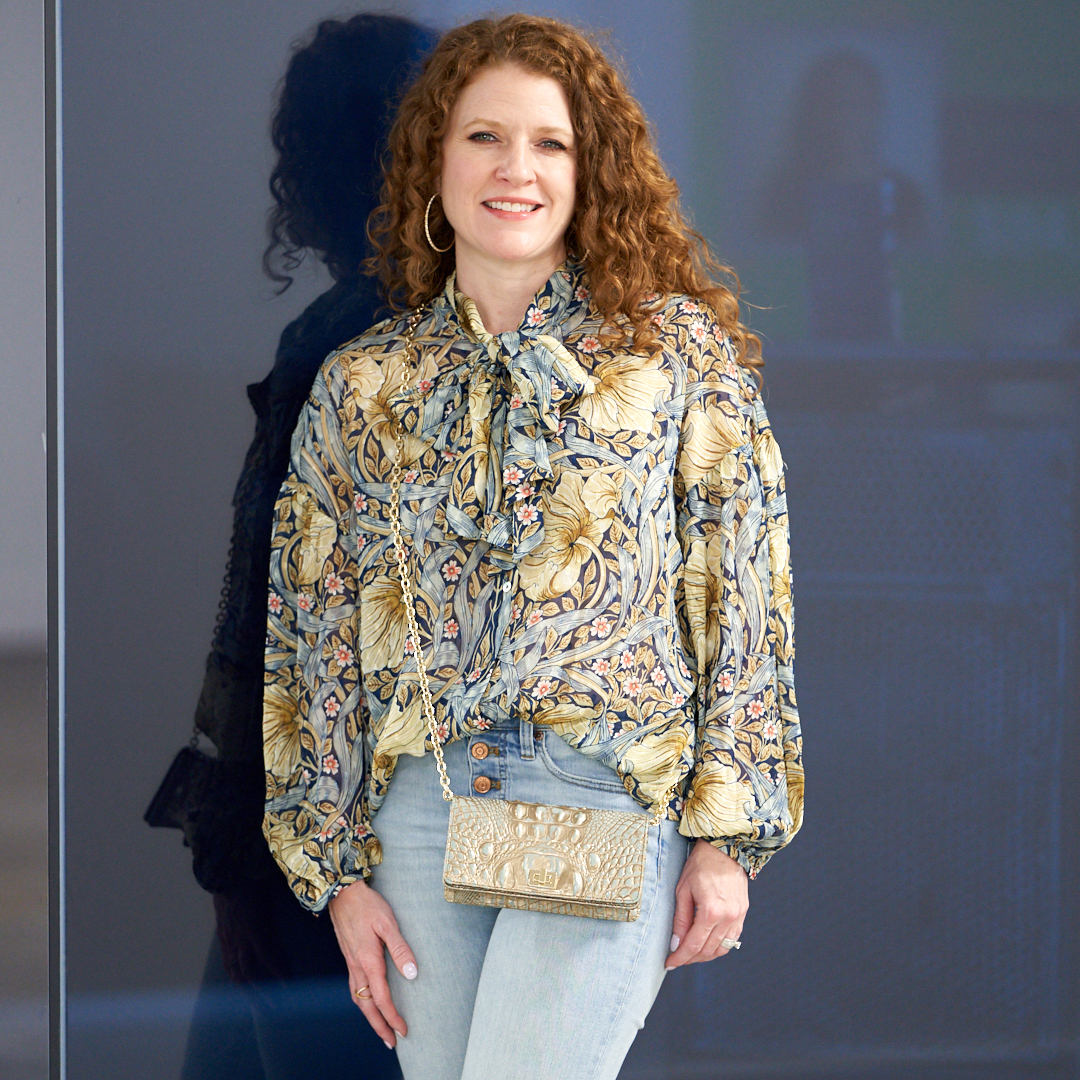 The Casual Look
My new obsession this season has been the return of the combat boots!  I wore them in the 90's and absolutely loved them.  This Steve Madden pair stole my heart and ended my two month hunt for these!  I wont stop until I find the perfect pair at the right price. They were even on clearance at DSW and I paid less than $50 for them! YAY for me!
I thought the combat boot and a cute black jacket were the perfect additions to make this dress the casual dress it was really meant to be.  I love the black with the teal color because it makes it pop!  Of course, I really am such a fan of prints in one way or another so I added my Nickel and Suede Leopard earrings!  Later in the fall I will put tights with this and it will still be just as cute.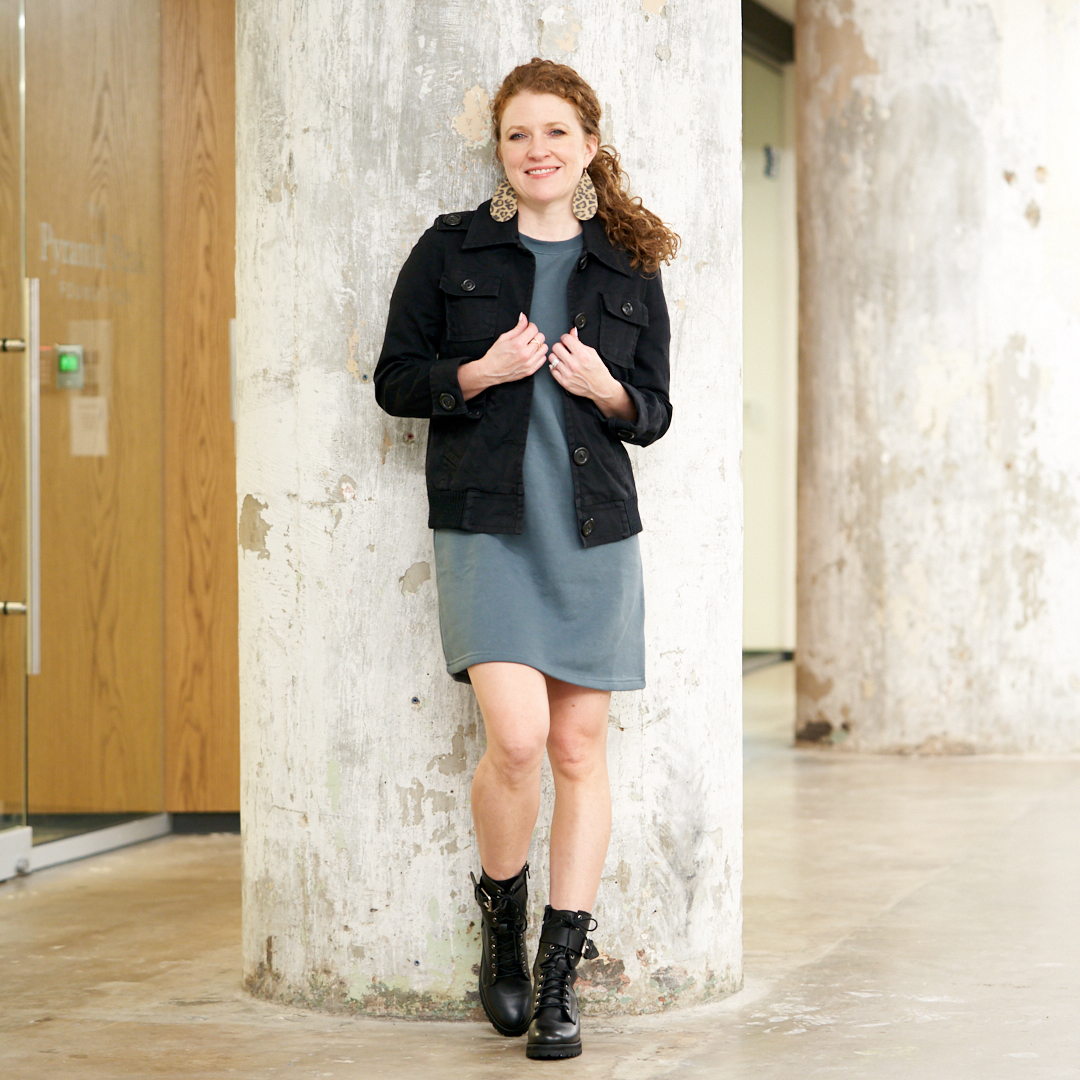 A tip for those of you that also love the combat boots.  I feel like you should add them to outfits that have a more cute and feminine style.  They are a bit masculine and tomboyish so this will help you still look like a pretty lady with a little edge. There is not harm in that right! I am planning on creating a post on styling them the right way for you so stay tuned for that one and I will give you more details!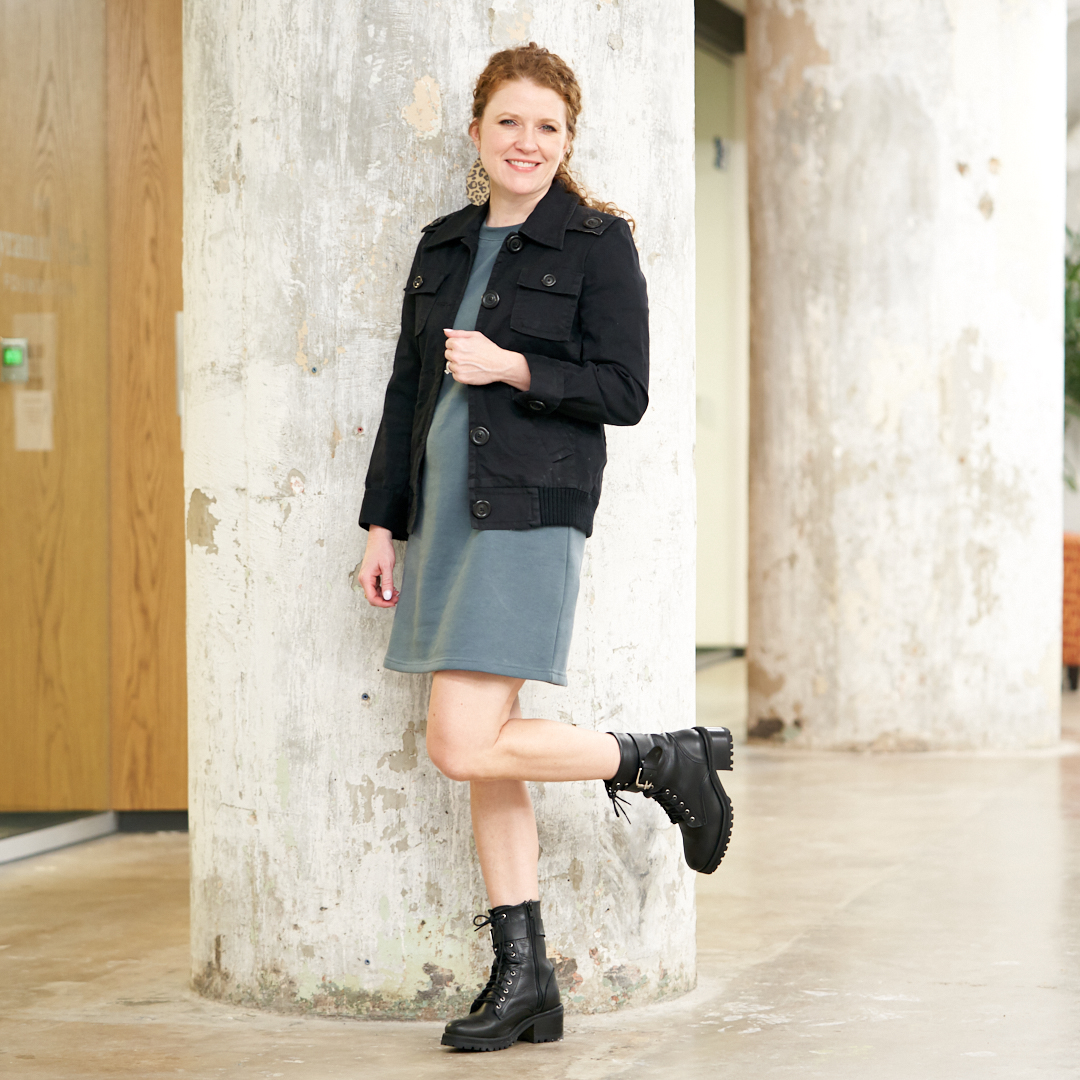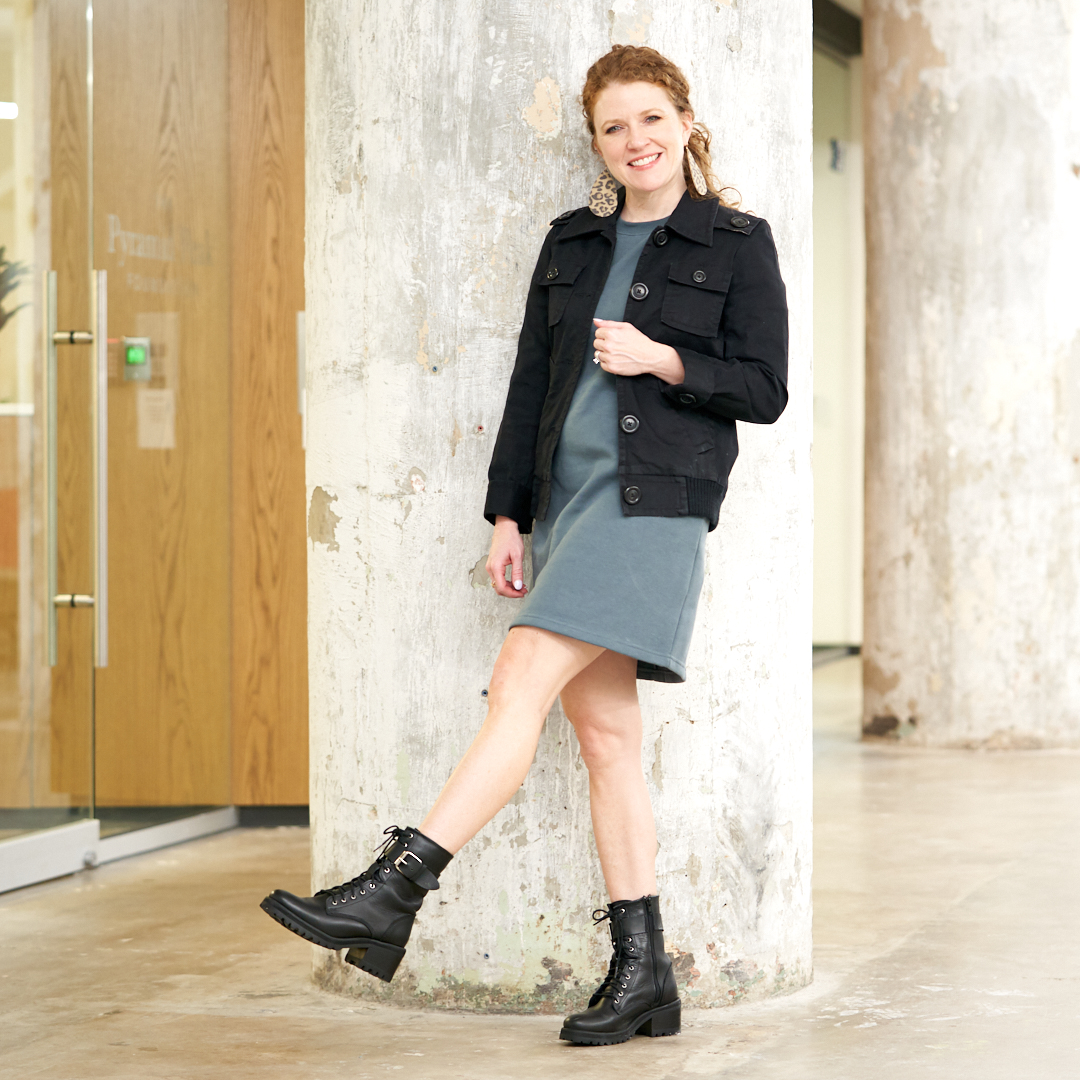 My hopes for these articles is to inspire you to try something different and outside of your comfort zone. I hope I explained what to look for well enough that you could also do this.  I would love for you to leave me a comment with either feedback or any questions that you might have! You can also message me on Instagram directly!
Thanks so much for reading! Talk to you Monday!