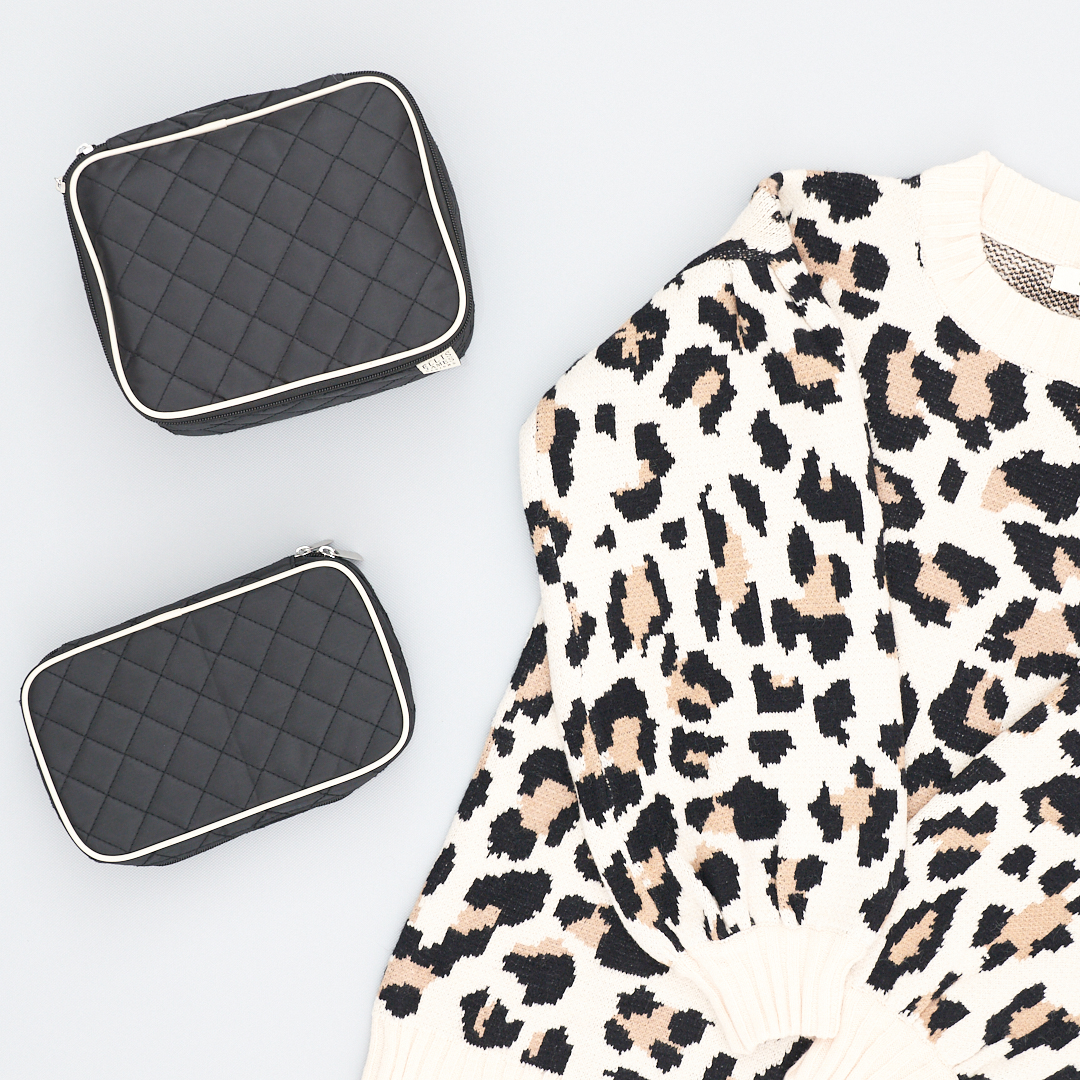 Hey there! I hope you had a great weekend! Last week was a fun week for me and I actually got lots of content finished! Whoo hooo! That makes me so happy you just do not even know! During this much needed photo shoot I took the opportunity to try out my new perfect and petite travel bags by Ellis James Designs. The ones I am reviewing are more petite and very different from the other larger bags I have written about.  The really exciting part is one of them is a travel jewelry organizer.  For short trips or things like a photo shoot these bags are so perfect.
The Jewelry Organizer Case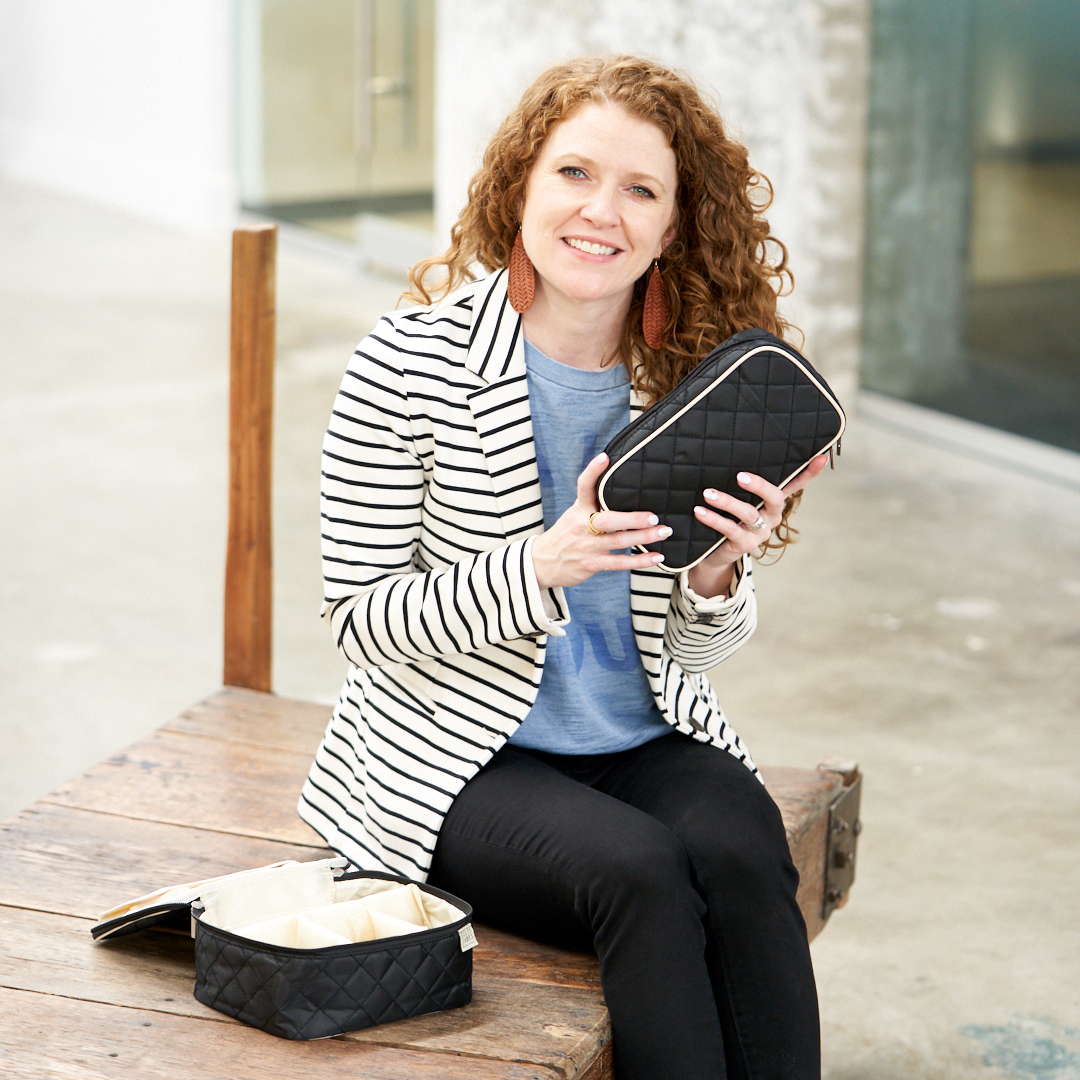 Let's start with the jewelry organizer because it was such a big help in keeping my jewelry organized and in one place for my photo shoot. This case will hold a LOT of jewelry too.  I mainly have earrings but I did take a couple of necklaces with me.  You know how much of a nightmare necklaces can be because they tangle so easily.  Not with this jewelry bag.
The sections of the bag are as follows:
Two Zipper compartments on either side of the inside of the bag.
A removable earring holder.
A removable zipper pouch for whatever you choose; even some makeup!
Tangle free necklace clasps.
A ring holder strap.
Check out these sections in the pictures below.  Also, click here to read more details and see more pictures of the much loved bag!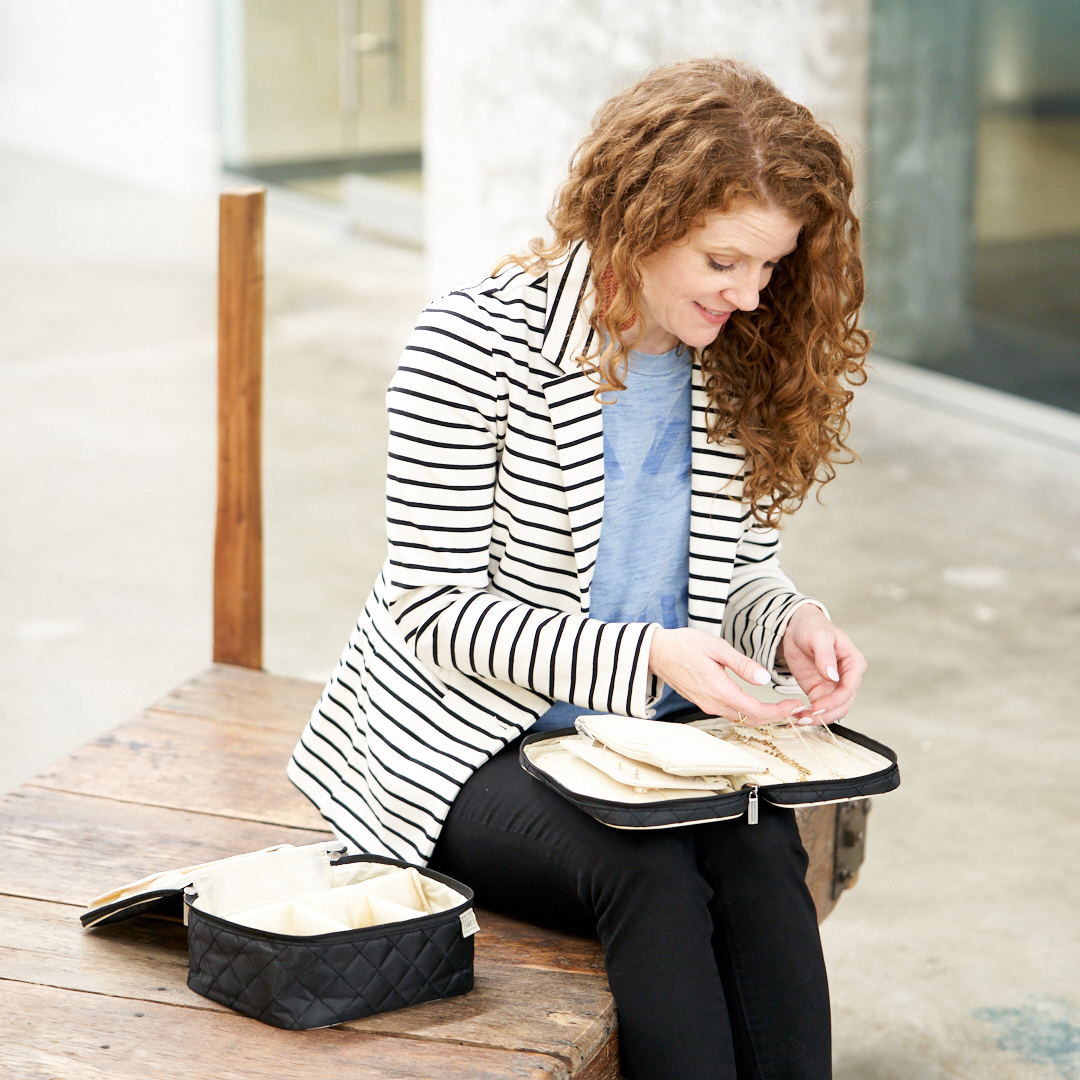 The Petite 2 in 1 Cosmetic Bag
Now for the cute makeup bag that throws a big punch! It has the ability to store makeup or nail polish!  The organizer can be used for multiple things and can be customized to your needs.
Features include:
A foam insert for nail polish bottles or lipstick.
A set of 3 dividers for setting up the bag in a way that works best for your needs.
One large zipper pocket.
A section on the inside of the lid with pockets for brushes.
The dividers helped me to see the individual items in the bag and get to them more quickly. This is very important when you are trying to be efficient at a photo shoot!  I absolutely loved this bag!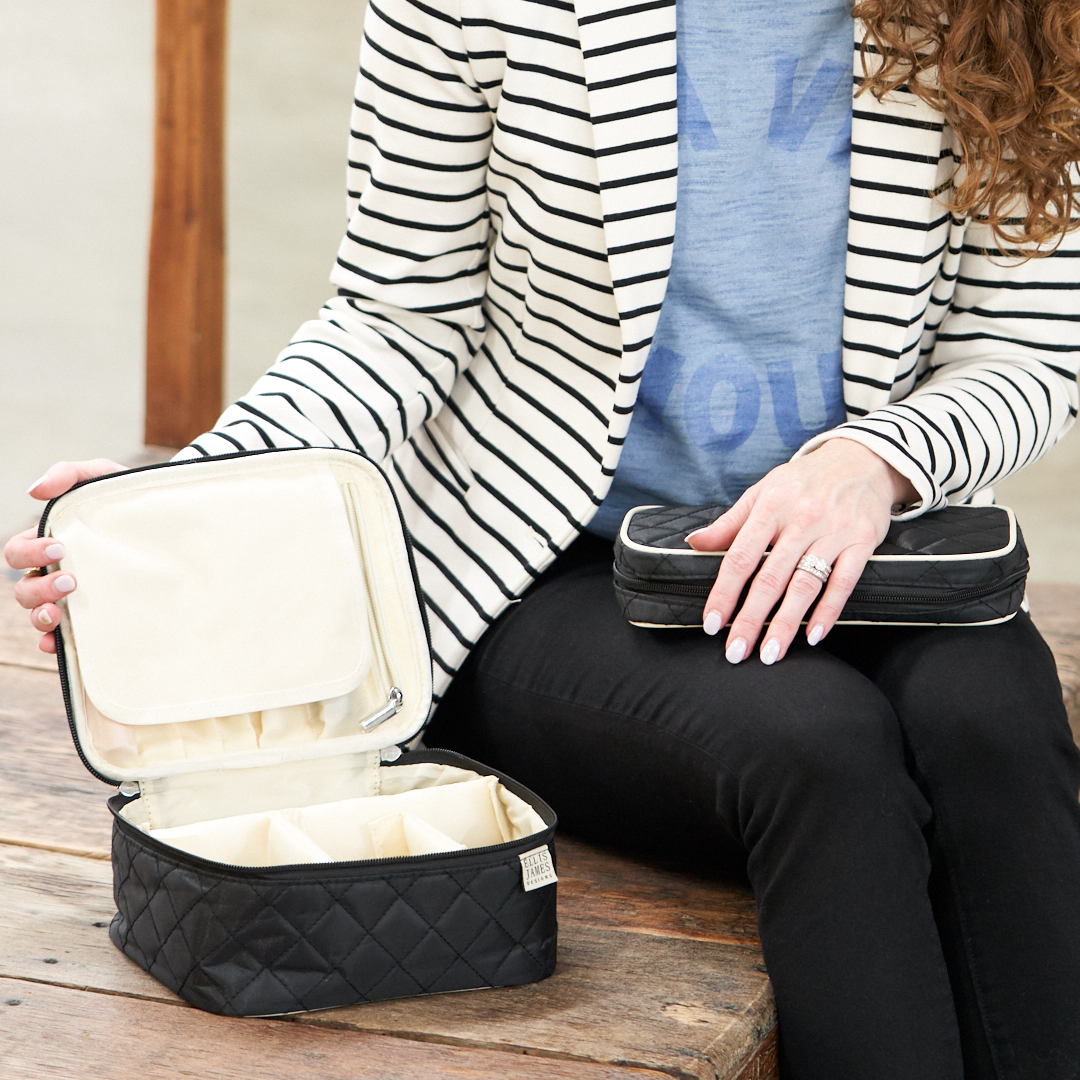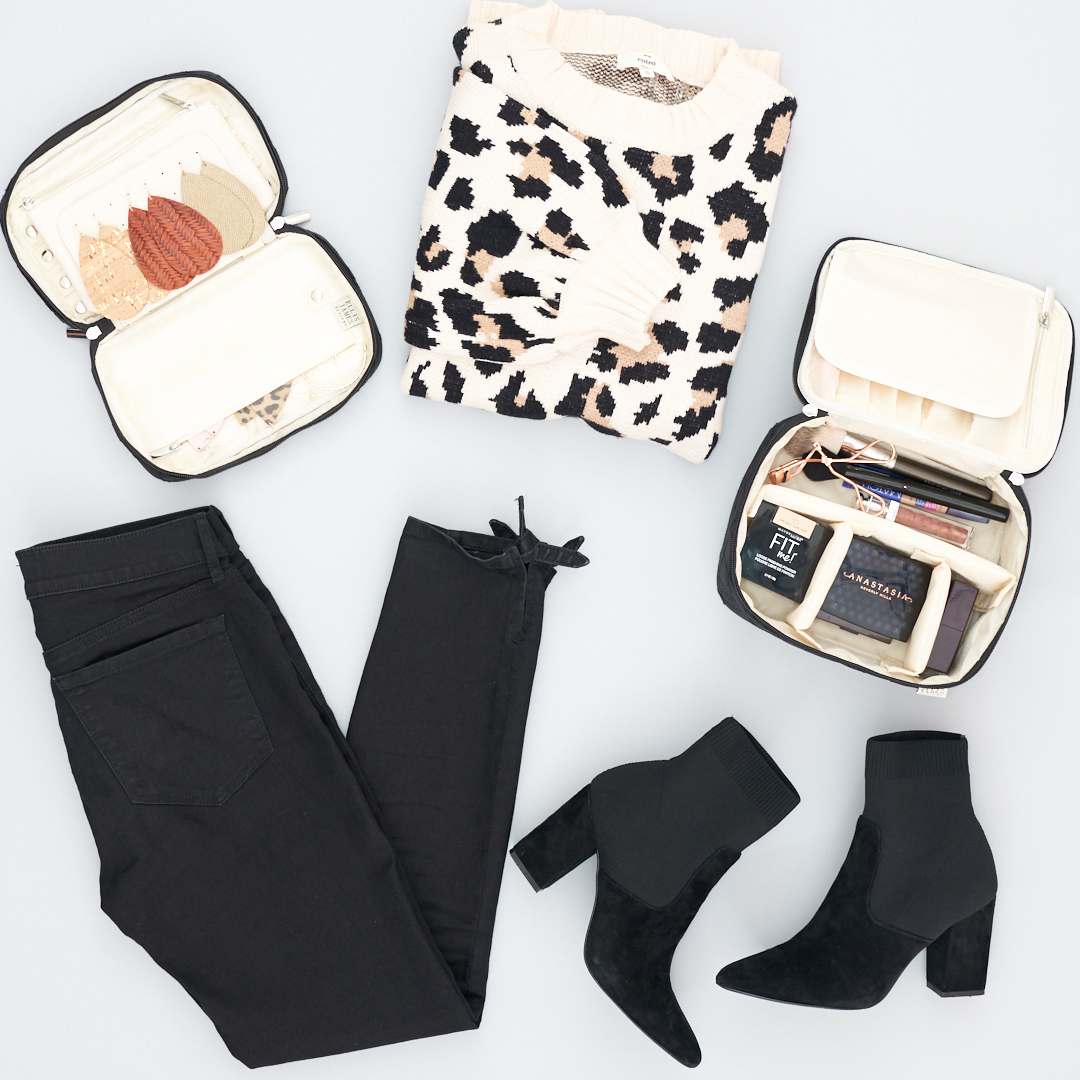 I hope you will check out all the bags Ellis James Designs has available.  If the perfect and petite travel makeup bag is not enough for you they offer much larger sizes. They are sure to have something that fits whatever need you have. I highly recommend them for their quality and their price point. You can also order with amazon prime and get them quickly!


Let me know if you have any questions by commenting below!
Thanks for reading!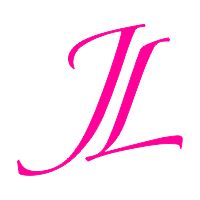 *I am an affiliate with Ellis James Designs and make a commission through Amazon or Liketoknow.it off of any items you purchase with my links! 🙂