Hey ladies! I hope you are as excited to wear your fall clothing as I am! I really wish I lived somewhere that stayed cool all year round! And I mean cool not cold! Not a fan of all out cold. But I do like to wear my jackets, jeans, booties and sweaters more than my summer clothing.  So needless to say I am super excited about what is trending for the fall season. I have picked six easy fall trends for you to consider. These trends are simple enough to add into your exiting wardrobe and are not so out there that you would not be willing to try them.  Actually, these trends are pretty minor, but really fun, so I hope you will jump on board with me!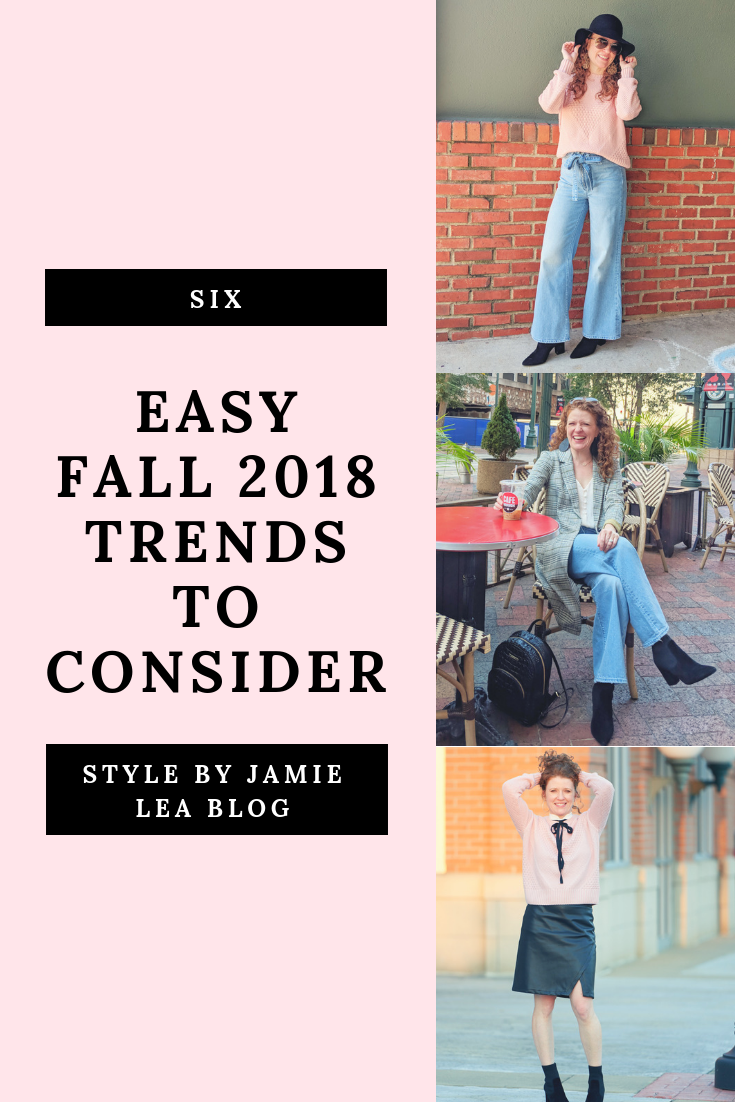 Glen Plaid
You will see a lot of plaid in general but my favorite choice for plaid is glen plaid. If you are not familiar, it is a combination of small and large checks.  I think it is the best plaid design that makes a statement without becoming too overwhelming on the body.  Plus this is mostly the type of plaid you will see this season.
If you are a little timid on so much pattern I say start with a scarf and then maybe move to a top or jacket.  Sometimes we have to take baby steps on these things. I actually purchased a long jacket from H&M as my glen plaid piece for this season.  I will throw it on with t-shirts, blouses and sweaters this fall and winter.  It will also pair very well with black pants or skirts and jeans.
A great thing about this pattern is it can look professional in a work environment.  You will be able to find suits this season designed in a glen plaid pattern. I love the idea of this if you have a professional job because you can divide the pieces up and use them to style other outfits that are not professional.  It's a win win!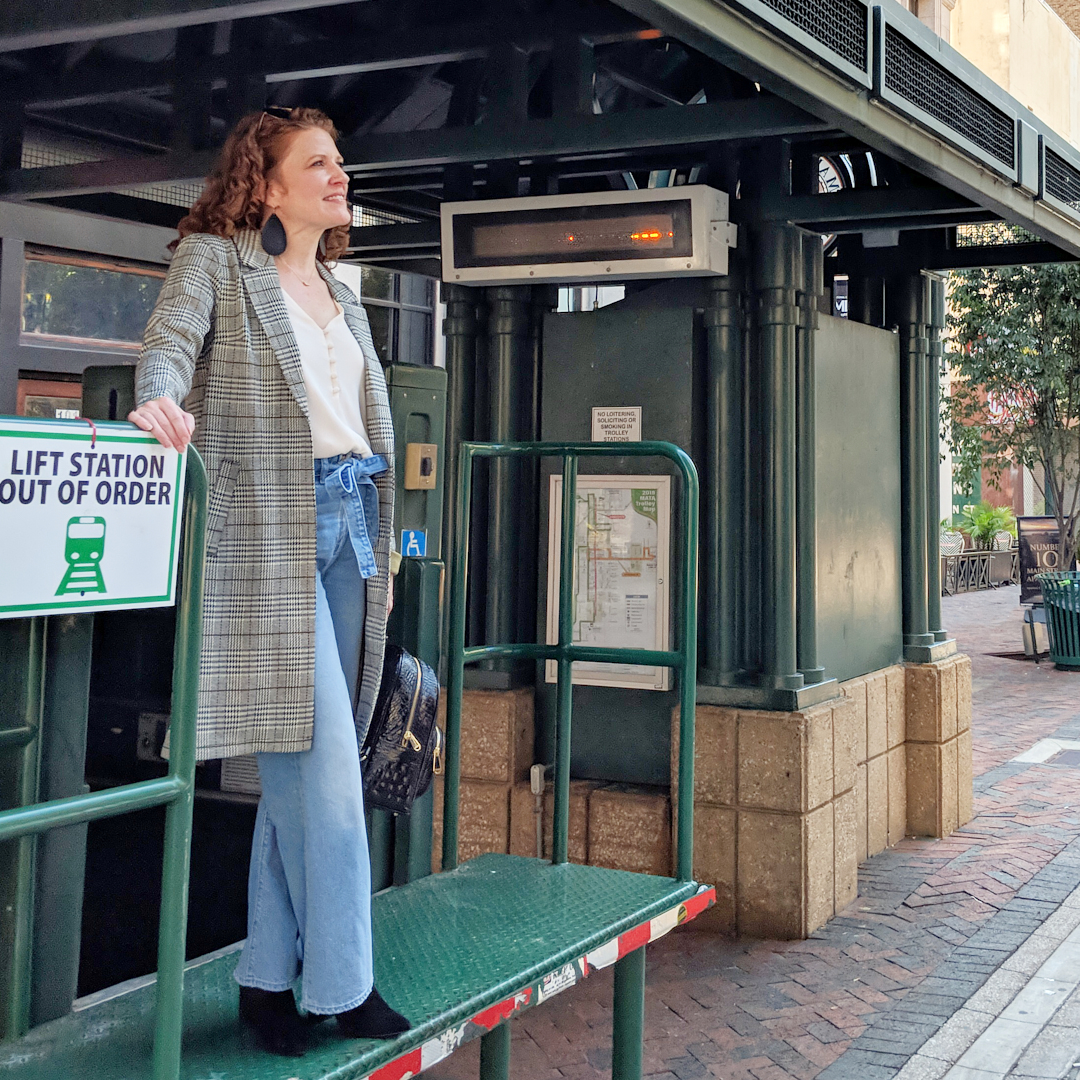 Crop Wide legs
If you are a fan of 90's fashion you are going to love the crop wide leg jeans! I remember wearing these with my John Fluevog combat boots back in college! Crazy! The crop wide leg jeans are so fun and when paired with a chunky heel and fun blouse or sweater are perfect for this season.

Bow Blouses
A bow blouse has to be my favorite type of blouse to wear. I love it when there is an option for a bow around the neck. It makes the blouse so feminine and makes it look fashionably complete! My personal favorite way to wear them is layered underneath a crew neck sweater like I have done in the photo below.  I feel like it gives a simple sweater a little more interest. I have also found it looks so good people think it is all one piece!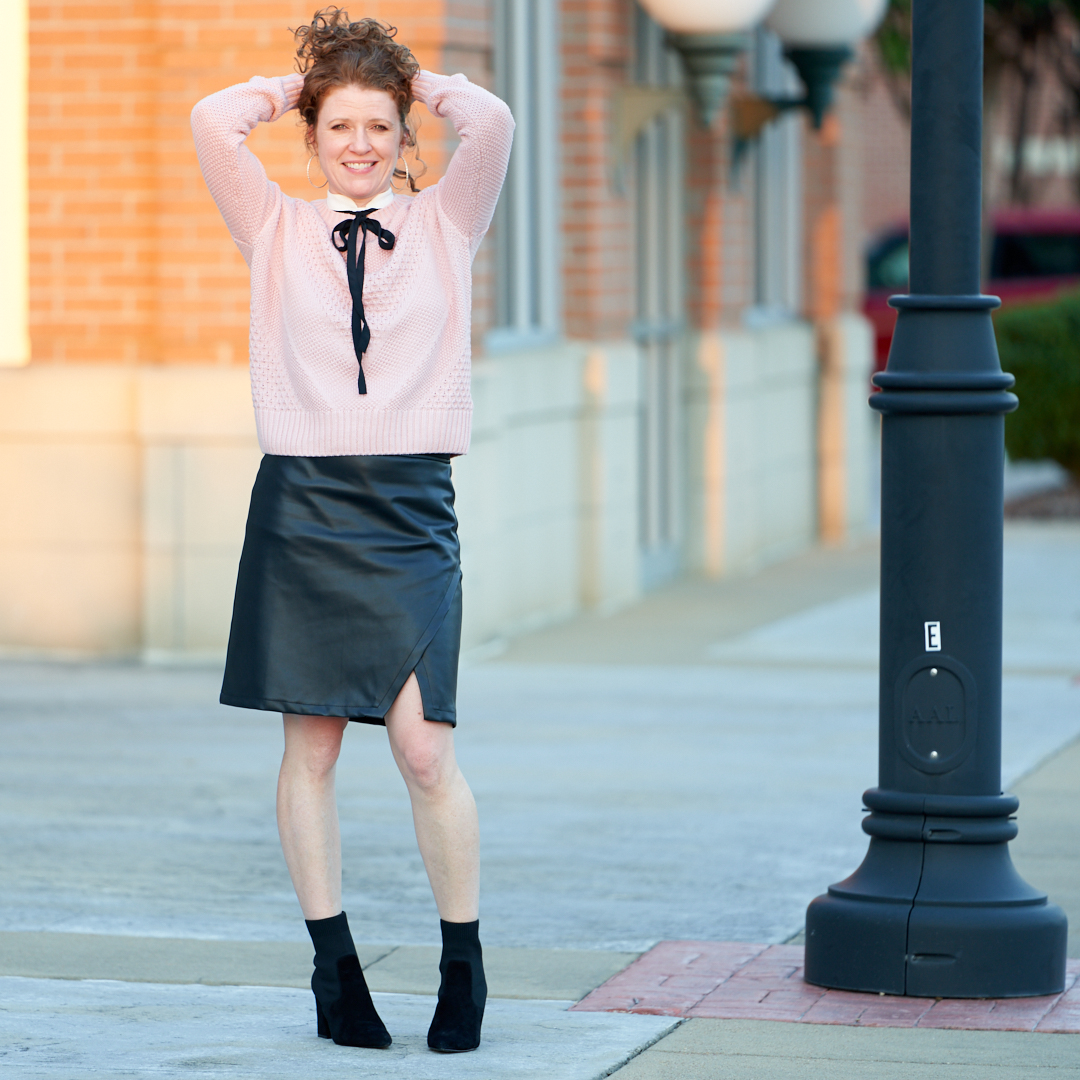 Leopard Print
This trend has been around for a while but not like it is this season! They are pushing head to toe leopard print! I am a huge fan of leopard print and always have been.  I love all the options this season and have already started adding it to my wardrobe.  In fact, I still have some things from past seasons I will be bringing back.
The best way for you to add this trend is by a cute t-shirt or blouse that you can layer.  This will tone it down if you are afraid of having so much print. You could also purchase a shoe that is leopard print. This is such a great option to add some pizzazz to an outfit without going over the top. I actually think as a shoe it could be treated as a neutral and wear it with just about anything!
As you can see I went totally over the top and purchased a leopard print bomber jacket. Me purchase a jacket? NEVER! LOL!  This has to be hands down my ultimate favorite piece this season! I am just waiting for cold days so I can wear this baby!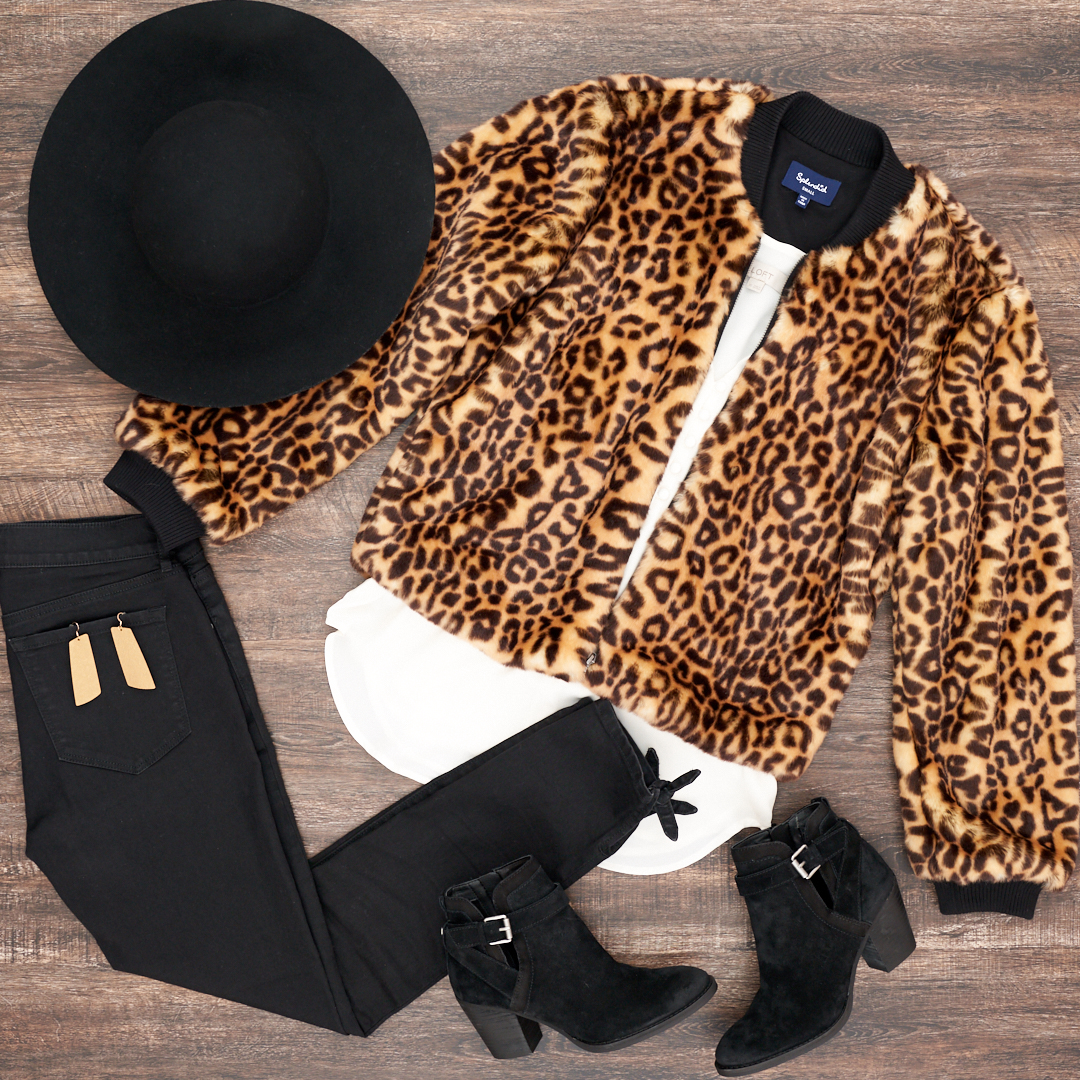 Dark Florals
I don't know if you noticed but florals were everywhere for spring and summer.  When that happens usually the trend carries into the next season.  And with this fall it sure did! The biggest difference between spring and fall is they are recommending dark florals. I see this as either the florals are really dark colors or the background to the floral is dark. Either way, this is a fun print to add to your existing wardrobe this season.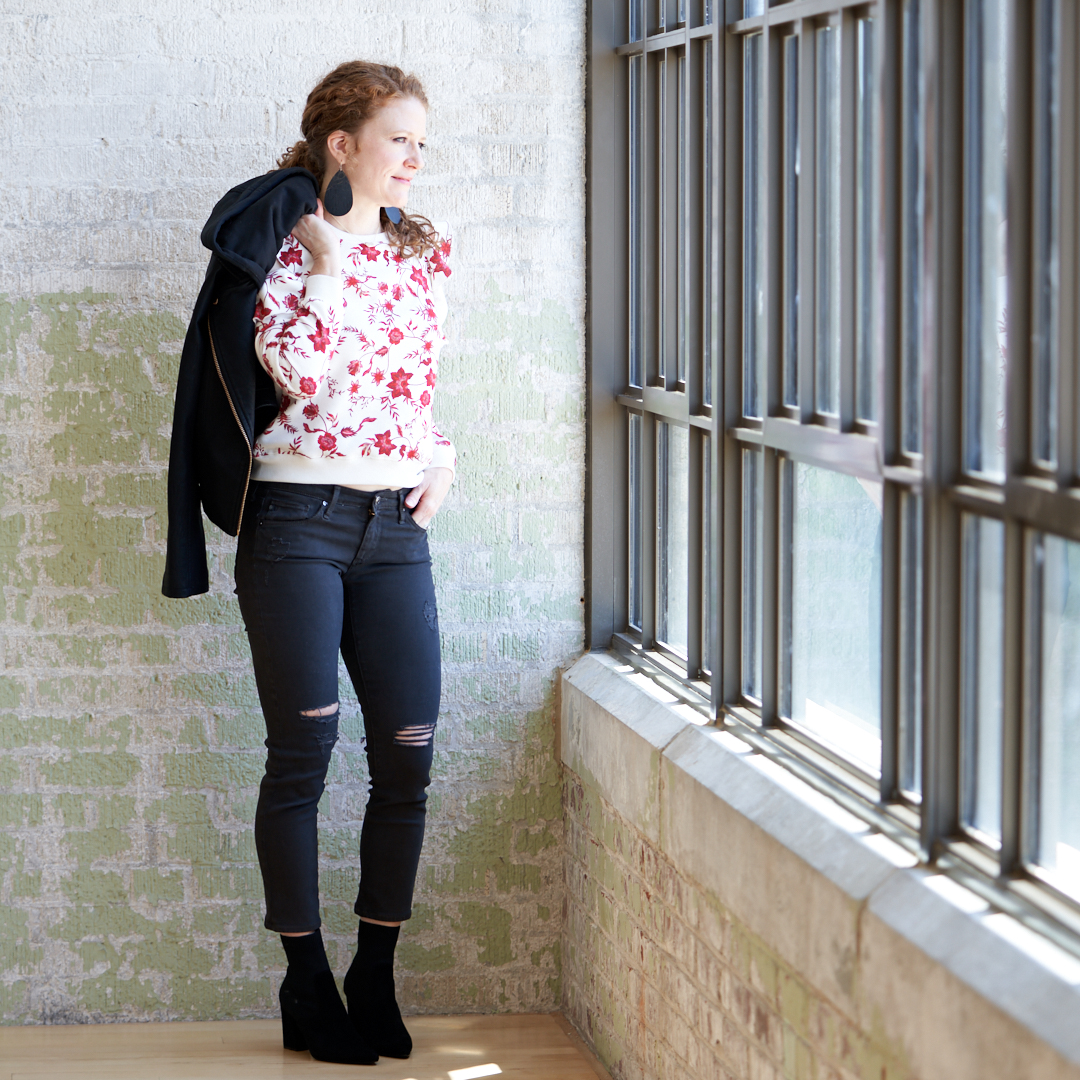 Rockin Reds
The reds this fall are killer! They are more on the rusty red side which I am a fan of because I can actually wear it!  This red goes so well with black, brown, grey and camel which are great classic colors for fall. I paired my rust/red color dress with my denim jacket and some sneakers for a fun everyday look.
I have linked several other dresses that are close to the same color as this one below if you want to check them out.  I will also continue to wear this into the fall and as temps drop I will add some tights!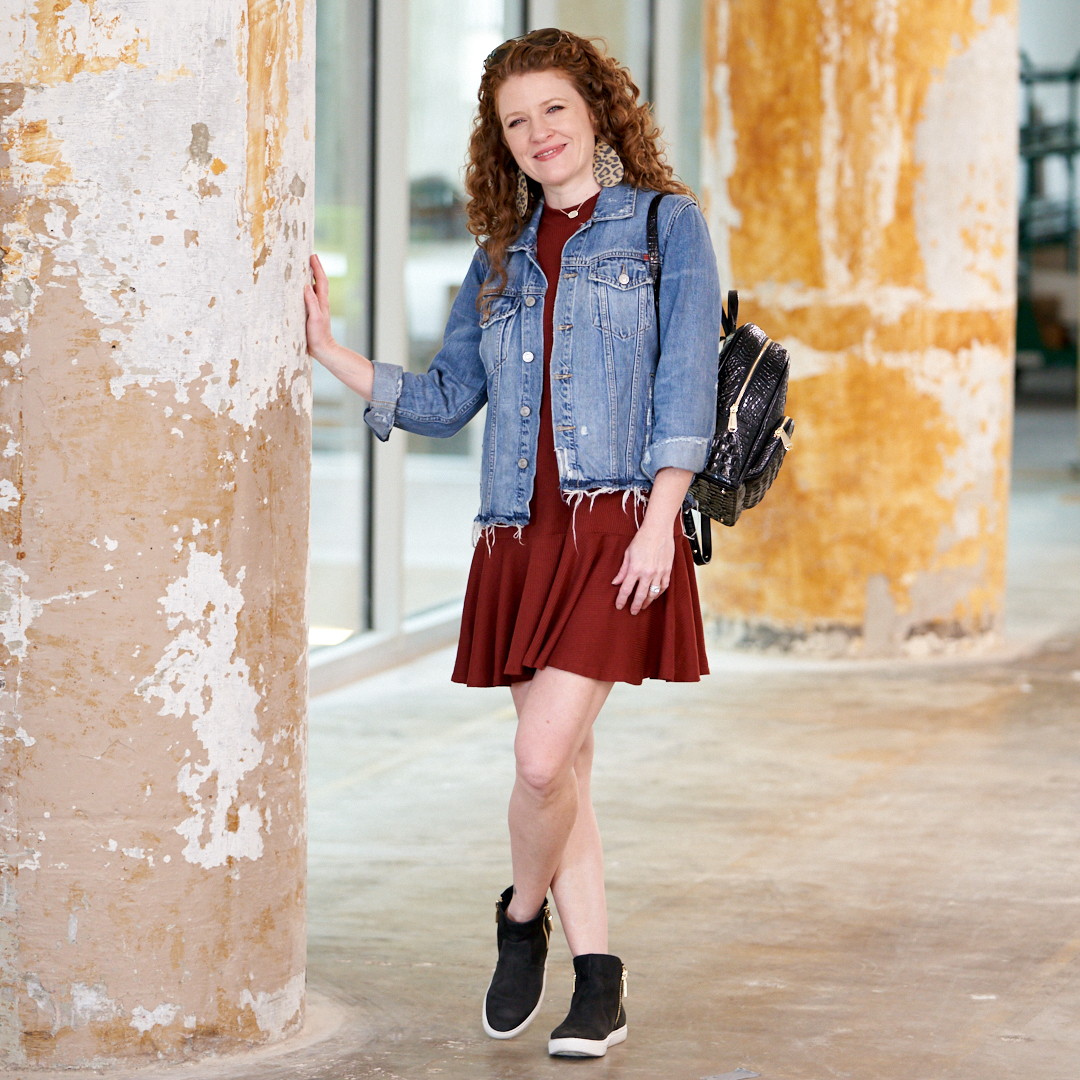 So, do you think these "trends" are too much for you?  I feel like they are perfect for someone that is not super trendy and wants to give their wardrobe a little change.  For me adding in all of these definitely got me a little outside my comfort zone because I am a skinny jeans kinda girl and I don't wear red hardly ever!  I can't say that after this year though!  I hope you will come along beside me and give some of these a try. Please let me know in the comments which one is your favorite or if you have tried a trend that got you out of your comfort zone!
Thanks for reading!