Hey there lovely ladies! I never thought I would see the day that I would wear a faux leather skirt! What about you?  It was definitely not something I was looking for! Honestly, I went to try it on after I saw it on a fellow blogger friend of mine, Jenney of Jenneyceestyle.  I fell in love with it! I hope after seeing all the outfits below that you will want to add this to your wardrobe as well! I even took my conservative sister-in-law, Adrianne, to try it on and she bought it!  Don't miss out on this lovely item that I am sure will be here to stay for a few fall seasons.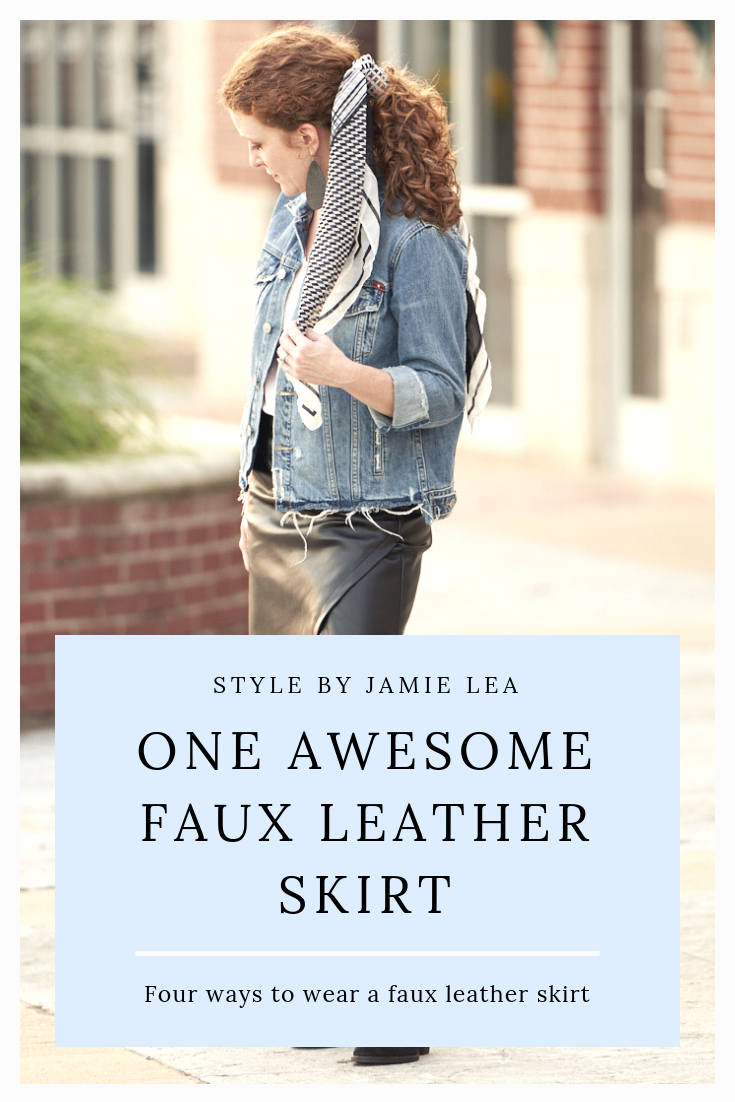 The faux leather skirt that I am styling is from Loft and is the perfect shape and length for all body types.  Adrianne is shaped completely different than I am and it worked! I feel like it is due to the high waist, slight curve in the hip and knee length with an amazing slit that contributes to that perfect fit.  Need I say more!
Casual with a T-Shirt
Of course I have to start with my absolute favorite version.  I am such a casual girl so you know I am going to create a few casual looks. I tucked in a fitted pink tee, put a cute scarf in my hair and added a great pair of black booties.  Oh and don't forget that perfect casual piece, the denim jacket, to put on when it's a little chilly.
You may be asking yourself; "Where in the world am I going to wear this casual version?" Well, I would wear it to dinner, lunch with my girlfriends, a coffee date, casual day at work, and yes, I would even wear this to church.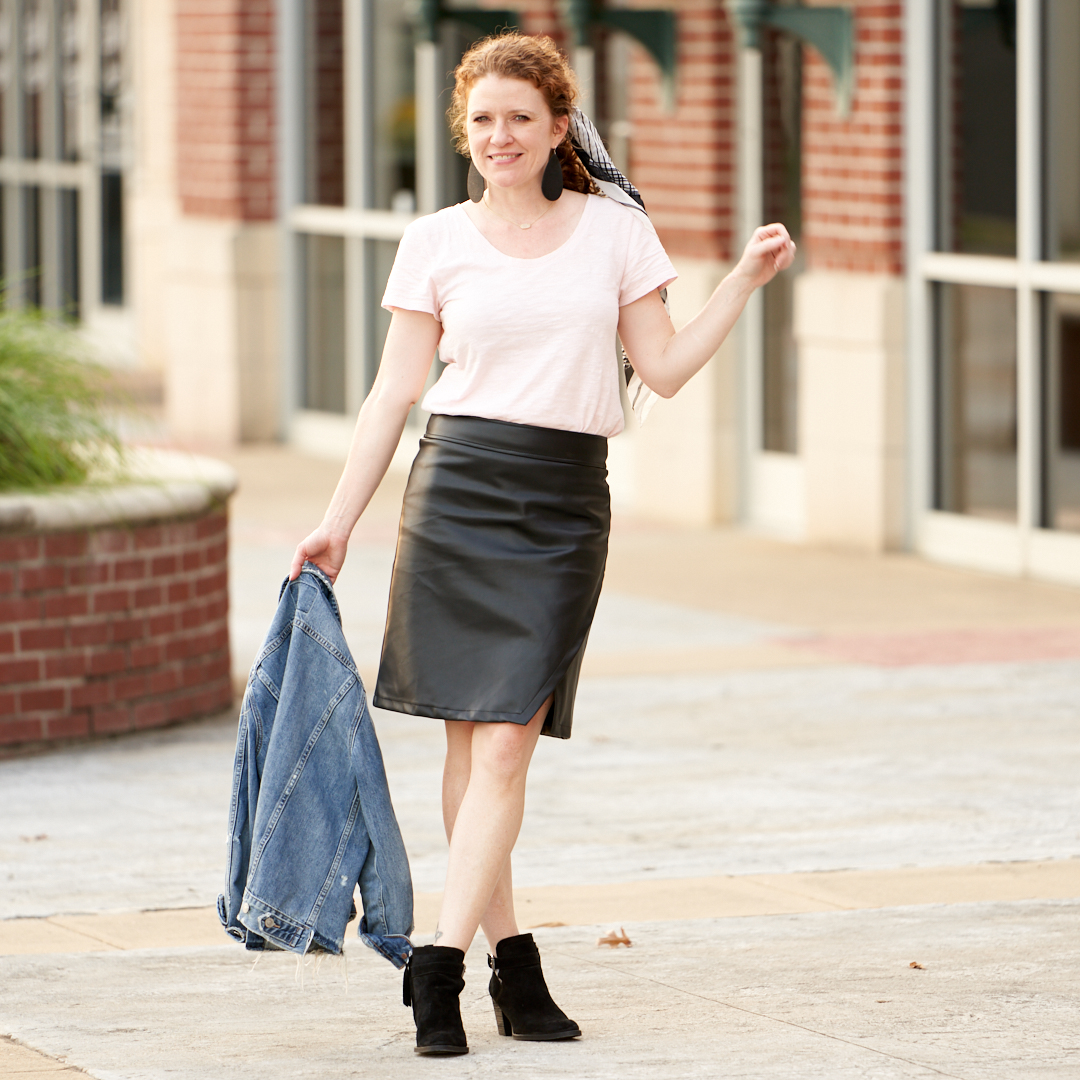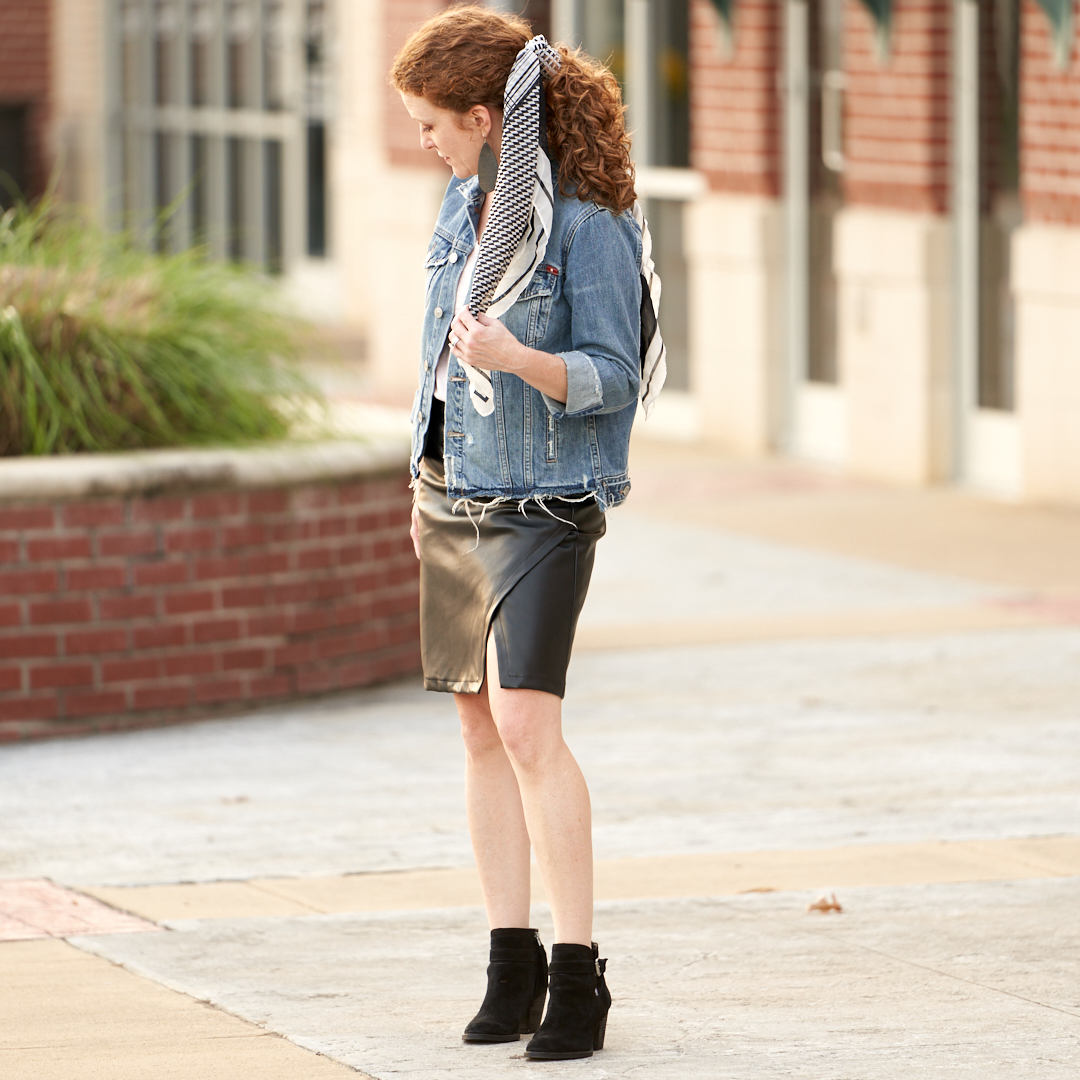 Preppy Meets Edgy
I have had many people tell me that my style is classic but edgy.  I think I stayed true to my style with this one.  The bow blouse, crew neck pink sweater and sock booties definitely add a feminine classic look to this edgy skirt.  I have to say this is probably my second favorite outfit with this skirt.
I would wear this to the same places as outfit number one. I do want to add that this could be work appropriate if you can dress semi casual and fun.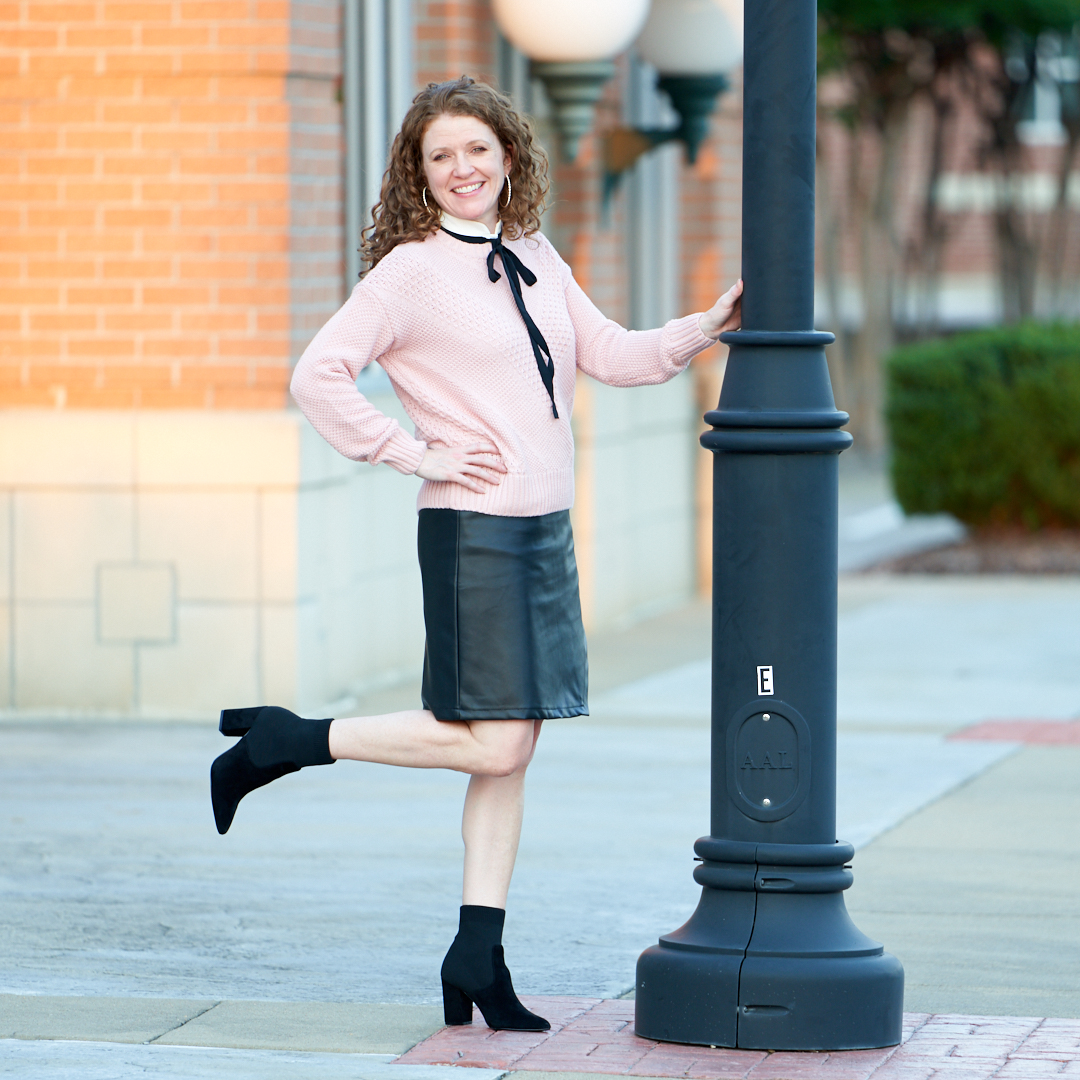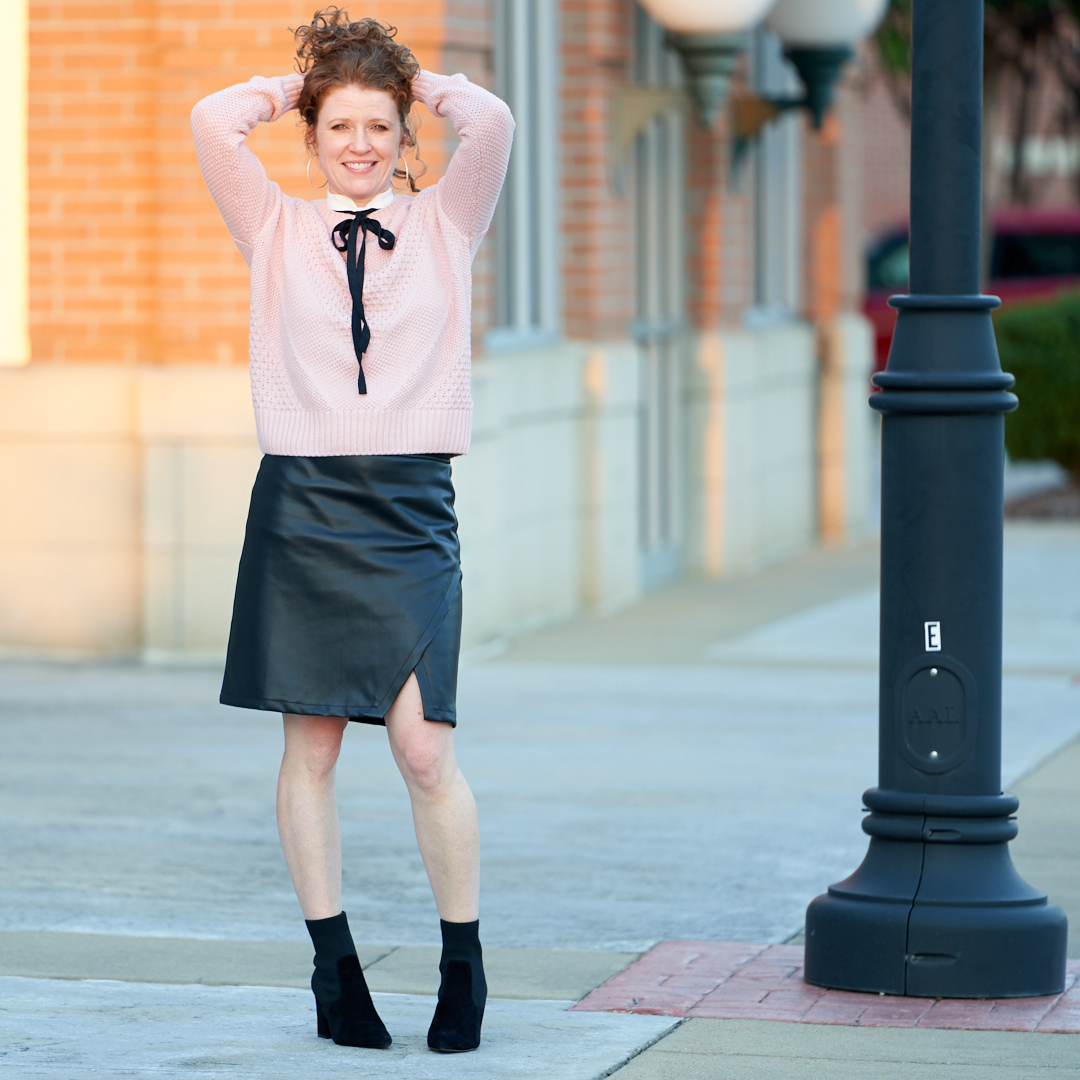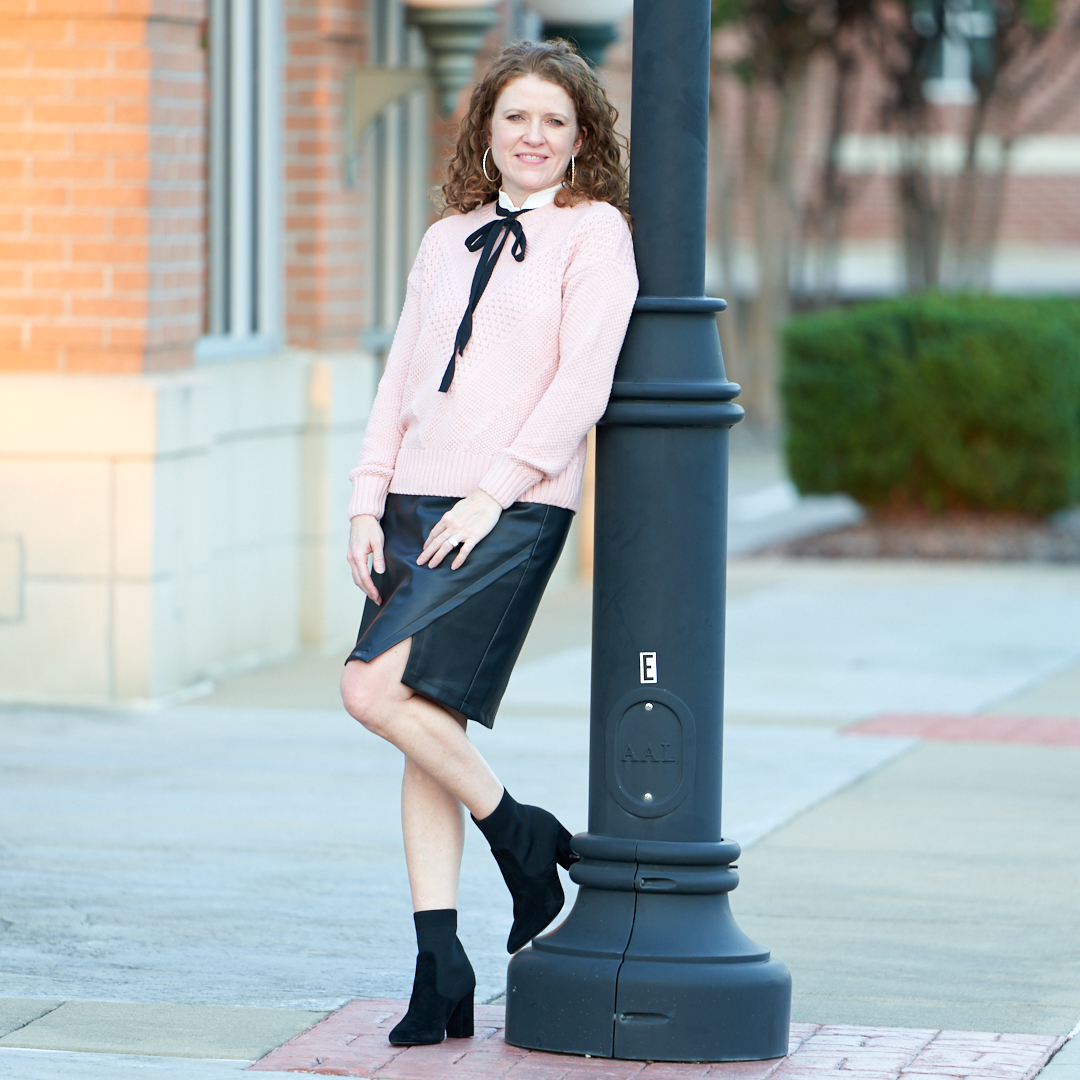 Serious Business
Did you know this skirt means serious business! I think you would make a big impression showing up to a corporate job in this skirt!  I paired the same bow blouse as above and a pretty grey blazer with it.  Instead of a boot I added a patent leather pump for a more chic business look.  The hair in a bun is just another added bonus to say " I mean business" ! Let's also not forget the amazing Brahmin backpack that is in a sleek patent leather and can be taken anywhere.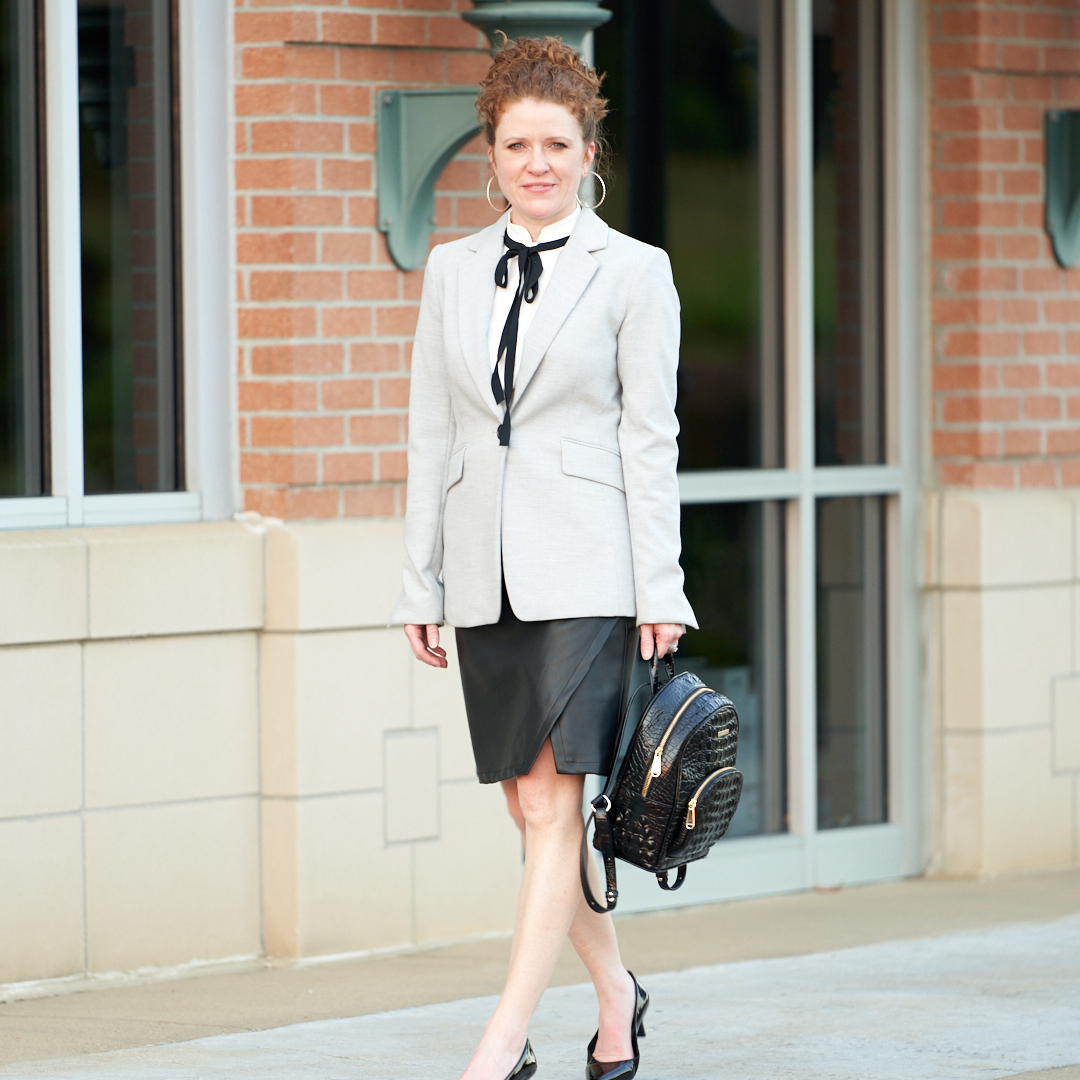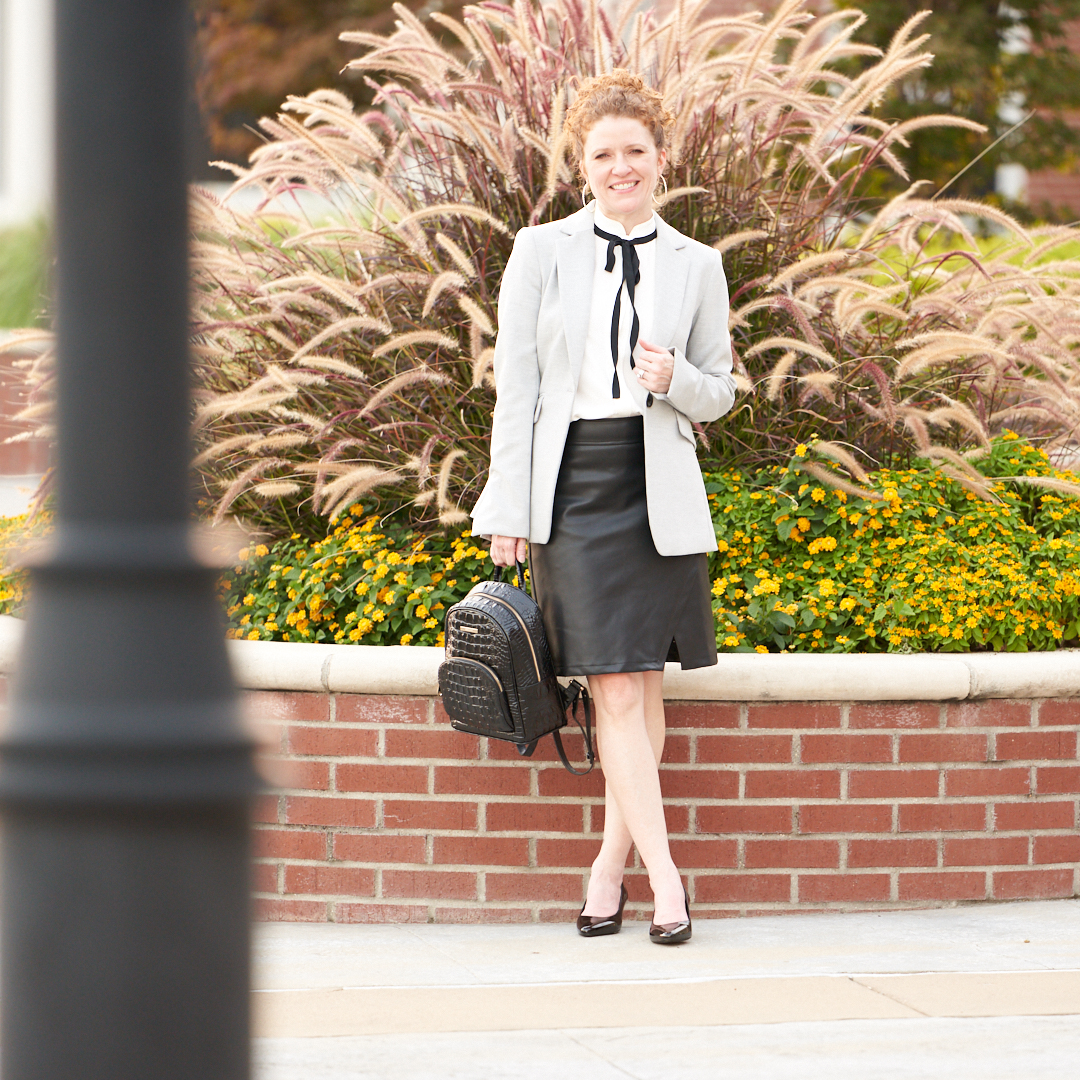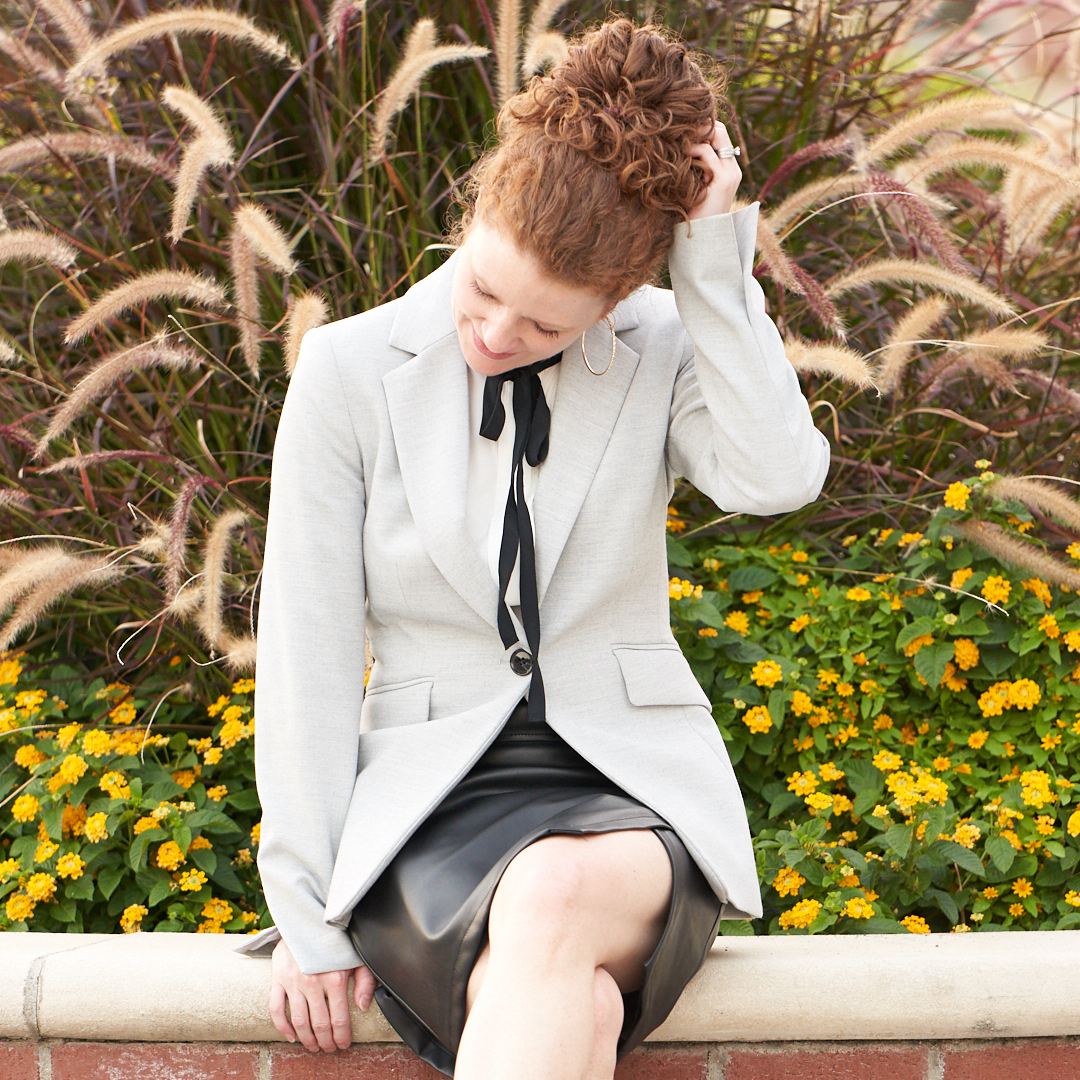 The Fluffy Sweater
I know it is not winter yet but I wanted to show you an outfit with this faux leather skirt that could be winter worthy. I want you to get the most out of your money because that is what I want for myself!  This skirt is so cute paired with tights, a fluffy or bulky sweater and some booties. I think even a knee high boot would work. As I am writing this I can think of a couple more things you could do! YAY! I may just have to make another winter post with this one!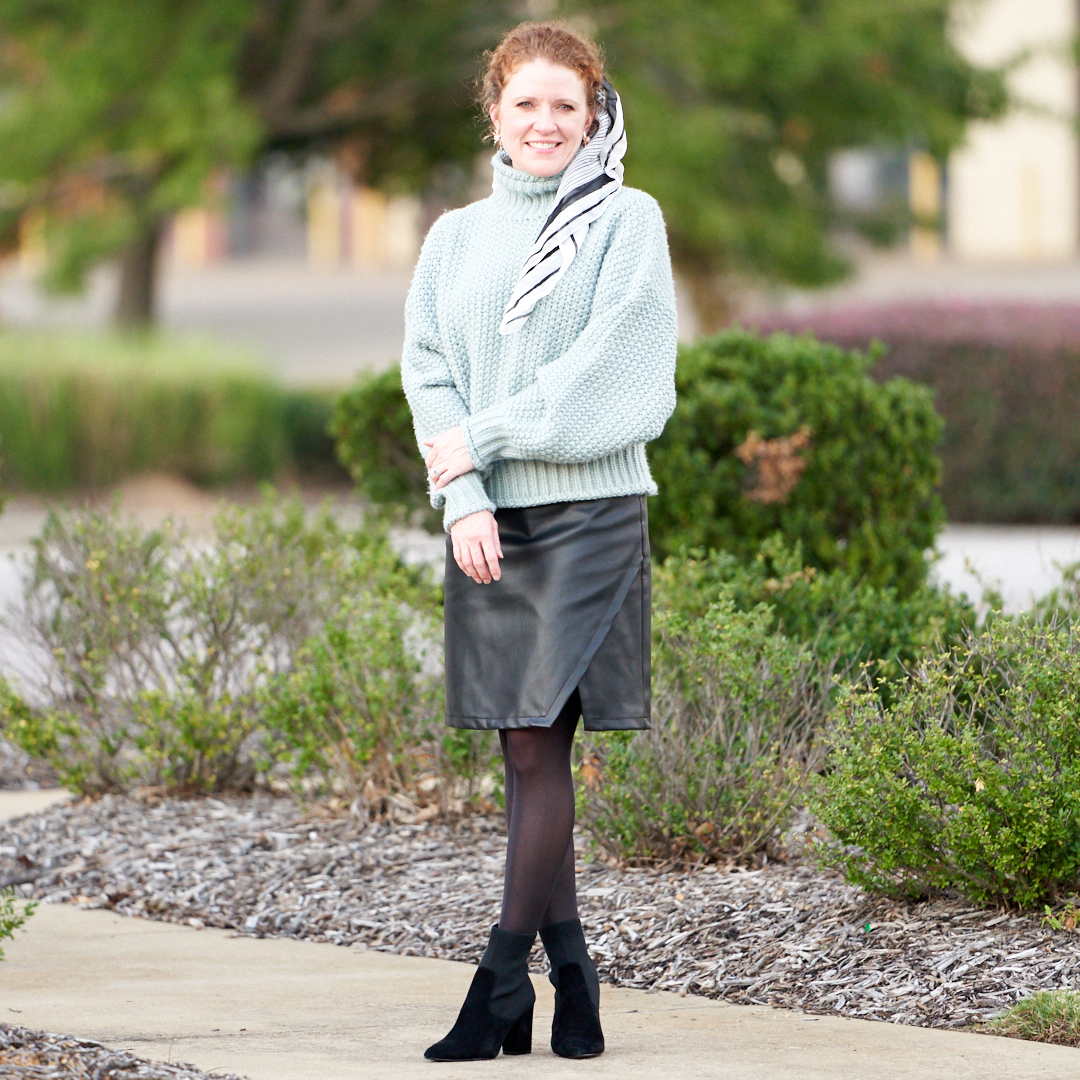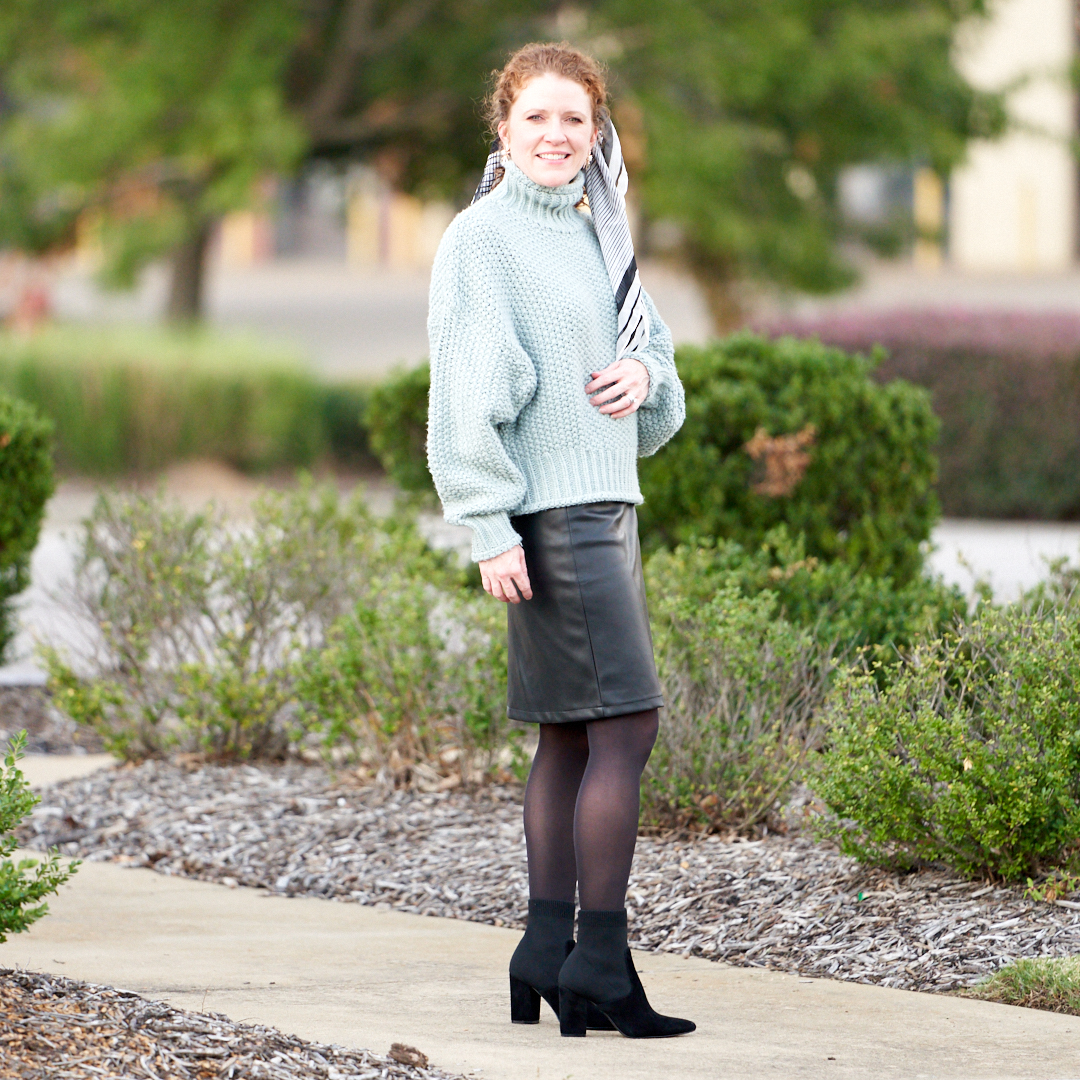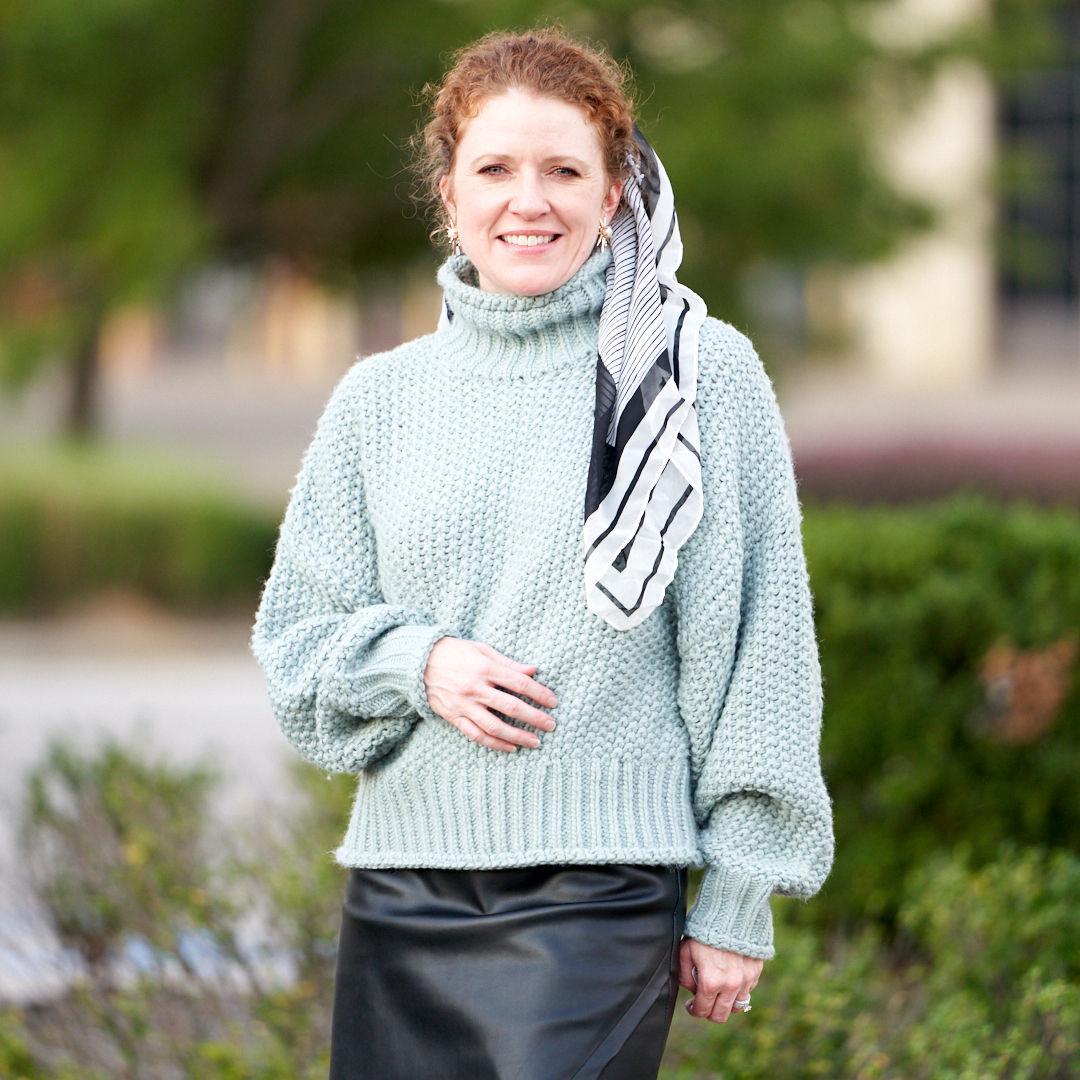 This is going to be so wonderful to have this season.  I have events coming up that I will sure make use of it for!  I highly recommend this exact skirt to you and feel like it is the best one out there right now. You also can not beat the price!  The quality and fit of it far exceeds my expectations and those expectations are really high! My sister-in-law can attest to that. She knows exactly how picky I am about purchases I make. I will not steer you wrong!
Thank you so much for reading and I would love for you to let me know what you think of this faux leather skirt in the comments below! I would also love to know which way you would style it!