Hello friends!  I hope you had a wonderful Easter weekend whatever you did!  We had a good relaxing weekend and got some much needed rejuvenation!  I have been so busy the past couple of weeks.  During that time I had the pleasure of attending a blogger event at The Shops of Saddle Creek.  I was so excited about it because Saddle Creek is my favorite sensational shopping destination in town.  It has always been good and in the past couple of years has become even better. They built on to the shopping center and added some much needed wonderful retail shops to the area.  We had the opportunity to go to four different shops for different activities and came home with lots of fun and impressive gifts.  I am going to give you the tour that we had from start to finish.  It was on March 22th from 5:45-9.
vomFASS
Our first stop was a place called vomFASS.  You are probably saying "What in the world is that?"  Well, I have to admit I was too.  I had no idea what kind of store this was; which is the purpose of events like this. We are getting introduced to new places and in turn tell the world about them!  vomFASS sells oils, vinegar, liqueurs, wines, spirits and gourmet food.  We had the opportunity to try some of their oils and vinegar's and they were exceptional.  The flavors seem endless and they offer recommendations of what to use depending on what you cook.  I thought the store was really cute with all of the pretty containers and the staff was very friendly and helpful.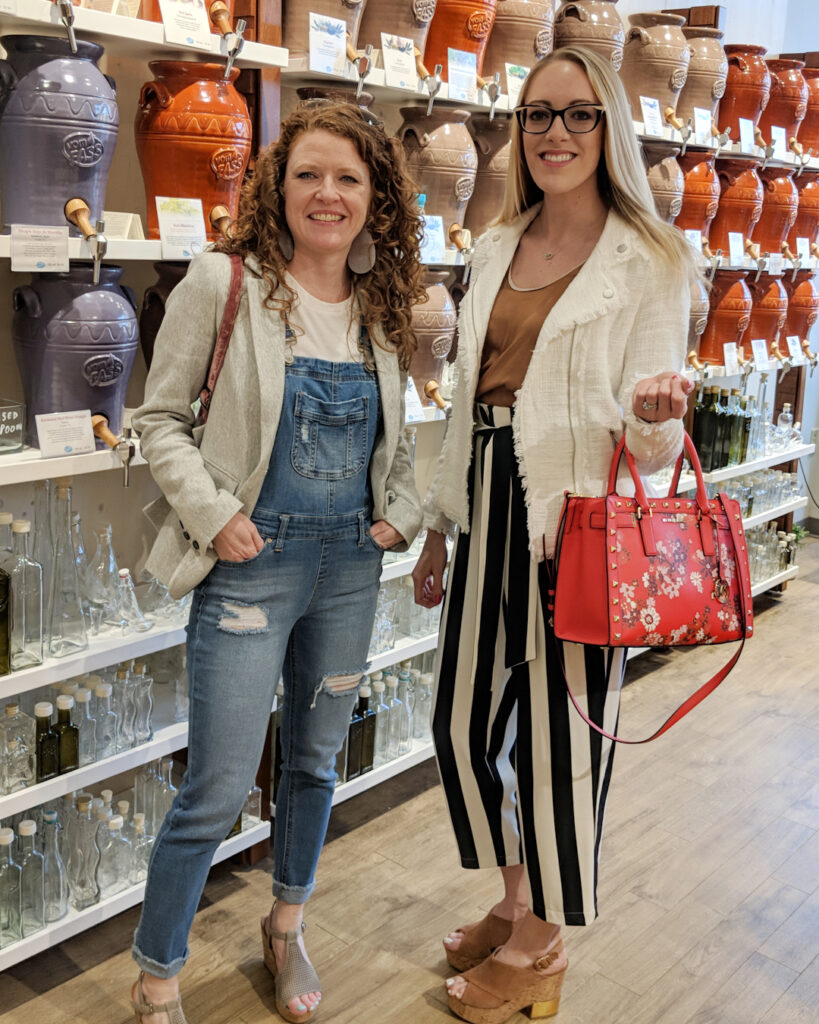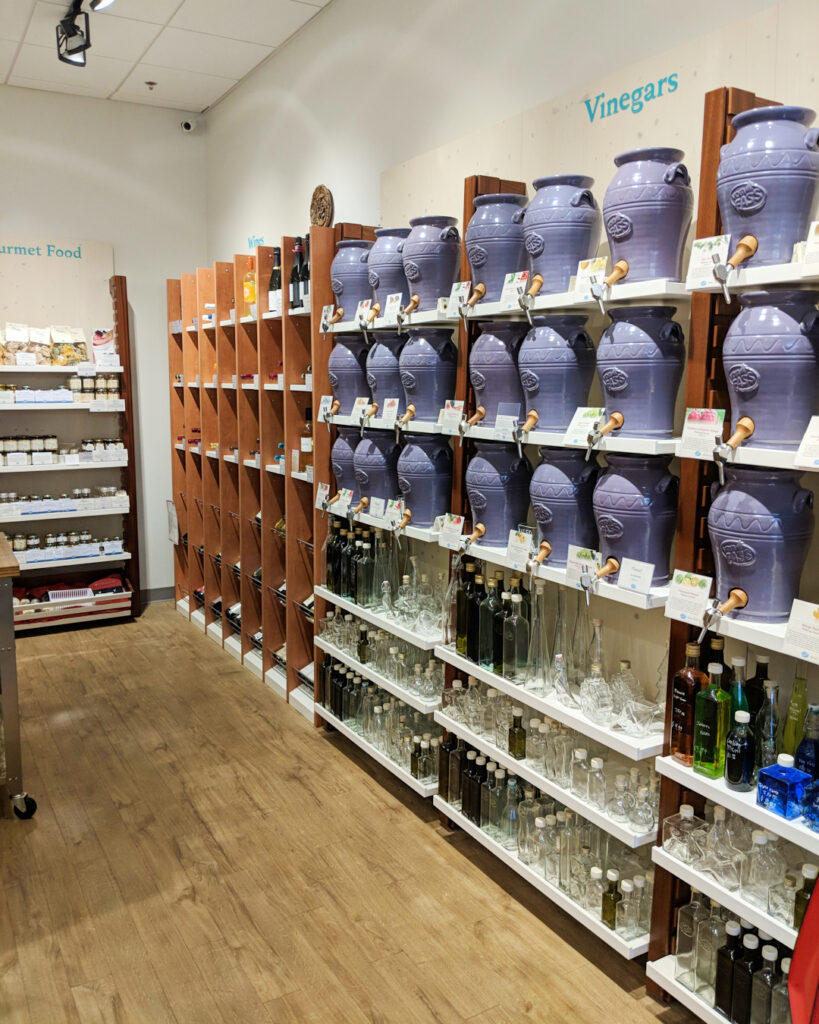 Southern Avenue Company
The next stop was Southern Avenue Company.  I had heard lots of great things about this store but had never been until the event.  It is a home decor and gift shop and is really beautiful. You can tell they put lots of love and care into this place.  One of the great things about this company is that a lot of their merchandise is made locally!
There is also a new restaurant called Rise Biscuits and Donuts that had all kinds of amazing food there for us to eat.  I had a chicken biscuit with pimento cheese on it and a maple bacon donut! Wow, both were just amazing.  Especially the maple bacon donut; there was a full slice of bacon on top! YUM! I have even been back there to eat since the event!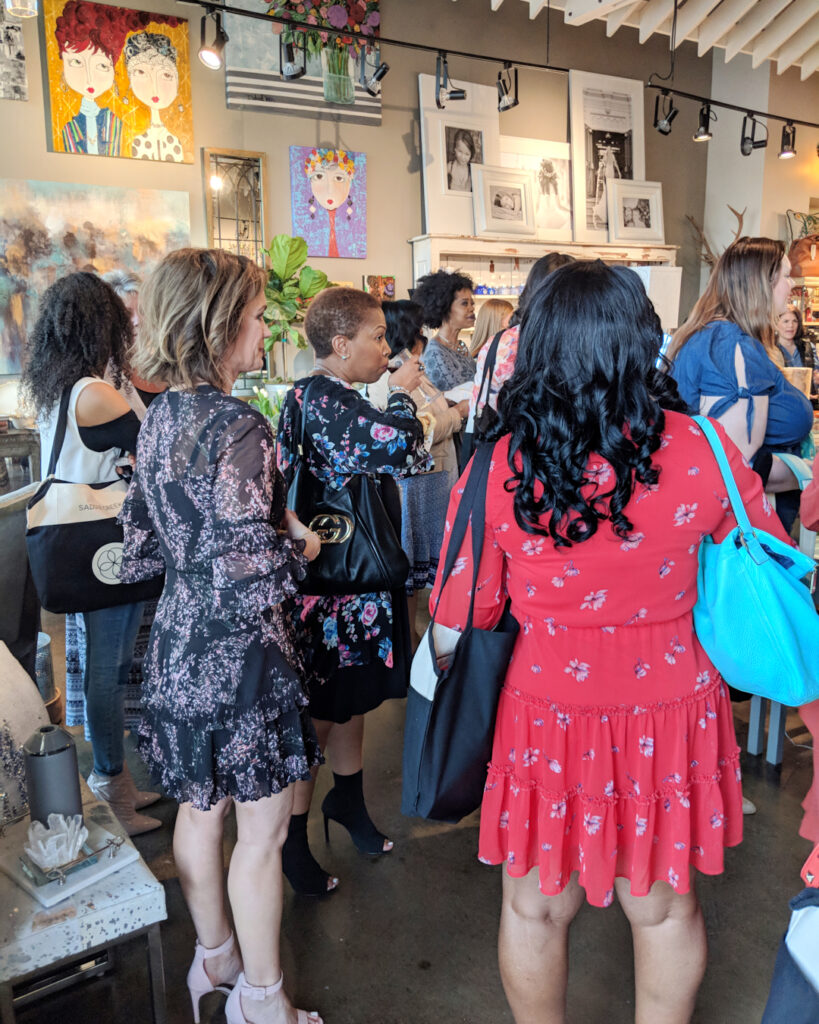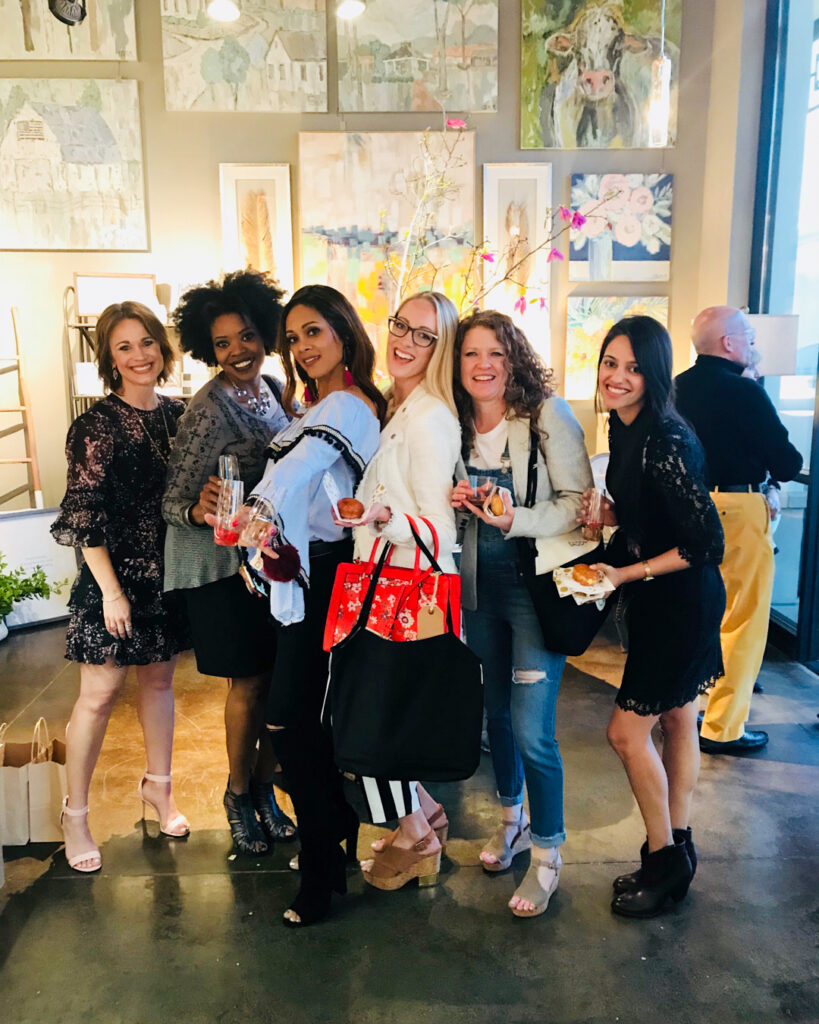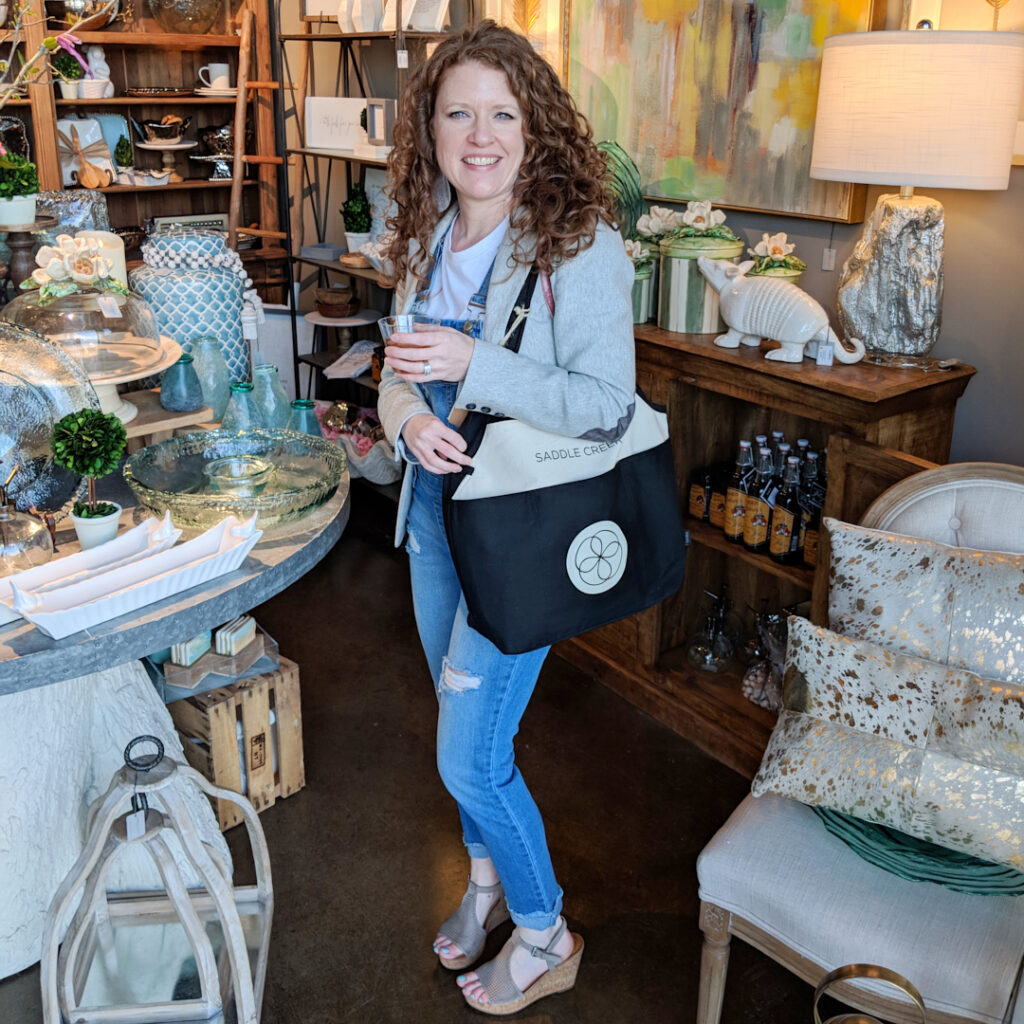 I could not believe that Southern Avenue Company gave us this pretty pair of earrings and little clay cup lined with gold in the picture below! The Kitzi jewelry is designed and hand crafted in Collierville, TN.  It is made of vintage bronze, antique silver, plated sterling and leather with an assortment of embellishments.  The ear wires on all the earrings are also nickel free which is exciting for those with ear allergies.  I can't wait to wear these with some of my Spring and Fall outfits!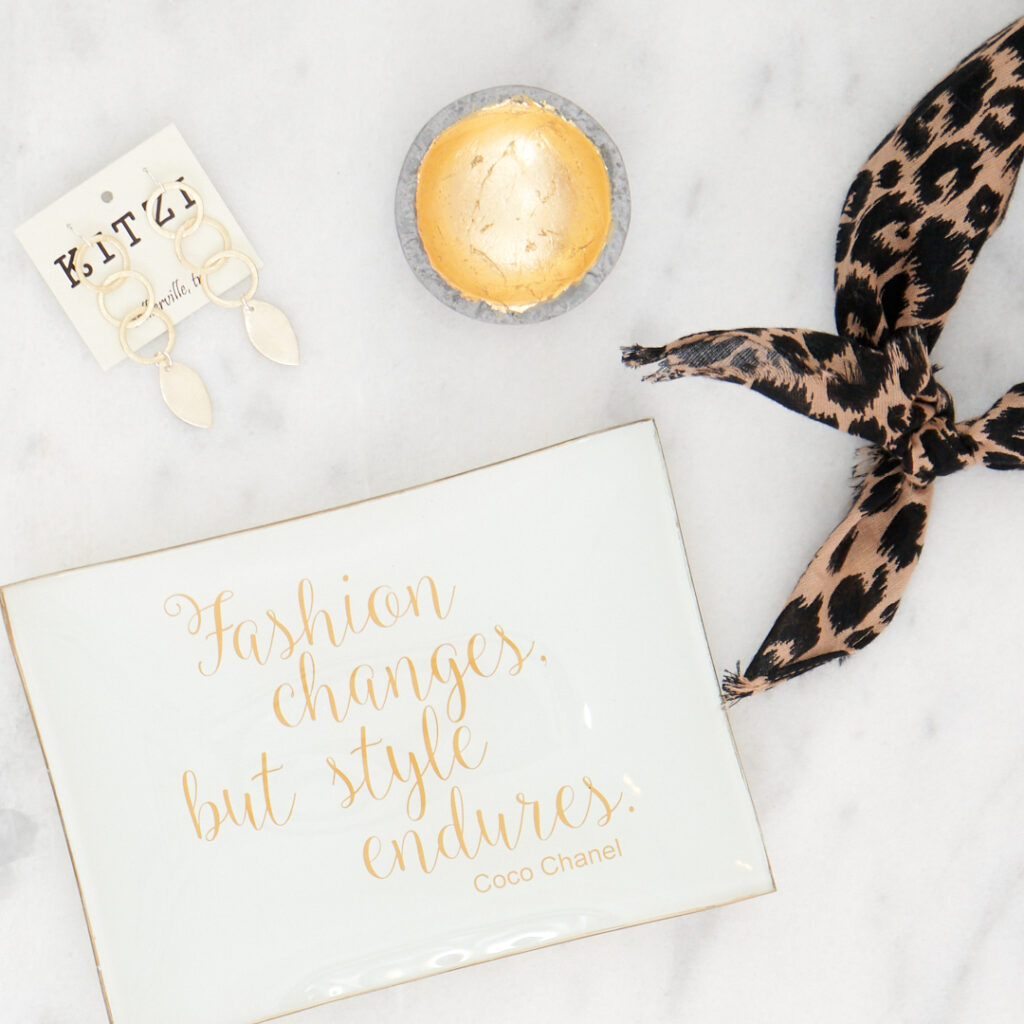 Paper Source
Our next stop was the Paper Source! This was such a treat because we got to get our craft on!!! I love crafts and don't have a lot of time to do it.  We made these cute banners below.  They had already cut out the cute sayings for us and we put everything else together!  There were lots of other sayings to choose from but these were my favorite.  If you need stationary, calendars, fun gifts and custom invitations this is the place to go.  The store is beautiful and there are lots of fun things to see!
We left with our cute banners and a discount card for our next purchase.  I will definitely be returning!  I did not mention they have some really unique gift wrap as well which is something we all need at times!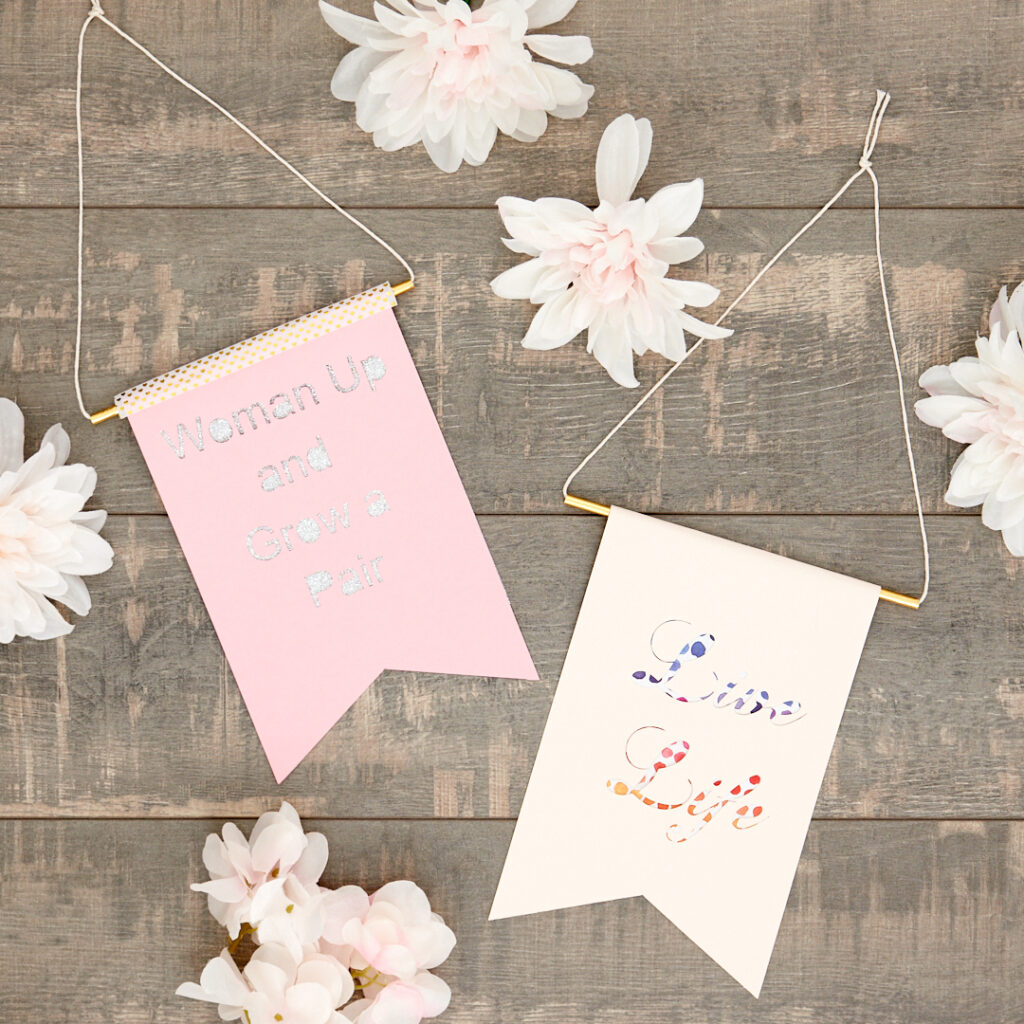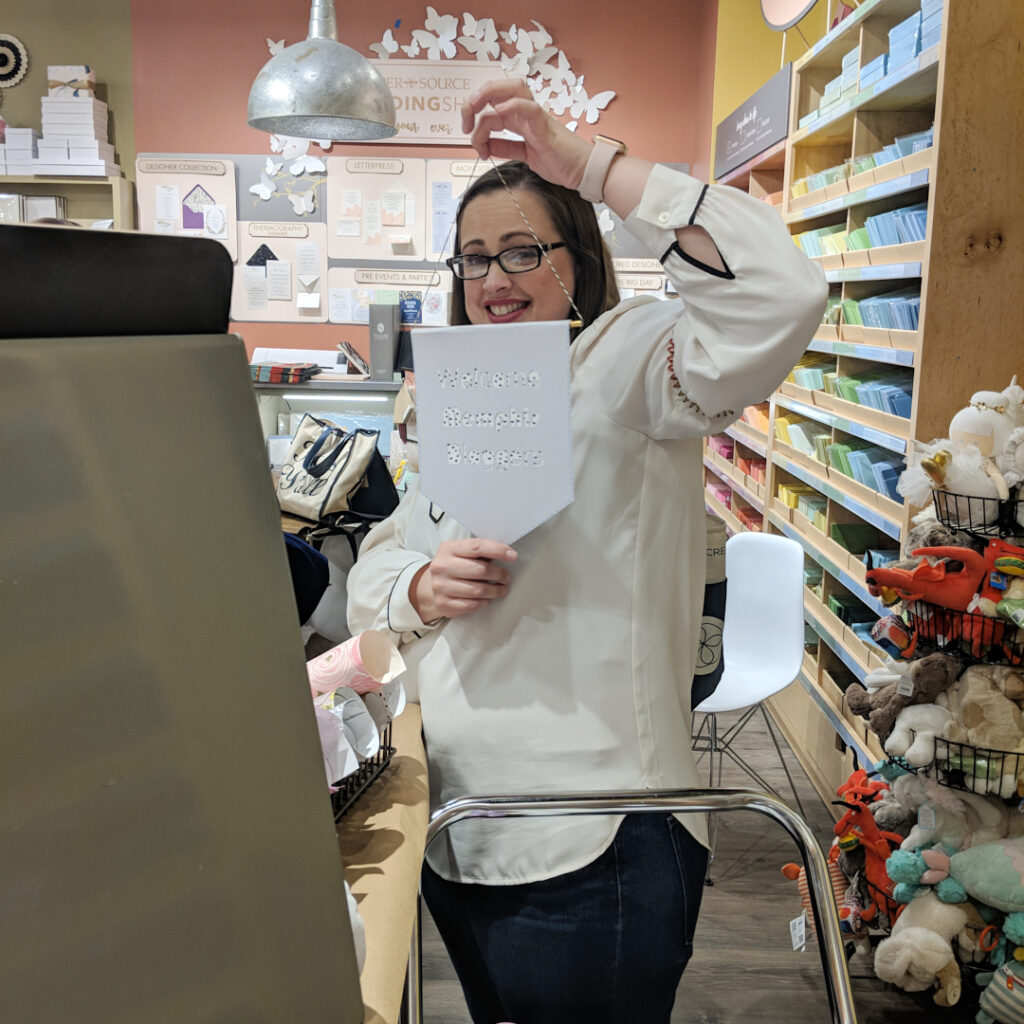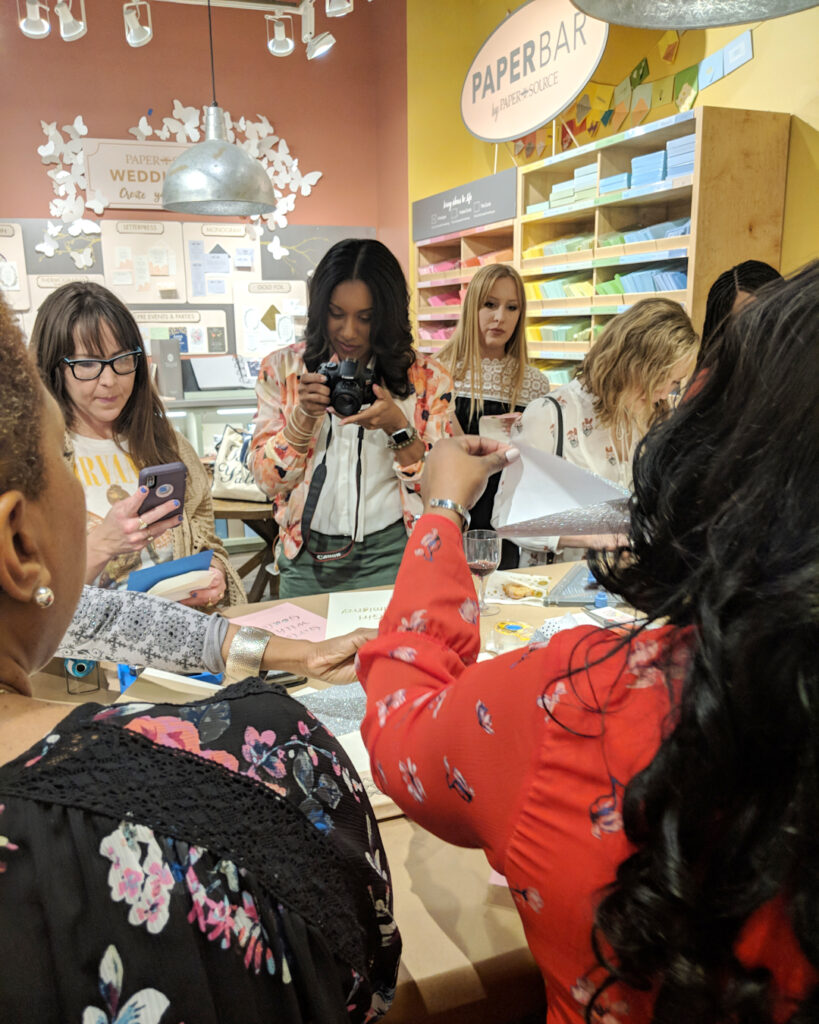 Indigo
Our final destination was a fun shopping hour at Indigo.  They were so nice to stay open an hour later to let us come and have a private shopping event and gave us a sweet discount!  We had decadent Muddy's Cupcakes and they sent us home with a much needed bath bomb!  I found a really cute Z Supply t-shirt and some Baublebar Italian acetate statement earrings that I purchased with the discount!
Indigo is a specialty shopping destination for those that want something fun and a little different.  They have been in business for over 20 years and are the 5th largest carrier of denim in the world!  I would consider them a one stop shop for your entire wardrobe.  They offer clothing, shoes, handbags and jewelry.  You can even find some undergarments!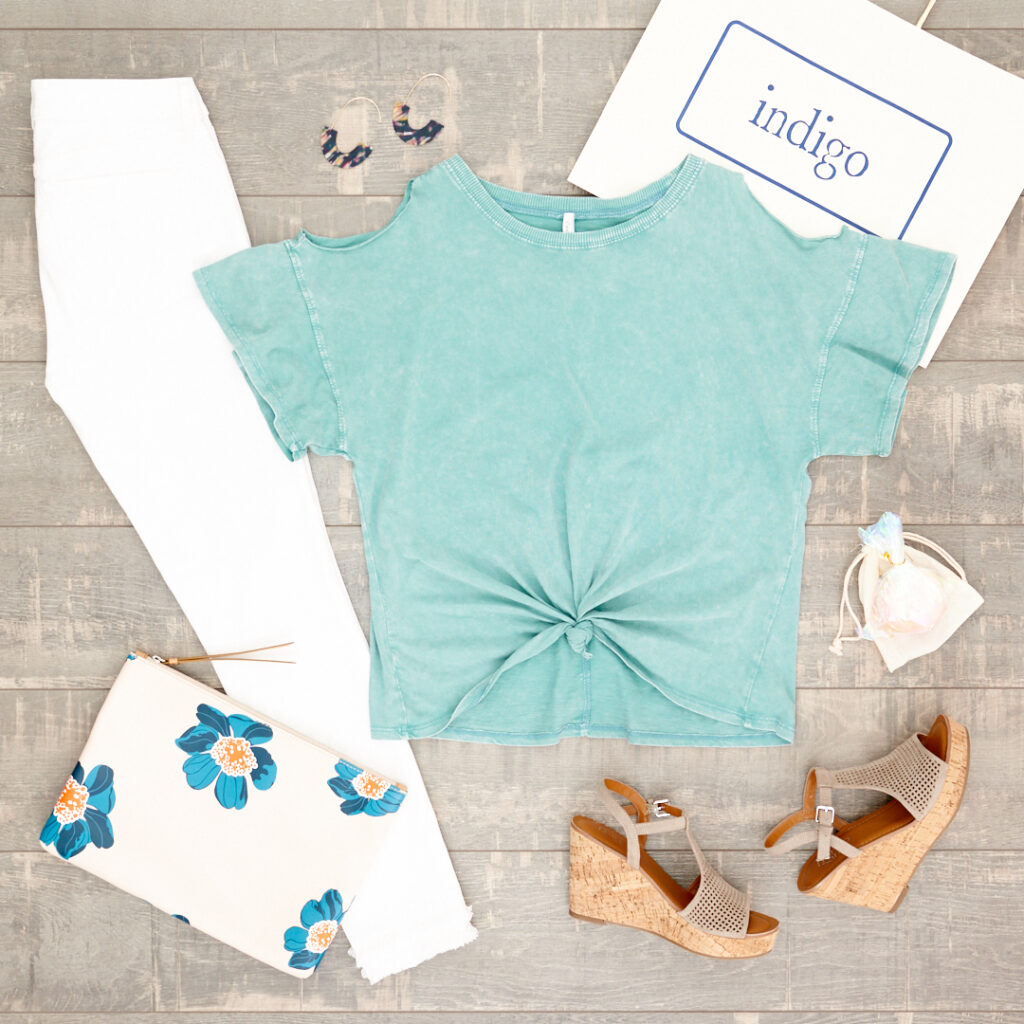 Brahmin and Others
We received some other goodies from various stores in Saddle Creek.  One of these goodies I have pictured below with an outfit and it's that gorgeous Brahmin clutch.  Yes, a real lizard embossed leather clutch! They are going to be opening in Saddle Creek this May and will be a great addition to the center!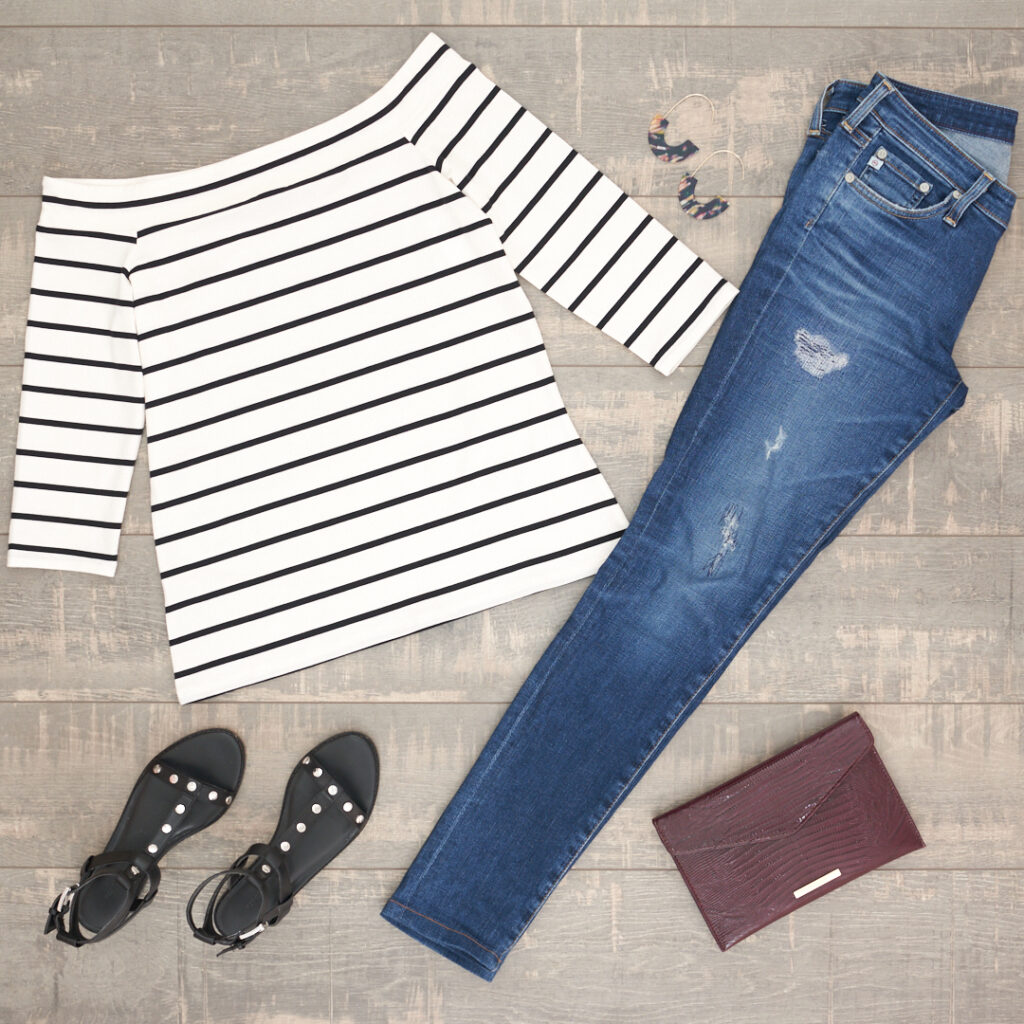 Various other retailers gave us some discount cards and cute bags. They were J Crew, Madewell, Kendra Scott, Vera Bradley, Lucky Brand and Saddle Creek themselves.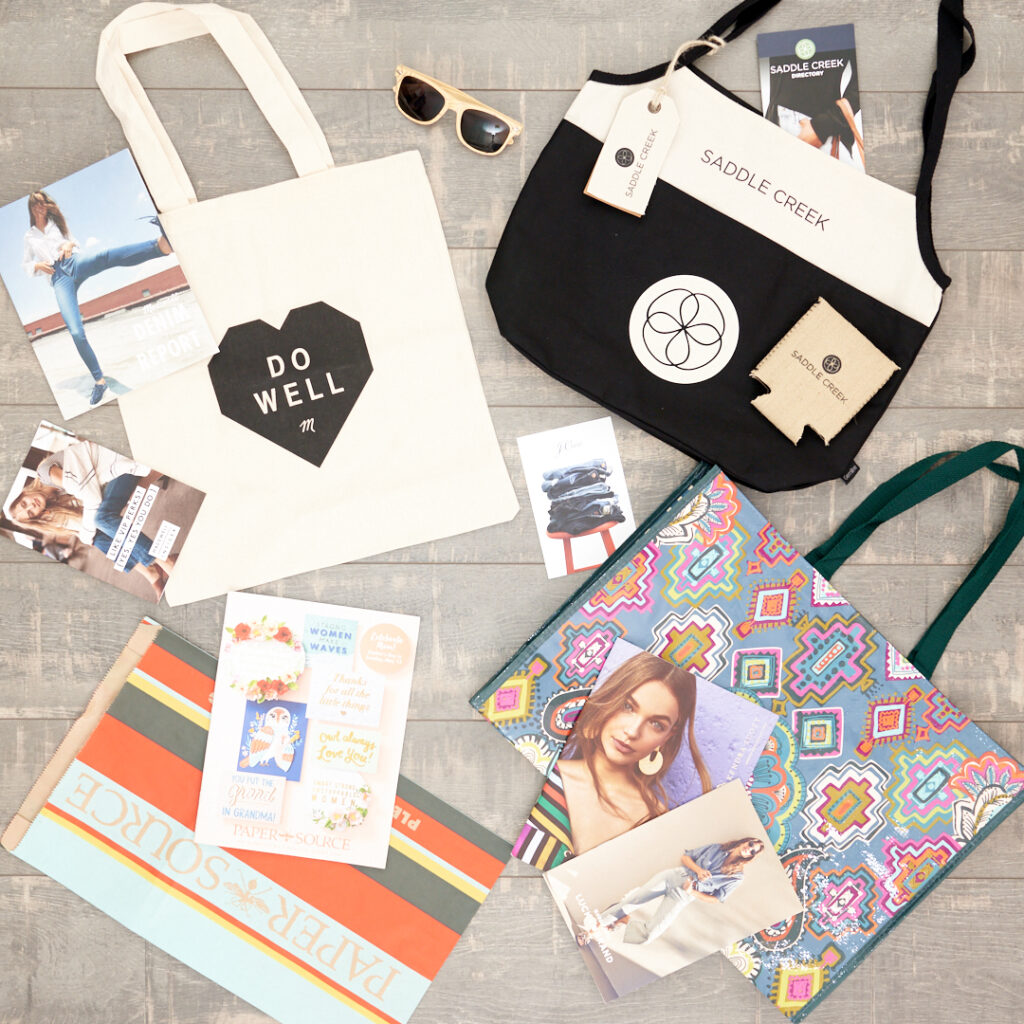 I just have to give a big thanks to Saddle Creek and the shops that participated in giving us all the goodies and taking the time to make it a wonderful evening.  If you have not visited The Shops of Saddle Creek yet I hope you decide to do so.  They have such a variety of shops for everyone and have a sensational shopping experience!
All of these opinions are mine and I wrote this on my own; I was not asked to do so. I was glad to do it and wanted you to know about this great place to shop in town! Please don't hesitate to leave me a comment below and if you are not subscribed you can do so in the sidebar or footer below! Thanks for reading and I'll talk to ya next week!
Lots of Love – Jamie