Hello ladies! It is that time again for the Play! by Sephora Box!  I did something a little different this time too.  I actually tried some of the products last week so I could give you some feed back on them!  YAY!  The funniest part about this box was that it was called Insta Beauty!  They actually put dotted lines around the products on the big sheet so you could place the actual product down and do a flat lay with it! LOL! I have been doing that almost every article.  Thanks for the copy Sephora!  Wish I could have gotten credit for that one.  Anyway, each of the products are supposed to contribute to flawless camera ready results!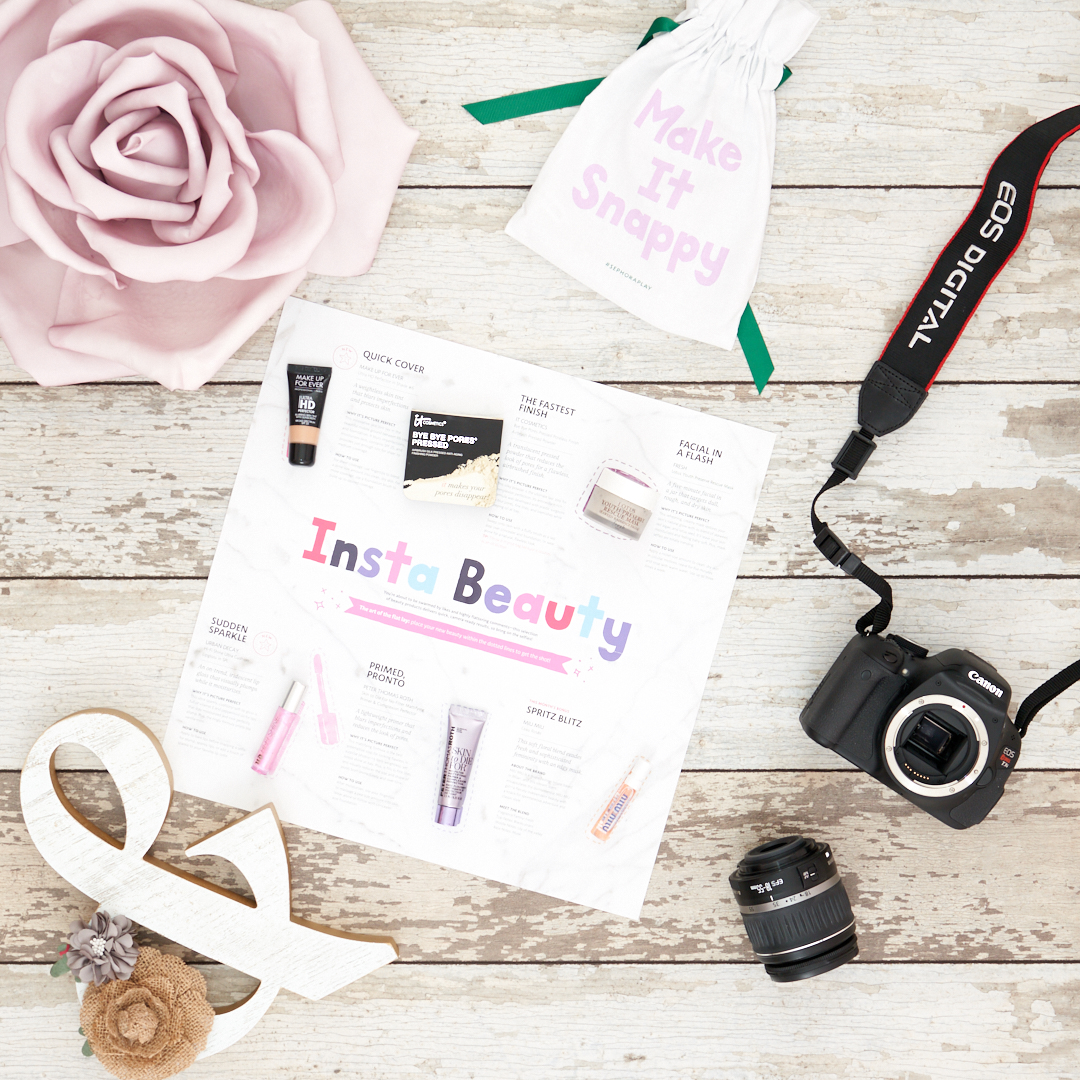 I have to admit one of my biggest struggles with putting photos on Instagram was seeing my flaws.  The HD cameras that we all use pick up everything we don't see with the human eye.  This makes me a total believer in products that help create a flawless finish on the skin.  It is not to be fake but honestly to be realistic because in reality we do not notice the things that a camera can pick up. I have specific products I love to use to give me camera-ready skin but I am always open to trying new things.
There are three products that I absolutely love for this and they are the Make Up Forever HD foundation (which I got as a sample in a previous box), Becca Cosmetics First Light Priming Filter Face Primer and Becca Cosmetics Under Eye Brightening Corrector. The trick is to find things like this that reflect the light in such a way that your fine lines, imperfections and uneven skin tones are concealed.  These do the job for me! The best part is I don't feel or look like I have a ton of makeup on!  My goal is a flawless natural look.
The following are the samples that came in my April Play! by Sephora Box:
Make Up For Ever Ultra HD Perfector : This is a new product by Make Up For Ever. I love it when I get new product samples in my boxes! I tried this once on my skin and it was just too dark so I could not keep it on.  I will have to go to the store and get the right color to match my skin.  But I will say that it felt nice on the skin and gave me plenty of coverage.  It is light to medium coverage and is described as a skin tint that is between a bb cream and a foundation.  I felt like it was more the consistency of a foundation and went on the skin like a bb cream.  I think this is going to be a great option and can't wait to find time to try the right color!  This is a great option for someone that doesn't like foundations (which is usually me) but wants good coverage.  It's coverage without looking like you have makeup on!
I will also add that is does have SPF in it.  This is great for everyday wear and outdoor photos. But will not be acceptable for flash photography.  So, remember this if you decide to get this product!
IT Cosmetics Bye Bye Pores Pressed Poreless Finish Airbrush Pressed Powder: Boy that is a long name!  I have actually heard a lot of great things about IT Cosmetics and have not ever tried their products.  I put it on one morning after doing my normal makeup and I loved the finish it gave to my face.  It really did cover without looking chalky or like I had a ton of powder on my face. However, I can not say that I liked the way it looked at the end of my day! The thing I fear about these kinds of products is what happened.  It settled into my wrinkles!  Yuck! That made me not even want to use this again.  I had on a primer and a foundation underneath it and it still settled.  This may not happen to everyone but I don't think this is great for my aging skin.
Fresh Lotus Youth Preserve Rescue Mask: This is a great brand.  I have several of their products but have not ever tried this mask. I used this a couple of times in the morning before I put on my makeup.  The thing I love about it is the 5 minutes you need to leave it on.  Not 20 minutes like most but 5! I don't know about you but I don't have an extra 20 minutes in the morning to put on a mask and I am always too tired at night!  I loved the way it made my skin feel and look so I would say this is a great buy.  I will forewarn you though, this mask like many of Fresh's other masks has chunks of stuff in it. This bothered me at first but then you just get used to it.  Its usually an herb or a seed, so not big deal.
Urban Decay Hi-Fi Shine Ultra Cushion Lipgloss: I am a huge fan of Urban Decay! They have the most amazing colors in their eye shadows, blushes, eye liners and lipsticks!  I have 4 of their eye shadow palettes and use several different colors of their eye liners.  The lipsticks are a little over the top for me because I don't do loud colors on my lips so I have never tried them.
I was happy to receive this lipgloss in color SPL that is a holographic candy pink with iridescent sparkle! It was to  die for!  The color even overrode the fact that I don't like sticky lipglosses, which this one is just slightly sticky. The lipgloss is formulated to plump the lips so it had a slight tingling effect and smells like vanilla-mint!  It is full of vitamin E and peppermint oil.  I am just all over in love with this stuff and will be wearing it over my lipsticks and by itself!
Peter Thomas Roth Skin to Die For No Filter Mattifying Primer & Complexion Perfector:  Wow, another long name, lol!  I was impressed with this product. It does exactly what it says it is going to do!It fills fine lines and reduces the size and shape of the pores, feels weightless and reduces the shine of oily skin!  I have oily skin and this lasted all day for me.  It is supposed to help reduce the size of pores over time as well but I can't say if that is the case because I have not used it for long. But it definitely did temporarily while it was on!
Bonus: Miu Miu L'eau Rosee:  If you have read these articles for long you know I am not a fan of perfumes.  We get a bonus item every month in the box and it is usually a perfume.  This one is a soft floral blend that emits a fresh and sophisticated femininity with an offbeat musk.  I thought it had a nice smell from the bottle.  It got a 4 out of 5 stars on Sephora and the bottle is gorgeous!

I will have to say that this was an overall great box. I tried some amazing products that I may even add to my makeup routine, like the mask.  There is nothing better than creating a smooth, moisturized clean slate for your makeup in the morning in 5 minutes!  I am also going to continue to try the primer but it will be hard for me to give up my Becca Cosmetics one!  Please let me know what photo ready products you love to use if you get a chance!
L.O.L.,