Hey ladies! April was such a fun month! I ended up with a floral theme for this round of photos.  Of course, there was no plan for that, it just kinda ended up that way.  Makes me think if I really did plan out stuff if it would even come out as good.  Sometimes things are better when they just fall into place, right?!  We are creatures of habit so it just seems to be what happens!
I absolutely love the floral prints that I have been finding this year. They are more contemporary and modern feeling as opposed to the grandma floral we are so familiar with.  I feel so pretty and feminine when I am wearing something with floral print! Do you? The bold colors and fun styling of floral pieces make me feel more put together and confident in my outfits.  I styled a few different floral pieces for you in this series of Flat Lay to Life-Styled.  I chose a floral jacket, a floral blouse, floral shorts, a romper and a jumpsuit.  All very different pieces with very different purposes. You will see that I have categorized some leaf prints as floral prints as well.   I hope you will find some inspiration in this post and try your own spin on floral for Spring!
Floral & Blue Blazer Love
Oh how I love this blazer! I was really sad when I saw lots of other people did too because it sold out SO quickly!  What a find and it only cost me $17.  I got it 40% off when it was brand new because H&M had a weekend sale.  I am hoping they will bring it back in stock.  If you really like the print of the blazer they also have two different style dresses available in it. I will link them below!
This blazer looks great with a camisole or a tee layered underneath.  You can dress it up a little or make it completely casual.  I paired it with white shorts here but will also wear it with some ripped denim shorts and any blue or white jeans. I had someone comment on my Instagram the other day that they did not ever think of a blazer for Spring.  This may be you and I would say that certain blazers are made for this time of year.  This one is lighter weight without lining inside it and not super serious.  This is a great option in place of a light sweater or cardigan that you would think of for Spring.  I prefer a blazer because I feel like it is smart and fashionable looking and makes your outfit look more put together.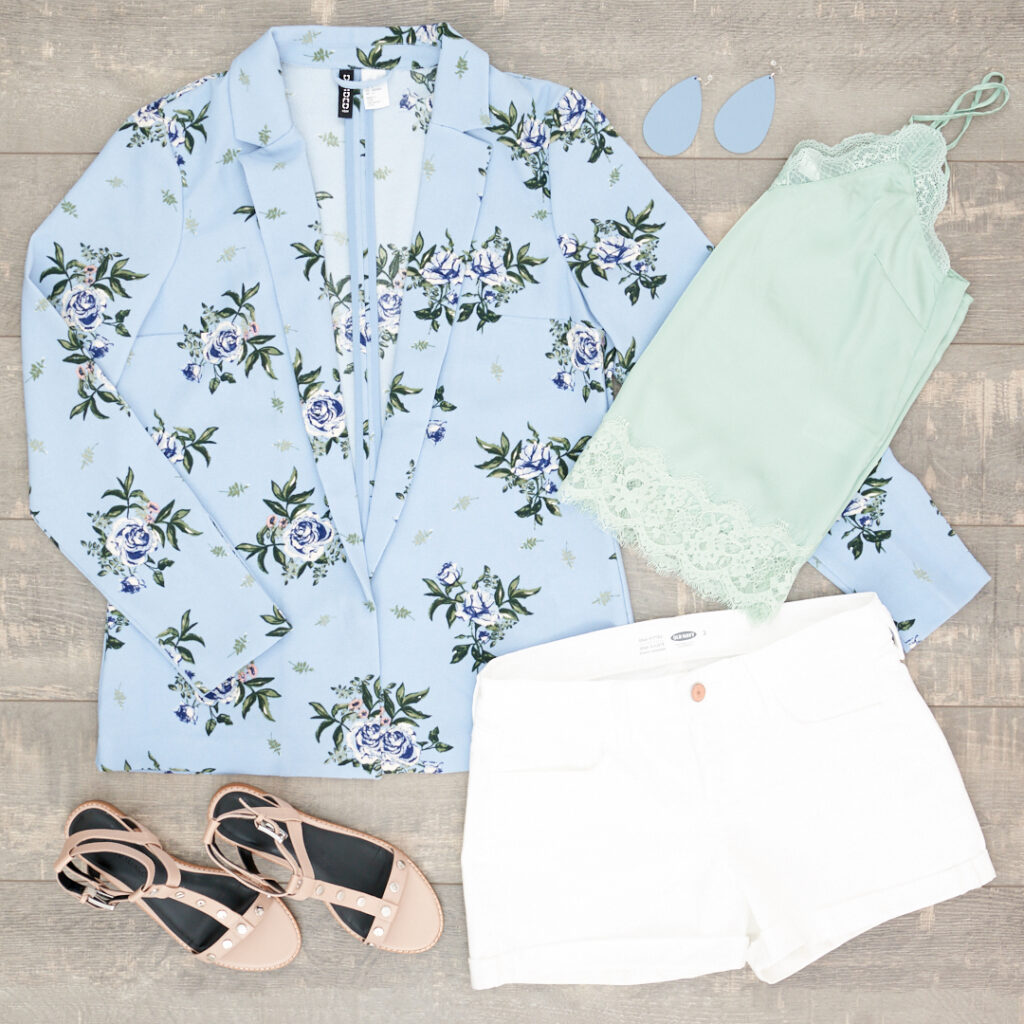 Bright Floral Shorts 
My most favorite floral piece next to the blazer are these shorts! I love everything about them. The colors, the print and  the style! I think they are the perfect shorts for Spring and Summer.  I paired them here with a stripped tank top, my destroyed denim jacket, some cute fringe sandals, and my black cork Nickel & Suede earrings. This is also an example of my favorite pattern mixing combo with stripes and floral.  This tank was from J Crew last summer and was a perfect choice with the shorts.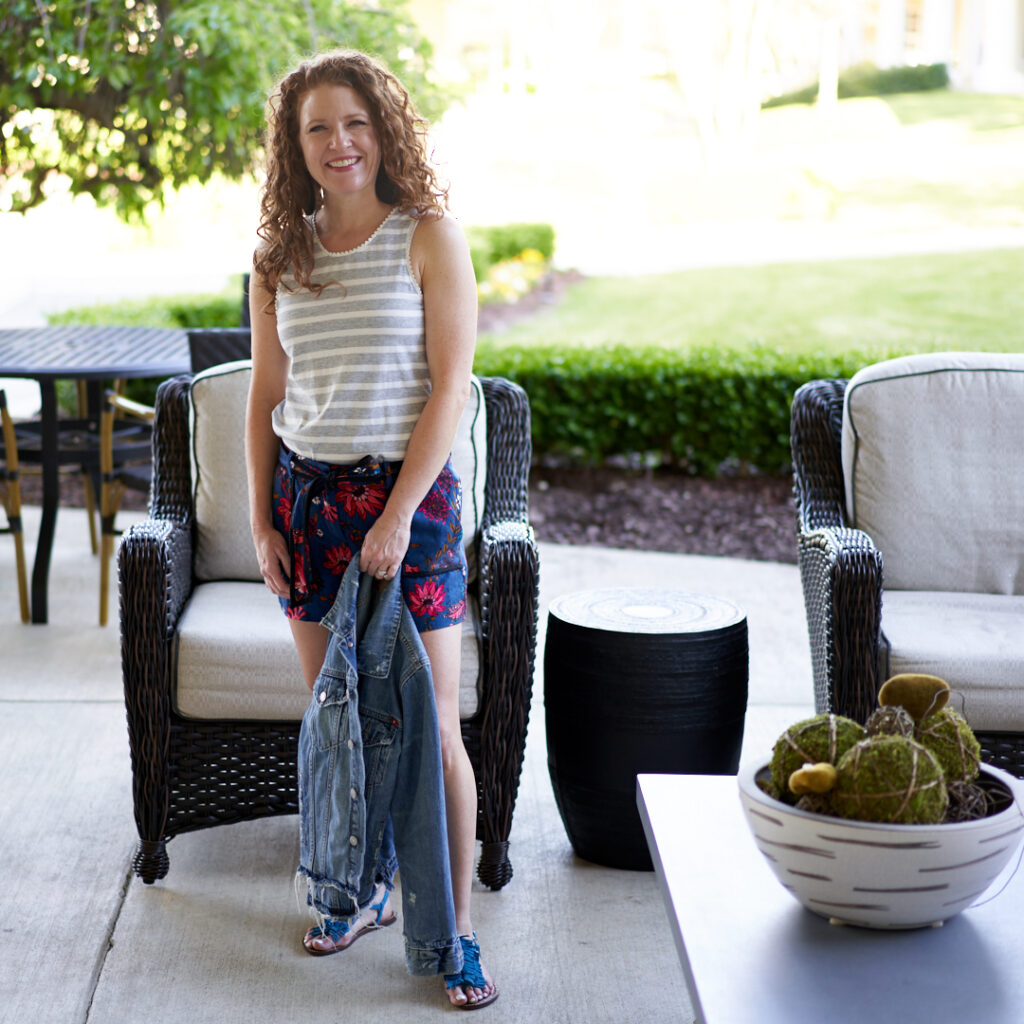 Romping Around in Ferns
I am so impressed with this romper.  I search for pieces like this because not all of them are appropriate for my age.  This one is a great length and gives me the appropriate coverage and has a flowy sleeve! It is so fun and "frilly" as my husband says and makes me feel completely confident.  Now, this is not something I am going to put on and go to church in.  But I will certainly wear it to a summer grill out or a date night with my husband. I'll even wear it out with my girlfriends.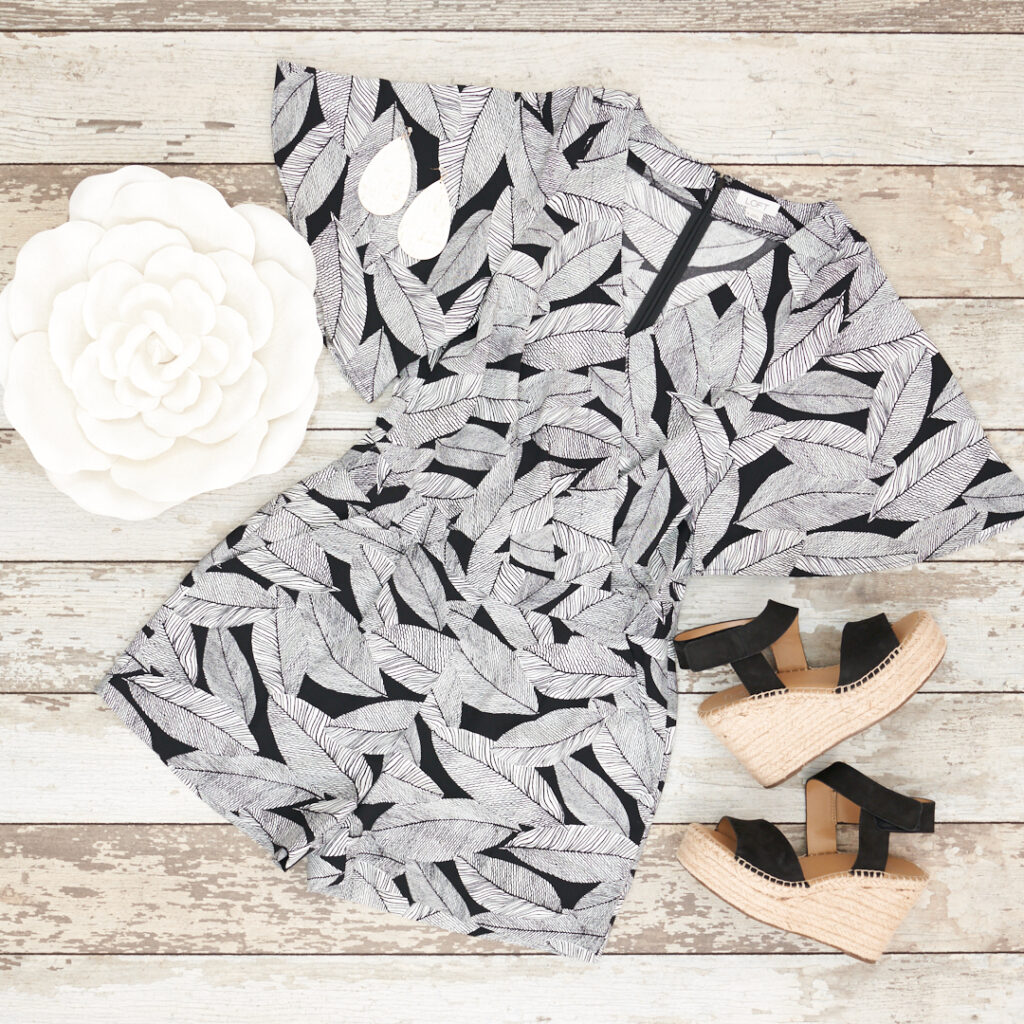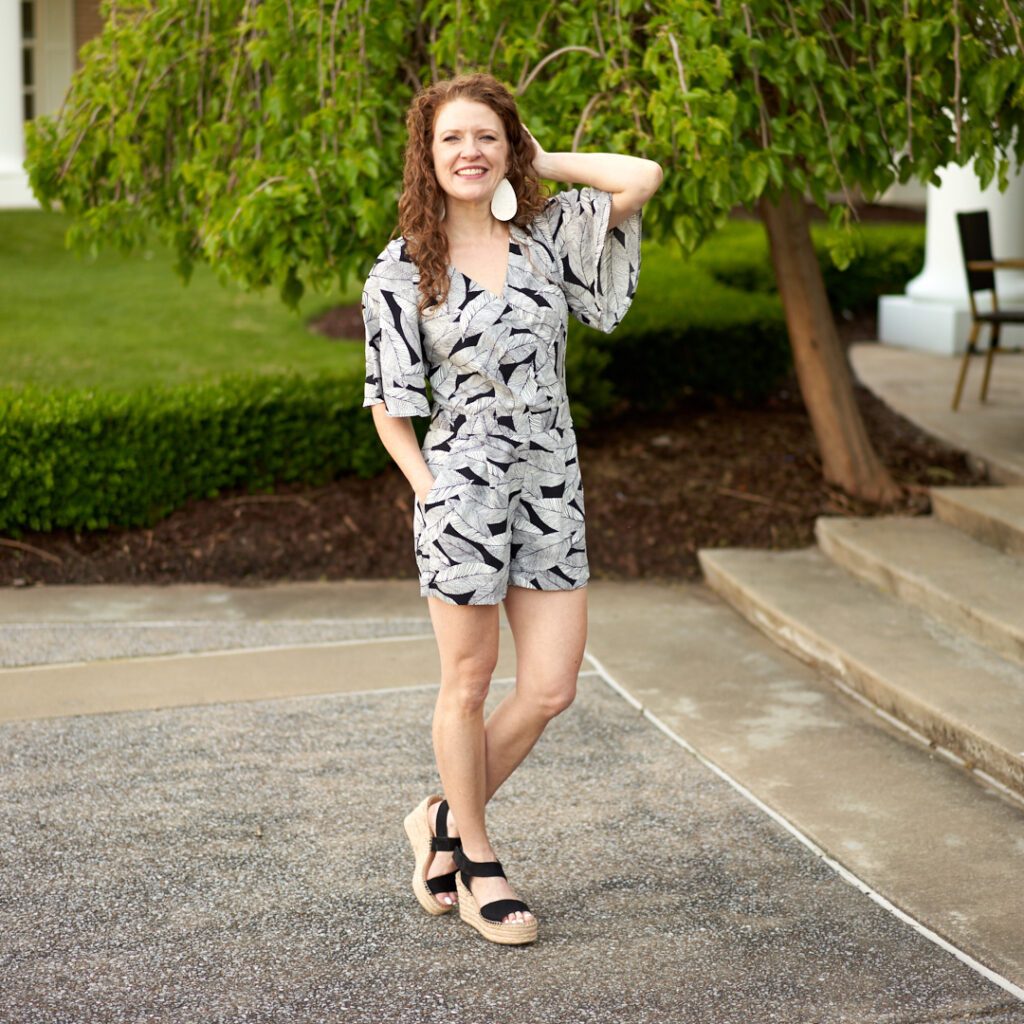 Leafy Goodness
This jumpsuit from H&M is what I chose to wear to Memphis Fashion Week.  It was the perfect piece for this event because it was comfortable yet glamorous.  The jumpsuit came with straps as well that you can attach if you are not a big fan of strapless.  A little secret though is that it does have boning in it that holds it in place no problem! This thing did not budge at all on me!  Another advantage of the straps is they can make it feel more casual so you can also dress this baby down!
Just in case the evening became a little cool, which it certainly did, I took a white linen blend blazer with me to put over it.  I also wore my fun Kendra Scott earrings,  Brahmin wine colored clutch and some nude wedge sandals.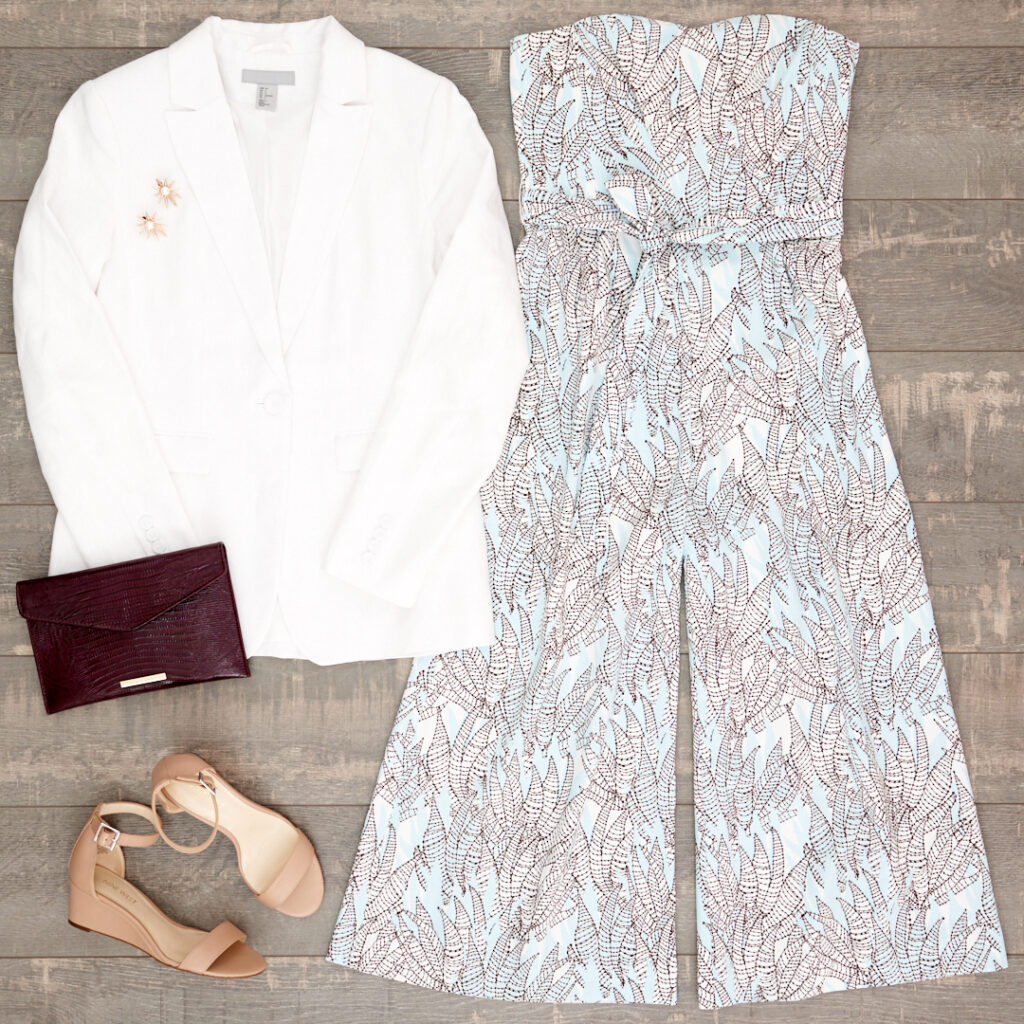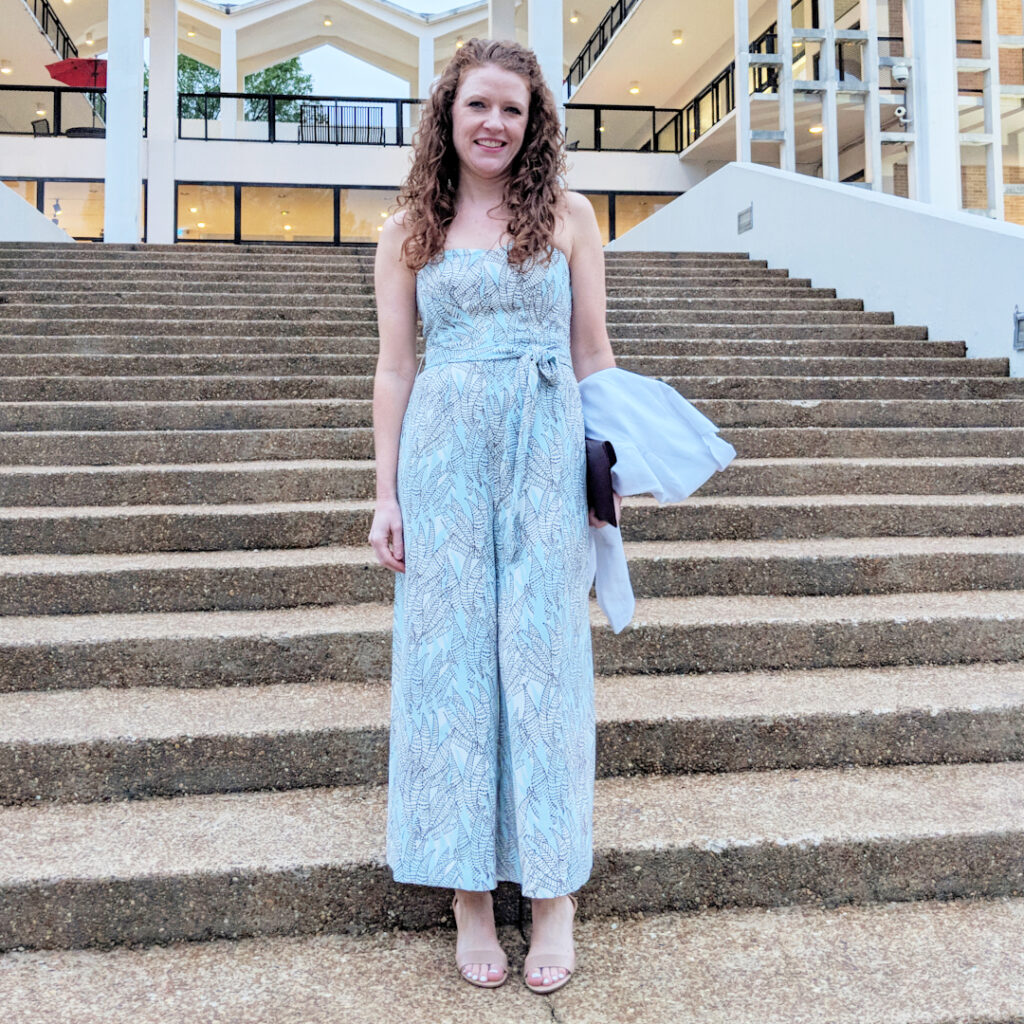 Casual Comfy Floral
When I look at this picture I immediately want to talk about the awesome jacket but I will refrain!  The cute blouse in this pic has a subtle and sweet floral print on it.  I love that the sweet print matches the sweet style of the blouse.  The light chiffon material in combination with the high ruffle collar make this a little gem! This blouse is perfect paired with jeans and this jacket or more dressed up with a pant or a skirt.  I actually paired this with my rainbow striped skirt for a shower and it was fun with that as well.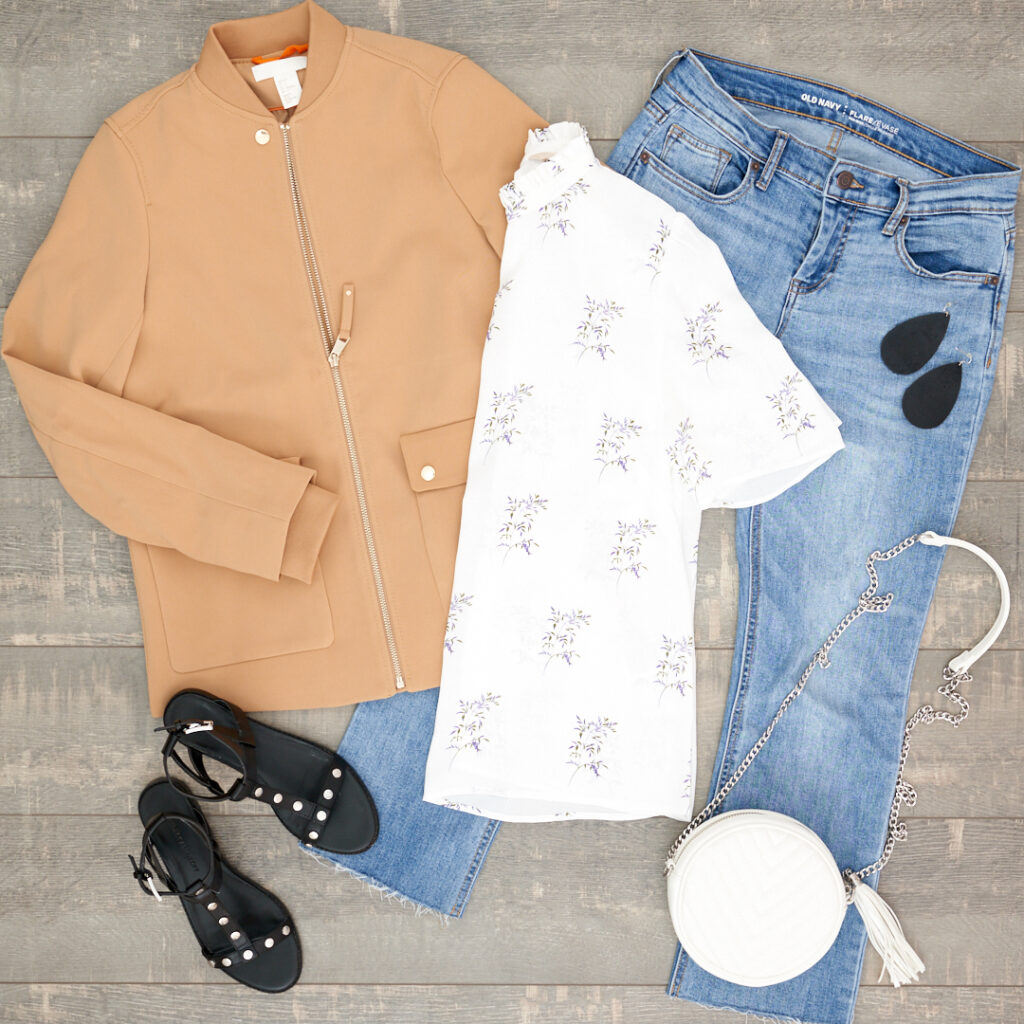 Thanks for reading another Flat Lay to Life-Styled post! I hope that you have added something floral to your wardrobe this season.  If not, there are plenty of options here to choose from.  If you have any questions about how to pattern mix with floral or just any questions in general do not hesitate to leave me a comment! I would love to hear from you!
Lots of Love,