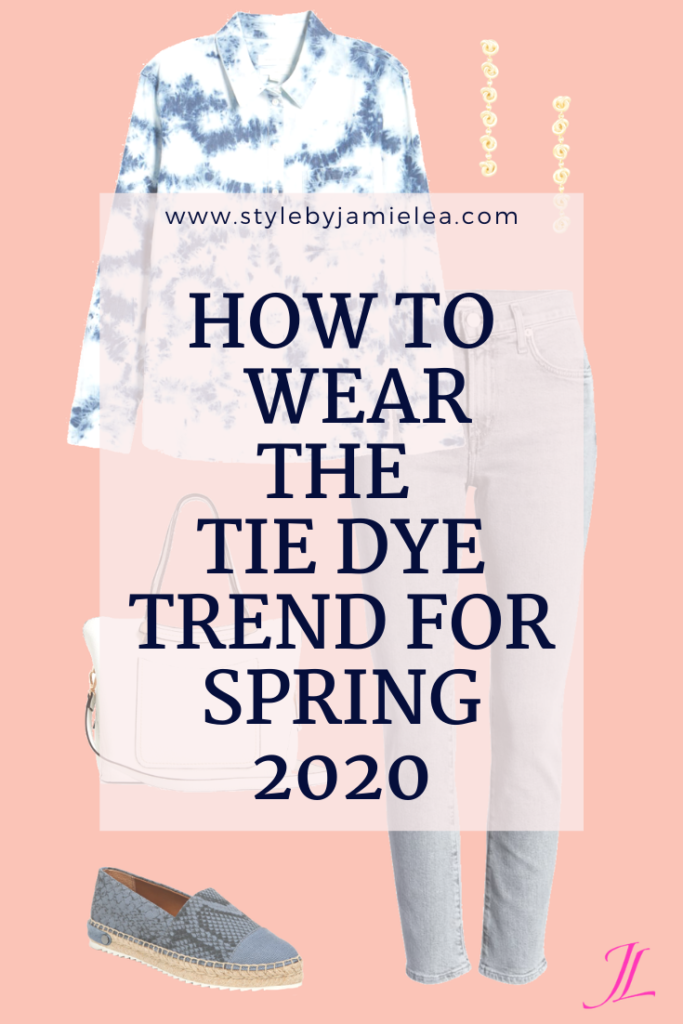 Why am I writing about tie dye you might ask?! Well, I purchased the cutest tie dye sweatshirt at TJMaxx and noticed that tie dye prints were going to be a fun trend for this spring/summer season. This is a trend I think any age can wear so I think it's worth talking about.
I really like fun pieces you can add into your existing wardrobe without it getting too complicated. Tie dye is just that!
Tie dye clothing became popular in the 1960's and 70's.  I personally recall tie dye being popular again in the 90's along with the frizzy hair and parachute pants!  I will welcome back tie dye over the other two any day!
Not all trends that come back are even remotely attractive to the person that has already worn it in decades past. But I have to say, I think the tie dye trend could bring back a certain nostalgia if you grew up in the 80's or 90's.  It definitely does for me.
How to Wear Tie Dye
I want to show you how to wear Spring 2020's popular tie dye trend. Don't worry if you are over 40 like me, you will be greatly surprised at how much more stylish it will look as opposed to the 90's grunge that it was. This season you will see an updated tie dye look that will bring fun and versatility to your wardrobe for spring.
What should you ask yourself when choosing a tie dye item for your wardrobe:
What colors will fit well with the other items in your wardrobe?
What clothing item (like a dress or top)  will I most likely wear with a tie dye print on it?
How versatile is this item going to be in my wardrobe?
What will I feel good wearing and not be embarrassed to wear in public?  🙂
The Tie Dye Dress
I absolutely love the look of a modern style dress with a tie dye print. They are everywhere for spring and I think they are so pretty. The tie dye is more subtle than what you might see on a band tee which makes them more wearable for the average woman.
I also noticed that most of the colors you see in the tie dye prints, like the ones below, are in the current season colors! The blues, pinks, purples and whites are easy to mix with pieces you already have from previous seasons.

Tie Dye Everyday Tops
Another great way to make tie dye more modern is to find a casual top or blouse. A button down in this pattern will give you lots of creative options. You can wear it with jeans for a casual look or pair it over or under a dress to bring it up a notch!
If you are over 40 like me then this is the perfect way for you to wear tie dye and not feel like you are going back in time to your high school or college days!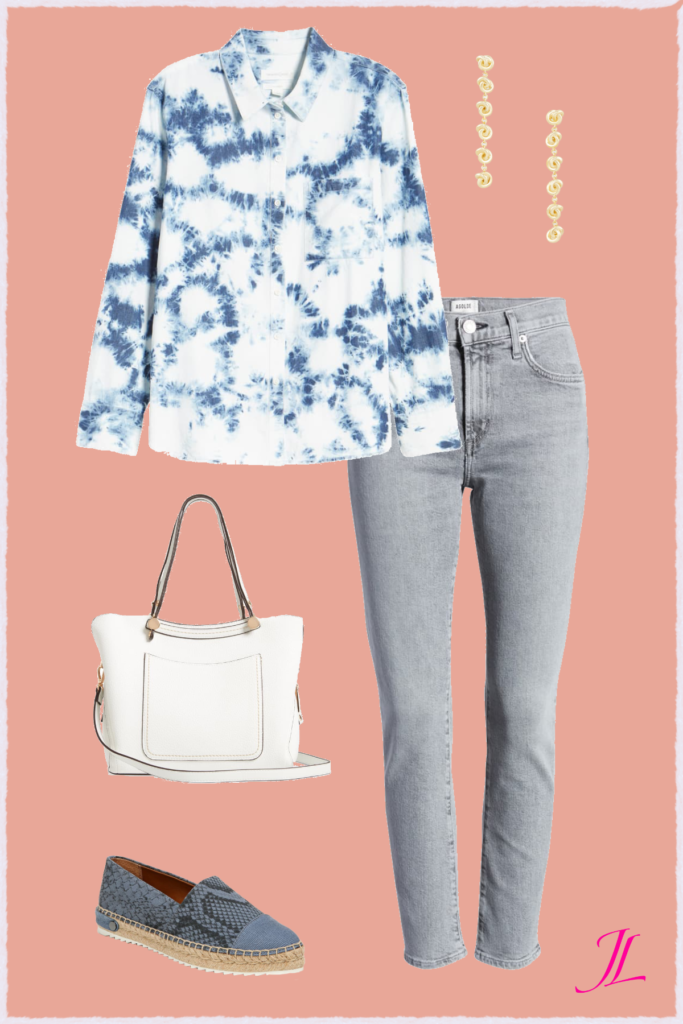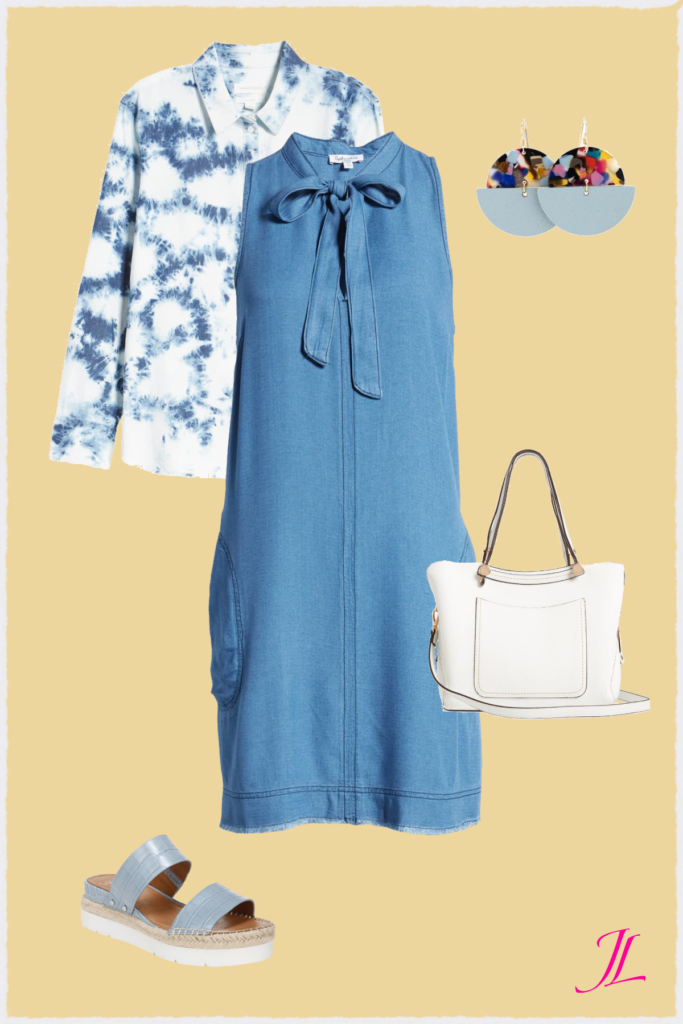 Tie Dye Activewear
If you don't think tie dye is for you in your everyday wardrobe you could have some fun with it and add in some workout items with tie dye print.  I feel like people are more open to prints and brighter colors when it comes to their workout clothing.
Stores like Athleta, Old Navy, Nordstrom and Target have jumped on this trend in their workout collections for spring.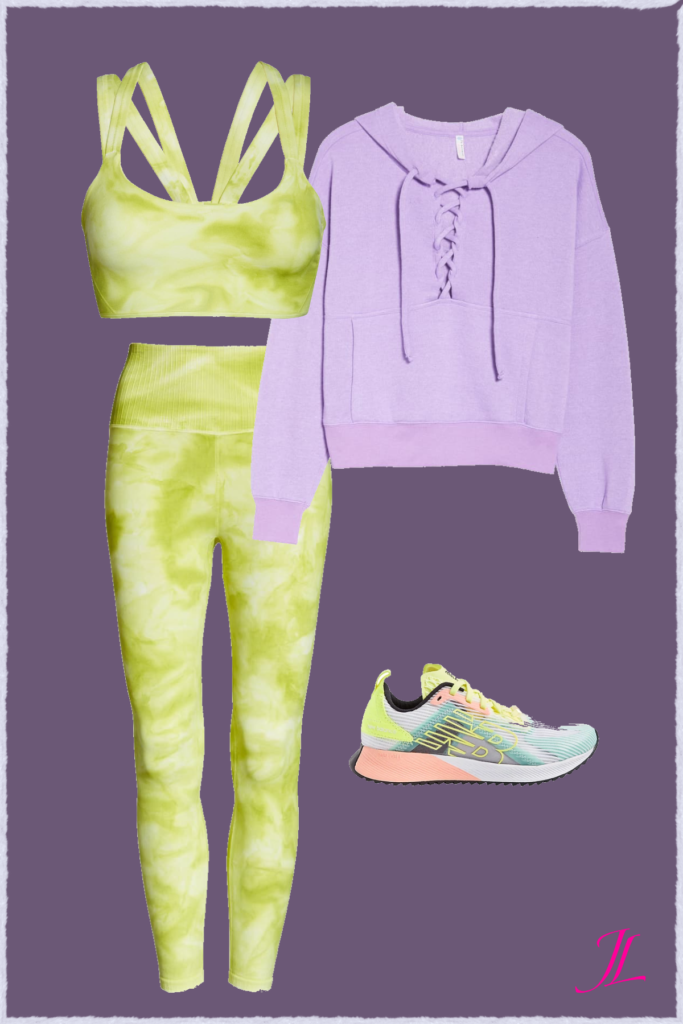 Tie Dye Loungewear
Another easy category to consider is loungewear.  I think loungewear with matching pieces that can also be worn outside of the house is becoming a fashion must have. They are also very versatile because you can break the items up and create multiple casual outfits with them.
Brands like Z Supply, Sundry, Free People Movement and Lou & Gray offer some of the cutest sets I have seen. With people moving more towards a casual lifestyle these sets provide a way to be cute and casual at the same time!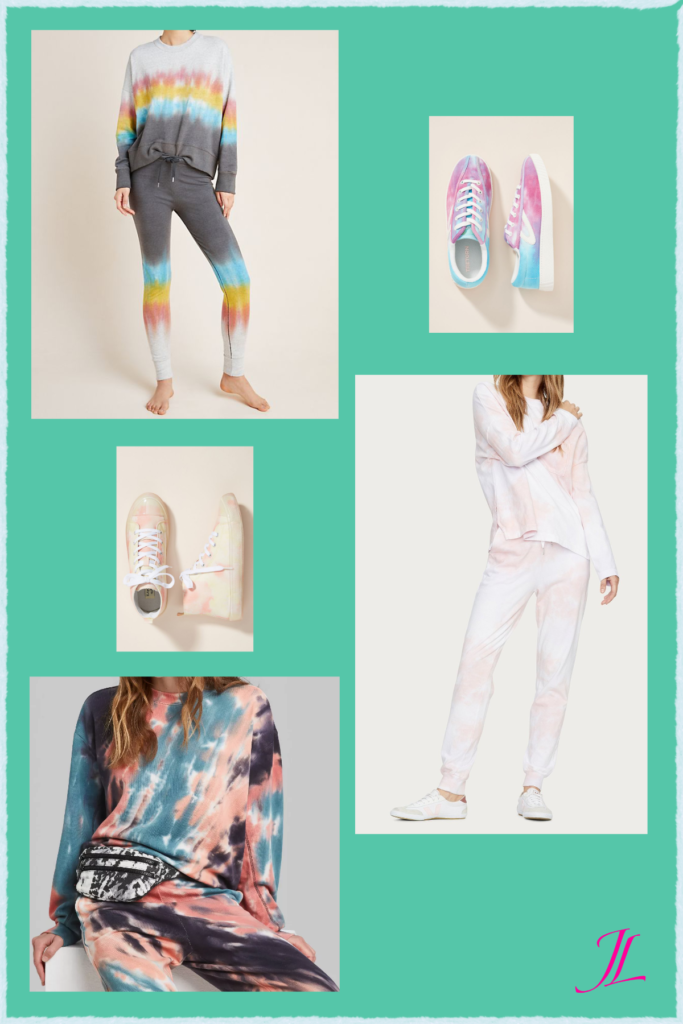 I have already jumped on this trend and I think it will stick around for a short while.  We will probably see it in the fall and spring again. It trickled in this fall and is going to be even bigger this spring/summer.
Also, look out for this trendy print on swimsuits, shoes, handbags and even some jewelry.
Stylishly Yours,