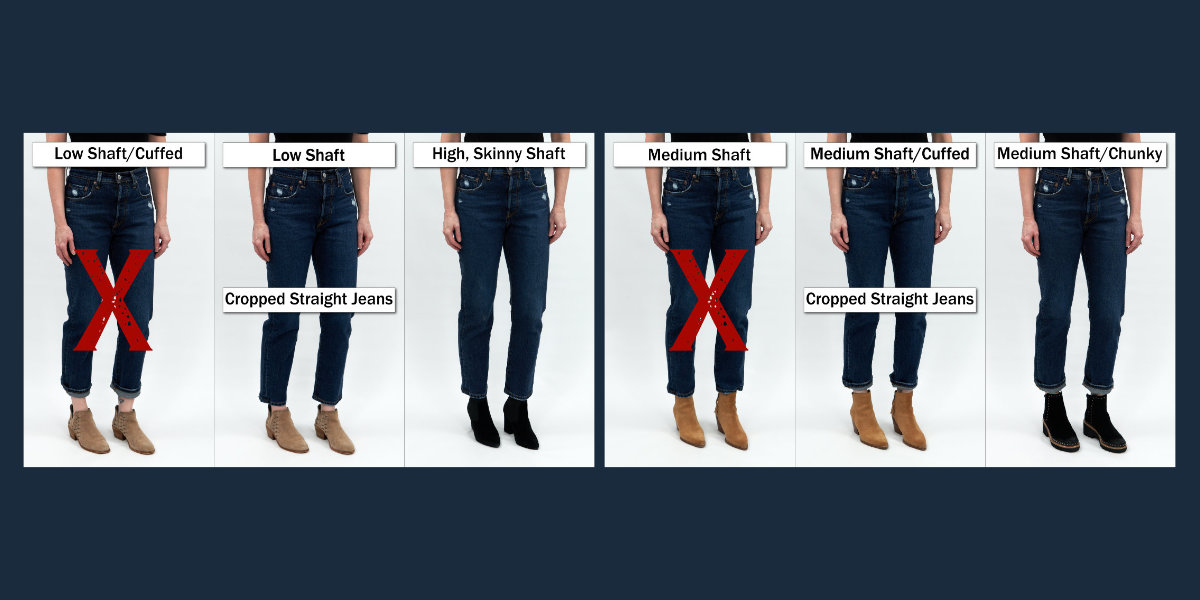 What jeans should be worn with what style ankle boots? I have been getting this question a lot these days, so I thought I would give you my thoughts on this.
Skinny jeans are no longer the go to jeans like seasons past. There are so many new jean styles with wider legs and they are not as easy to just throw on with just any pair of booties like skinny jeans are. This post and video contains lots of great images to show you what I think are the best options for some of the different leg styles available this season.
Please keep in mind that I am 5'4 and modeling these photos for you, so if you are shorter or taller these styles might look a little bit different on you. The main thing you need to know is that no matter what jeans you are wearing in these categories the combination that looks best is to have some skin showing between the top of the botties shaft and the jean hem, unless the booties shaft is high and skinny, than you would just want it to be above the ankle bone.  If it does not land it the right spot above the booties than you would determine if it would work to cuff or roll up the leg of the jeans. Some of the jean styles do not look great cuffed or rolled and in that case if you had a pair of jeans that were not quite right you would have the option to hem them. If hemming isn't an option for you, than I recommend for you to find a pair that fits correctly in length.
The 8 styles below are the ones I chose for this post:
Ankle Straight Legs
Cropped Straight Legs
Loose Straight Legs
Tapered Legs
Balloon Legs
Flare Legs, Bootcut and Wide Leg
Cropped Flare Legs
High Waist Mom Jeans With Distressed Straight Legs
Shaft Heights
Just for reference I wanted to let you know what shaft height I am using to describe Low, Medium and High shafts. I have no idea if there is an industry standard but this is what I measured from the booties that I used.
Low is right at the ankle bone and is usually 3 inches measured from the top of the heel to the top of the shaft.
Medium shaft height is 4 to 5 inches.
Taller shaft height is 6-8 inches.
Things to consider when you are pairing your booties with jeans:
The width of the shaft along with the height.  For ankle or cropped length jeans wider shafts look better with skinny legs and slimmer shafts look best with wider legs.
Try to show a little bit of skin between the shaft of the booties and your jean hem.
A skinny and taller shaft looks great with the ankle or cropped leg of the jeans pulled over them as long as the hem stops above the ankle to give your leg some definition.
Full length styles look best a little above the ground. They should not touch the ground at all.
Here are some links for some of the items in this post. I do make a small commission from any sales made through these links.

Ankle Straight Leg Jeans
Regular ankle straight jeans or slim straights are going to be super easy to wear will all different styles of ankle boots.
Look great cuffed or rolled if they do not hit the exact spot that you like.
If you don't want to cuff or roll them, you may want the alter the hem to end just above the area of the shaft to show a little bit of skin.
A high, skinny shaft pair of booties like the sock booties I have on below look great with a slim straight and if the jean is above your ankle it's great to leave the leg uncuffed and unrolled.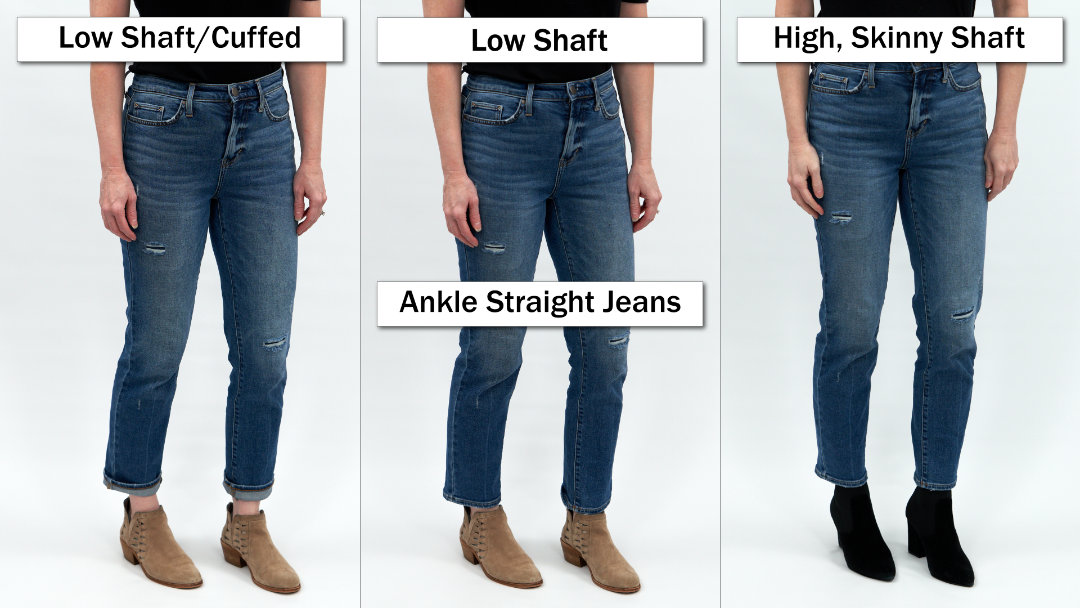 For a medium height and wider shaft pair of booties cuffing the jeans works great if it is slightly above the shaft showing some skin.
The lace up booties look great as well with the jeans rolled and I love the skinnier medium shaft worn this way.
The chunky combat style booties are not my favorite combination with this but they can be worn with them since the ones I have are a lace up skinny shaft. If they were any chunkier in the leg I would probable not have worn them.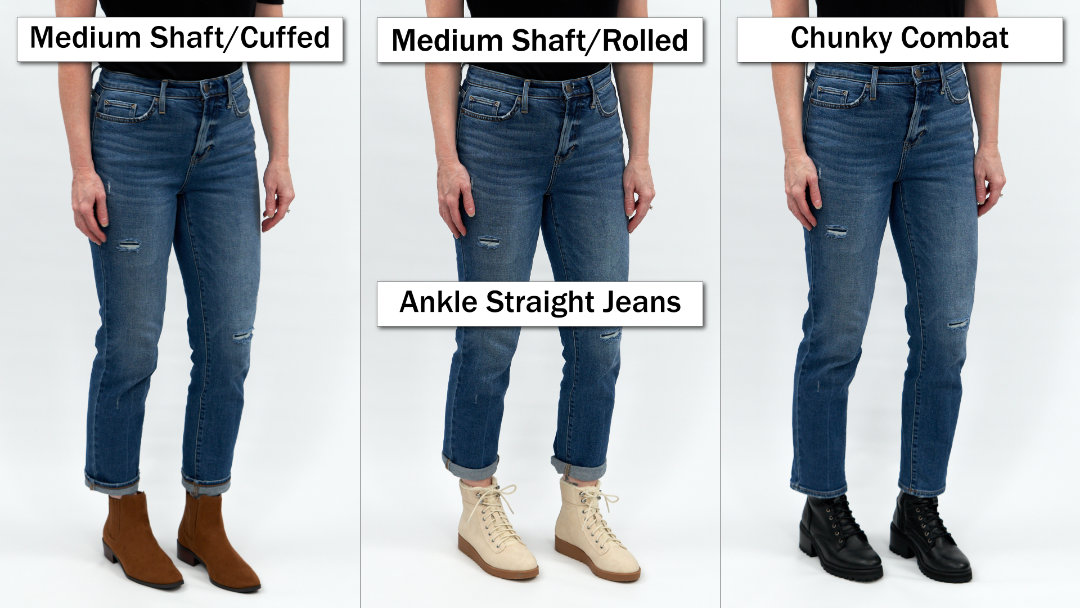 Cropped Straight Leg Jeans
This is one of my new favorite jeans to wear! It is so versatile and looks great on people that are shorter. The cropped length is an inch higher on my leg than the ankle length jeans were.  I love almost all of my booties with these jeans so I think this is the easiest to wear out of them all and the style is very versatile for many body shapes.
The cropped length gives a little bit more versatility when styling with different booties. Choose what you prefer.
Wear them uncuffed and unrolled with lower shaft ankle boots. They did not look very good cuffed or rolled as you can see below.
They are pretty perfect with the taller and skinnier shaft botties and show great definition around the ankles.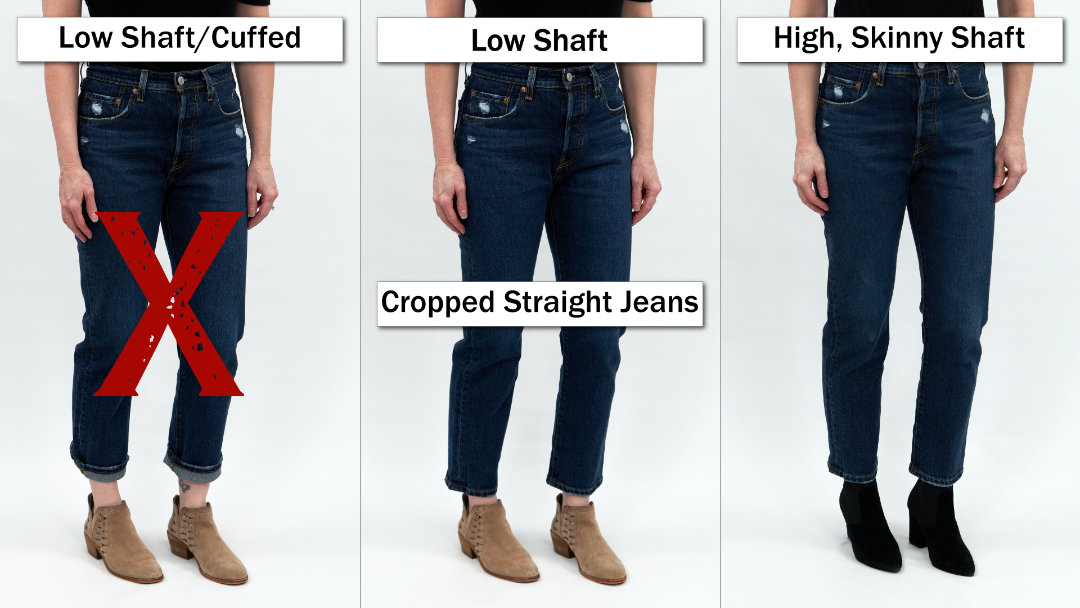 Not great with the medium shaft botties unless cuffed.
Look great with a chunkier medium shaft pair of booties.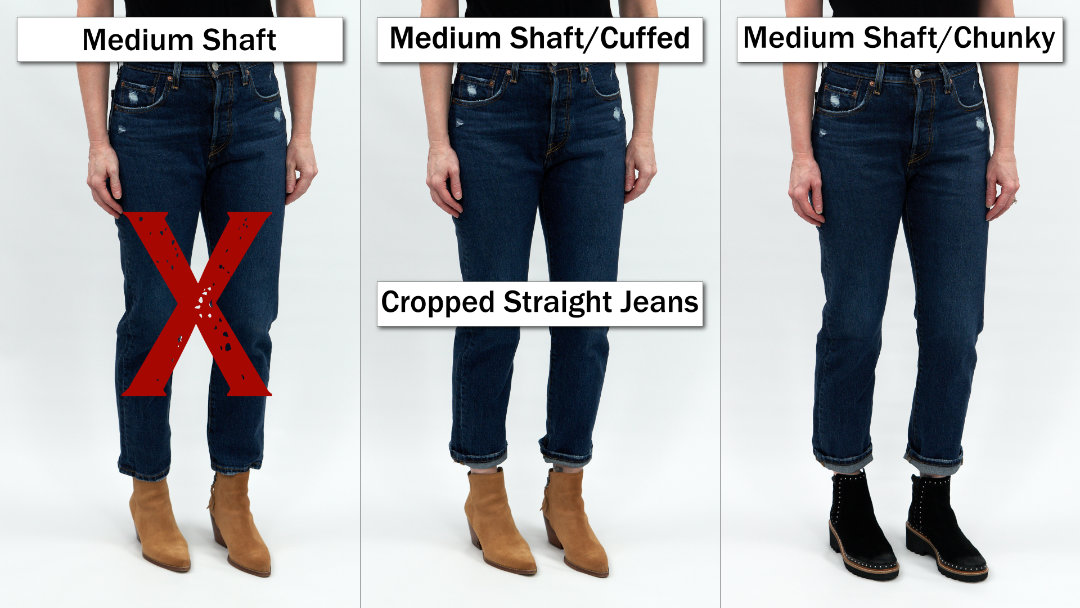 Vintage 90's or Loose Straight
This is a really special pair of jeans that you should take special care in styling.  They are fun to wear and provide great comfort but choose your shoes wisely. You can make them look great or really frumpy!
Do not cuff or roll these jeans unless they are longer and were made to roll up.
Low shaft booties looked good enough with them but it would not be my first choice.
The higher and skinnier shaft sock booties look amazing with these and this is what I would choose. They made my legs look longer and I felt good wearing this combination.
A chunkier combat boot also worked! This surprised me but it gave me that total 90's vibe that I use to wear way back then!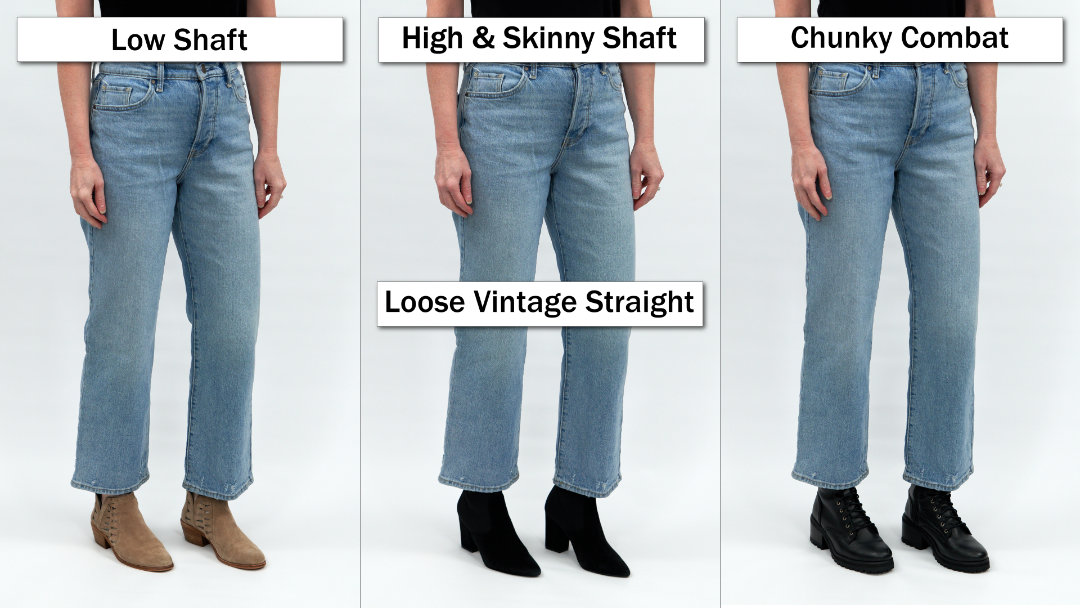 As you can see below the medium wider shaft booties did not look great cuffed or uncuffed.
They don't leave enough definition between the leg and jeans so they look a little frumpy.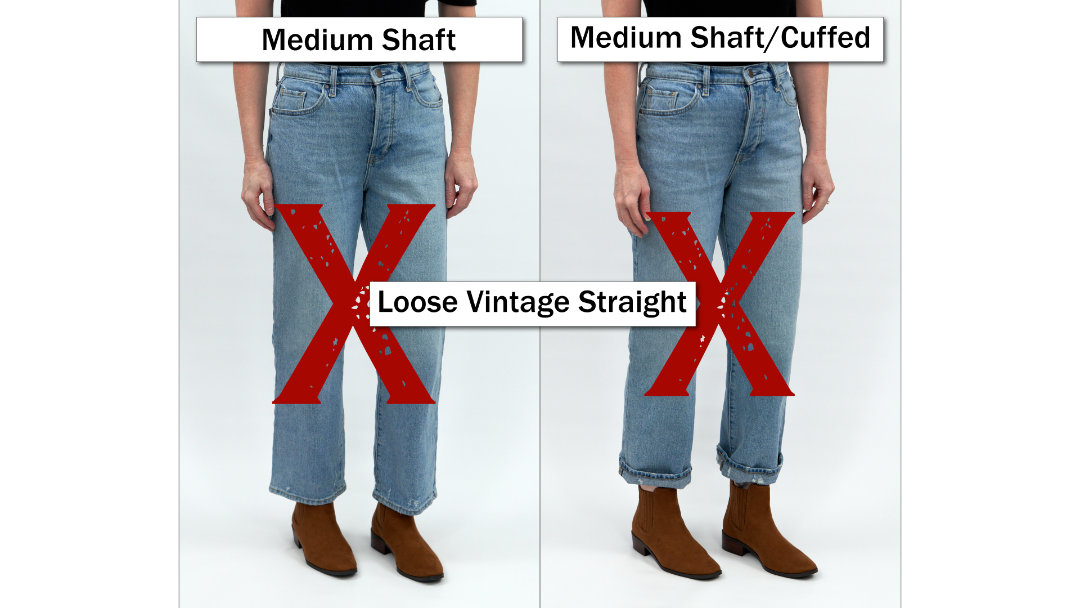 Tapered Legs
Tapered legs are coming back in a major way this season and these are another tough style to wear.  Only because it is so different than what we have been wearing and therefore we have to change more items in our closets to accommodate them.
The low shaft ankle boots worked great. There is plenty of skin showing on my ankle so these got a thumbs up!
The high and skinny shaft sock booties also were a win!  My favorite look!
The medium shaft gets a big fat "X" and did not work.  The tapered leg does not look good cuffed or rolled and leaving it ankle length made it hit and sag on the top of the boots.
I have to add that these look great with a pair of mules or loafers.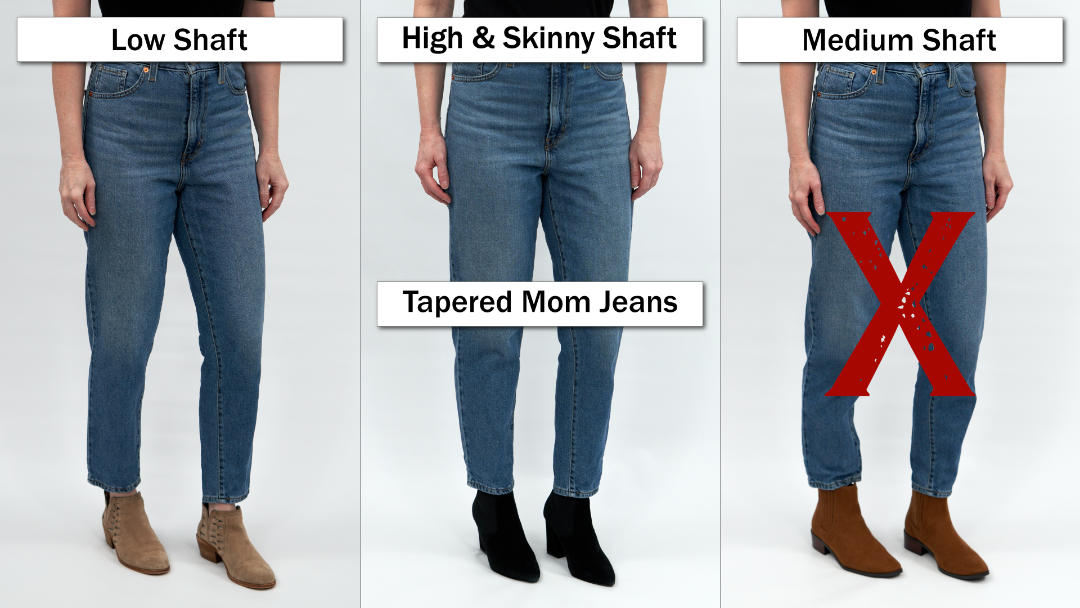 Balloon Leg Jeans
Hello balloon legs! I almost didn't show these jeans because I just am not a fan of this trend at all. But in case you are, I really wanted to address the ankle boots that you can wear with them.
The low shaft was just okay. This can be done. I didn't give it an "X" but it wasn't my favorite.
The high and skinny shaft sock ankle boots were a win here! I loved the definition around the ankle and it just made the jeans look so much better. I like that the heel also gave some length to the legs as well.
The medium and wide shaft booties did not look good because not skin was showing and there was almost no definition between the leg and the jeans.
Flare Leg Jeans
These flare jeans are full length. If you wear a pair of full length flares they hem should stop a little above the ground. They do not look good if they touch the ground, so I usually tell people to hem them with the shoes you will want to wear with them and make sure they are about a half inch to an inch above the floor.
A heel looks the best with flare jeans unless you are tall enough to pull off a full length without the hem touching the ground.
Hemming a pair of flare jeans will cause you to loose some of the look of the leg, so if this is the case, I do not recommend hemming them.
Do not look as good cuffed or rolled.
An extended toe like a pointed toe or square toe helps to elongate the legs along with the higher heels.
If you want to wear a chunky pair of booties like a combat boot with a heel like the middle image below than you can see that this does work. This is a great way to make them a little more casual. Even though the toe box is round it still looks fine because it has that chunky sole that gives it a lot of substance.
As you can see with the medium, wider shaft and lower heeled ankle boots with the red "X" below, the legs look shorter, the hem skims the floor and looks really sloppy.
Cropped Flare Jeans
I think cropped flares can be a little bit of a challenge to style with ankle boots. You really need the right combination to make these look good.
The best points to think about with these are:
They don't look great cuffed or rolled so leave the hem regular.
A low shaft pair of booties looks good but not my personal favorite, but it will work because there is enough skin exposed to create some definition.
A higher and skinnier shaft looks the best. It elongates the leg and creates definition between the leg and the hem of the jeans. The elongated pointed toe helps with this as well.
Since it has a wider opening it doesn't look as great with the medium and wider shaft booties.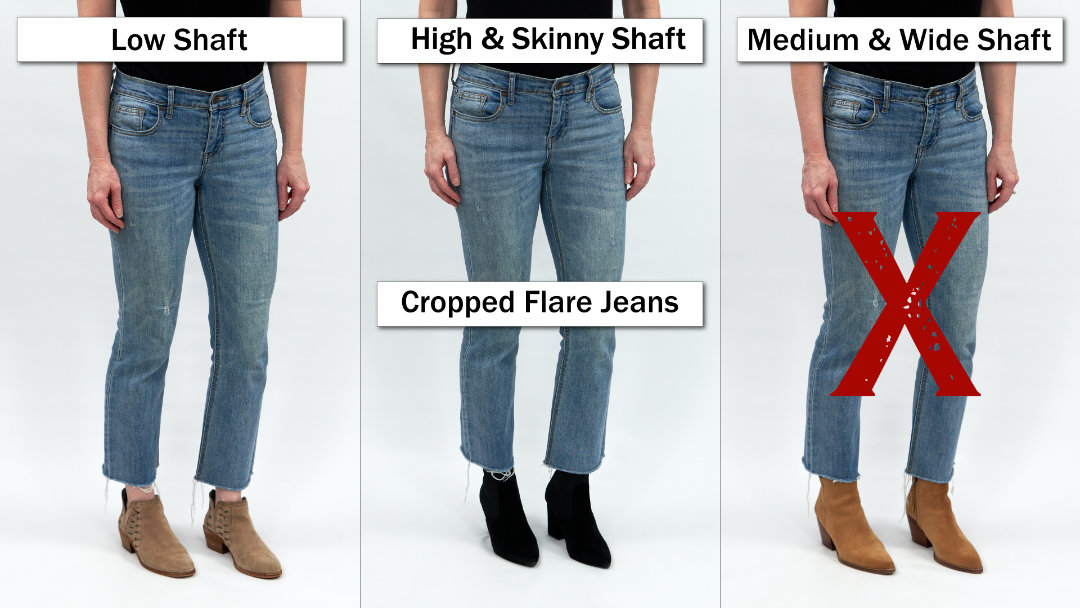 High Waisted Distressed Mom Jeans
I decided to add a high waisted distressed mom jean to this post because I felt like it was a very common style available and I thought the versatility of it was pretty awesome!
Sold with the purpose of being rolled up.
Great versatility in styling.
Looked best cuffed, not rolled, with the low shaft booties.
Great rolled up with all other medium or skinny shaft booties.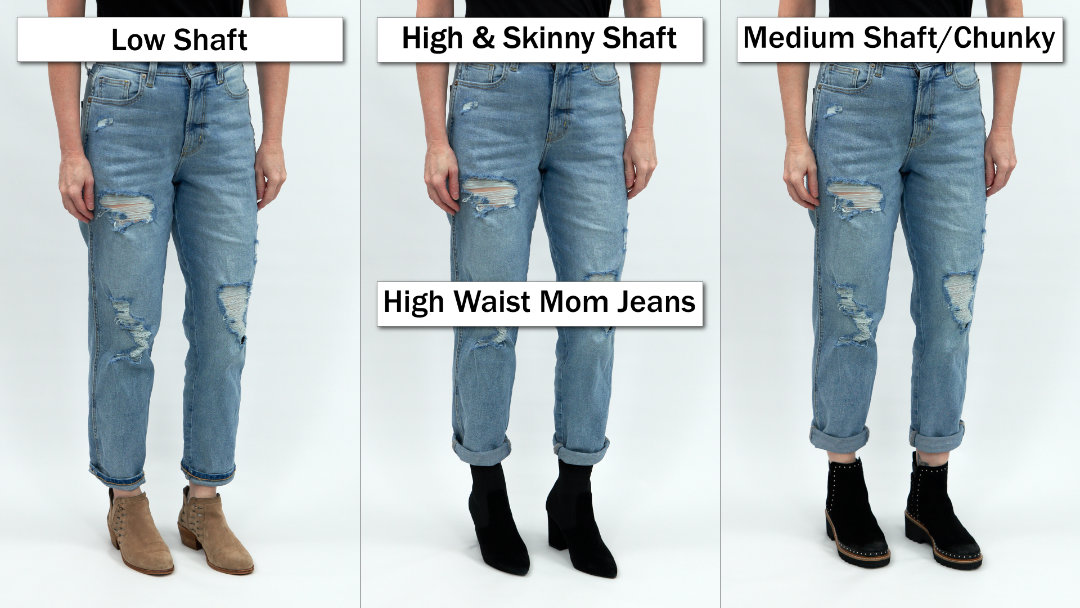 Great 90's combo with the mom jeans and chunky combat boots, which are in style this season.
Shows just enough skin when rolled up with the medium, wider shaft & low heeled ankle boots. Great casual look for everyday wear.
Not great just cuffed once with the medium & wider shaft low heeled booties. Did not show enough skin and sat on top of the booties.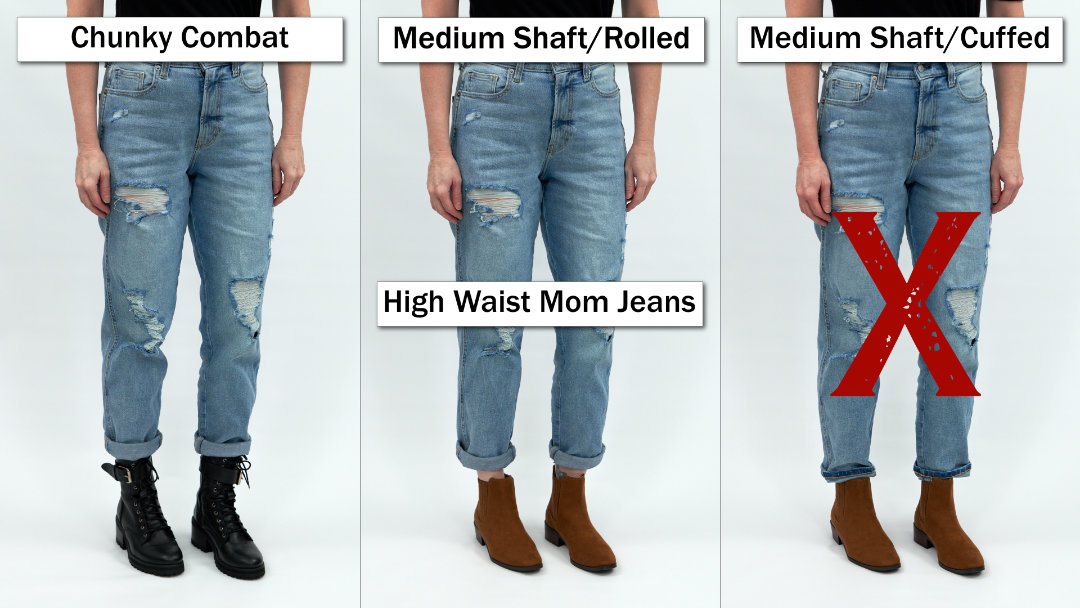 I hope these images help you determine which style of booties you would want to wear with whatever jean styles you choose this fall season. All of these new loose leg styles can be somewhat of a challenge.
The main thing to remember is that most styles look best with a little bit of skin showing between the shaft of the booties and the hem of the jeans or the ankle being exposed even if it is covered by the skinny shaft of the booties.
The Best Booties For ALL
There was one common pair of booties that I think would work in your wardrobe with all of these style and it was the taller, skinny shaft sock booties. The ones I own have a pretty high heel and I think a medium height heel that is 1 1/2 to 2 inches would work as well.  Check out the images below!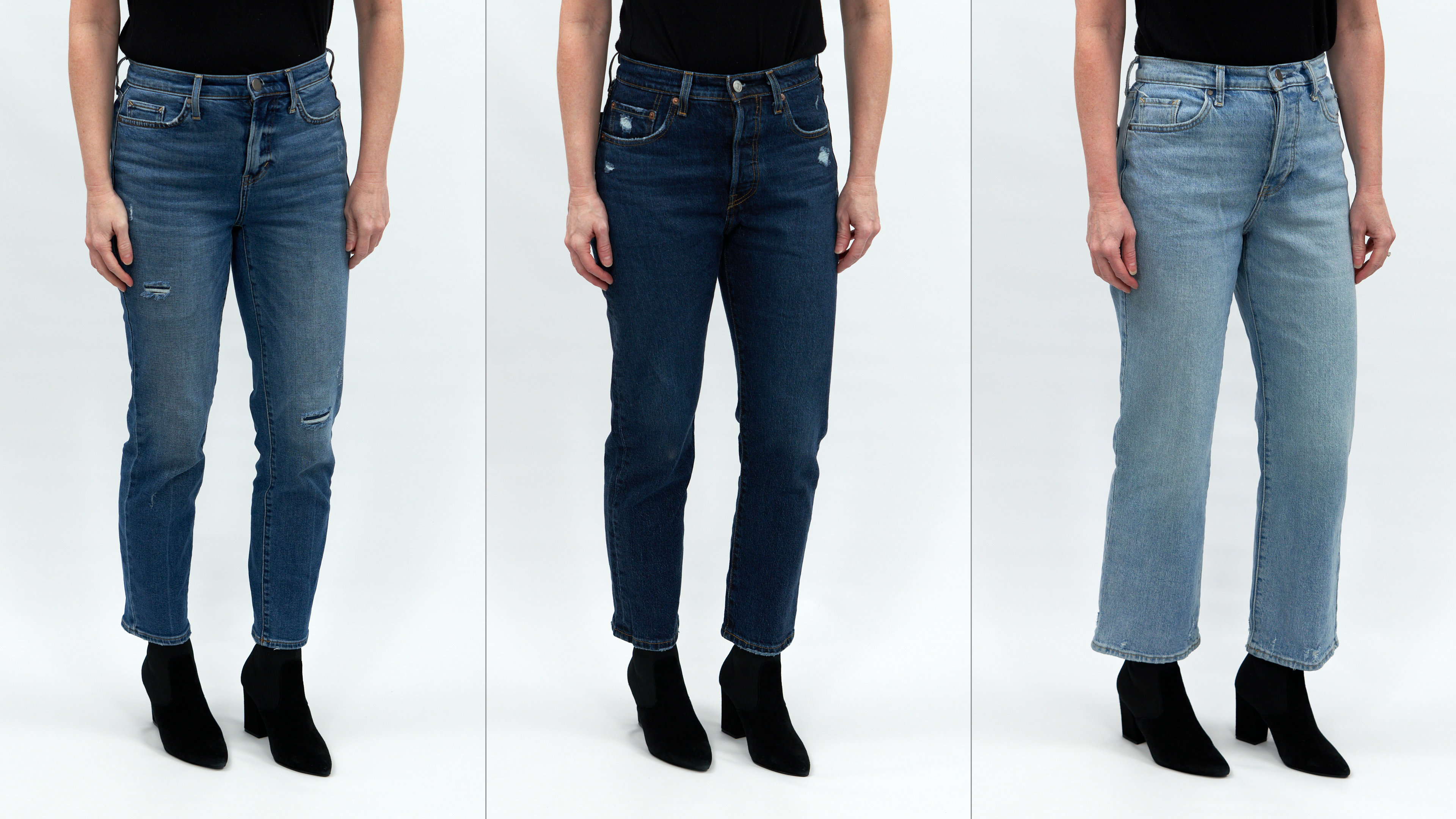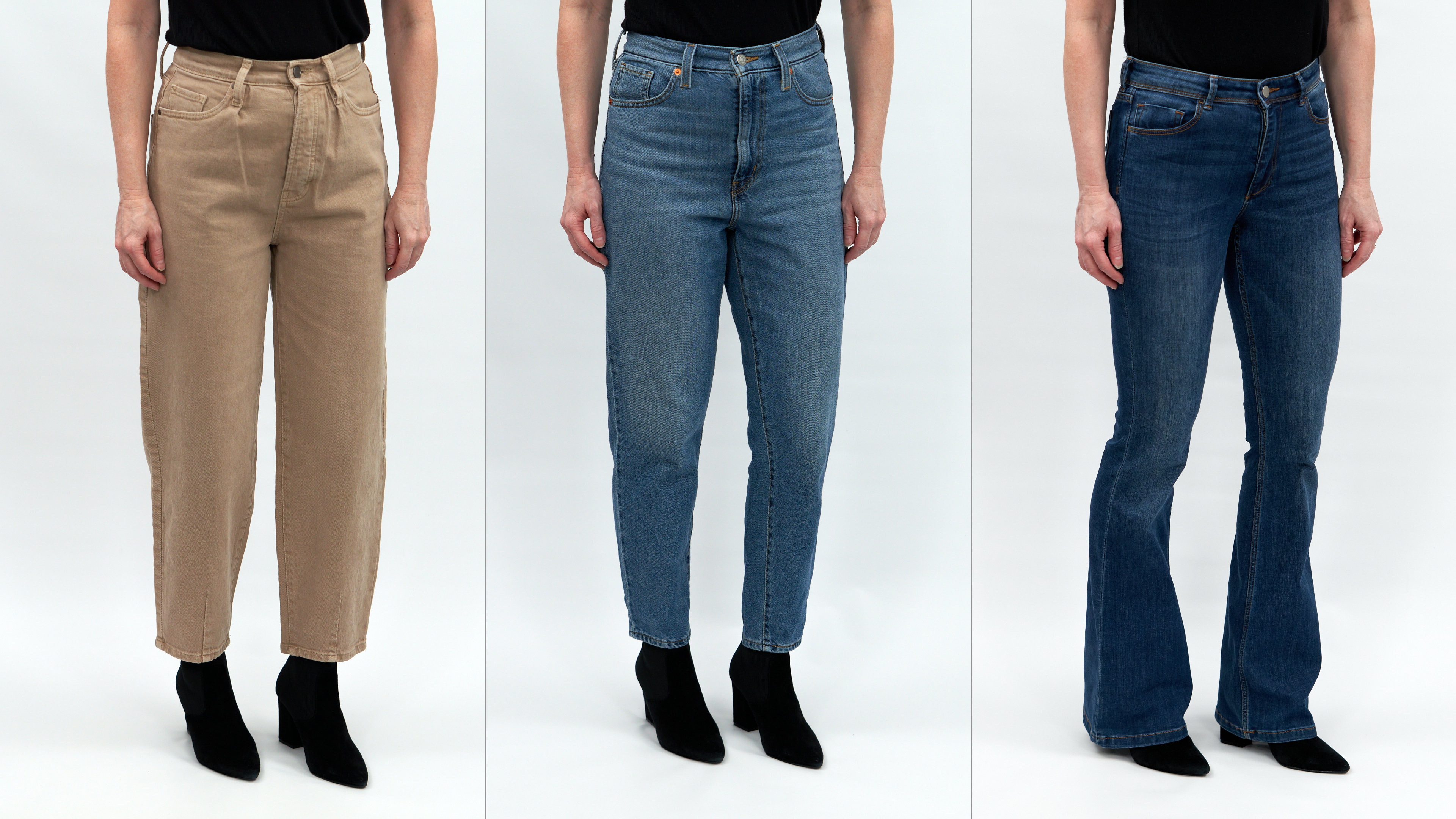 Thanks for stopping by! Let me know if you have any questions in the comments below!
Stylishly Yours,