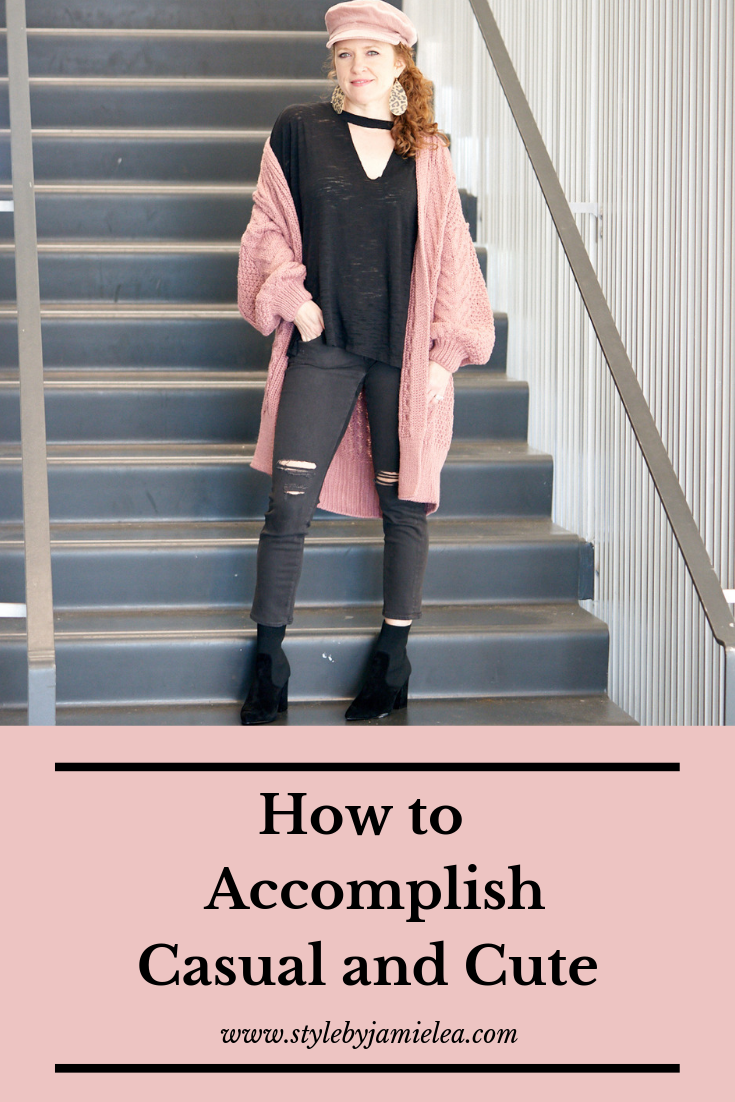 Hey there! I know this seems like a weird thing to write about but let me explain.  I see people all day long when I am out and about that do not take the time to even think about what they have on.  You can tell because if they actually looked in the mirror before they left the house they would not have left the house.  I am not trying to be mean just being observant. Seeing this just breaks my heart and makes me think that women just don't know how to make themselves cute on a daily basis! Since I am in the fashion industry, I feel like it is my duty to teach these things to people. I so desperately want to help them because I think it would make a difference in their life. I think that with even the most minimal effort you can be casual and cute at the same time.  Even if you just have 10 minutes to get dressed.  Even 5 minutes! This is my absolute specialty so I want to share with you what I do to accomplish this. My husband even tells me how cute I look on those days that I use minimal effort.
I am going to give you some easy tips to make yourself look cute even though you THINK you do not have time. I know lots of us are busy and some of you have children you have to take care of.  I am actually writing this on a day I got up late and told my husband the night before that I would go to Chick-fil-a with him for breakfast. Since I got up an hour late I did not have time to shower or get prettied up.  But I did put my hair in a pretty bun and put on some cute clothes to look presentable.  It is important to take the beauty that you have on the inside and make it shine on the outside to a world that has no idea who you are. Their first impression of you is on what you look like on the outside so I think it is important to take a little time to care for yourself.
Here are some tips to help you easily look casual & cute

:
If you don't have time to wash your hair use some dry shampoo and put it in a cute pony tail.  If it is short throw on a hat. Hats are often my best option for a bad hair day. They help cover up the frizz on my curly nappy head and look really cute. Sometimes I choose a ball cap but most of the time its my baker boy cap! I also have a floppy hat I wear from time to time.  Hats are so in style right now so go and grab you a few for those not so good hair days.

Scarves can make a big impact on an outfit. Whether you put it in your hair, wrap it around your neck or make a belt out of it. The options are endless.  They are a cute accessory that helps to make things look pretty.

Put on some statement earrings. I am not sure why but I get more compliments on my looks when my hair is in a bun and I have my Nickel and Suede statement earrings on.  Even if it is just with my loose fitting workout pants and a t-shirt.  Earrings are also a great option to dress up a simple t-shirt and jeans combo!

Instead of throwing on those leggings put on a great pair of skinny jeans and a cute top.  Throw on some booties with a slight heel or some cute sneakers. Add your statement earrings and your outfit is ready to go! Also, a cute blazer wouln't hurt either!

Mascara and lipstick/lipgloss can be a big game changer as well.  These are the two best ways to enhance your facial features and make you look awake and ready for the day.  I don't leave the house without mascara on hardly ever. Something so simple can make a really big impact on how you look. It doesn't hurt to have them in your handbag either just in case you don't have time to put them on before you leave the house! Just don't be that girl that does it while she is driving down the road! You know who you are, lol!

If you choose to put on a pair of black leggings, which seems to be the popular choice these days, please try to wear the appropriate top with them.  I suggest something that covers the bum. Since we are in the fall season an oversized sweater or sweatshirt would be the stylish choice and is super cute with leggings. Layering is also a great option. If you choose to put on a shorter t-shirt that doesn't cover the bum pick a great longer cardigan or jacket to wear over it.  In the photo below, which is from last December, I have layered this cute longer sweater over a pair of tight leggings from Athleta and put on a scarf and some sneakers.  I thought this was the best example of a casual & cute outfit that takes very little effort.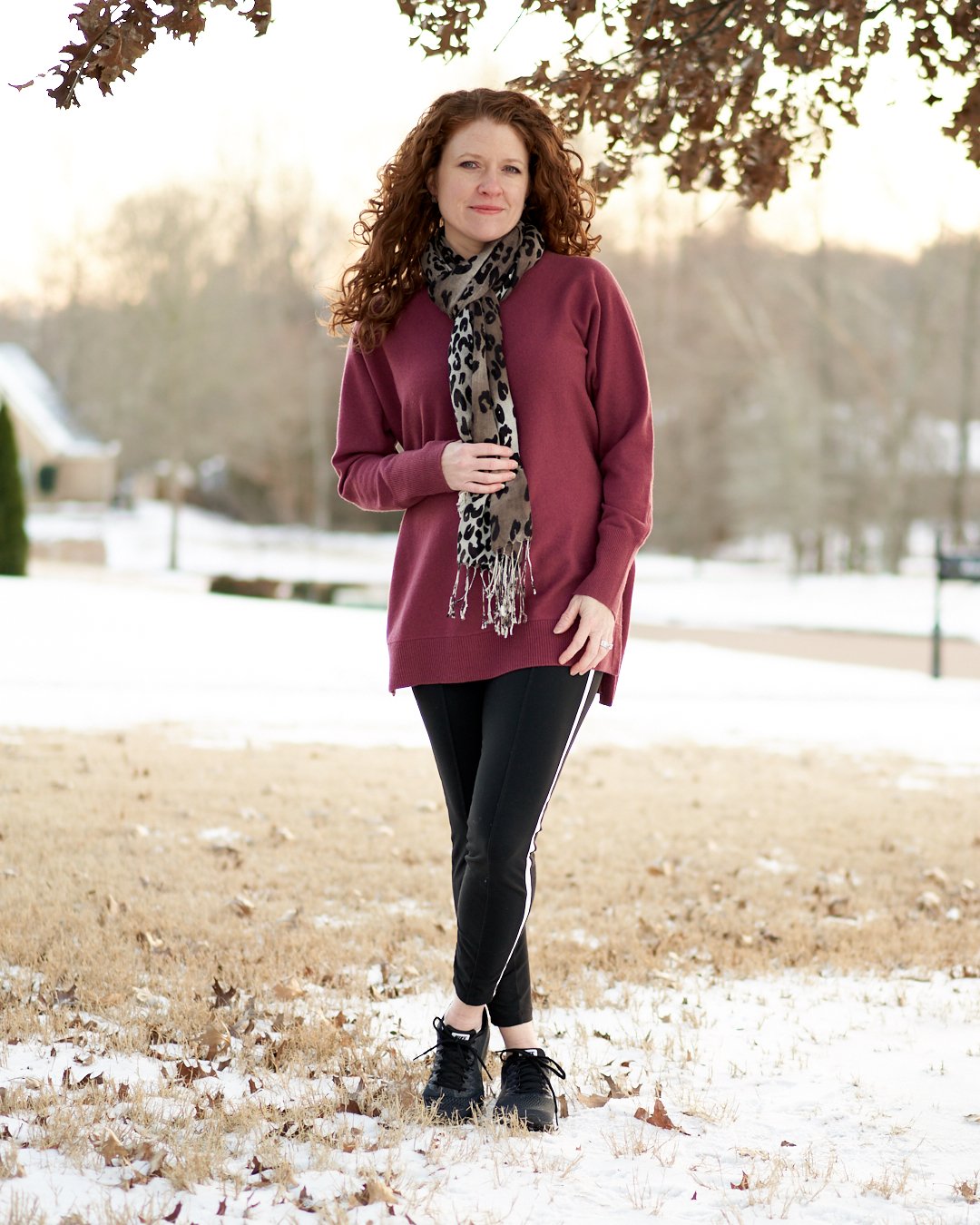 If you do not have some of these things already handy than I would suggest purchasing some of them for your wardrobe.  They are simple and easy purchases that will give you amazing results. I have provided you with plenty of links of some of my favorite options to help you accomplish looking casual & CUTE!
If you have other ways of accomplishing this I would love to know what you do. Please tell me in the comments below!
Thanks for reading!