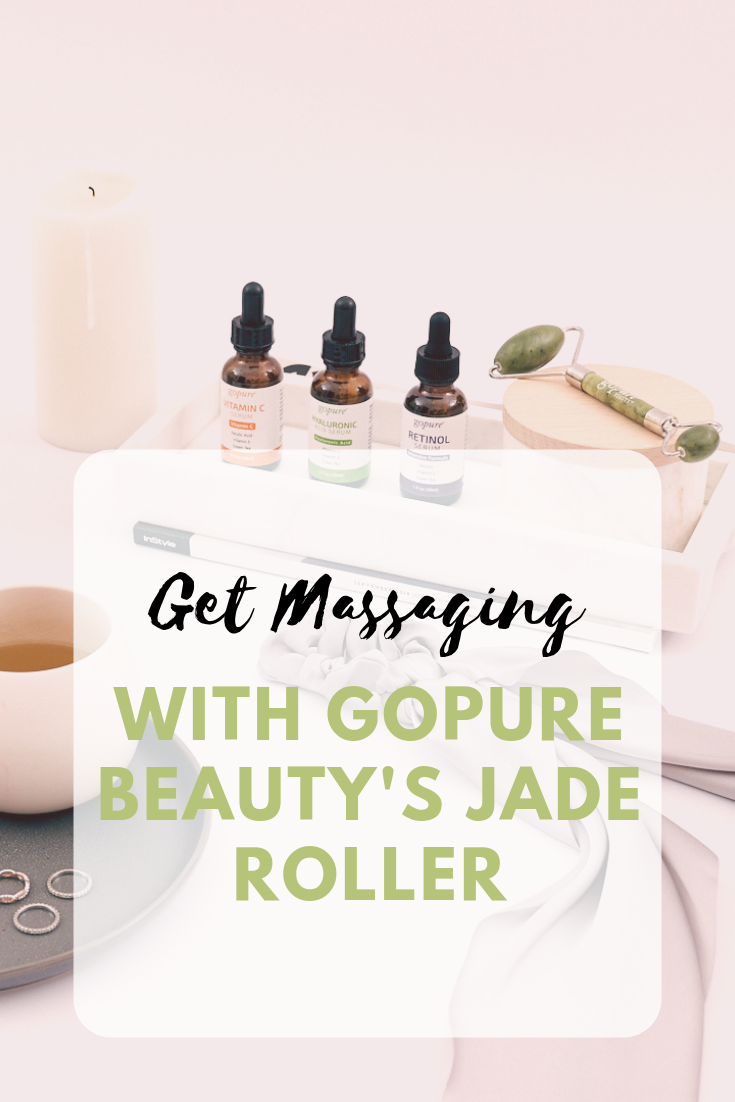 Hey! I'm back to tell you about a super fun tool that every woman needs in her daily skincare routine!  I received goPure Beauty's new Jade Roller this week and can't stop using it!  I am going to tell you all the amazing benefits of this little tool and tips for using it in your skincare routine.
I called this post "Get Massaging with goPure Beauty's Jade Roller" because that is what you will do with it!  I have to tell you I am a firm believer in massaging your face and neck to keep a youthful glow and "destress the skin".  My face and neck massages began when I saw a video by Lisa Eldridge; my favorite makeup artist.  In the video she teaches you how to massage your face with your hands. I have been massaging my face with my hands and they get extremely tired! I was so glad to get this Jade Roller to relieve my achy hands!
What is a Jade Roller?
A Jade Roller is a small tool that is made of actual jade stone that has been used in Chinese skincare routines since the 7th Century.  When selecting a Jade Roller be aware there are fake ones being sold that are just plastic or another material and not real jade. The goPure Beauty Jade Roller is definitely the real thing!  How can you determine this?  The Jade Roller will naturally be cold on the skin.  This is no myth, it is definitely noticeably cold to the touch.
There is a large roller on one end of the tool and a small one on the other end. The larger roller is for massaging the cheeks, chin and forehead. The smaller roller is for massaging above and under the eye area.
What Does it Do?
The Jade Roller is believed to help with inflammation, redness, puffiness, and smoothing fine lines and wrinkles. By gently massaging the Jade Roller in upward and outward motions on the face it helps move and clear lymph. You will want to move the lymph to the outer edge of the face and down the neck. This lymph is what clogs the skin and causes inflammation and puffiness.
When used with a serum it aides in faster absorption into the skin. I have been doing this since I received it and boy does it make a difference! I put the serum on my face and neck and then roll the Jade Roller over my skin in upward and outward motions for a few minutes.  I love the feeling of the cold jade stone on my face with the serums! Such a perfect duo!
Tips for Using the Jade Roller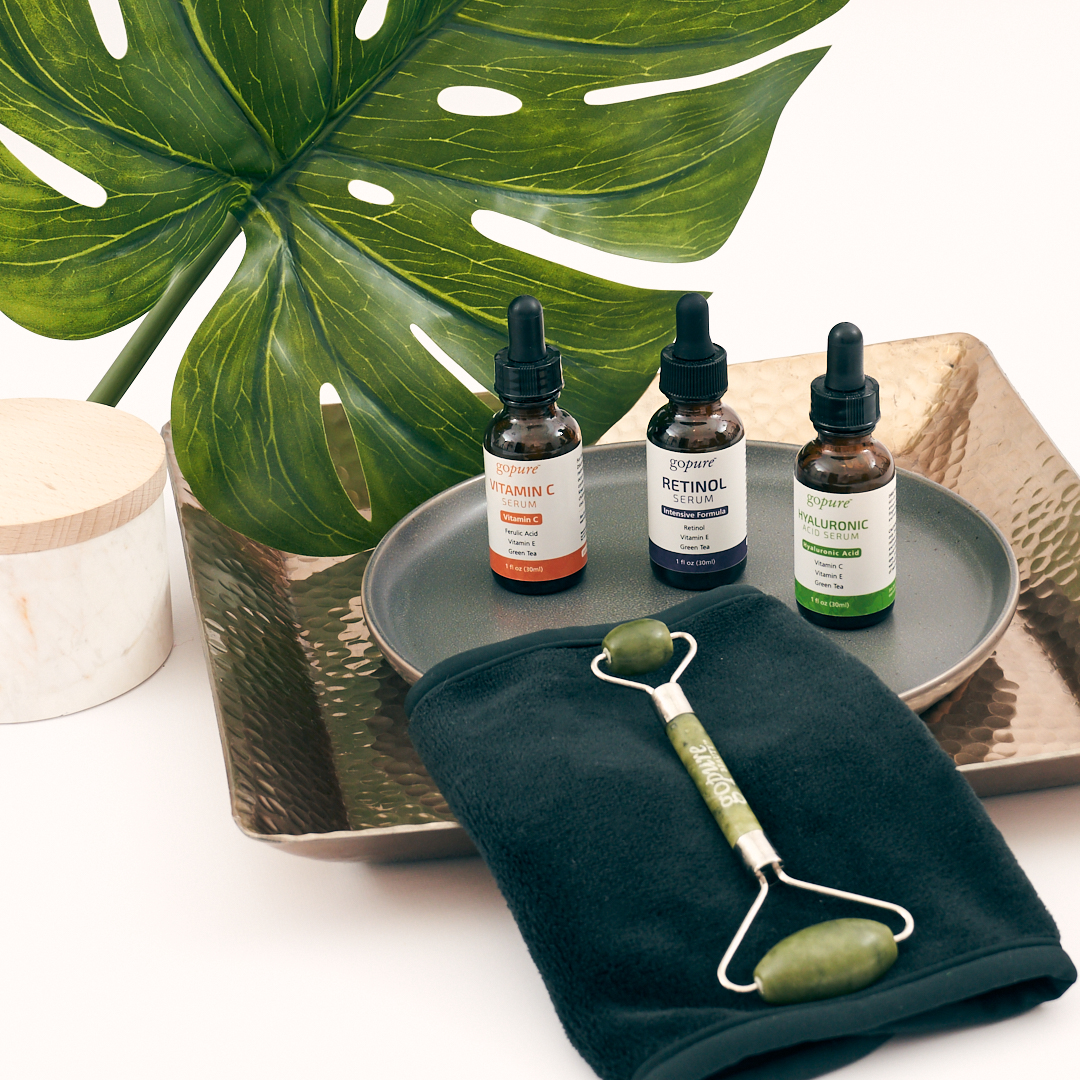 Clean it with soap and water or alcohol before and after every use.
Do not roll it on your skin with makeup on.  Make sure your skin is freshly cleansed before every use.
Use one to two times a day. Once in the morning and once in the evening.
Try to stick with outward and upward motions except when going down the neck to clear lymph.
Put it in the refrigerator for extra cooling to help with puffiness in the morning.  This will sure beat using a piece of ice like I normally do to combat the puffy face!
Apply a serum and with the skin still moist, roll it over the face and neck.
Roll over the temples with either end of the Jade Roller to relieve a headache.
Use the small roller on the side of the bridge of the nose and sweep out toward the ear to help relieve nasal congestion. Move down the neck  to clear lymph. During each stroke you can stop and apply a little pressure to areas outside of each nostril before sweeping again.
I absolutely love using the goPure Beauty Jade Roller for massaging and applying my serums! The best part is this Jade Roller will not break the bank and it is real jade stone.  I hope you will take a look at it and consider adding it to your skincare routine. If you have not read my post on goPure Beauty's serums click here.  They are so affordable and are truly amazing. They have become a staple in my skincare routine.  They are also a perfect match for the Jade Roller!
Thanks so much for reading!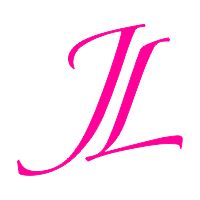 *goPure Beauty gifted me the Jade Roller but all of these opinions are mine and are very honest!