Lake life is the best life don't ya think!
I grew up going to the lake and it will always hold a special place in my heart!  Whether it's the lake, beach or mountains, we all have a place we love to go.  I go to the lake to see my parents every year around my birthday which usually falls on Memorial Day weekend. We try to go the weekend after Memorial Day so we can skip all the crowds.  This year I took advantage of the scenery and took photos for the life-styled version of these outfits. My mom was so kind to take them and did such a great job AND we had fun doing it.
Summer is definitely here and a cool flowy swing dress is the perfect item for those hot summer days. You can dress them up or down and they will fit almost any body shape. They fit almost any body shape because they are flowy and don't hug anywhere on the body. You can add cute crossbody bags and other accessories to play up whatever look you want.  I went for classic and girly with these and really love how each outfit turned out.
Simple & Pretty
This dress is cute enough to just throw on and add some cute sandals and earrings and you're done!  Sometimes less is more, especially when you want to stay casual.
Style tips for this outfit:
You can choose to add some texture instead of a ton of color.
The sandals add bling and interest to the outfit without taking it over the top.
Add a cute accessory like a hair scarf or just wear a pair of cool sunglasses like the life-styled version below.

Pretty in White
I wanted to play up the white dots on this dress by adding white shoes, earrings and accessories.  This outfit is the dressy version and can take you to dinner for date night or even a summer wedding.
I love to add white to my wardrobe in the summertime and this is why:
White is so refreshing and pretty in the summer.
White sandals can become a staple like your black booties in the winter time.
White goes with ANYTHING! Literally everything! Even more so than black.
White earrings brighten any outfit and make it look summery.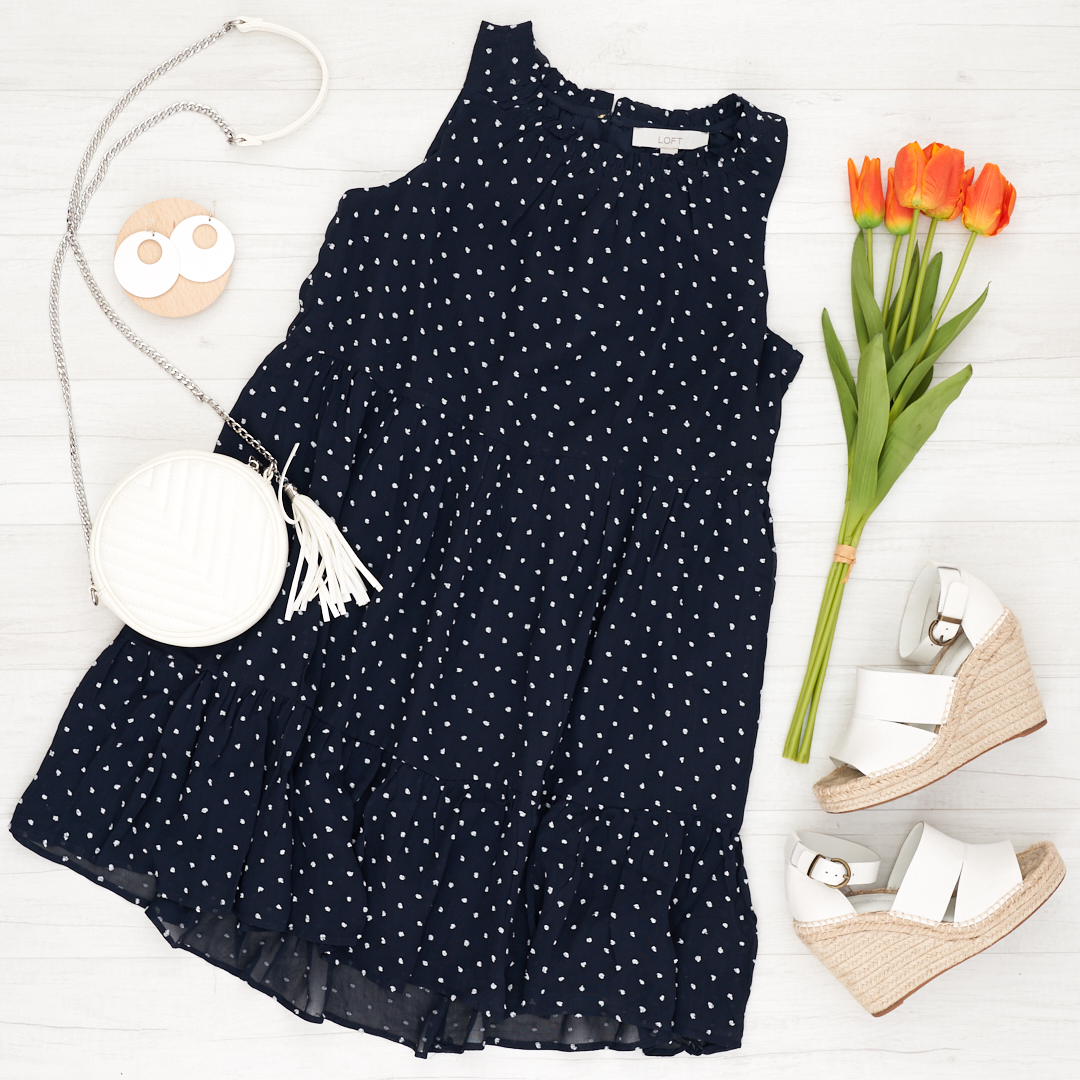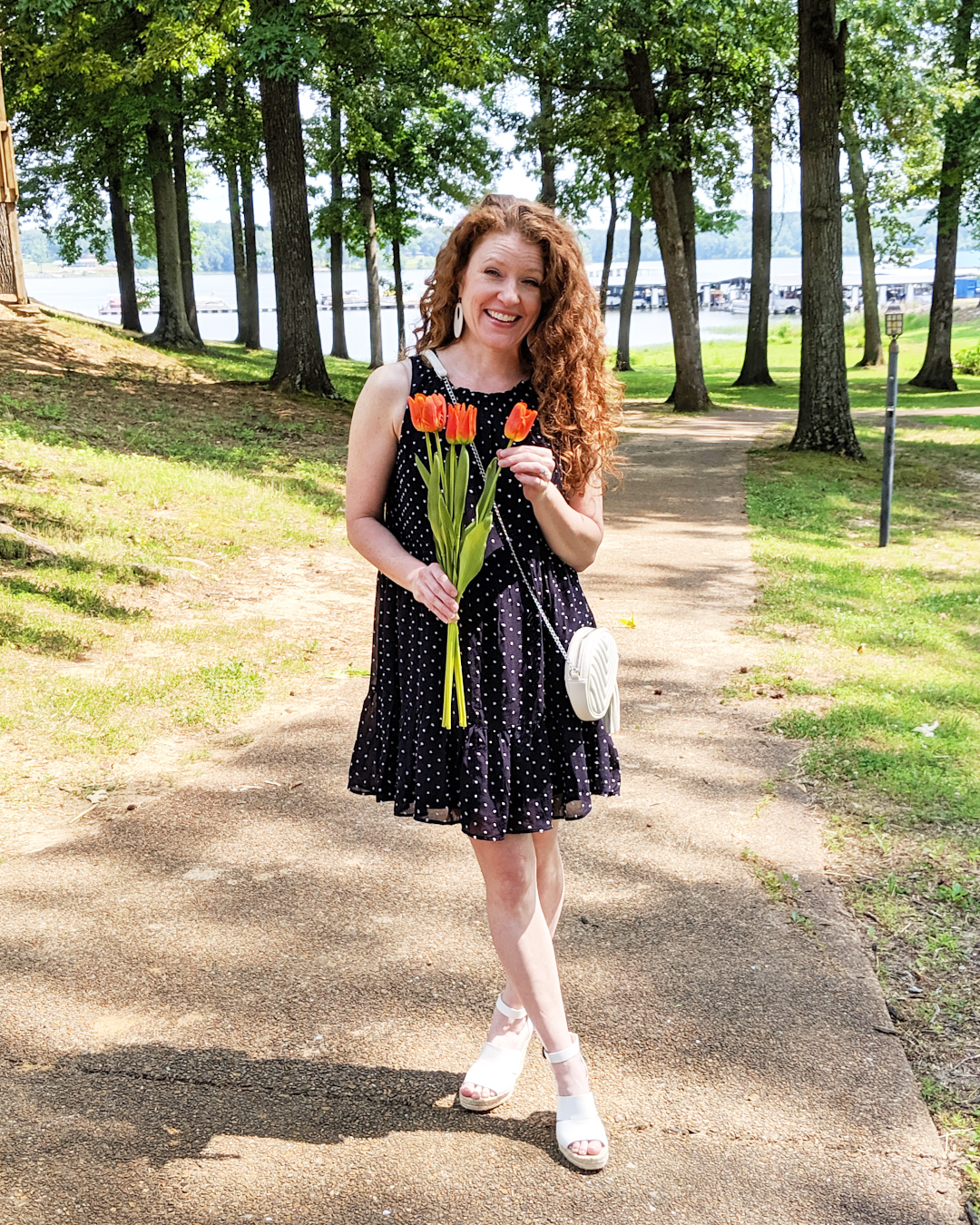 Pretty in Pink
You know that I will take the opportunity to add pink to any outfit I can.  It just seemed appropriate for this one. I wanted to add a denim jacket to this dress but did not have a white one.  Blue denim just wasn't going to be the best either. One of my best purchases was this pink denim jacket and I thought it was perfect.
Pink was a great option to take this dress up a notch:
Pink and navy are one of my favorite color combos.
The jacket worked so well because I also had the pink shoes to match.
The pink floral clutch ties everything together.
The neutral earrings are a cream raffia and made this feel more summery.
If you ditched the jacket you would still have a cute outfit that can be worn to Sunday brunch or a night out with the girls.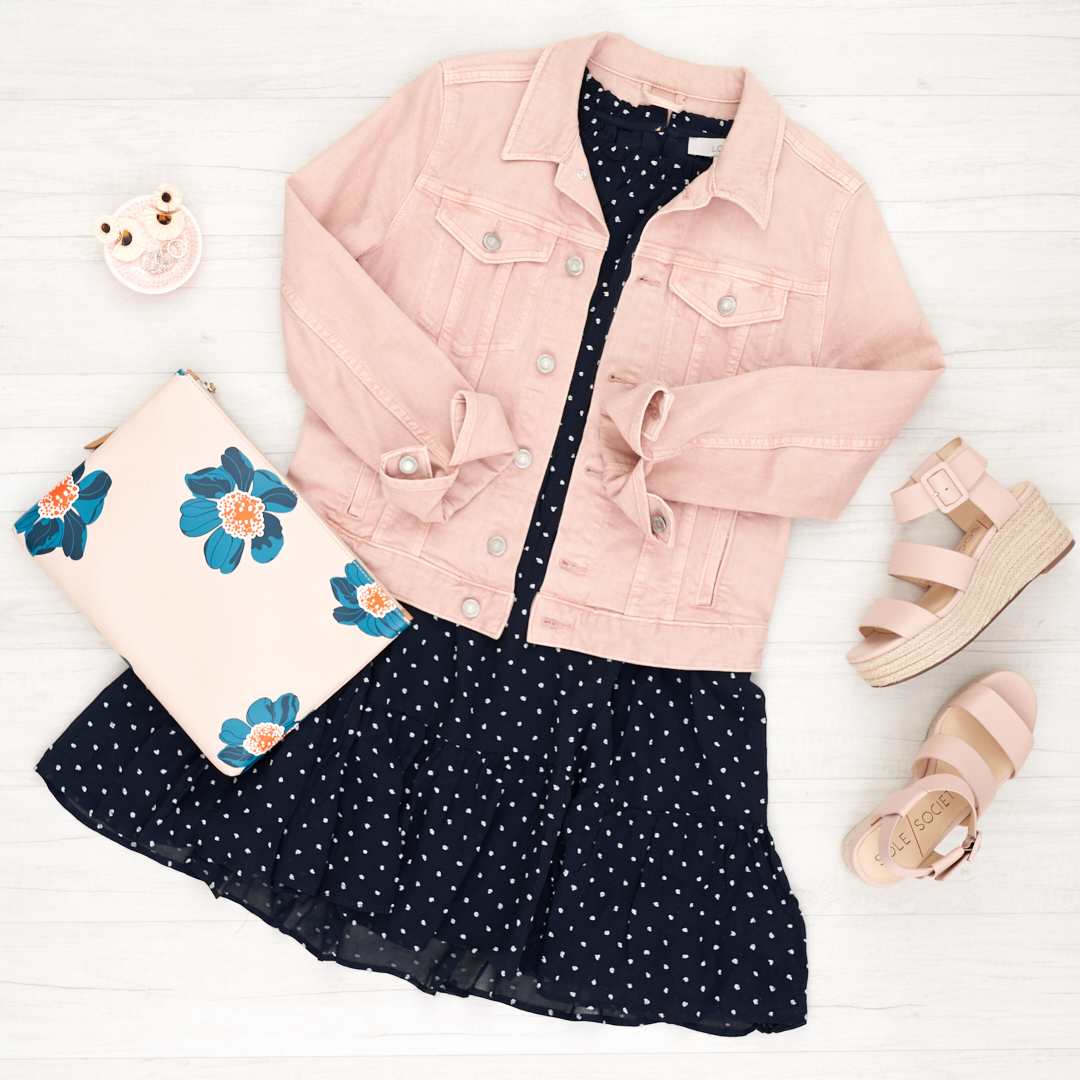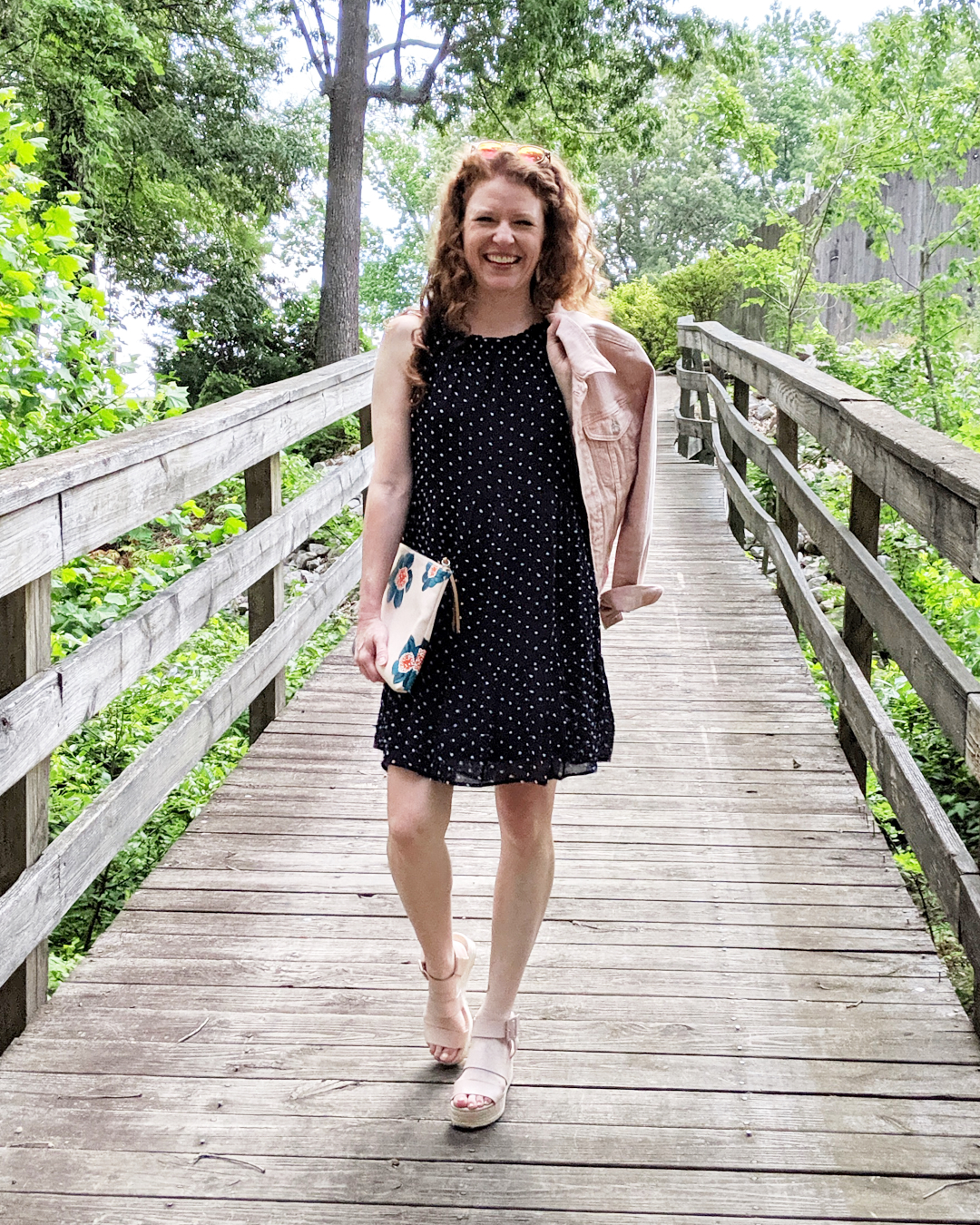 I really appreciate a dress that I can make multiple outfits and one you can dress up or down. I feel like with it being so versatile I can get my money's worth out of it.  I also believe with the swing style and the navy and white that this dress will have more life to it than just a year. Something like this would be a great addition to any spring/summer wardrobe. I hope you enjoyed this Flat Lay to Life-Styled: Summer Swing Dress article and if you have any comments please leave them below!
Thanks so much for reading!