Hey y'all!  We are getting through the first week of March! Yay! This is my favorite month out of the year.  At least it use to be when I worked retail.  It is when everyone was getting their wardrobes ready for Spring and we were always super busy.  I saw all of my favorite customers and it was just fun.  These days are a little different as the rest of the world is not on that same schedule and I am no longer in the retail world.  I feel WAY ahead of the game because of that.  I am struggling to find things that I want because lots of the stuff is still geared toward winter. I was in H&M this past week and they had a faux shearling jacket right up front and had just finished their merchandise display! I just can't figure it out this year!  In spite of the confusing choices, I have come up with some cute things so far that I have liked and posted for you.
This weeks post is about Spring Inspiration.  I have created some classic and some trendy Spring outfits for you.  If this is your first time reading my Flat Lay to Life-Styled article, I am showing you both the flat lay and life-styled versions of my outfits.  This will let you see the details of the flat lay and just in case it has no "flat lay" appeal you can see it on the body.  There are certain items that we say have no "hanger appeal" and this can also be true for a flat lay. You can get a better idea of the fit if you can see it on.
Colored Denim Classic
This outfit was one of the first Spring outfits I chose.  I purchased both of these pieces together from the Loft and have loved them.  This classic sweater looked so much better with colored denim than just a pair of plain jeans. I will probably put it with plain denim but I like it this way the best.  Colored denim is so fun for Spring time and the colors are usually so lovely like this Mineral Blue pair.  To give it some pizzazz I paired it with a leopard bandana tied around my neck. I wore some open-toe booties and think they are the perfect shoe for Spring.  I like to go straight to sandals from my booties so this way I can wear my booties for longer!
I actually chose a different pair of earrings to pair with this at the photo shoot than what I put in the flat lay.  I usually create my outfits in the flat lay first and then put them on.  I just prefer it that way.  99% of the time they work out perfectly but it's that 1%, like this one, that you decide something else might be better.  I like either pair of earrings in the photos but would reach for the Kendra Scott large statement studs in the life-styled version first. I must have forgotten about them when I created my flat lay, lol! Oh well. I just can use this as an either/or example and you choose which one you like better!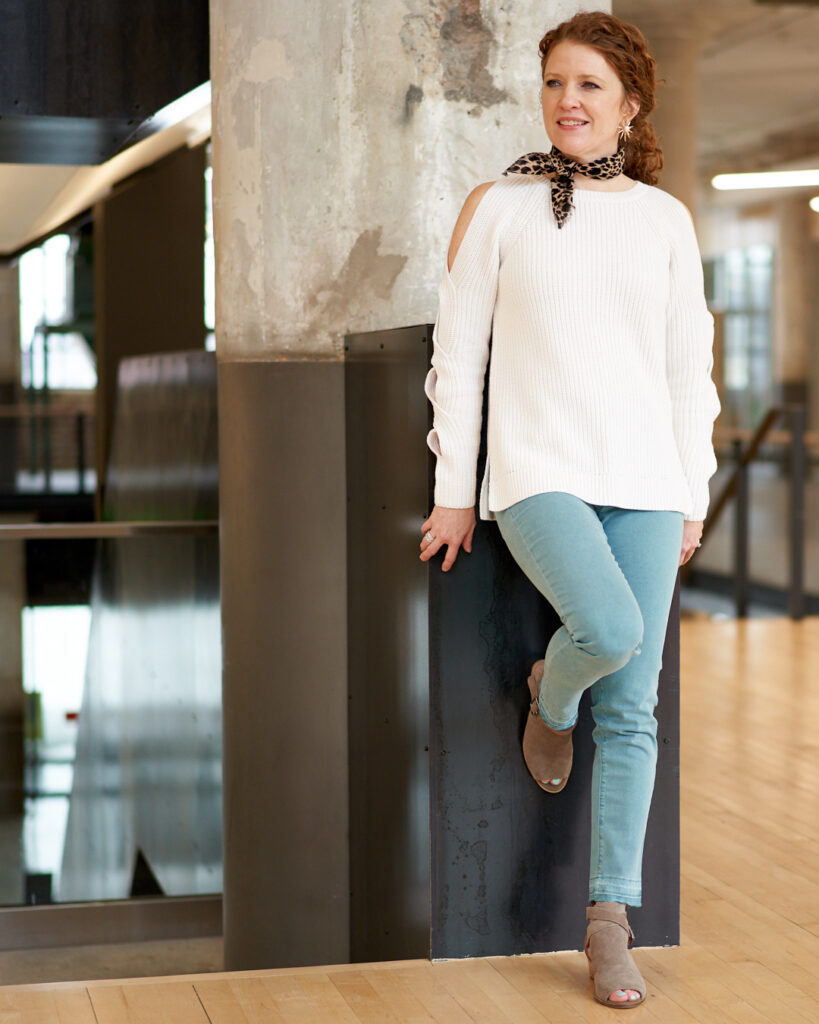 Bright Floral
I had someone think this top was a fall floral.  Um…. no! It's definitely a Spring floral. It's probably because of the gray background but that is what makes the yellow floral pop so much! This is my favorite blouse ever and of course it is sold out!  It is so incredibly well designed and the details from the shoulders to the cuffs are just perfect!  I am pairing it here with white jeans and my wedges for the perfect Spring and Summer outfit.  I actually did wear this blouse with some blue distressed denim to brunch with some girlfriends and loved it as well.  But my first choice would be this way.  You know me though, if I can't create multiple outfits with an item it does not belong in my wardrobe.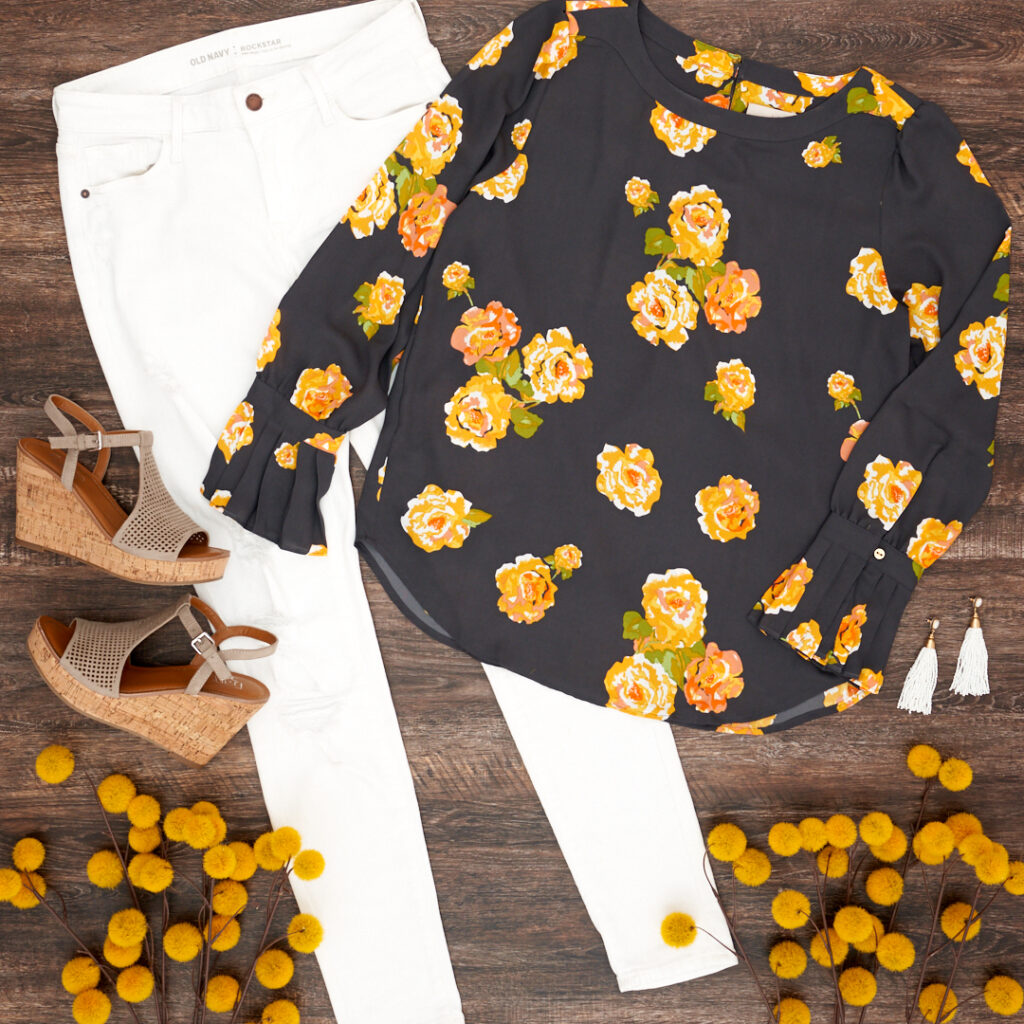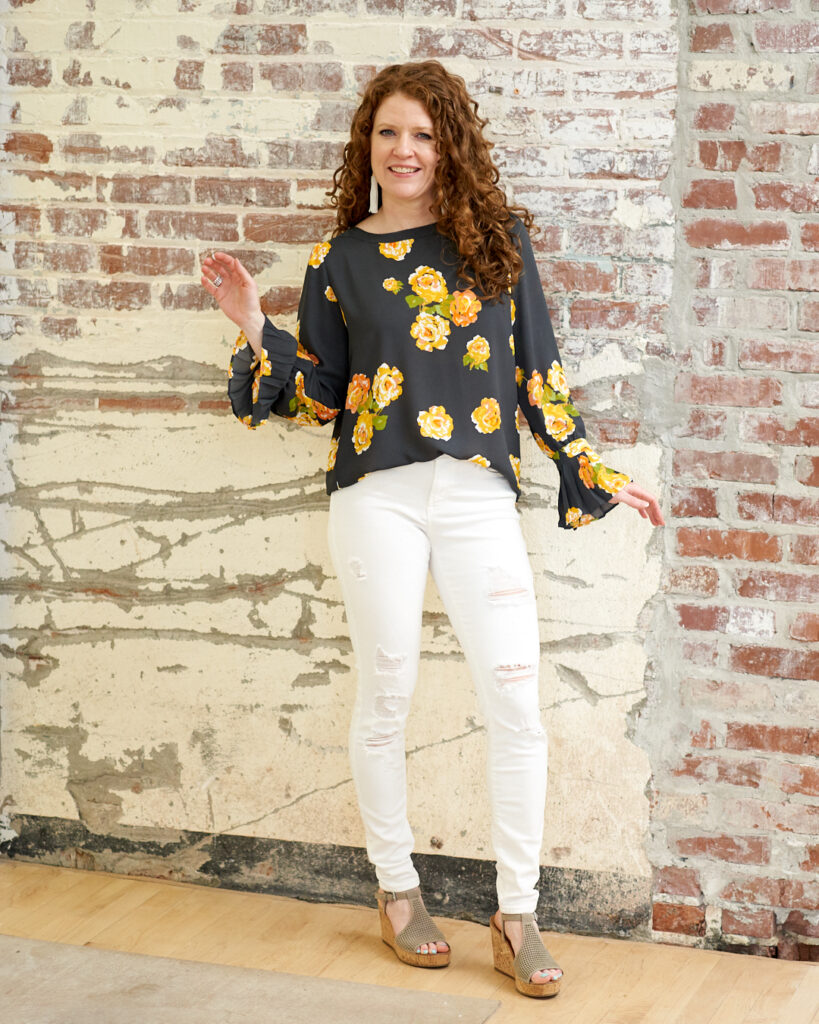 The On-Trend Overalls
If you have read any of my recent blog posts or seen my Instagram you know this is like my absolute favorite piece for this Spring.  It is trendy yes and I don't always go for trends but had to jump on this one.  I searched and finally found this pair at TJ Maxx for $24.99.  When I can find something trendy that is decent quality at that price I'm on it!  My favorite pair are the ones from Madewell that you see all over Instagram.  Obviously everyone else liked them too.  I just did not want to pay $148 for a trendy piece like this.  I found this pair and actually loved the distressing on them a little bit better.  If you want to know all that I feel about them and how to style them 3 different ways check out my Surefire Way to Make a Statement article.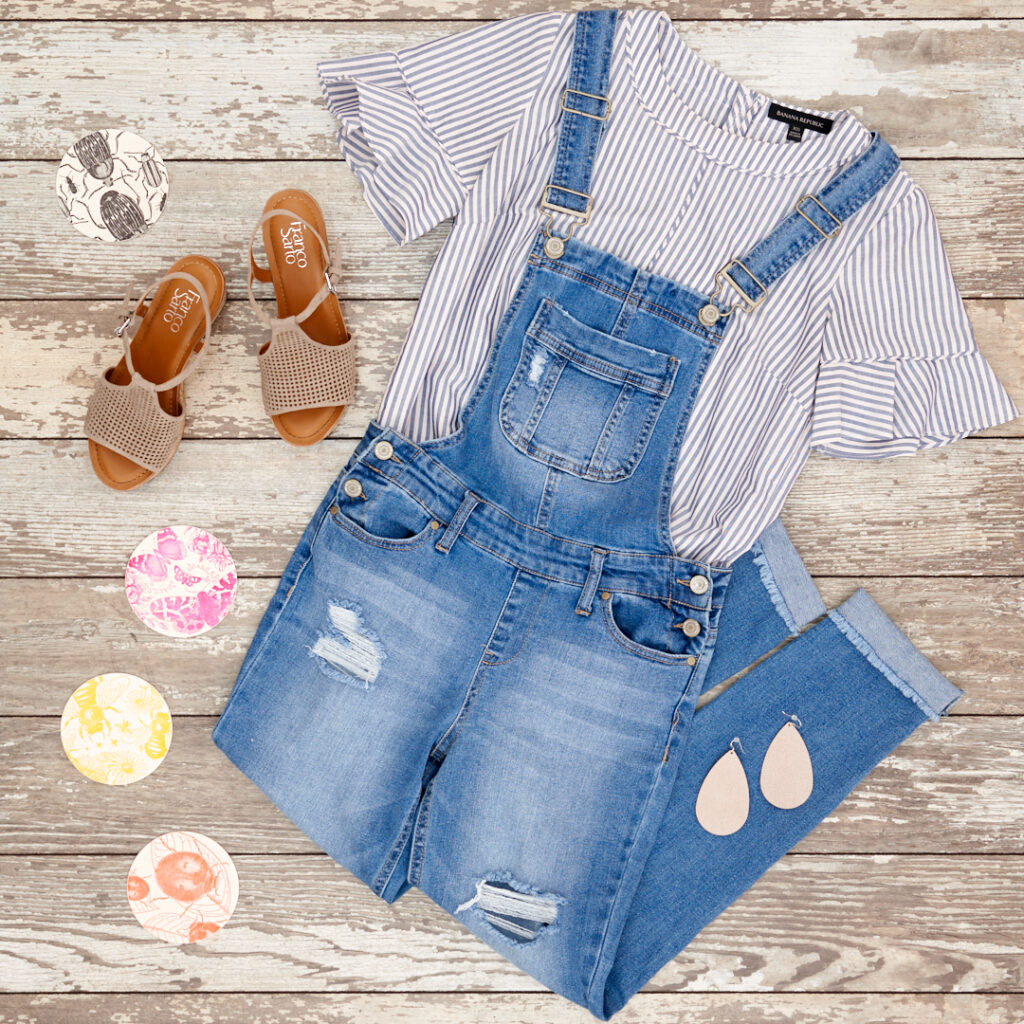 Classic and Sophisticated
This is a very classic and sophisticated way to wear this ivory sweater.  I paired it with a pair of ecru jeans that created a perfect monochromatic look.  I also wrote an article about How to Master a Monochromatic Look if you want to check it out.  I think the leopard earrings and the taupe wedges gave it the perfect touch while still remaining neutral. Notice this is the same sweater from the first outfit. A neutral sweater like this could become a staple for your Spring wardrobe.  It will go with just about any other colors.  I have chosen denim to pair with it but you can also do pants, skirts or shorts!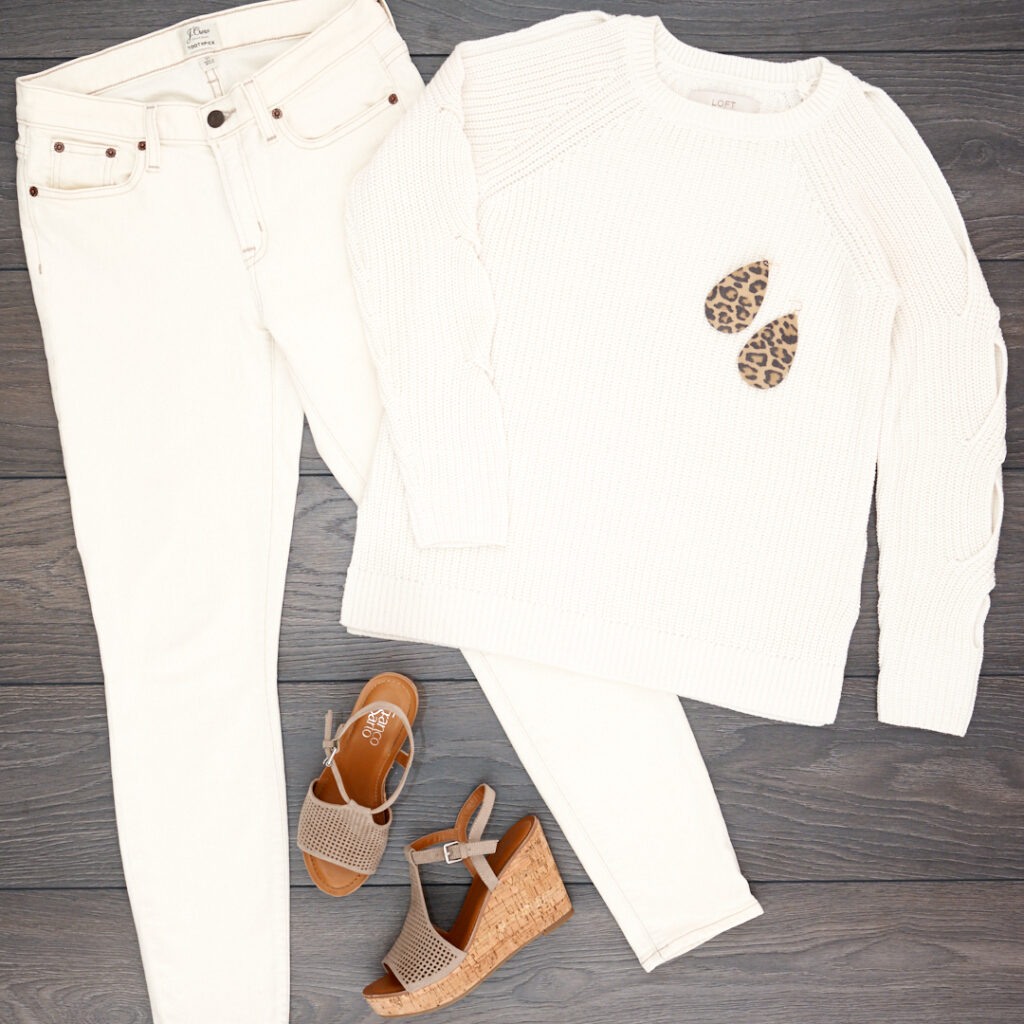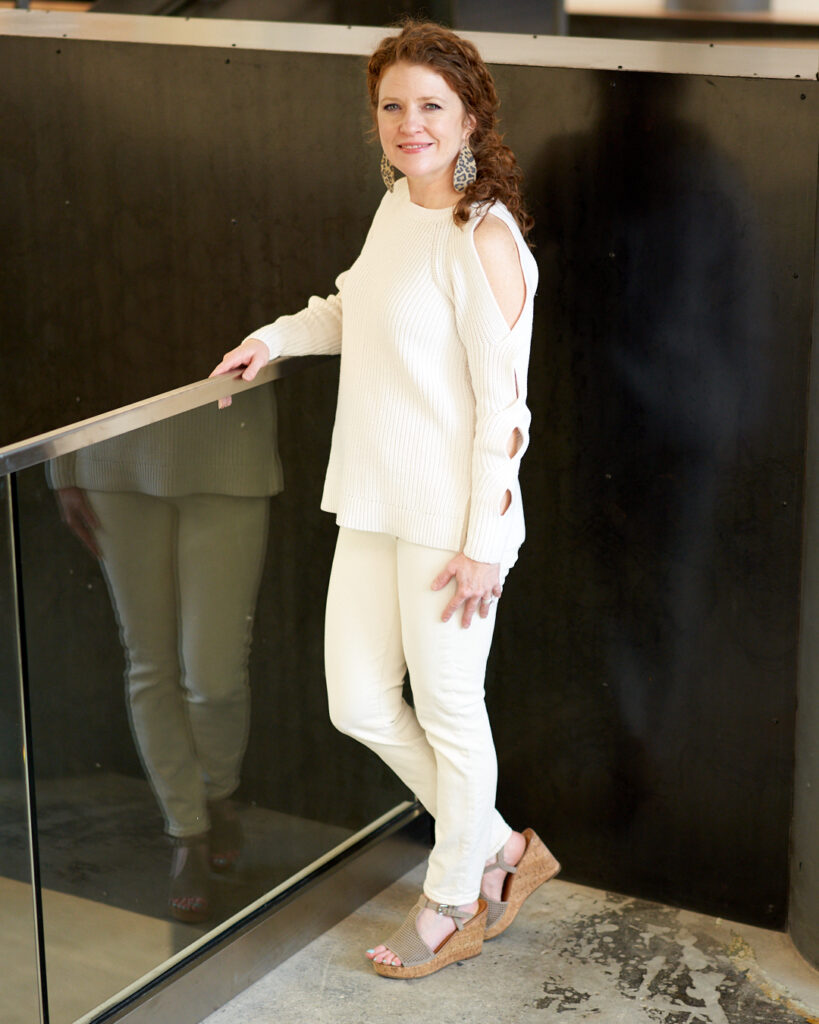 Just Fun
I love those outfits that are just fun and easy.  This one is full of texture and fun elements that keep it interesting from head to toe.  You will see all kinds of textures this Spring like velvet, embroidery, eyelet, distressing, and sequins.  I have mixed a cute little velvet top with a tie at the neck with my ripped denim trucker jacket and ripped white jeans.  As if I didn't have enough textures going on I added leopard print earrings and my taupe wedges.  But I think they all worked so well together and will have this one on repeat!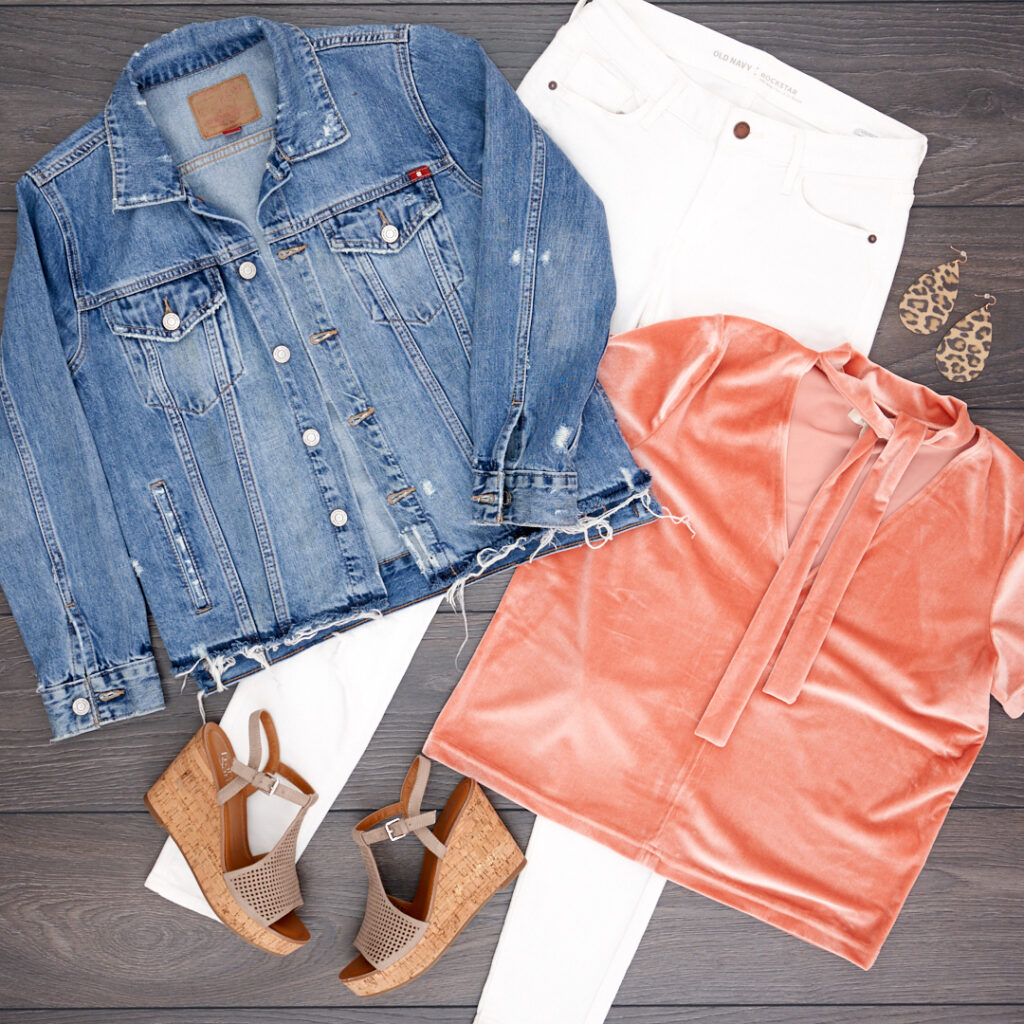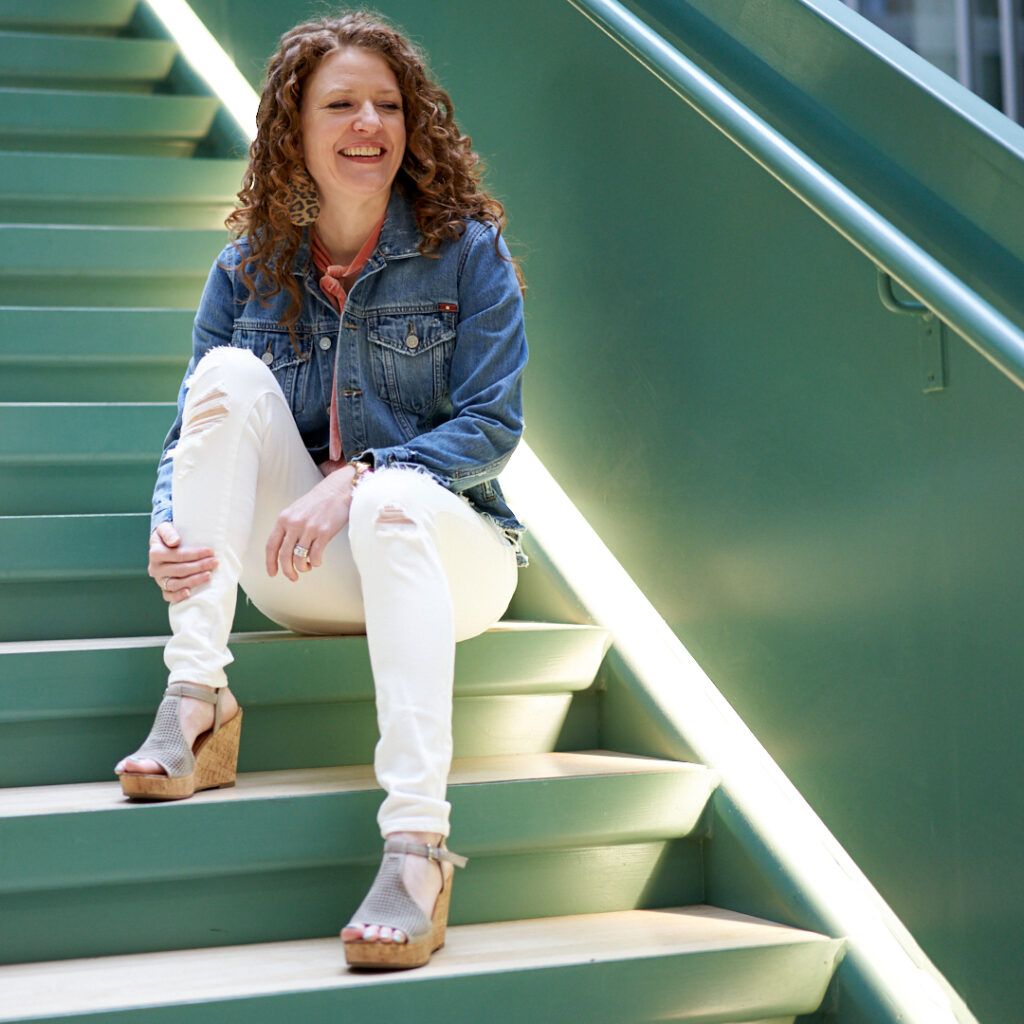 Thanks so much for taking the time to come and check out my Flat Lay to Life-Styled article.  I write two a month so come back when you can!  Also, if you want to get updates on things that are going on at Style by Jamie Lea you can subscribe! I only send out two e-mails a week when a new post is available.  You can also find me on Instagram and Facebook.
Lots of Love – Jamie