Hey again friends!  I am so glad to bring you this Flat Lay to Life-Styled post again!!!  This week I am showing you the top 5 March Favorites. These are the outfits that received the most likes on Instagram so far this month! I had some pretty good shopping trips and put together some of my favorite outfits for Spring.  I am trying to find things that I think are not only versatile but practical for every day.  I have most of my basics so these are some of the cute things that give a wardrobe personality.
Slit Cuff Sweater Love
I went shopping with a friend at the Loft and she told me I could not leave without this Spacedye Slit Sleeve sweater! It was her favorite thing I tried on.  I would have to agree. I have worn it with my denim jeans, mineral blue jeans and white jeans.  I will also wear it in the summer with shorts.  The colors and slit cuff make this one so fun and pretty for spring.
I wore this outfit to a luncheon with some local bloggers this month. I took the Life-Styled version of this in front of the hosts pretty doors. The colors just went so well with my outfit I couldn't resist. I wore my favorite Chanel aviators to block the sun and really liked the simplicity of these glasses with this outfit.  My goal was to be comfortable, cute and simple.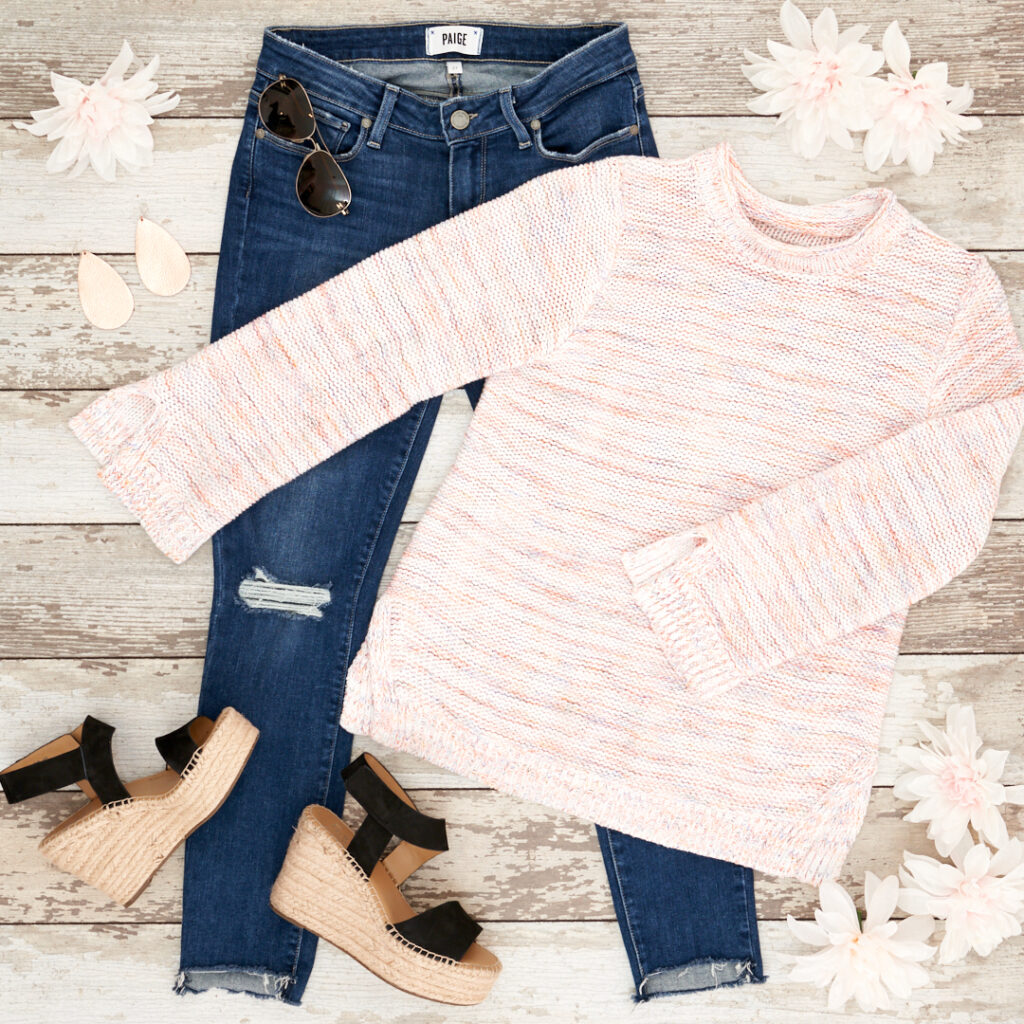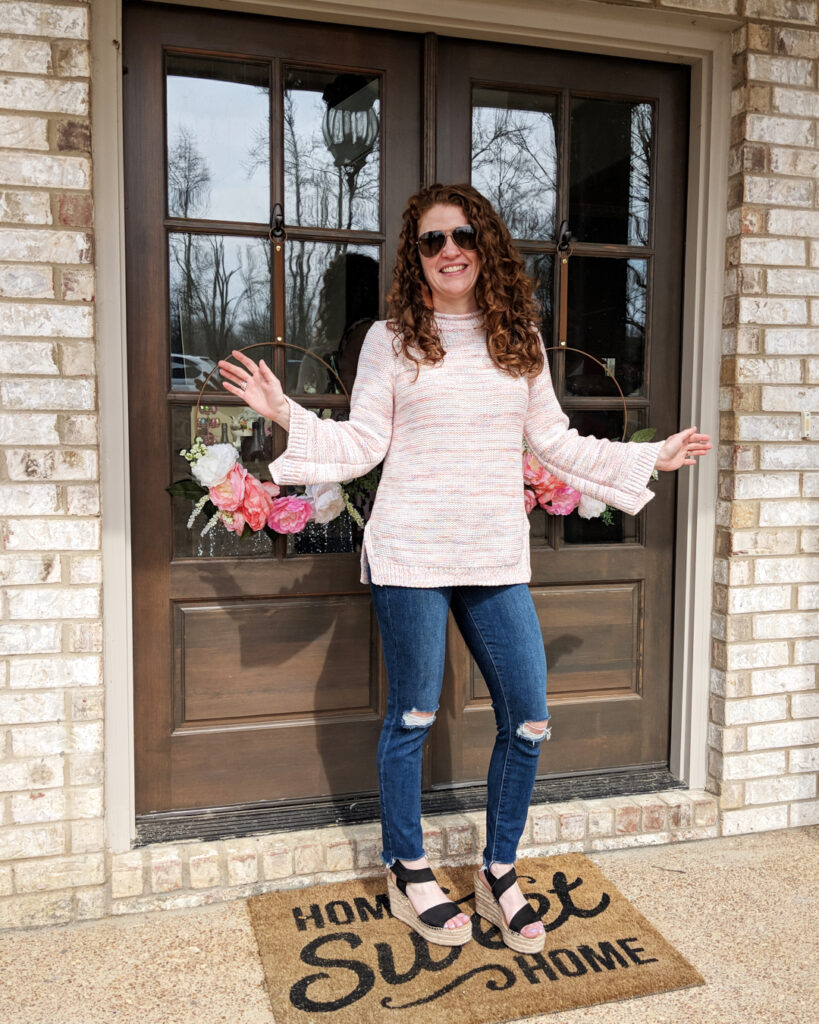 The Sweet White Sweatshirt
Thank you Banana Republic for creating such an amazing sweatshirt! I love how a sweatshirt feels on. I don't think I have ever met anyone who didn't.  If you can find one with eyelet coming out of the bottom hem than why not!  I have worn the heck out of this and will continue to wear it until it is just too hot.  Put the white sweatshirt on with jeans, a cute tennis shoe or sandals and you are good to go! Of course you will see two different earrings that I have worn with it in these pictures. One is a bow stud and the other is a statement earring and I love both looks.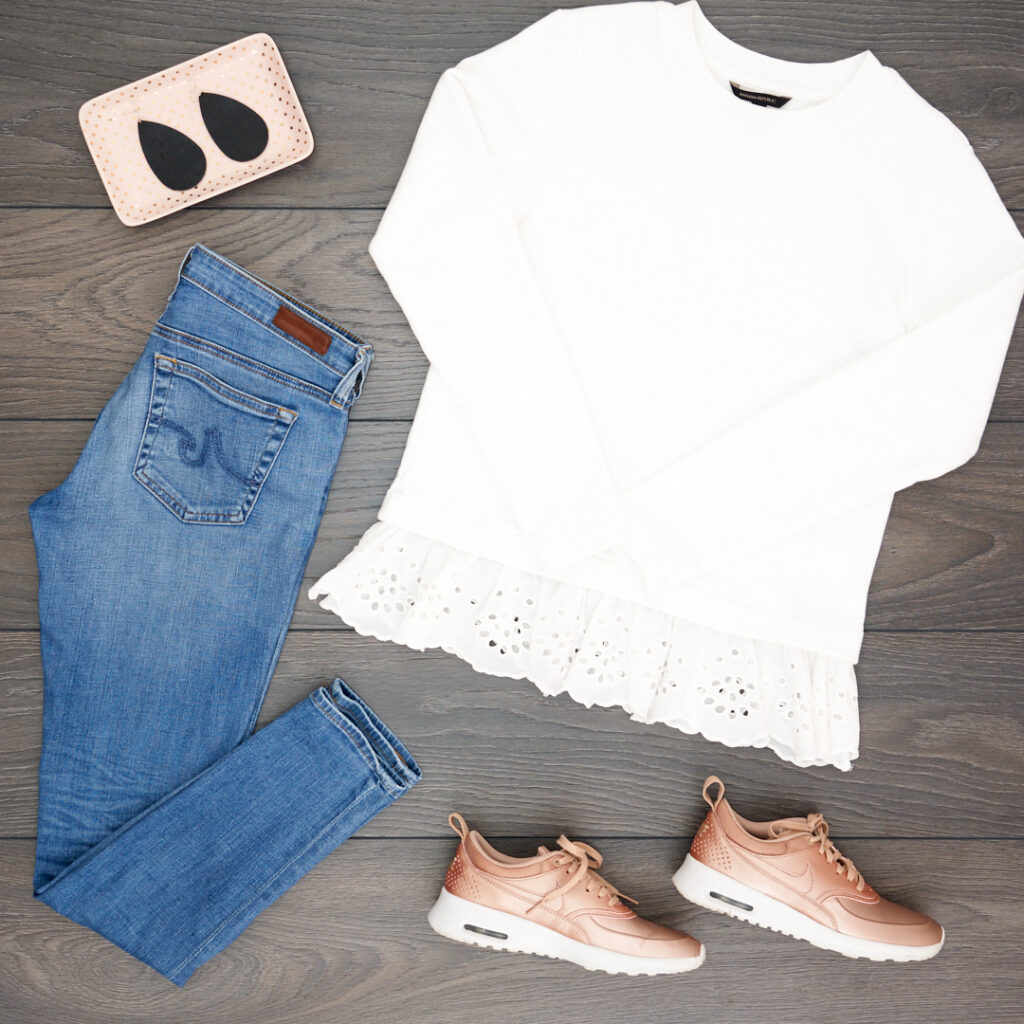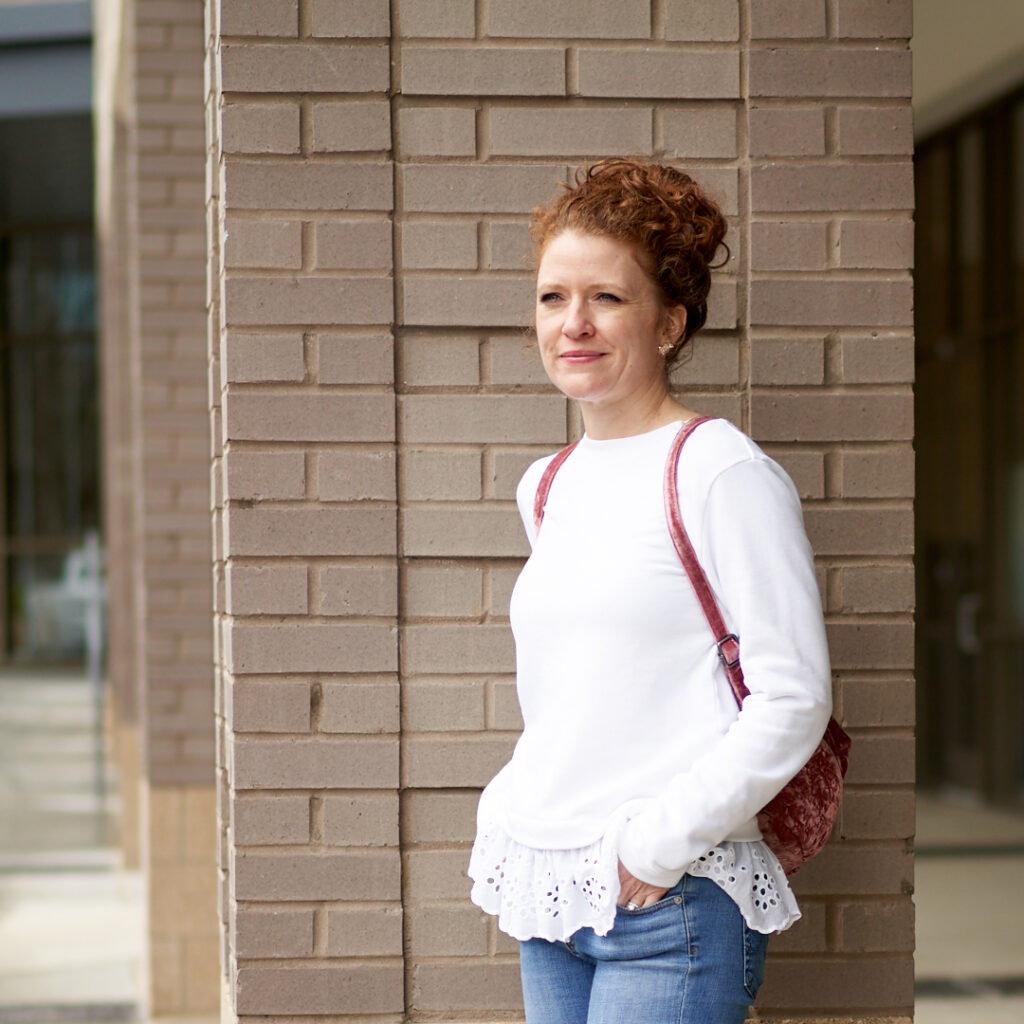 Black and White Surprise
I posted this outfit as an advertisement for a blog post I did on How to Become an Effective Shopper.  Everyone loved it! I found out really quickly a black and white outfit combo is very attractive to people.  I have never actually worn this outfit but will be wearing it now.  I purchased this blouse from Banana Republic last year to go to my cousins rehearsal dinner and have not worn it again.  I have now rotated it back into my Spring stuff this year.  You just never know!
Since I have not worn it I decided to just mirror shot this one for you!  It is really cute and I will definitely be putting this in my outfit rotation.  I will even pair this blouse with some black shorts this summer! Fun!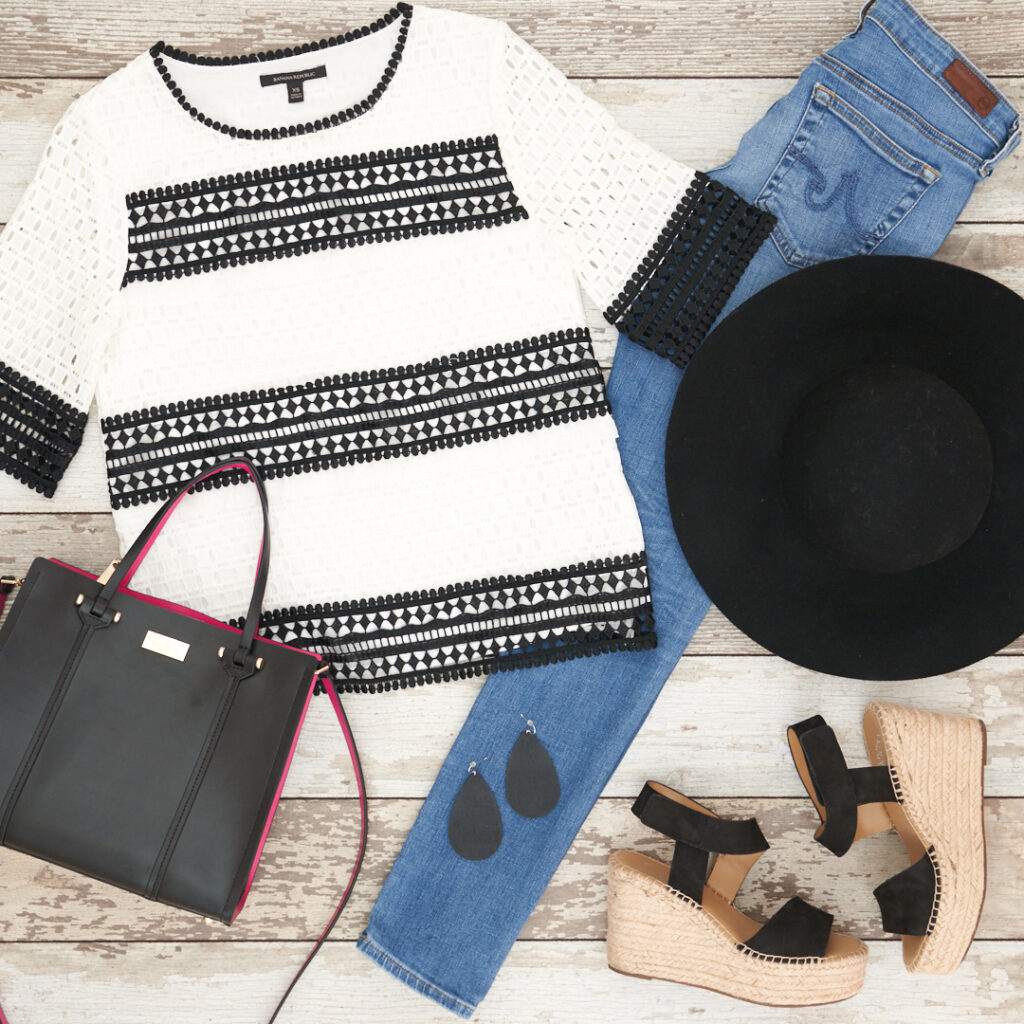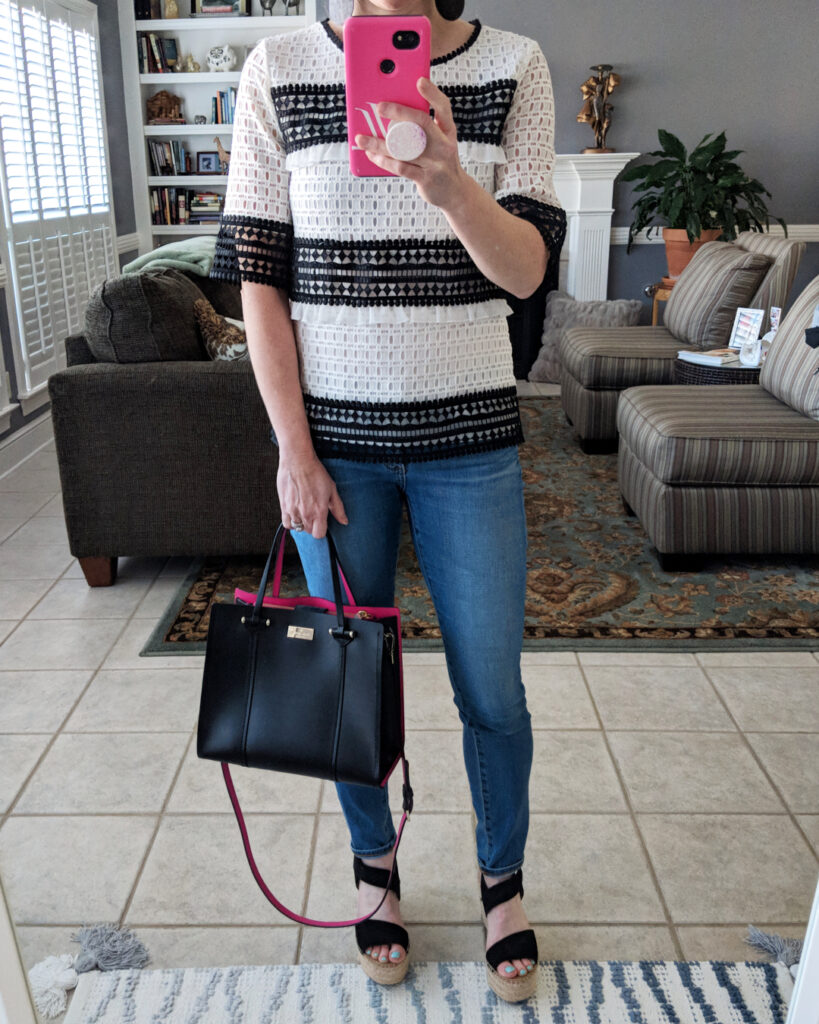 Gray Blazer Perfection
I have to admit that I have not been into blazers that much lately and it is my favorite wardrobe piece. I'm pretty sure it's because the ones I have just don't excite me anymore.  Then out came this beauty from Loft.  As soon as I saw this I knew I had to have it.  It is the best blazer that I have ever owned.  It is soft, stretchy and the color goes with almost everything.  It can be dressed up with pants or a skirt or dressed down with t-shirts and jeans.  My favorite way to wear it is this way; with a bright colored tee, ripped jeans and high-top tennis shoes.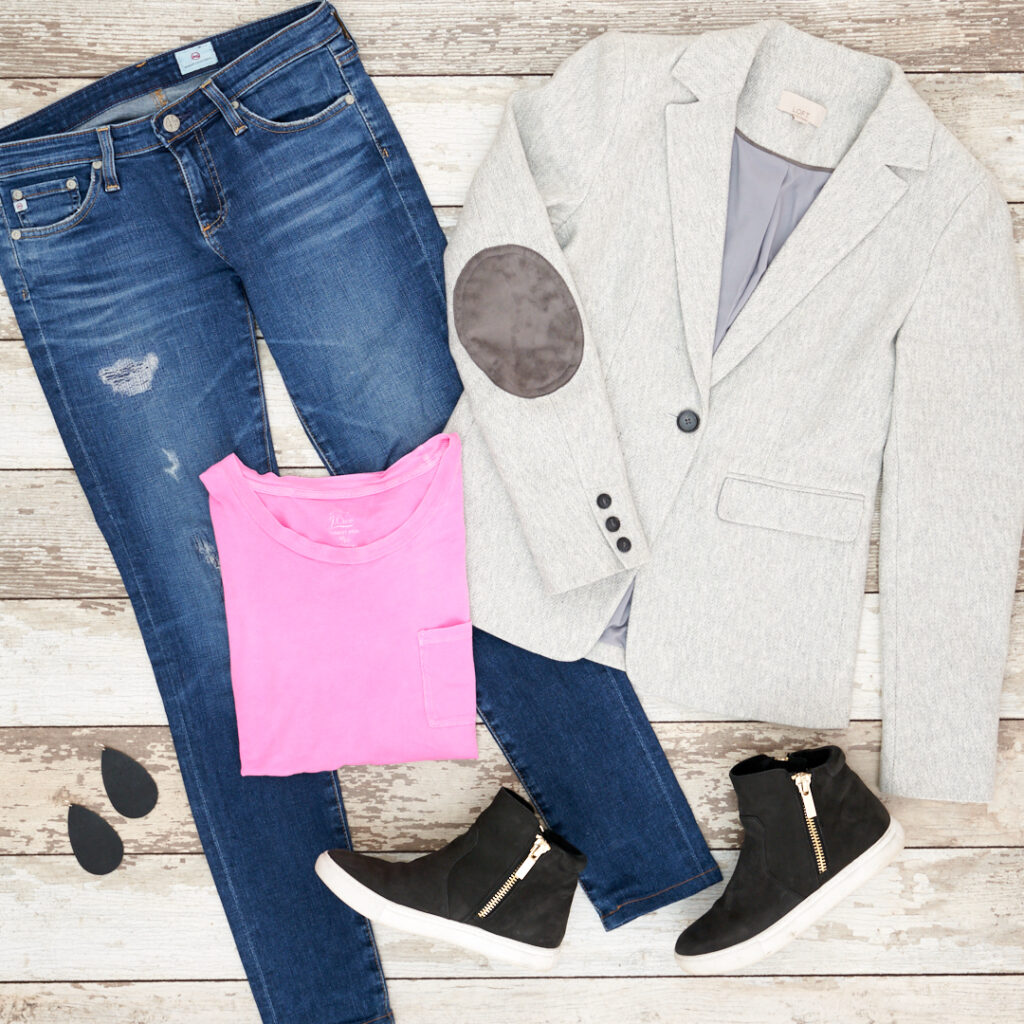 Culottes for the First Time
This last outfit is what  I wore to The Dixon Gallery & Gardens.  It was the perfect garden outfit and just by changing jackets I made it dressier for the gallery.  Even though Memphis is really chill, I felt better having something other than jeans on.
I chose these cute pink, black and white culottes from Loft.  This type of pant is so versatile if you can make it work on your body.  They are definitely not for everyone.  The high-waist on these and flowy legs make these a little more wearable. I wore this black dressy tee with my Franco Sarto black wedges.  The wedges definitely gave me more height and made the pants look better.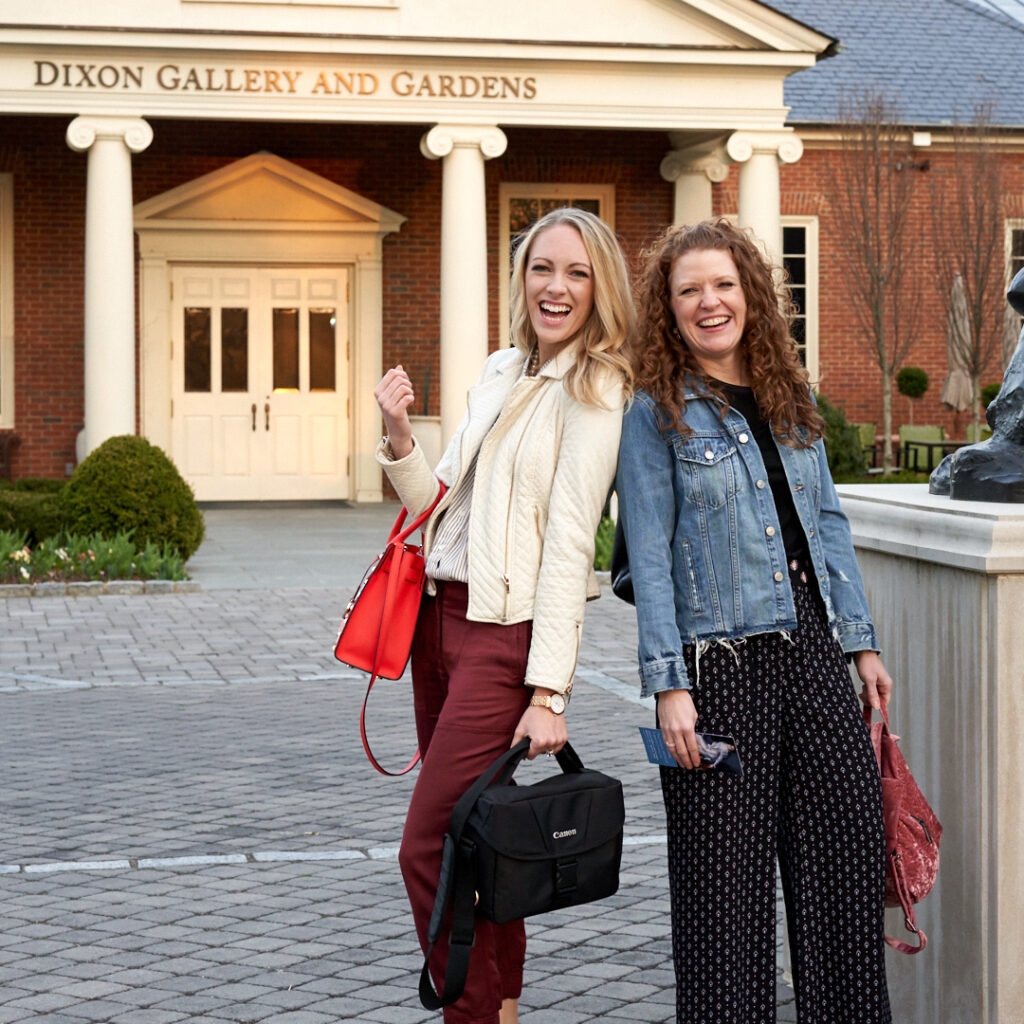 I would love to know what your favorite outfit is  out of all of these! Let me know in the comments below.  I love putting this post together and seeing them displayed like this so I hope you do as well! Thanks for reading!
L.O.L. – Jamie