Hey guys!  This is the month that lots of people are committing to a workout routine for the New Year. I actually took that commitment last January and was doing great until the holidays at the end of the year.  My goal was to workout 1 hour at least 4 times a week doing Barre3 and the stationary bike.  I was actually pretty consistent most of the year.  This year I want to not only continue that trend but to also eat better! I have a sweet tooth like you wouldn't believe.  So needless to say I stayed the same weight all year.  This year hopefully that's going to change!!!
So this brings me to the theme of this post! Since January and February are usually dedicated to a new workout routines for most people I thought it was very fitting to do activewear. I also am featuring a very special guest in this one. My sister-in-laws guide dog Robin.  I wish I could have her in all my photos! She is a supermodel!
I went to my first Hot Yoga class with my friend Erika of Beaut Optician blog.  It was so cold outside that I struggled to figure out what to wear. I decided on a wool sweater from Athleta , a Lululemon sports bra, Nike tank, Athleta long Chaturanga tights, and my Nike blue felt sneakers.  I also layered my faux fur bomber over this and wore my favorite beanie.  Of course I took the coat, sweater, shoes and beanie off for the workout.  I also stayed in the studio after class for my body to cool off before I headed outside again.  I highly recommend this so you don't go from super hot to super cold.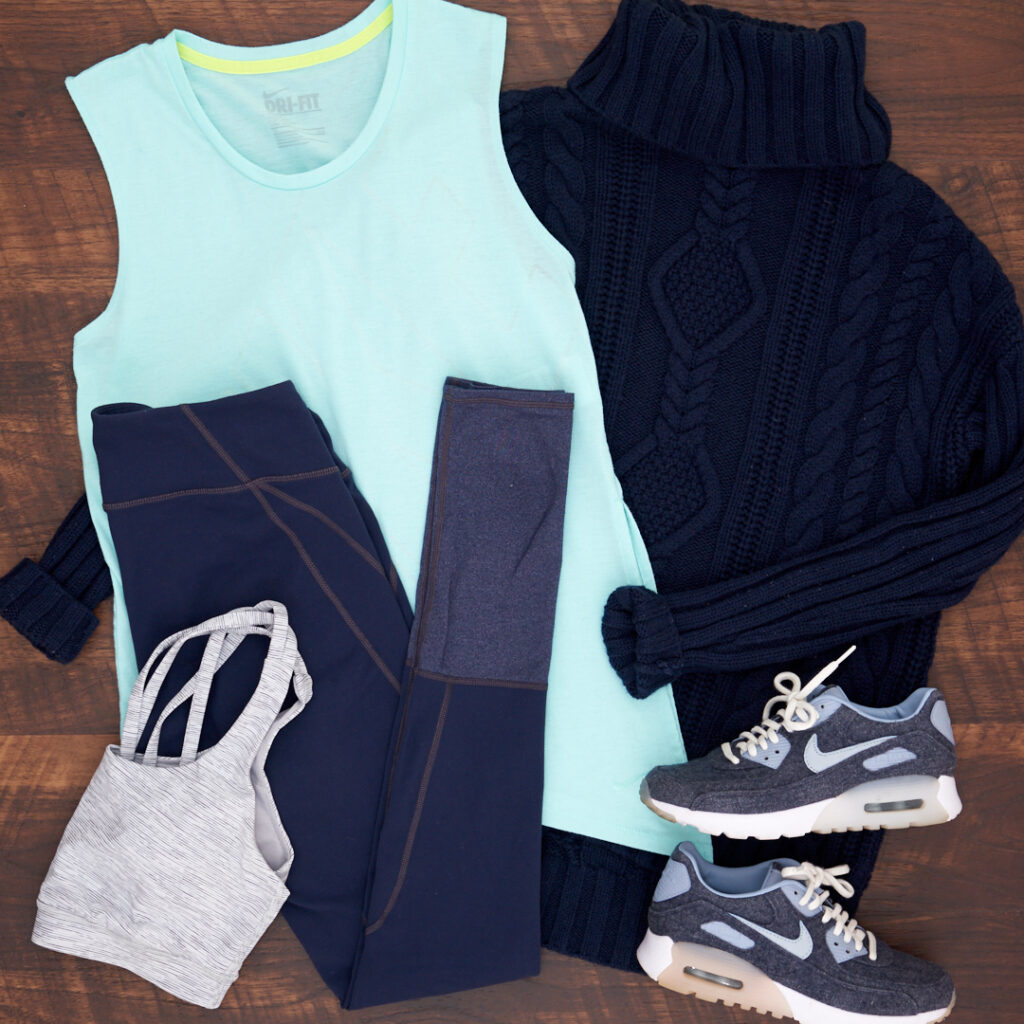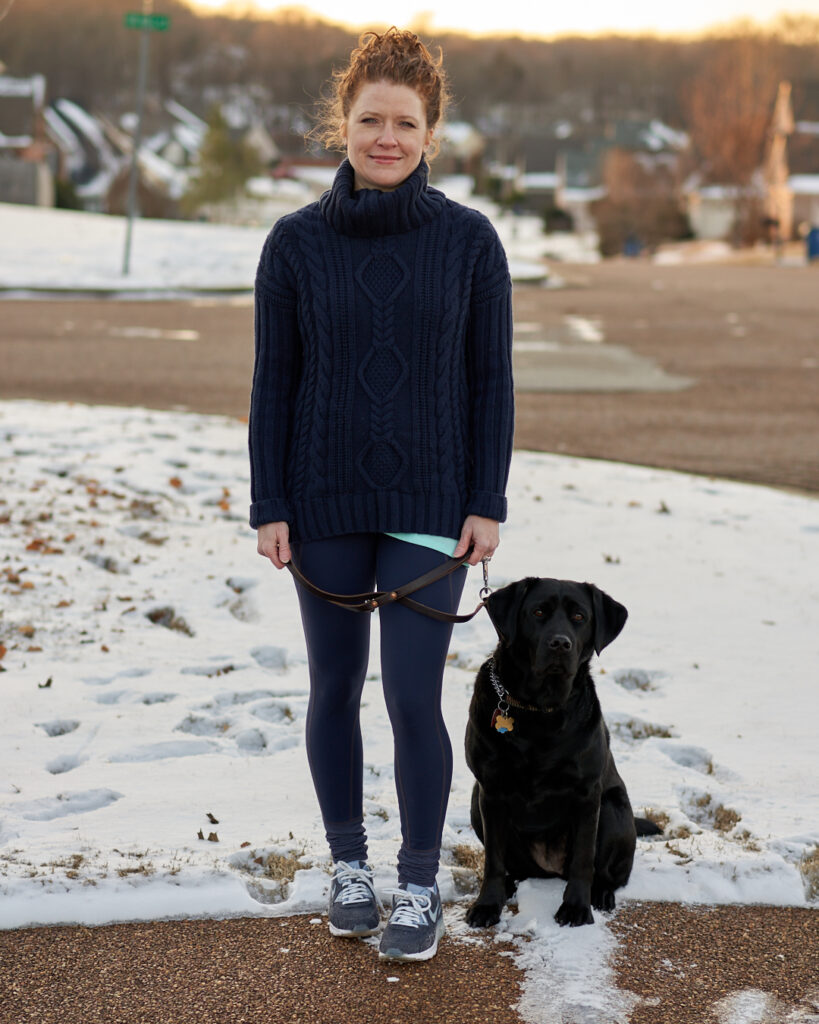 Athleta Turtleneck Long Sweater (similar style)  //  Athleta Chaturanga Navy Tights (similar)   //   Nike Tank Top (similar)   //   Nike Air Max (similar)   //   Lululemon Energy Bra
The next outfit is all Atleta and Nike! I would wear this to the studio or gym and then be able to run errands afterwards. The Metro Slouch is one of my favorite pants for casual wear as well.  They come in a regular pant or a capri and in black or navy. They are that perfect pair that fits just right and you don't have to worry about covering your bum.  They have pockets on the back which is a major plus for me!  Also, take notice of the draw string at the ankle that allows them to be tightened or loosened, whatever your prefer.
I also want to mention that the Nike All Out Running Shoes with this outfit are the MOST comfortable sneakers I have ever worn! No joke!  I want them to come in all colors!
Nike Just Do It T-Shirt (similar)   //   Athleta Metro Slouch (exact and available)   //   Nike High/Low Jacket (similar)   //   Nike All Out Running Shoes (exact)
Well Nike and Athleta do it again in this next guy!  Minus the Lives Empowered t-shirt from GiveGood Co.  To me this is such an easy one for your daily routine and will take you to the studio or gym.  I wear this one (minus the jacket) while I am at home lounging around.  These booties have become my house slippers this winter!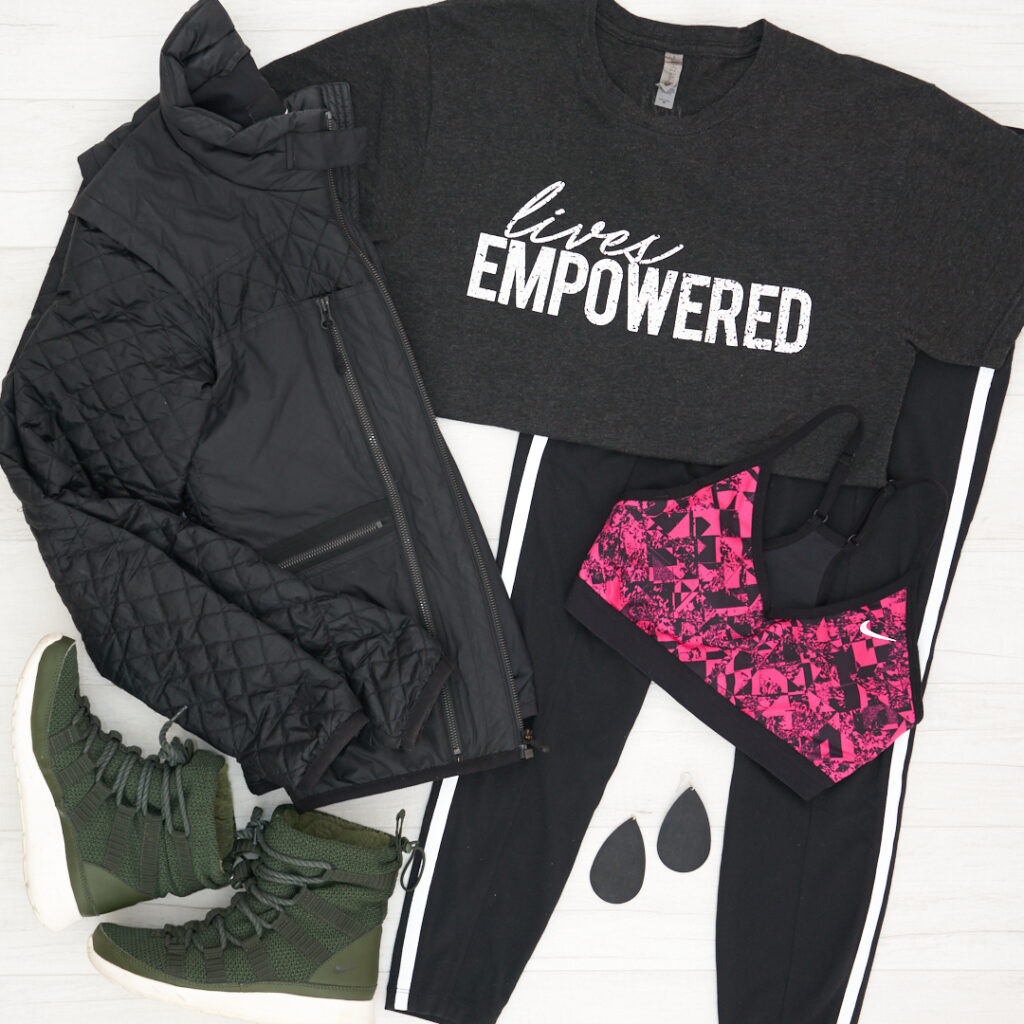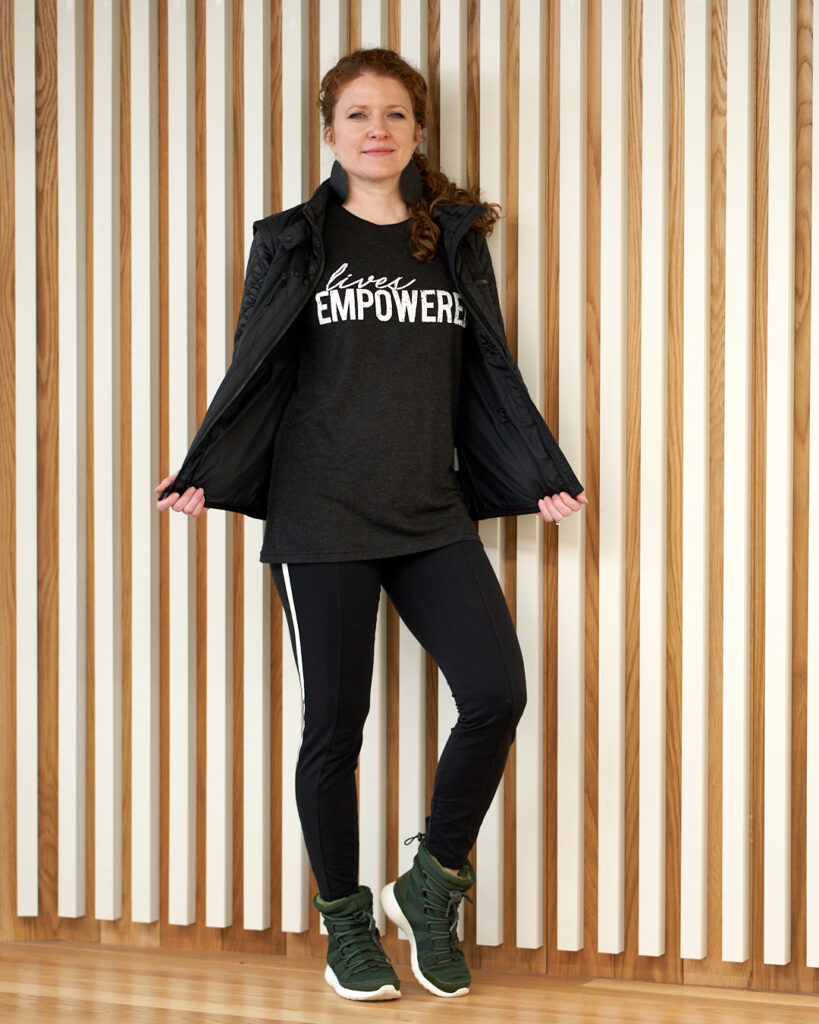 Nike Quilted Jacket (similar)   //   Lives Empowered T-Shirt (same)   //   Metro 7/8 Tight (same black on black)   //   Nike Fleece Lined Booties (similar)
This is my perfect go-to outfit for a good barre or yoga workout!  The Studio Wrap from Athleta is so incredibly soft and comfortable and covers my bum!  You can wear it open like a cardigan or use the magnets to secure the neck at the shoulders for a wrapped look (See picture below). This is at the top of my list of things that I am so glad I added to my wardrobe.  It is not only versatile but soft and cozy as well. Athleta also continue to bring out new colors in this each season!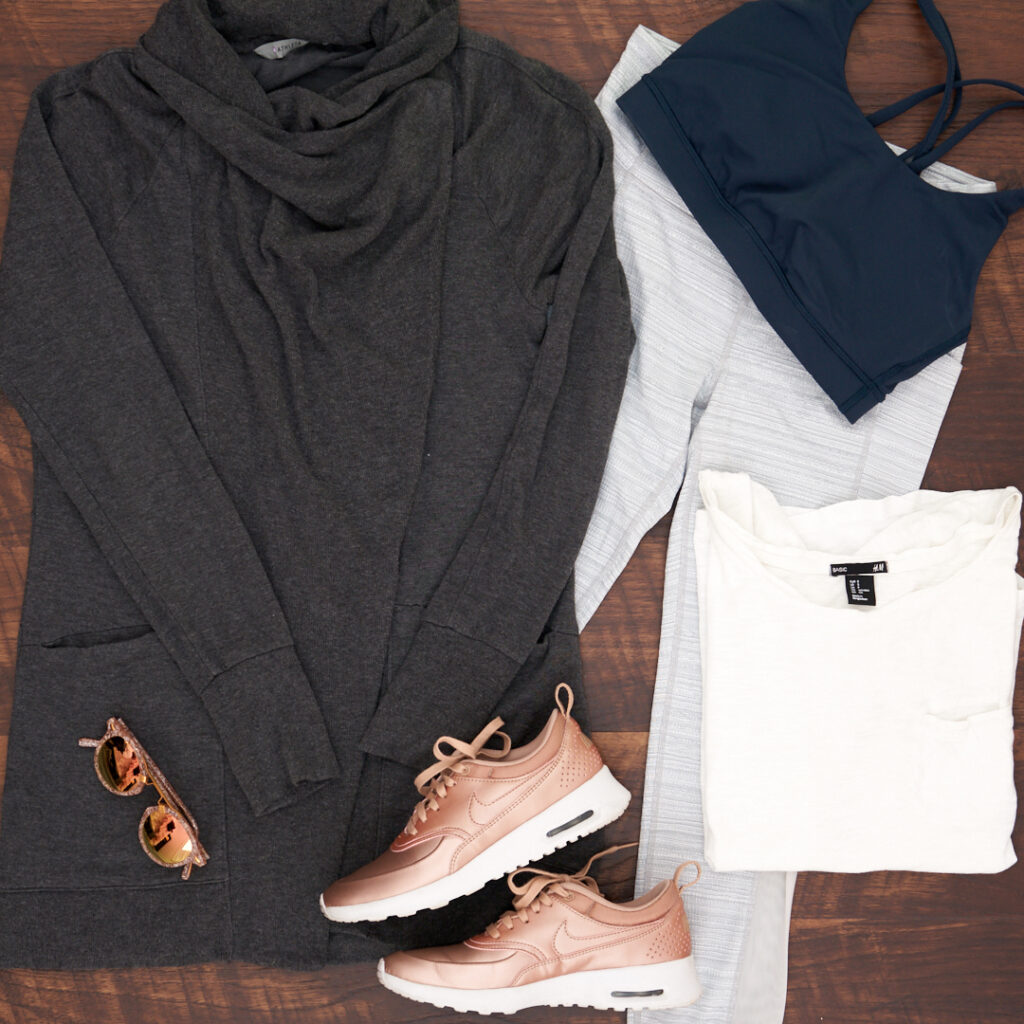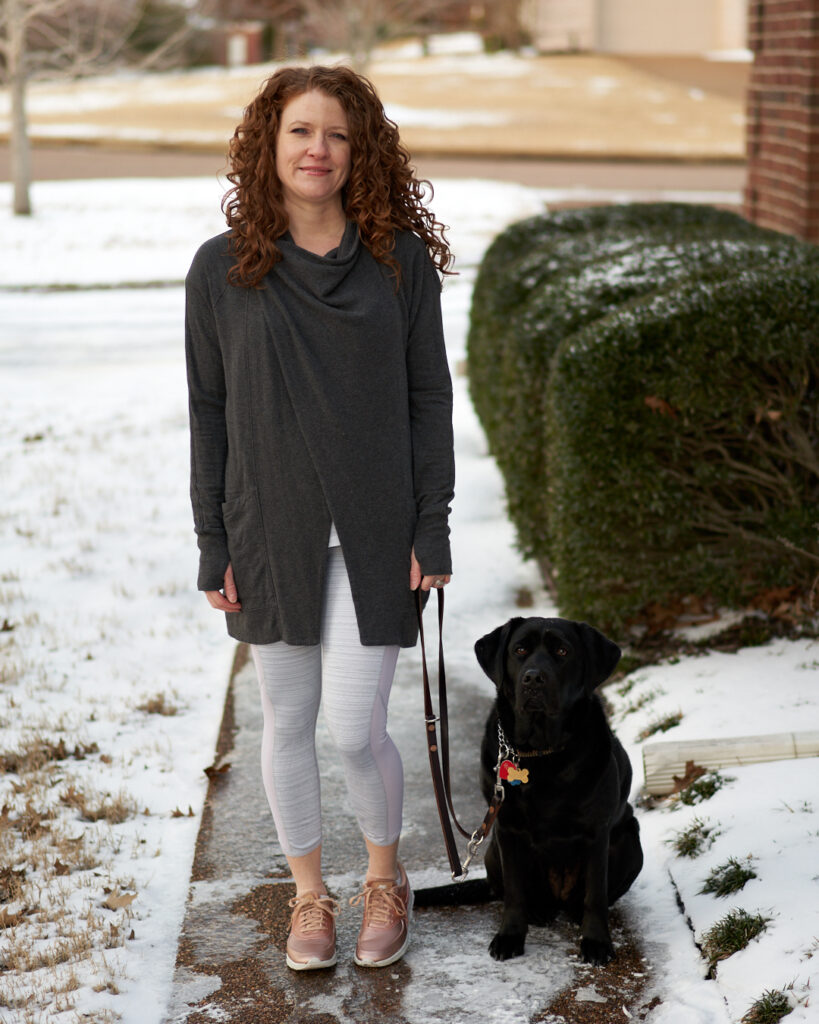 Athleta Studio Wrap Still Available   //   Athleta Tights (same color different style)   //   H&M Slub Jersey T-shirt (same and available)   //   Rose Gold Sneakers (similar H&M dupe)
I knew I liked Athleta but didn't realize how much until I started doing this post!  I feel like Athleta does the best at creating pieces that are versatile and take you to and fro with ease.  Plus, their sweaters are amazing and this wool/cashmere one is no exception!  I love the berry color and the length is perfect for leggings to cover the bum!  To jazz it up a bit I put on my favorite leopard scarf.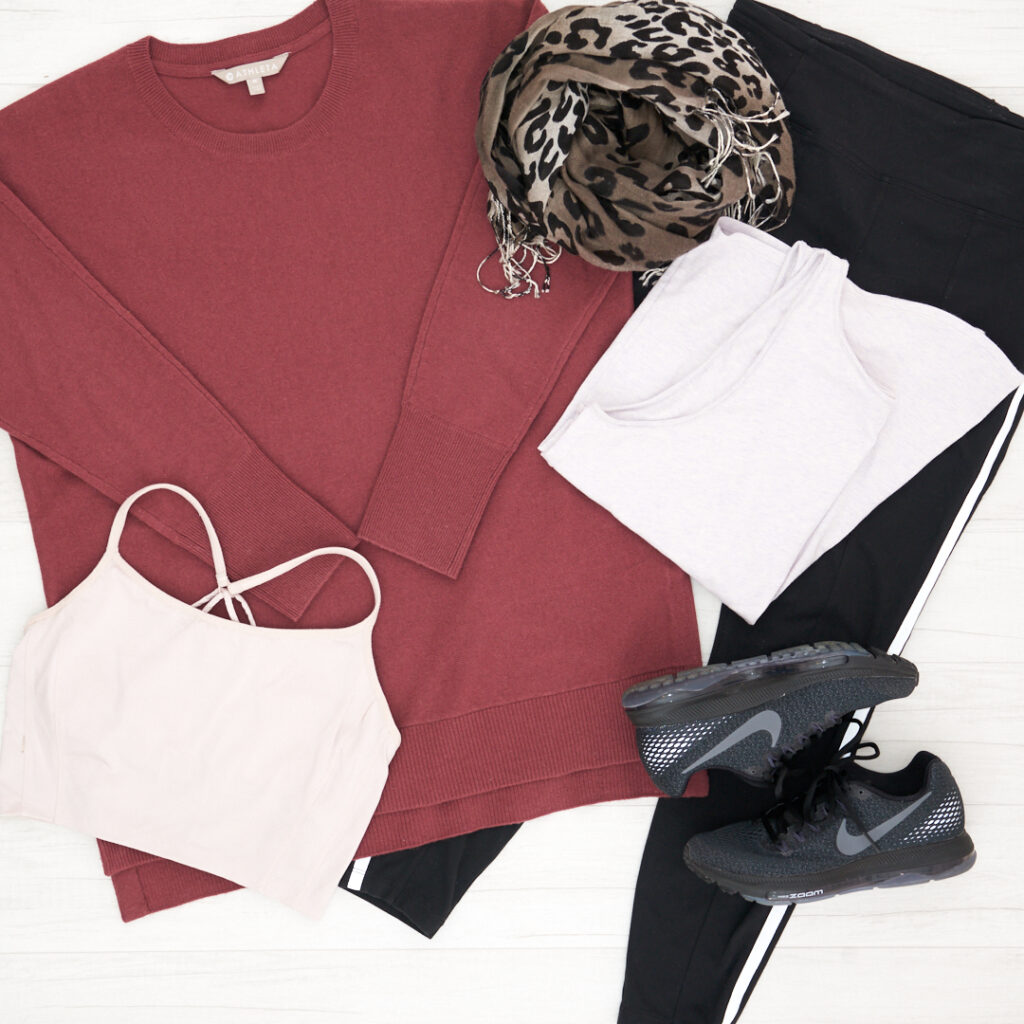 Athleta Wool/Cashmere Stargazer Pullover (exact)   //   Metro 7/8 Tight (same black on black)   //   Nike All Out Running Shoe (exact)   //   H&M Scarf (similar)
In my recommendations I said "cover your bum" a lot!  I always like to encourage people to cover their bum when going out in public.  Try to consider how you might affect those around you when you get dressed to go to and fro.
I hope you enjoyed this Flat Lay to Life-Styled: Activewear post! Again,  I would love some feedback or suggestions about what you would like to see in these posts.  I will always try to make them a styling session for you as well.  If you have any questions please don't hesitate to contact me below!
Until next week!
Lots of Love, Jamie