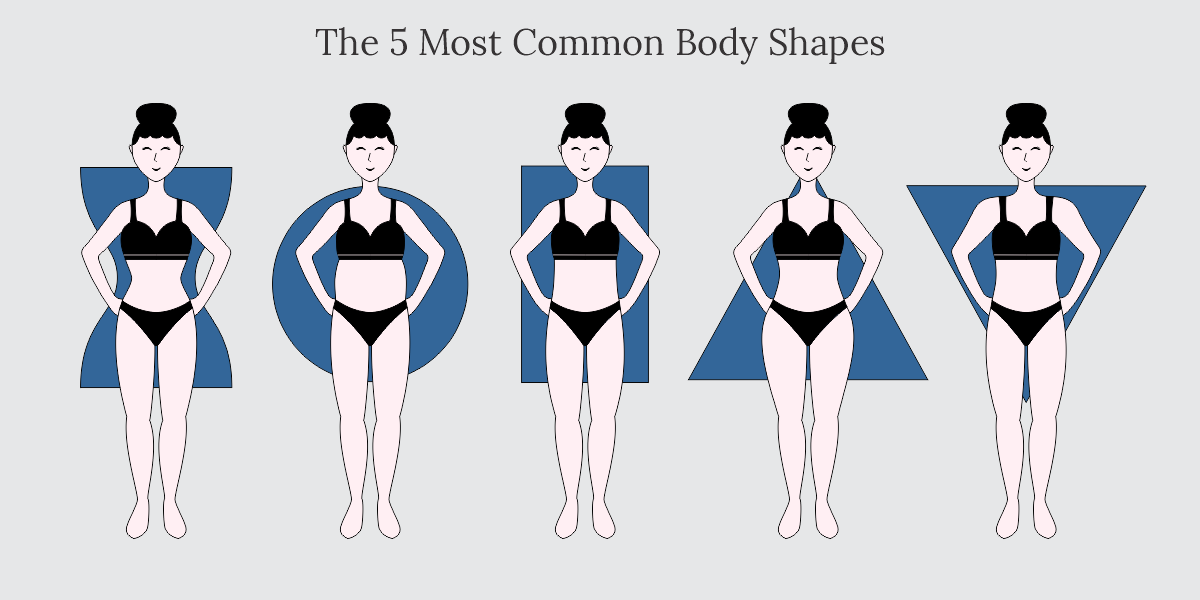 Hey! Last week I did a post preparing you guys for my next series of posts on The 5 Most Common Body Shapes For Women.  You may want to read that post on Intro to Body Shapes if you have not already!
I want to begin this post by saying that I think learning the basics of your body shape can be a great approach to finding what looks good on you, especially if you have a body shape that is more complicated to dress. I don't think this is the only way to have great style but it certainly can be helpful. If you find yourself not knowing what to wear or what looks good on your body than this is a good start to finding out what would work for you. It can help simplify the style process by giving you recommendations of what to look for and how to put things together to help you look your best.
I think style needs to be a reflection of your personality, so combine what you like to wear with some of these recommendations so you can achieve great style that reflects who you are!
I am so excited to tell you that next week I will have Body Shape Guides available for you in the Your Guide To Style online app!  There will be LOTS of outfit suggestions for each of the 5 body shapes for all seasons.  I will be presenting some of the outfits in the videos as well for each body shape.  Just so you know, some of the outfits in our app are customized enough for body shapes and even more are just cute outfits for you to choose what options in the outfits best suite your style choice.
As always, check out the YouTube video below and if you do I would love for you to subscribe and hit the bell to turn on notifications so you won't miss any of my weekly videos!
What and How to Measure Your Body
You can either do these measurements yourself or have a professional tailor or seamstress measure you. It's really easy to do it yourself or have someone close to you do it.
When taking your measurements it is best to have no clothing on or just your undergarments. If you are more comfortable in clothing because someone else is taking your measurements than wear something tight and thin like a tight t-shirt and fitted leggings. Use a flexible cloth tape measure and pull it until it is taut against the body.  The four areas you will measure are the following:
Shoulders – measure at the highest point of your shoulders, the widest area.
Bust – measure around the fullest part of your breasts.
Waist – measure around the smallest part of your waist between the ribs and belly button.
Hips – measure around the largest part of your hips where your buttocks are the fullest.
Not everyone includes the shoulder measurement but it is important because it can completely change your shape, as it does mine. If you have broad or really narrow shoulders you can use this measurement instead of the bust measurement to find your shape or shapes.
If you don't want to take actual measurements that is totally fine!  Just look at your shape in the mirror and guestimate what you think your shape is by how your curves look. It would be best to wear something fitted so you can see how your shoulders, bust, waist and hips compare to each other and where you might be off balance.

5 Body Shapes
There are 5 common body shapes that are easy to understand and cover the spectrum of women's shapes in a basic sense.  After you complete your measurements or analysis of your shape than you will look at the body shapes and see which one best describes your body.  Remember from my last post that there may be one or two body shapes that apply to you.
Hourglass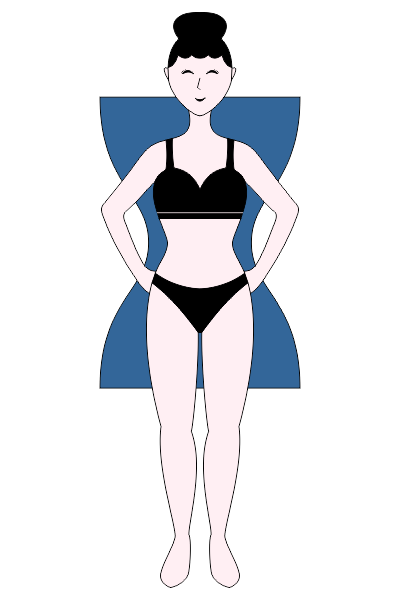 The hourglass shape is completely balanced with the bust and hips being the same or close to the same measurement and the waist being a significant amount smaller and very defined.  Some say at least 10 inches of difference for this shape.  If you land somewhere close to that than I would say you could consider yourself an hourglass shape. Also, wait gain tends to be all over instead of a certain part of the body.



Style Focus:
Keep the waist defined.
Balance everything and don't over accentuate your curves.
Go with the flow of your body.
Be careful not to add bulk to your top, waist or bottom.
Round or Apple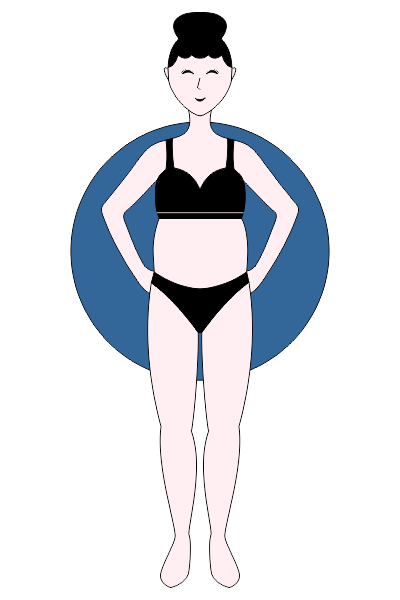 The round or apple shape is when your waist is larger than your bust and hips.  It may also be larger than your shoulders. This shape typically has a larger bust as well and narrow hips with nice slim legs. Weight gain is usually in the midsection.
Style Focus:
Distract from the lack of waistline.
Highlight your bust and legs.
Try to create curves and fullness to the lower half of the body.
Rectangle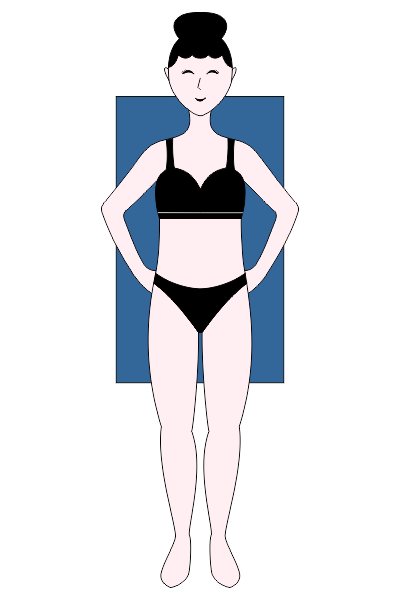 A rectangle shape is the same or close to the same size bust, waist and hip measurement.  This is also considered a straight shape or athletic shape.
Watch out for the shoulder measurement for this shape. If you have broad shoulders you may also have a secondary shape.
Style Focus:
Focus on creating a waist or adding volume to top and bottom half.
Use your clothing to help create curves.
Triangle or pear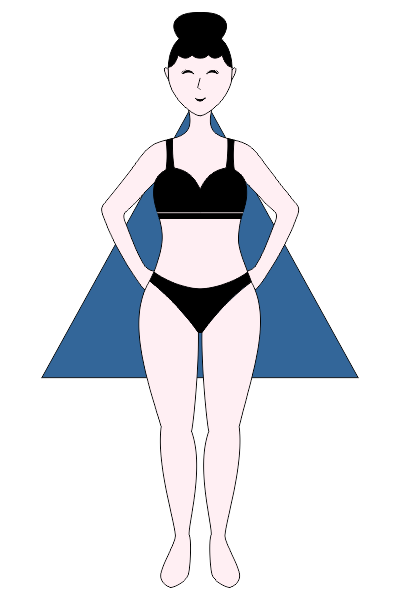 The triangle or pear shape is when your hips are larger than your bust. Depending on how much larger the hips may even be larger than your shoulder line.  This shape typically has a small bust and narrow shoulders and may have a defined waist depending on how much larger the hips are to the rest of the body. The legs with this shape are usually fuller, not slim like the apple shape.
Style Focus:
Balance the body by adding to the top half.
Take attention away from the hips with upper body items.
Keep the waist defined.
Inverted Triangle
The inverted triangle shape is when your bust or shoulders are larger than your hips.  Sometimes this wider silhouette is from the bust and sometimes it's from the shoulders.
Style Focus:
Find items that bring focus to the bottom half.
Minimize the broad shoulders or bust area.
Define the waist.
I hope after briefly reading about these you see which body shape BEST applies to your measurements. And don't forget you might have a primary and a secondary shape.  The next 5 weeks I will address the individual shapes in detail with a post and video for each.  These posts and videos will provide more details on each shape and show you what to wear and how to style outfits for that shape!  You can subscribe to my blog or my YouTube channel to get notifications for when these are released!
Thanks for reading and I'll talk to you next week!
Stylishly Yours,