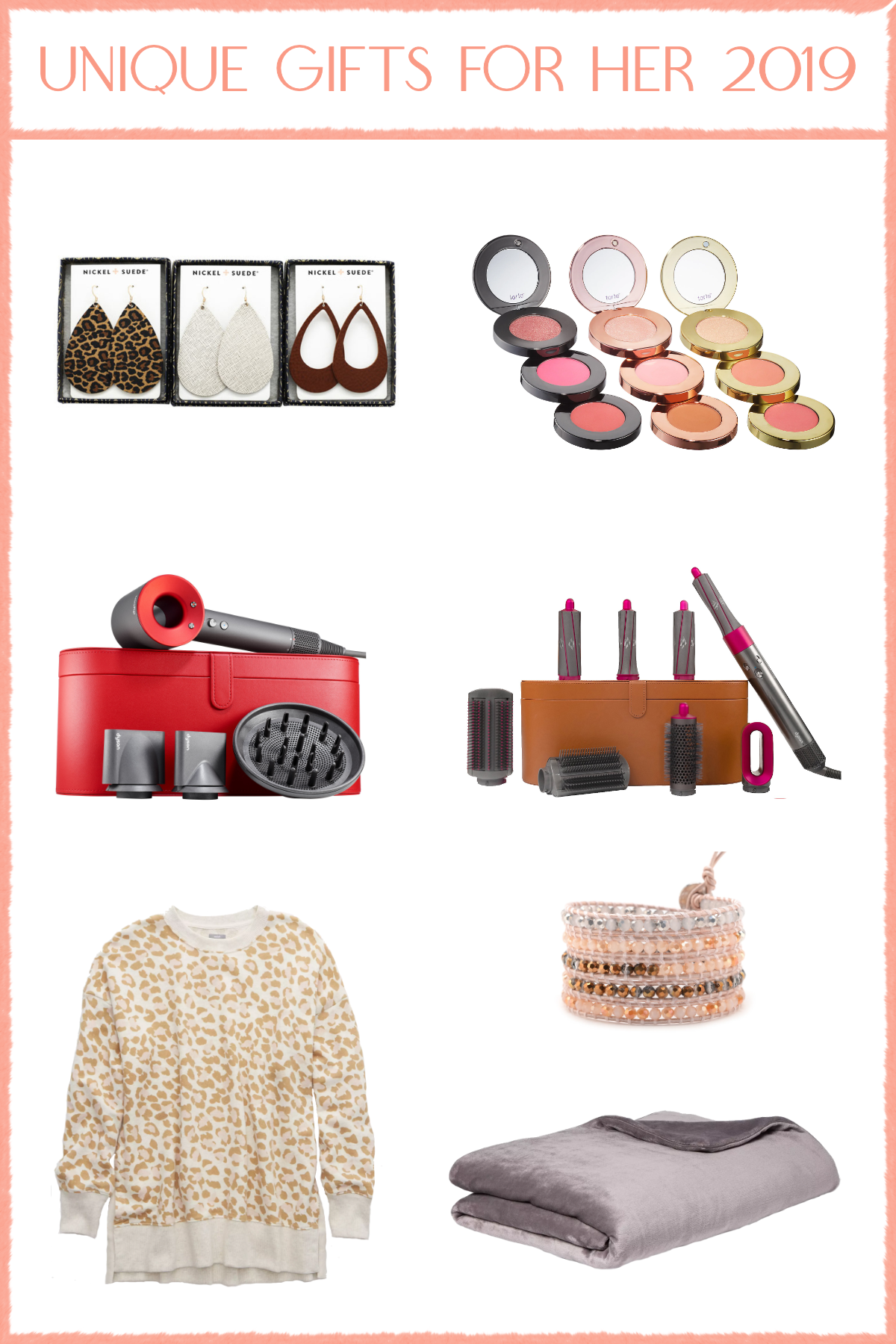 Hey!  I am so excited about all of the cute girly things this season! Below are some wonderful unique gifts that you can give a girl in your life.  I would personally take any of the items on this list!
Unique Gifts For Her 
Silk Pillowcase: Every girl needs one of these because they are great for your skin and hair. A silk pillowcase will help minimize the frizz if you need to keep your hair-do for the next day.
I have had one from Lily Silk for years and never sleep on anything else! The reason I chose Lily Silk is that I could choose the quality of the silk I wanted.  The quality of silk is measured by momme weight and the higher the momme the better the silk.
If you see "satin" in the name it is polyester not silk.  I will link some great quality ones for you but beware; the price tag is a little higher than you might think.  Most of them are machine washable silk so that's a plus and they will last you for a few years, maybe more.
Gravity Blanket: One thing all women have in common is that they are always cold and like to be covered up.  There is something about a weighted blanket that is comforting to us. Some women, like me, sleep better with a little bit of weight on them. There are lots of options for these out there so I will link a few for you.

Nickel and Suede Earrings: In my opinion these are the best earrings on the planet.  Why? They are lightweight, well priced, great quality leather and have nickel free ear wires.  Most of the earrings will come in sizes so you can choose big or small.

Ellis James Designs Organizers: These are by far the best makeup organizers for at home storage and travel!  They are made out of high quality quilted nylon that is easily cleaned. They have the perfect compartment sizes for all your makeup and beauty products. Some are even large enough to carry a curling iron and travel hair dryer! I also have to mention they are all under $40!!!
My personal favorites are the Large Travel Makeup Bag and the Large Travel Toiletry Bag. Oh and I can't forget the amazing Travel Jewelry Organizer!

Victoria Emerson Wrap Bracelets: Honestly I have never tried these but I have seen them and will eventually get a couple.  They remind me of Chan Luu bracelets that are super expensive. These are less than $40 and so pretty! You should check  them out for a fun gift!
Aerie Desert Sweatshirt: The best sweatshirt of the season.  Any girl would love this sweatshirt; whatever shape or size she may be!!  They are true to size with an oversized fit. There are lots of colors and prints available for you to choose from and they are usually on sale for less than $35.
Elise Pendant Necklace from Kendra Scott: This short necklace can be worn by itself or layered with longer necklaces. It is the perfect universal necklace that goes with anything.  It is great quality and  if it breaks they give you a new one!
Monogram Handbag: I have been eyeing these bags on Instagram and I think they would make a great gift. Honestly, I think they are a knock-off of a Chanel canvas tote bag. I'm not always a fan of knock-offs but these are pretty great!

The Beauty Lover
Dyson Hair Dryer: This is definitely on my list this year. It you want to impress someone this is the way to do it.  It really is worth the dollars and is super quiet for a hair dryer.  Not only that, but it dries hair super fast and with no frizz.
Dyson Airwrap Styler: This is a new product that I have seen so many people reviewing. If the person you are buying for loves to curl their hair this is a fun and interesting option. Just click the link and check it out for yourself.
Clairsonic Cleansing Skin Care Device: A Clairsonic face cleanser is a great gift for the beauty lover if she doesn't already have one!  They are the perfect device to gently clean your face every day.  My hubby and I both have one that we have used daily for a few years now.
Tarte 9 Ways to Shine Blush Wardrobe: This blush wardrobe is AMAZING! I purchased one for myself and  have been testing out all the colors.  This was by far the most valuable gift set from Sephora.  It is 9 small blush compacts for $35!!!!!!! I will not have to buy blush for another 3 years!  The packaging is super cute and this would be a great gift for the beauty lover.

goPure Beauty: The products offered by goPure Beauty are some of the best I have used. They concentrate on providing the highest quality skincare at affordable prices. They skip the middleman so it costs you less. I personally use and love the goPure Youth Glow Facial Skin Care System.
The ingredients are all the highest purity you can get, are made in the USA and 100% cruelty free.  They are also free of any parabens, artificial fragrance, propylene glycol, hydroquinone, formaldehyde, sls and dyes. They have a 60 day 100% satisfaction guarantee.
Mint Pear Beauty: Mint Pear Beauty is one of those companies that is very unique. All the products are uniquely made cruelty free and contain organic and all natural ingredients. Free from sulfates, parabens, fragrance, harsh chemicals and suitable for vegans!  I am in love with their Vitamin Rich Daily Moisturizer and can not live without it in the winter.
Stocking Stuffers:
Silk Hair Ties: These are fun to have and are gentle on your hair. We all know hair ties can wreak havoc on our hair. The natural fibers of these also prevent hair's moisture from drying out.
FujiFilm Instax Mini Camera: The cutest camera that gives you instant pictures! So fun! This is also on my list this year.
Instax Film: You can't purchase the camera without the film!
Camera Bag for Fuji Camera: A case for protecting the camera is perfect!

My Style Guides: I know these are my books but I had to put them on here if there is a girl in your life that needs some styling advice! These style guides are in the form of an EBook sold on Amazon Kindle. I have made it where you can gift them through Amazon to whoever you want!  They are only $9.99 each!  They are called Fall Wardrobe Essentials and Casual Wardrobe for the Modern Woman.
Thank you so much for reading my suggestions.  I hope this helps you find a great gift for the girls in your life. I feel like a lot of these cover the majority of what women like and are unique.  Happy Shopping!
Stylishly Yours,