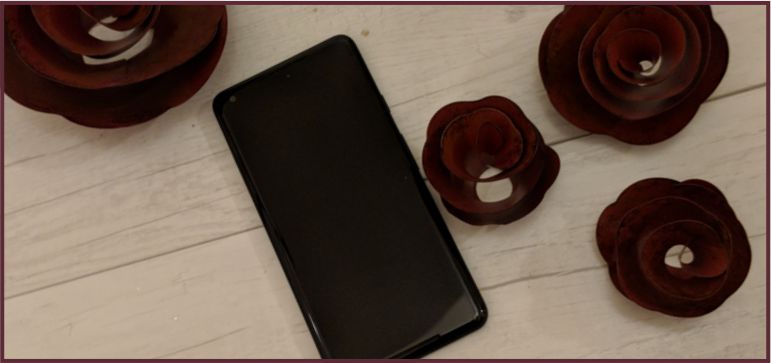 Hey Ladies! It is Monday! I hope it's a "better than the normal" mundane Monday! I have a fun "Tidbit" topic today that I want to share with you! If I had to guess I would say that most of you are iPhone users. Android by far dominates the cell phone market but it seems that the majority of the fashion world uses the iPhone. That last part is just speculation! But I truely feel like I'm right on. I have never used an iPhone so I don't even know if I would like it. So, I will concentrate on the topic which is my lovely new Google Pixel 2 XL and Live case that my husband designed for me.
Why I love my new Pixel 2 XL:
Most girls do not drool over tech tools like men do but I have to say I am a huge fan of good technology. I usually get whatever phone my savvy tech husband recommends and I let him drool haha. Even though I am and android user I actually considered one of the new iPhones because I heard the cameras were awesome but I just didn't want to have to learn how to use it. That is like going from a PC to a MAC. The process would be painful! Luckily the camera on the Pixel 2 XL had really good features and had some of the same and better features as the iPhone X. The other preference I have other than the camera is the size of the phone. I like a larger phone and was a huge fan of the Samsung Note, which I carried for a few years. My old co-workers use to refer to it as my "tablet"!
After receiving the phone, I do have to say I am impressed! I love the speed of it, the camera is soooo good and I LOVE my new case. I'm not going to go into all the tech details about this since my expertise is not in tech but in fashion. What I will brag about is my BEAUTIFUL case that surrounds my amazing phone! Google allows you to make what they call Live Cases where you can design your own by putting whatever image you want on it. If you don't have a photo or graphic you want to use they provide some choices for you as well. If you have a Pixel 2 XL or another google phone and decide to order a Live Case I highly recommend you pick something other than the standard shipping. Mine shipped from China and it took a little longer than I would have liked to get here. Just a friendly FYI if that matters to you. I get excited about stuff and don't like to wait!
The photos provided were all taken with my Pixel 2 XL and are unedited (except sizing to put in post and instagram) so you can see how good they turn out. Some of my Instagram posts are done with this camera as well but the majority of my flat lays are with a Canon camera. The last thing I will tell you about the phone is I love the portrait option on the camera and if it did not have this I would have gone for the iPhone that has this available. That is killer when you want a great picture of subject matter and not all the ugly background and you don't have hours to spend editing!
So there ya go! Feel free to ask me any question you might have if you are thinking about the Pixel 2 XL or a Live Case.  I am very happy with my purchases!