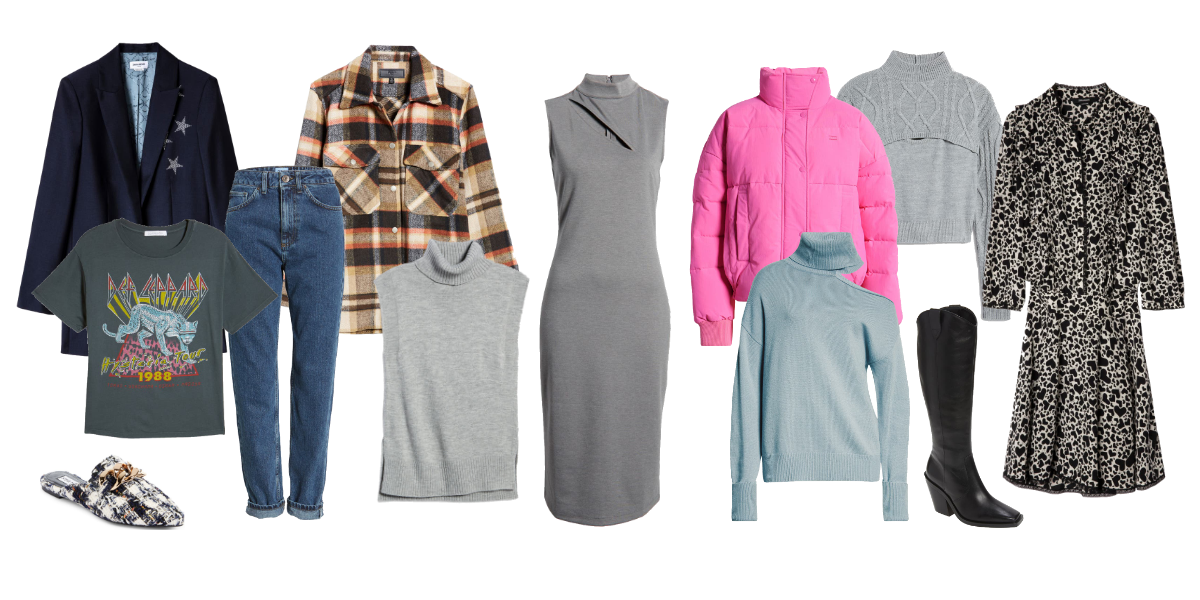 I am so excited that it's time for the Nordstrom Anniversary Sale 2021! This always gets my mind thinking about fall trends and allows me to do this post before the season even begins!  I love telling you about what trends I find for each season and this post in particular is my most popular post all season long!  I have now added a video to this, as I have to all my other posts for the past few months. If you missed my content on Tips To Shopping The Nordstrom Anniversary Sale 2021 than click that title and check it out.  It will help you become more successful when shopping the sale!
If you have followed me for awhile you know that I love trends but I love the trends that are more common and can be worn by the majority.  I try to stay away from fads that are short lived and are only for a select few. You will find all of these trends are really wearable by most women, it will just depend on your personal preference. This fall 2021 season there are some new trends on the scene and some old ones that are still going strong.
Trends That Are Totally Wearable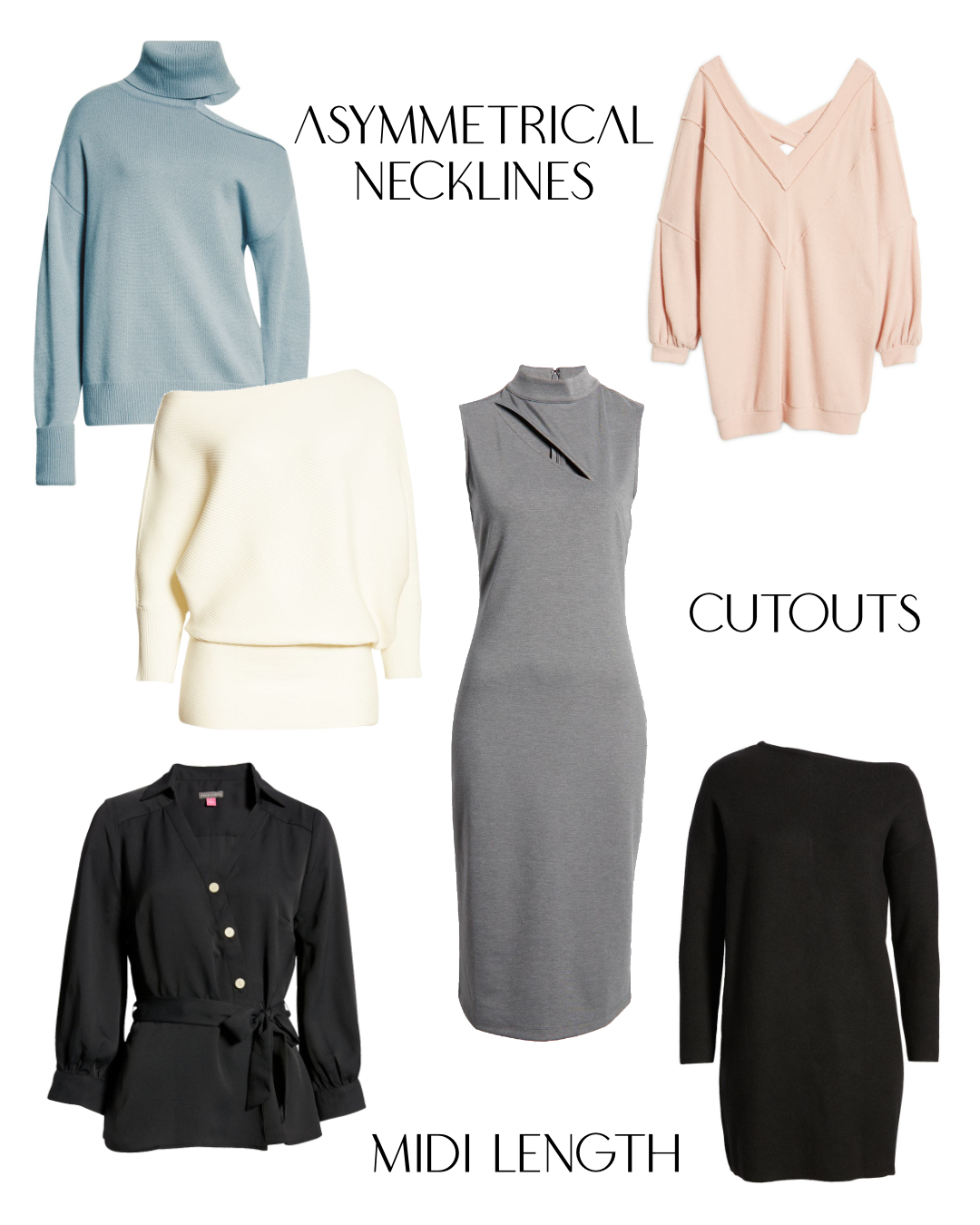 Asymmetrical Necklines:  Asymmetrical necklines are one of the new trends on the scene. You will find them on lots of different style tops, sweaters and dresses. We have seen off the shoulder styles each season but it has never really been a trend.  I am loving this because it adds a feminine touch to the oversized looks that are popular right now.
Cutouts: This showed up a little bit this spring and has totally blown up this fall.  You will find cutouts on fitted tops and dresses at the neckline or bust area. Although there are some oversized items like the sweater dress above that you will find the cutouts on the back.  I think this is will keep going strong this season and will be even more popular in Spring 2022.
Midi Length: High hemlines supposedly indicate economic prosperity.  Longer lengths were popular during 2020 during the pandemic and now are coming up! I read that online and thought that was pretty cool, so I thought I would share. Although I believe that the midi length has been on trend for awhile, even in 2020.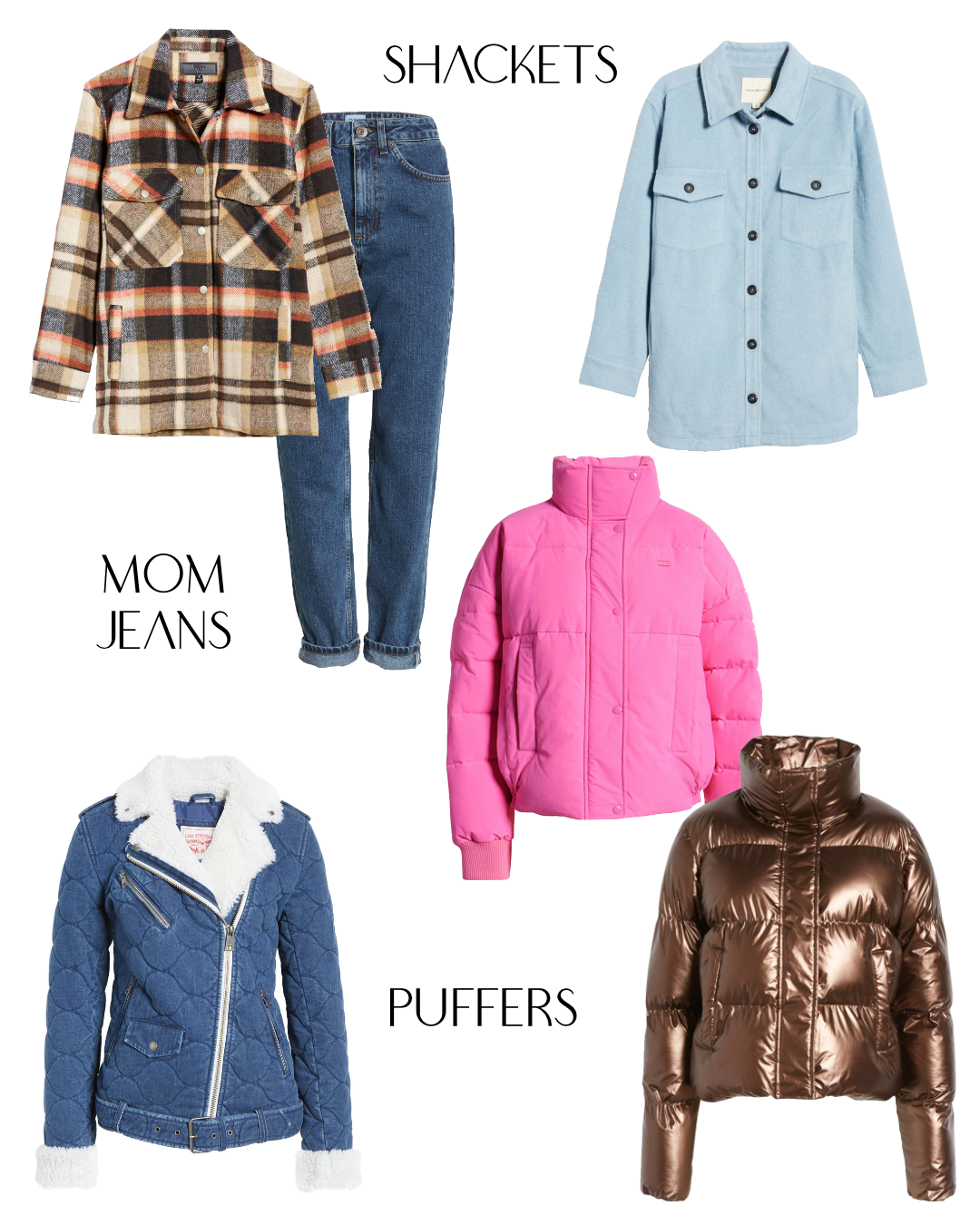 Shackets: The shirt jacket, better known as the Shacket, is still trending! I did a post in the spring on How To Style The Shacket Trend because it started last fall and continued into the spring and is now still going strong this fall 2021 season.  There are a gazillion styles to choose from at the Nordstrom Anniversary Sale! Most, if not all, of the styles are oversized and this is the "cool" way to wear it this fall 2021.
Puffer Styles: A new trend peeking this fall 2021 are quilted and puffer jackets. You will see all kinds available, so you should be able to find one that would work with the climate you live in.  I am loving the hot pink and metallic ones from the sale the best!
Mom Jeans: I added mom jeans because they seem like they are sticking around for a while.  The mom jeans are just a super high rise straight leg, so most of your straight leg jeans would fit in this category.  These are a great replacement for skinny jeans if you want to ease into loose fitting jeans.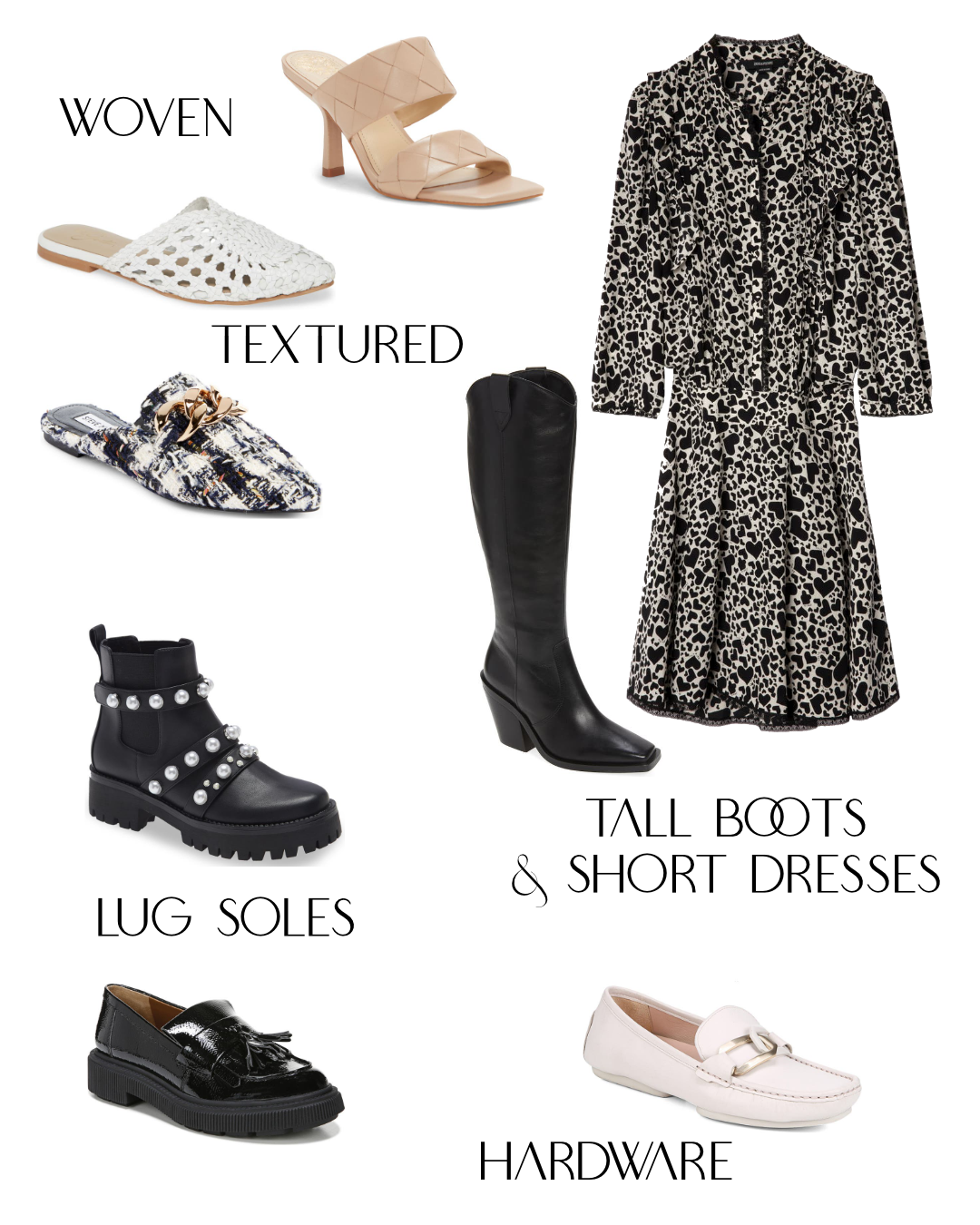 Woven and Textures: One of my favorite shoe trends in spring 2021 was the woven shoe trend and you will still see this trending in fall 2021 as well. I was hoping to see some booties that were woven but we shall see if any come on the scene when the season truly gets started.
There are some fun options for textures this fall whether it's something like the tweed mule above or maybe a pair of embossed leather booties.
Lug Soles: Be still my heart on this trend! Lug soles take me back to the beginning of my retail days in the late 90's and early 2000's!  Combat boots with lug soles were the absolute trendiest thing and now they are back along with lug soles on loafers, mules,  tall boots, flats,  slides and whatever else they decide to add to it too!
Hardware: I am calling this one hardware because I want to include anything that are chains, studs and embellishments!  And this season it is all chunky!
Tall Boots and Short Dresses: We have all worn tall boots and short dresses for a while now because it is just so darn cute but this season it is a new trend on the scene.  The specific trend is to wear short dresses and tall boots but show some leg. The leg can be bare or a fun pair of tights can be added to jazz the trend up a bit.

Knits – Cable Knits: Knit, knits and more knits is all I'm saying for this fall 2021 season. Particularly the chunkier cable knit.
Two Piece Sets: The two piece set trend started last fall 2020 and is still going strong.  They are mostly skirt and top combinations but you can also find pant and top combinations.  I love two piece sets because you can split the pieces up to create more outfits but also wear them together.  I think the look of a two piece set is classy and convenient.
Vests: I am really not sure if this trend is going to be a fad or not. I am still evaluating. We will see after this season. I think this is going along with the knit trend because most of the ones I have seen are sweater vests.   Vests peeked a little this spring and seem to be going strong for the fall. I could only find one in the Nordstrom Anniversary Sale but really wanted to mention it because I think we will see more this season.


Oversized Blazers: I had to add this to my trends list because blazers are my number one favorite item for the fall season.  I really love these oversized blazers! They are great over so many different things from dresses to jeans and tees.  You should check out my online app if you want to see outfits created with oversized blazers!
Loose Fit Jeans: There was speculation that everyone was going to give up their skinny jeans for baggy jeans in spring 2021. This obviously was not the case but there are more loose fitting styles available such as mom jeans, loose straight and boyfriend styles.  I learned a long time ago in my retail days that styled don't change drastically they change gradually.  Designers introduce something totally new and it takes us a few season to catch on.  But eventually change comes and if the loose fit continues I  think we will gradually be wearing baggier fits in a year or so.
Vibrant Colors: I am actually disappointed that I did not see more vibrant colors in tops. Some of the dresses had vibrant colors but not a lot in that category either.  Vibrant colors are supposed to be big this fall to bring a "vibrancy " to fashion since life has been so drab for the past year.  Maybe we will see more of the vibrant blues, yellows and pinks as we get more into the fall season.
Graphic Tees: I know, I know! You are probably sick of this one and think that it is over but sorry to bust your bubble, it's not!  There are still graphic tee's everywhere because people are still buying and wearing them. I will admit they are probably on the way out but they are not gone yet, so just enjoy them while they are still around.
Trends are one of my favorite things to talk about each season and I hope you enjoyed my picks from the Nordstrom Anniversay Sale.  I think trends are often associated with something that is hard or only for specific ages.  My goal is to help you get comfortable with trends and be able to add them easily to your wardrobe.  Most of us have some of these already in our closet, but if you don't, I encourage you to give one a try.
Thanks for reading!
Stylishly Yours,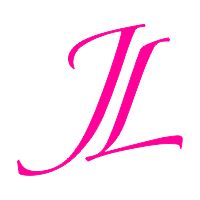 *I make a small commission from any of the purchases made from the links in this post.