Hey ladies!  I am taking a break from my fashion posts today because I want to tell you about an awesome toiletry bag I recently purchased!  We all need a good bag to put shampoo bottles and our daily beauty products in when we travel.  These days most of us have a good many of them.  My husband had one request when we got married and that was to only have a few bottles in the shower and under the sink.  HA!  Fourteen years later and that has never happened! I am overflowing with things under my sink, on top of the sink and in the shower. Poor guy!  I never asked him if he was joking about that but he has not pressed upon it so I think I am okay!  Now, when I travel of course not everything goes with me but I definitely need all my necessities.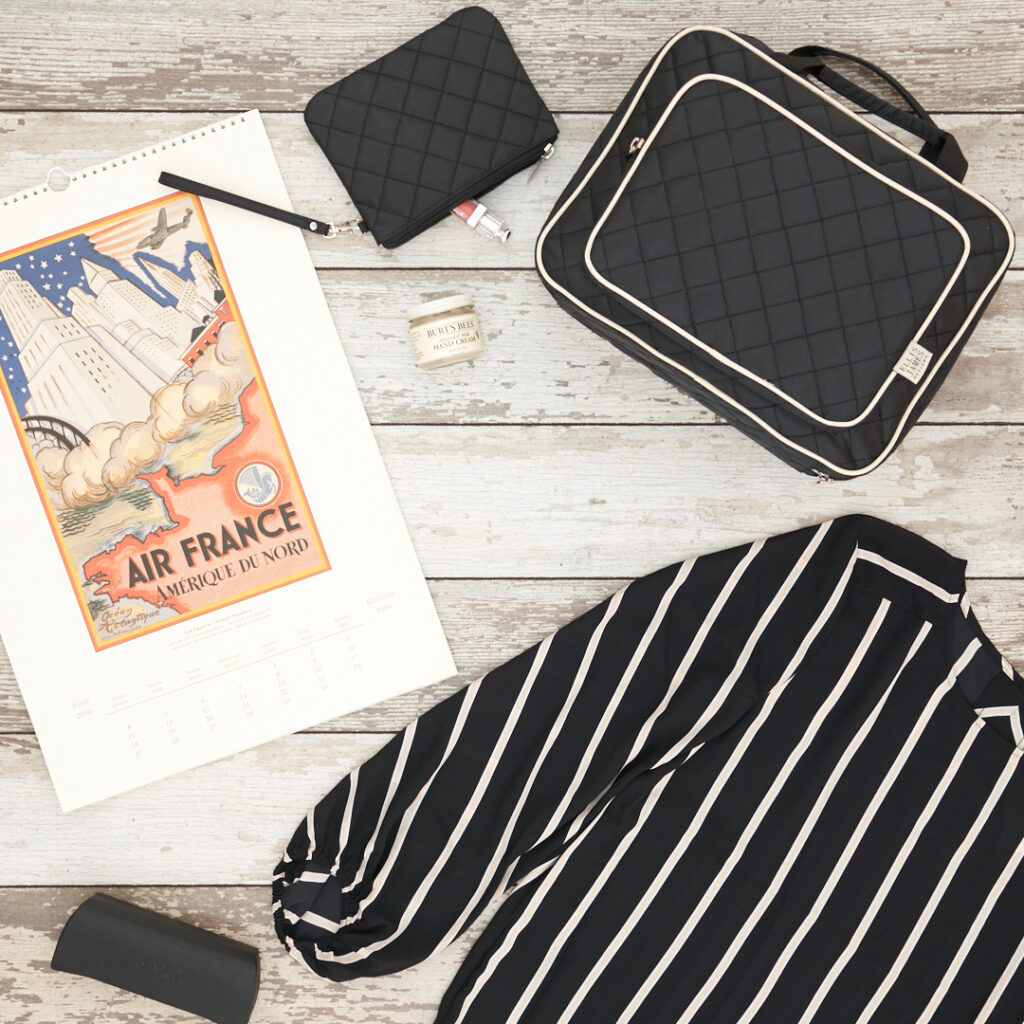 The Large Toiletry Bag
If you are like me and just have lots of beauty and hair products I have the PERFECT bag for you! It is the Ellis James Designs Large Toiletry Bag.  It comes in black with cream trim and has so much room that I think you will have room to spare! If you don't travel a ton, which is also me, than you can use it to store things.  Just about anything can be stored in it. Even a hair dryer!  The bag is a great size being 12W x 9L x 6D.
Along with the size, the other features were thought out in great detail and the quality is outstanding! I'm going to give you all the details and show you pictures!  Before I do I have to say that all of these amazing features are wrapped up in this very large bag for $29.95! WOW! This is definitely luxury for less!
Packaging
When I receive an item for the first time the packaging is what gives me the first impression.  When I worked retail we had to put special care into the packages we shipped to our customers.  We sold high-end designer products and it was imperative to make the customer feel like they purchased something special when they received the package.  I feel this way when I see the outside packaging of the Ellis James Designs bags.  This is my third bag I have received from them and I LOVE the gift box they all came in.  The toiletry bag was in a cream box with the Ellis James Designs logo in black.  It makes you feel like you just ordered something really expensive. Whether you pay a little or a lot for something it should have a special presentation.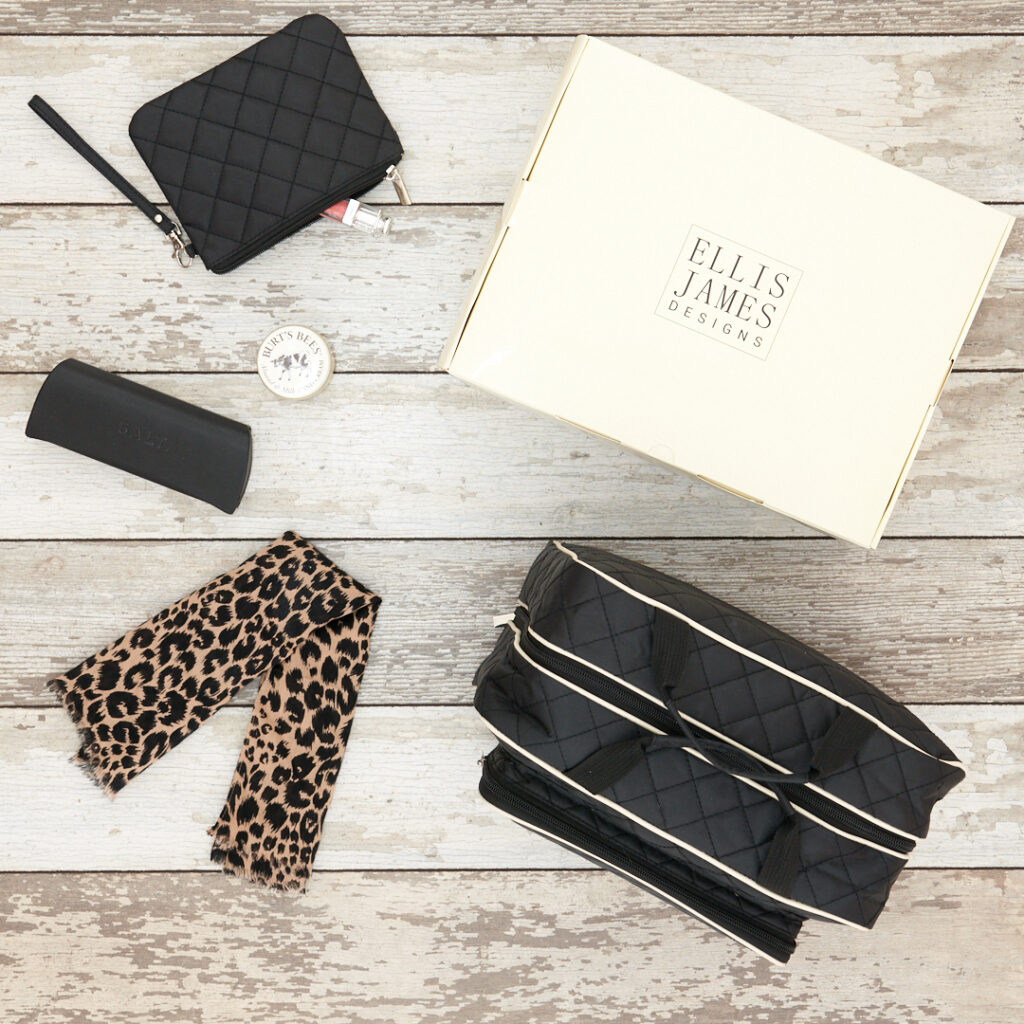 Quality
The second important detail of a product is the quality.  Quality is defined by all of us a little differently so I am going to tell you what defines good quality for me. This is with anything I purchase, no matter the price.  Materials, construction and design are the major things.  With a bag like this you definitely want durability, solid construction and great design.
The Large Toiletry Bag has the padded and quilted luxe material on the outside that is a feature of all their bags.  The inside of this one is a waterproof material, which is expected for a bag like this. It is going to hold bottles and things that have liquid in them that if spilled would get all over everything.  The piping around the edges is not only for looks but provides even more stability and protection to the seams holding the bag together.  Lastly, there are two very sturdy reinforced handles to carry the bag.  They are very comfortable and feel strong enough to withstand the weight of a full bag. The quality of the bag gets a solid 10 out of 10 from me due to all of these features.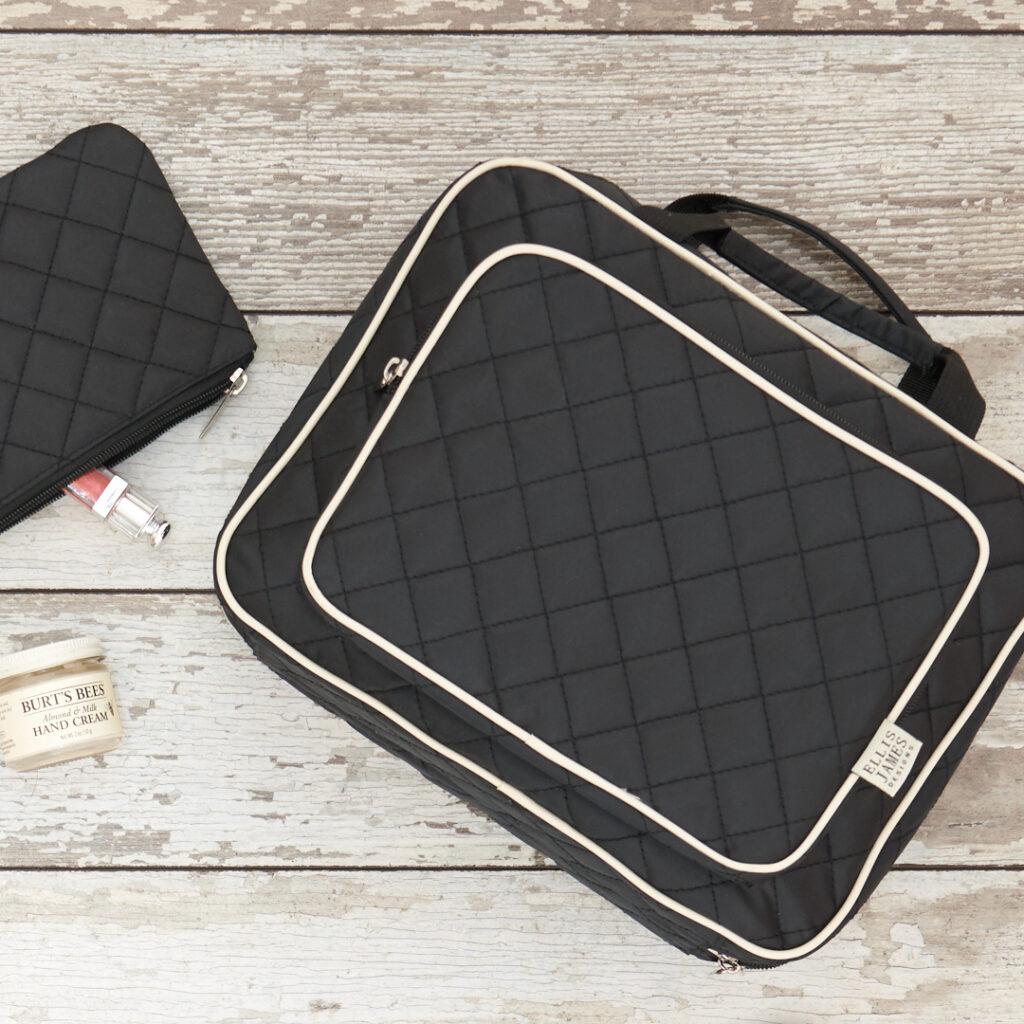 Functionality
If you have been on this blogging journey with me you will know one thing about me and that is I don't buy things that only serve one purpose.  I focus on creating versatile wardrobes so a single purpose item will not work!  The same would go for a bag that I purchase.  This one has multiple uses and can function for different things. It can be used in my bathroom for storage or taken on a trip with me. You can put anything from makeup, skincare, oils, lotions, hair products, makeup, hair tools and perfume in the bag!
The Large Travel Toiletry Bag  consists of several compartments. The most important ones are the two big zipper pockets on the inside that make up the bulk of the bag.  This is where the large items like bottles, brushes and even a hair dryer can go and it takes up the majority of the bag. These are the sections that are waterproof with a plastic clear cover.
There are two small compartments that fold into the bag to close it up.  One is a removable makeup bag and the other is a waterproof small compartment with a hook to hang it up.  How convenient to have both of these!  The removable bag could also be used to throw in your purse with your on-the-go makeup essentials.
For things that need to be more available there is a decent size pocket on the exterior.  It's size would accommodate makeup,  brushes and smaller containers.
I will add that this toiletry bag is quite heavy when it is full.  I immediately wondered if it would still hang well and if the hanger section of the bag would hold the weight.  I hung it up and it seemed to be just fine. Since it will not be hanging for long periods of time I feel like it will hold up well.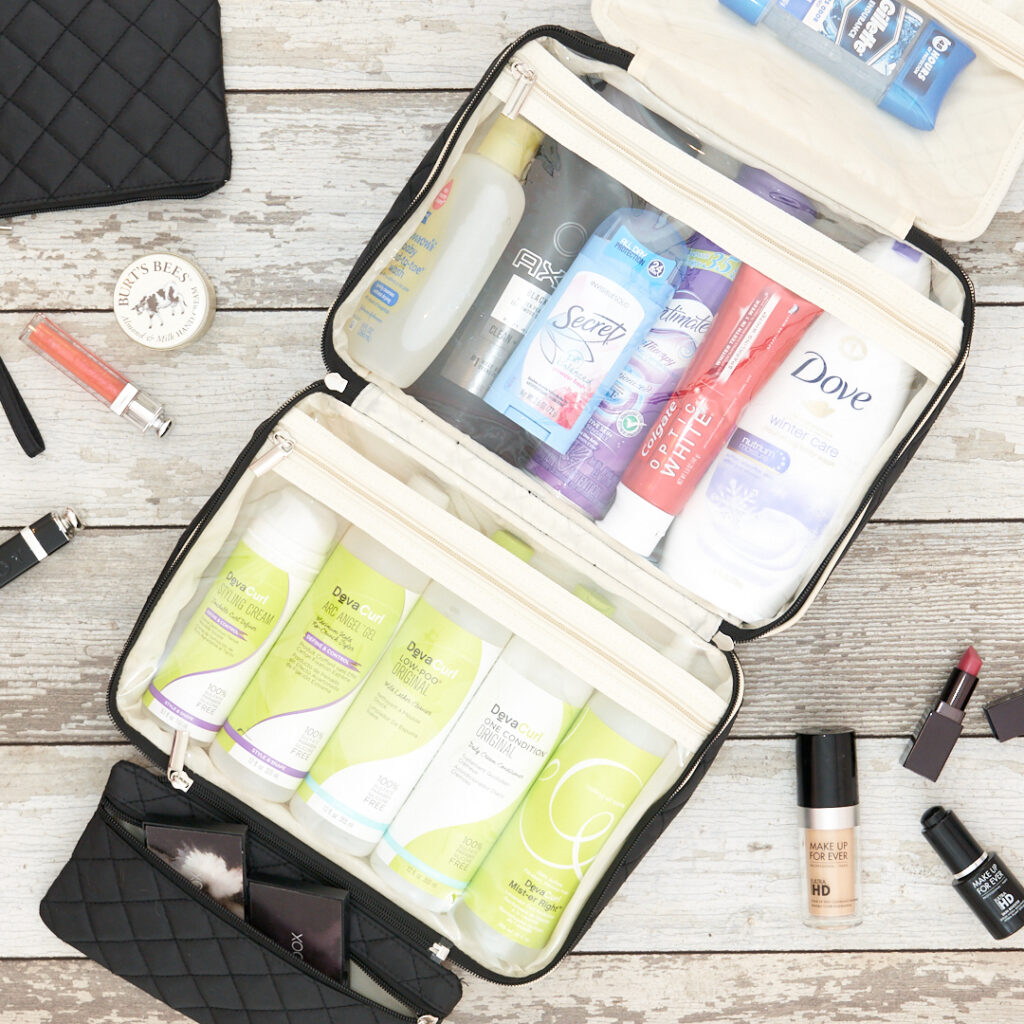 This is Ellis James Designs newest bag that just released a few weeks ago.  They have a ton of other travel bags that you may want to consider.  I own their Large Cosmetic Organizer and use it everyday! My mother owns it as well and loves it! They truly make really good designer bags that you will love!
All of the opinions in this post are mine and are honestly how I feel. I purchased this bag and the company will be reimbursing me but that is not my reason for writing this post.  I want you to know about this product and how great it is.  I admire this company and shopped with them before I ever became an affiliate.  They are the best example of how companies should provide "true" customer service and they treat you like family!  They also provide beautiful quality products that are affordable.  I hope you will check them out here! They also have a wonderful blog on makeup, skincare, travel, fashion and jewelry.
If you are a frequent traveler or even a minimal traveler like me, I hope that you will consider this great toiletry bag.  I take lots of trips to the lake to see my parents and this will now be accompanying me there.  Please let me know if you have any questions on this bag in the comments below! Thanks for reading!
Lots of Love – Jamie