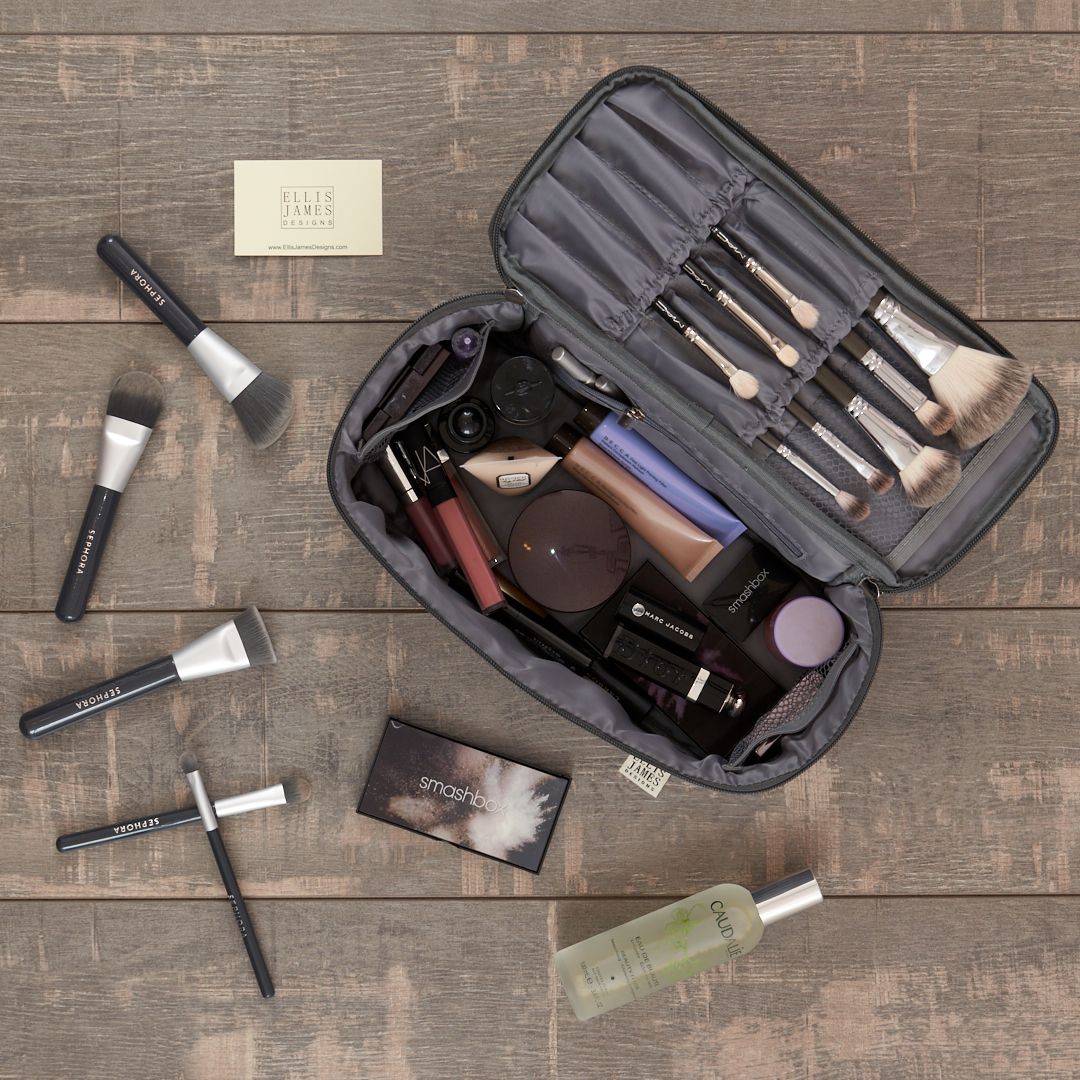 Hey Ladies! I found the coolest cosmetic bag for my mother for Christmas and I wanted to share it with you!  Not only is the cosmetic bag really cool, but the company behind the bag is pretty impressive!  They are Ellis James Designs.  If you have ever looked for a cosmetic bag, especially for travel, you will know that there are NOT a lot of good choices. I ended up looking on Amazon and found them there.
I decided to go to the Ellis James Designs website to see what they were all about. I was impressed with the company mission and the products looked like they were high quality and functional.  Not only that, but the price was outstanding for the Large Cosmetic Organizer at $29.95! Since they are sold exclusively at Amazon I went back and ordered the bag there.
A couple of days later I received my order, thanks to Amazon Prime!  When I opened the Amazon box there was a pretty black box with the  Ellis James Designs logo on the outside that contained the cosmetic organizer (see below). To my disappointment, the box was damaged.  I was not about to wrap it up like that and give it as a present to my mother!  I emailed Ellis James Designs directly to see if they could just send me a replacement box so it would look nice when my mother opened it.  To my surprise I received an email back that they were going to send me a whole new bag and to keep the one I received and consider it an early Christmas present!!!! I just thought that was the most wonderful thing they could have done.  They went above and beyond what was expected. This type of service is what makes a company great!
Ellis James Designs is a company with a proud British heritage.  Due to their culture they aim to exceed their customers aspirations in terms of high quality, luxurious designs that are also very affordable. They treat their customers like family and from my experience I would say they stay true to their words. People will usually go above and beyond for their family members and Ellis James Designs did that for me. I also believe that lots of love and care went into the design and materials of the products. They are sturdy, simple and beautiful bags with tons of functionality!
The Large Cosmetic Organizer is long and tall so it gives you ample room for foundation bottles and things that you need to stand up.  It also has 10 pockets on the interior of the lid that holds your cosmetic brushes!  There are two mesh pockets on each side of the interior, one on the lid and a zipper pocket in the back.    The material is a soft touch quilted nylon which makes it easy to clean with a washcloth, soap and water. It is also slightly padded to make it suitable for travel. The quilted and padded design gives it a high quality, luxurious look. The Large Cosmetic Organizer comes in 3 color choices; gray, cream and black.  I chose the gray because I thought it would suit my mother the best but I love all three!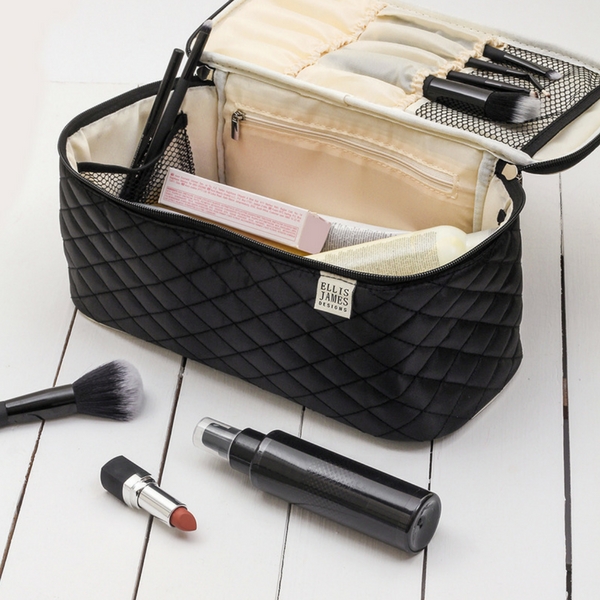 Ellis James Designs also offers a Jewelry Keeper, Travel Passport Keeper (not shown below), Jewelry & Makeup Bag,  Wristlet Glam Bag, and a Makeup & Nail Polish Train Case.  They are all made with the same quilted material and come in the same three color choices as the Large Cosmetic Organizer. My next purchase will be the Jewelry & Makeup Bag to use on the days we do photo shoots! It is much needed! I hope you will consider Ellis James Designs for your next cosmetic, hair or jewelry organization needs.  I sincerely was so impressed by their kindness that I wanted you to know my experience with them and let you know about their beautiful and stylish yet functional products!  Until next time!  Jamie