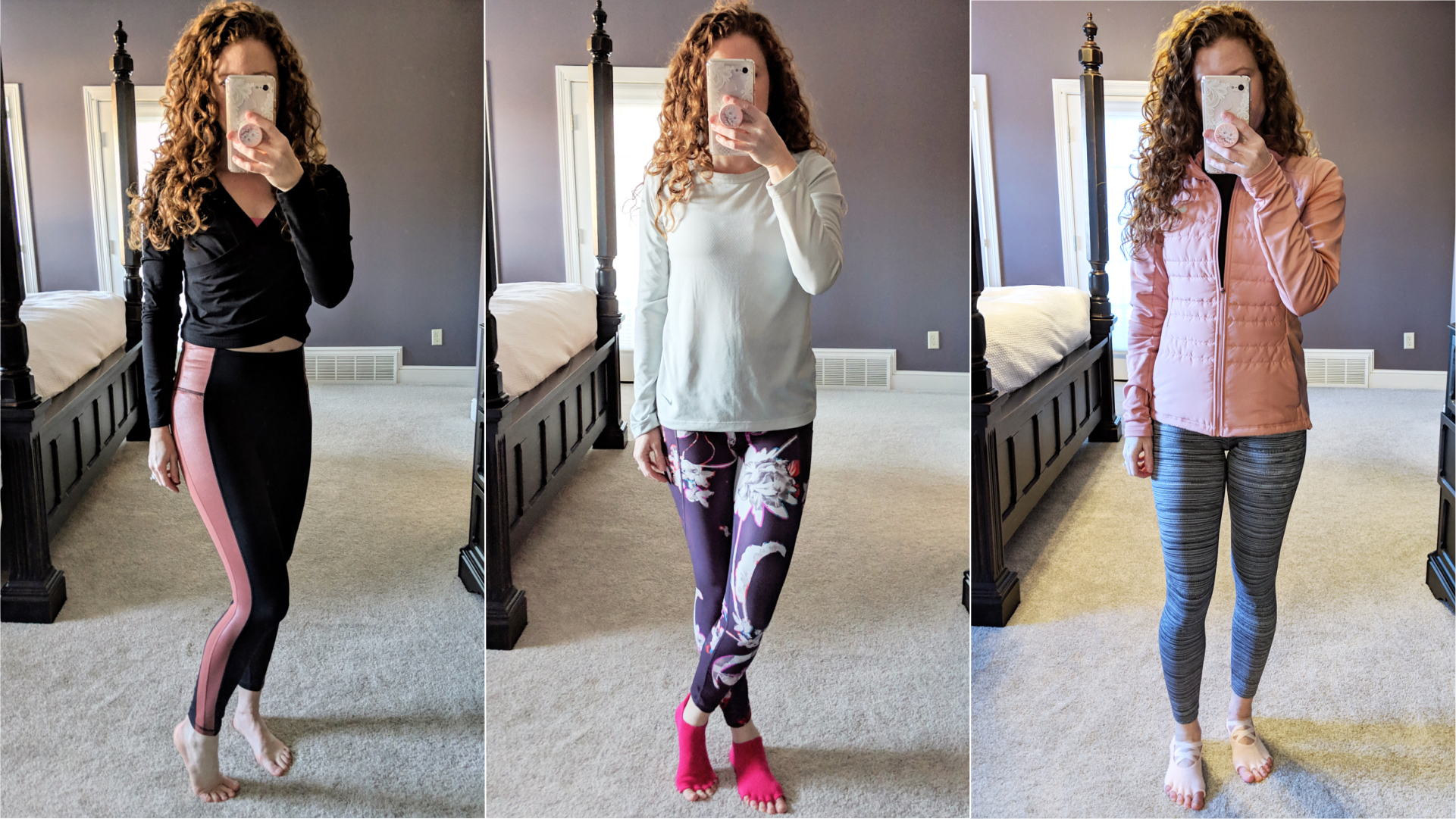 Hey there! I hope you had a great start to the new year! I know lots of you, including me, probably have new goals for 2019 and it probably involves exercising and eating better.  One of my goals is to get into better shape and I have actually been working on this for a couple of years. It is a long process and I want to take myself to the next level.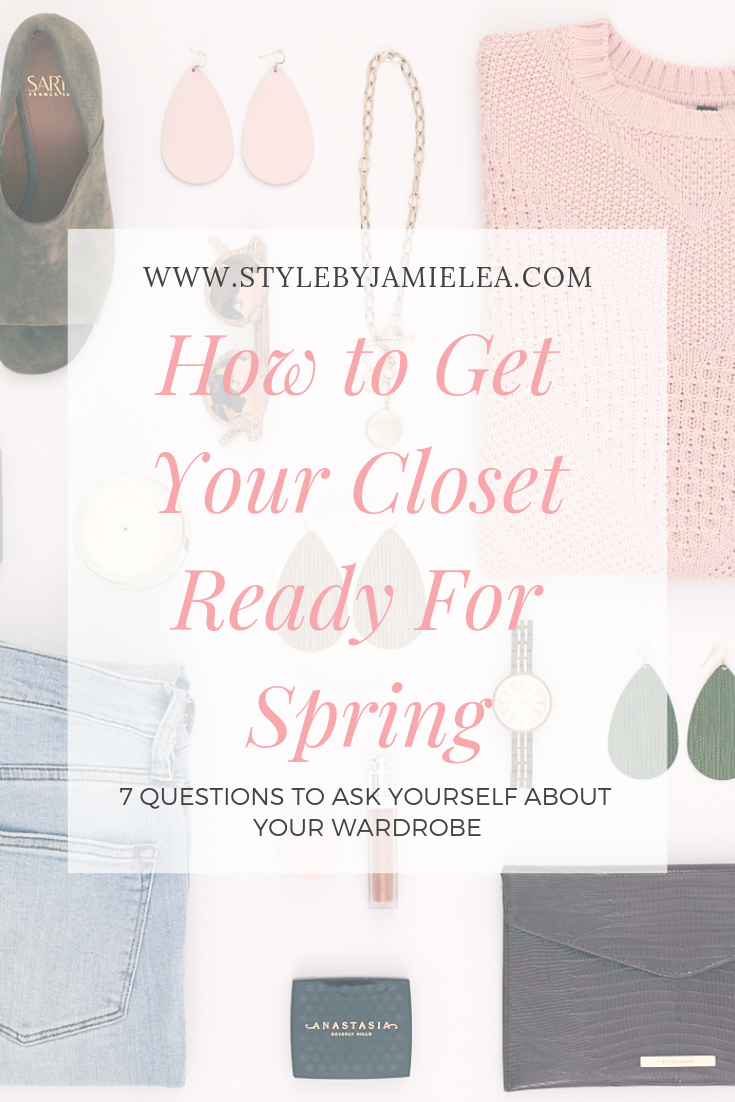 I have been taking Barre3 online classes for the past few years now and I finally joined a real barre studio! Yay!  It is called NEIGHBORHOOD barre and is by far the best workout I have ever done!  I have a goal to take 4 to 5 classes a week and each class is 55 minutes.  NEIGHBORHOOD barre combines dance, pilates and weight training all in one workout.  It is a whole body workout that will give you that "dancer's physique". This is something I have always wanted and I am on my way to achieving it, one class at a time!
Needless to say I am in need of some workout clothing. Since I have worked out from home I have had the same stuff for a while! I think you will probably agree that not all workout clothing is created equal.  There are options out there for all types of workouts and prices vary greatly.  My favorite workout clothing picks will be for workouts like barre, yoga and pilates. If you go to the gym or do something like crossfit these may not be the best options for you.
My recommendations are going to be based on three things:
Comfort – how they feel on the skin and how they move with your body
Quality – fit, material and long term wear
Price – because I know sometimes (or always) this matters
Comfort, Quality and Price
To me comfort is most important when it comes to actually working out.  Lots of movement is important in a barre type class, so the clothing needs to fit well and not move around.  I have learned that paying a little bit more for my workout clothing is very beneficial in the comfort category. I also feel that a higher price point equals better quality and I know in fashion that is not always the case. You will have to choose what is most important to you.
Leggings:
Athleta is my favorite place to purchase workout tights/leggings.  I have a lot of leggings from them and in all different materials.  I love them all! I have purchased a sports bra or two, but I am a really hard fit and their options do not always work for me. My recommendation is definitely for the leggings and if you can wear the bras I say go for it! They also have great athleisure stuff but that is for another post!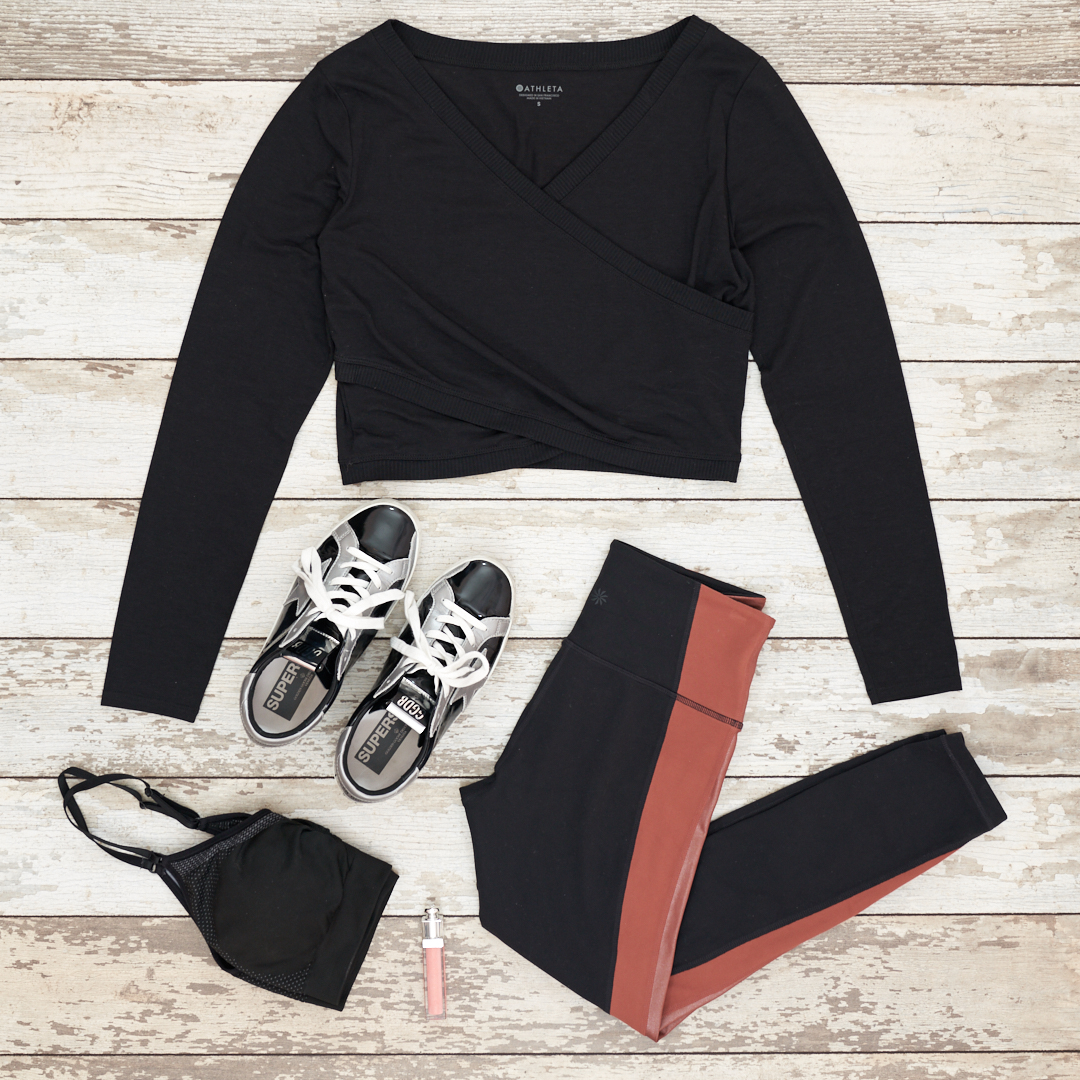 Athleta has introduced a new fabric called Powervita that I tried in my most recent purchases.  It is a nylon and lycra combo instead of the normal polyester and lycra combo.  They are incredibly soft and a little bit thinner than other leggings and have less compression.  I have loved these!  Even though they have lighter compression they stay in place and just feel so wonderful on my skin.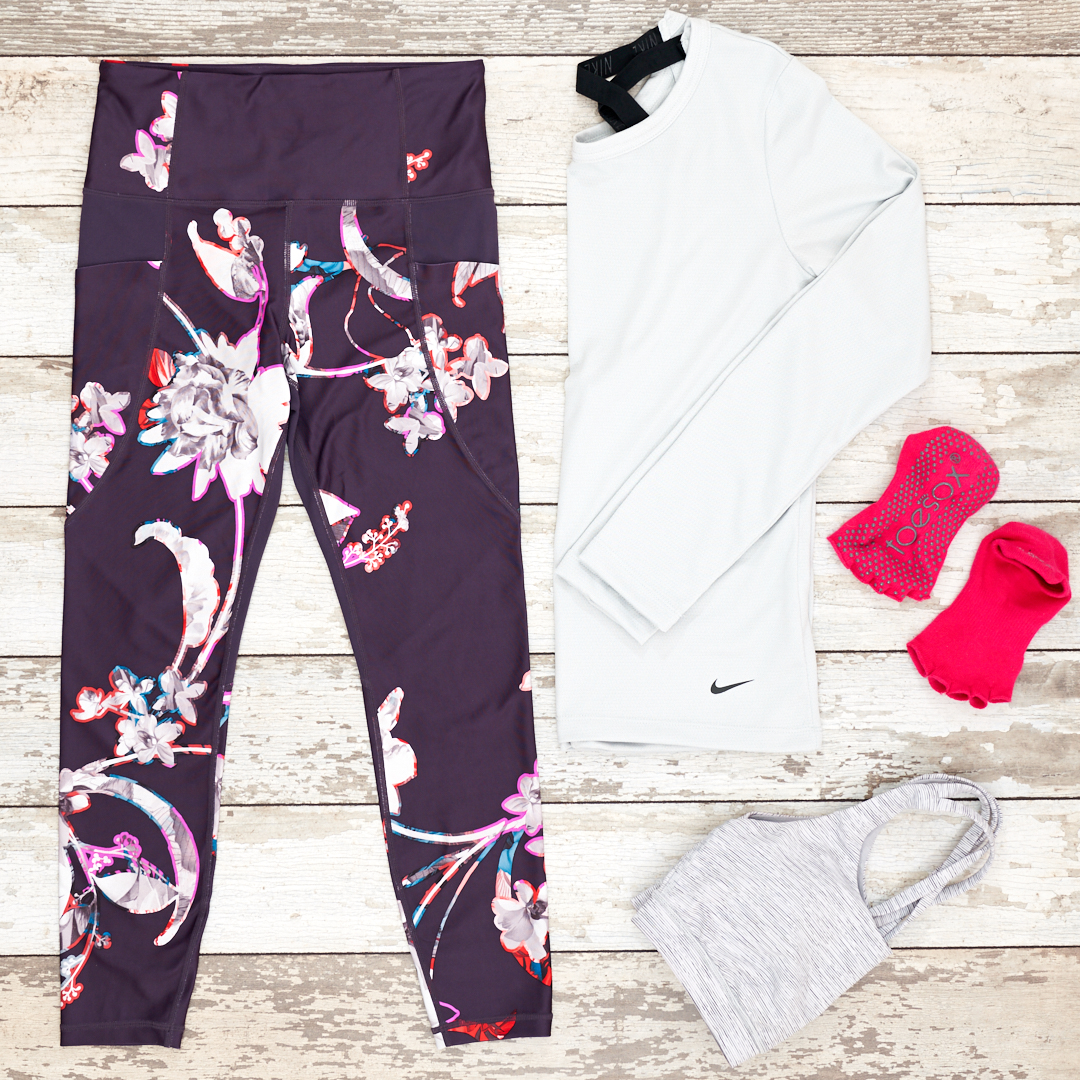 I have recently tried some leggings from H&M because of the price point. I just wanted to see what they were like.  I have to say for under $25 they did a good job.  I don't think they are as soft or as comfortable but they stay put and move well with my body movements. The quality is not too bad either.  I think the prints they do are really cute but the material has a heavier shine than any of my others.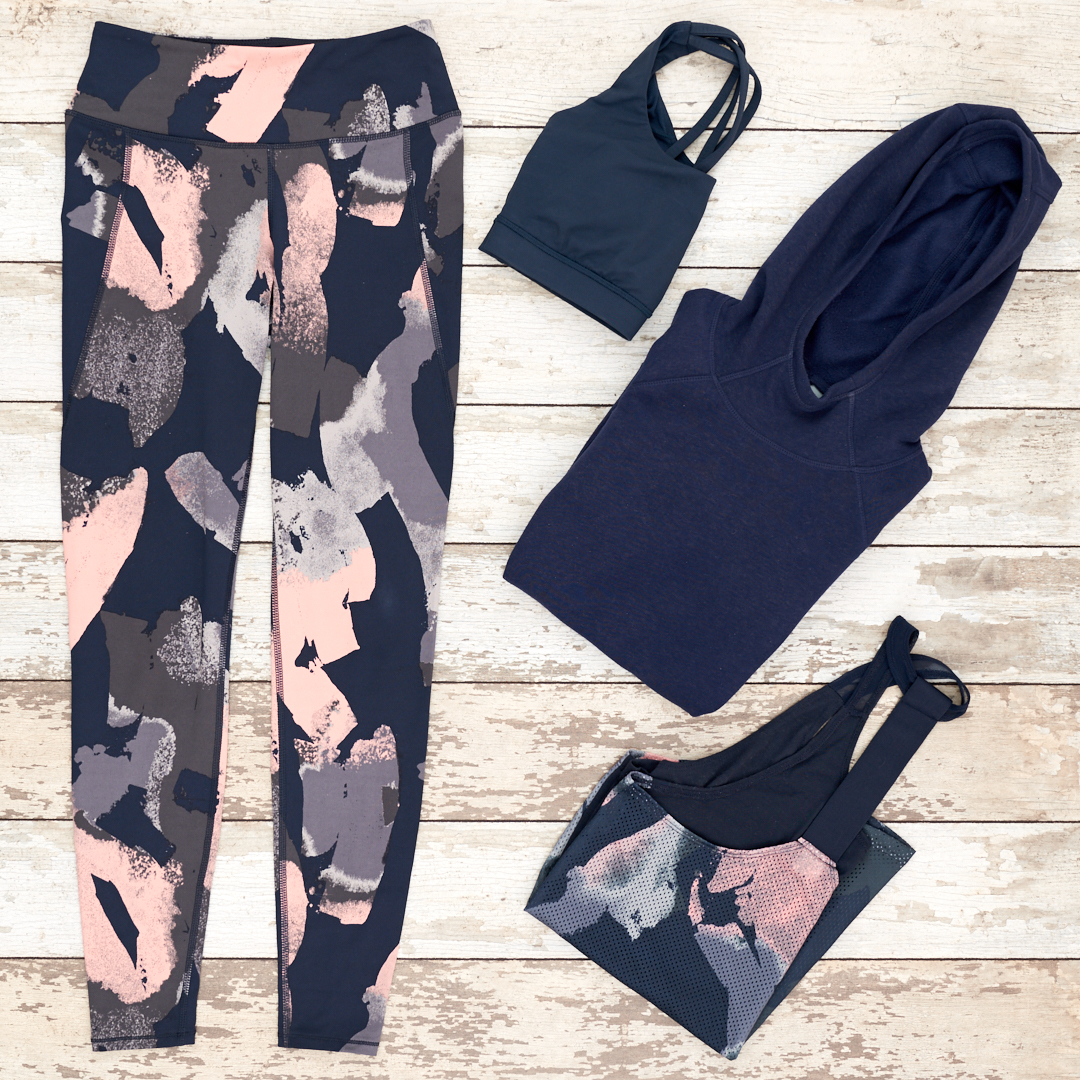 Bras:
Lululemon is my favorite place to purchase my bras.  I finally found a bra that fits me perfect and is so comfortable. It is the Energy Bra. If you like full coverage and just the right amount of support than this bra is for you.  I am an uncommon size being a 32 D or C 1/2 and this bra fits me great.  It is soft and breaths perfectly on my skin.  It gets a 10 out of 10 in comfort and quality.  The price is on the higher end but I think it is well worth the price.
Tank Tops: 
I really do not have a specific brand that I like for tank tops. Since they are just a cover up for over my sports bra I just buy one when I like it.  I mostly get them at TJ Maxx and I have purchased some from Old Navy, H&M and Target. This is something I do not like to spend a lot of money on so I really purchase when the price is right.

Target, H&M and Old Navy

TJ Maxx

Jackets:
I absolutely love Nike jackets.  I find them so comfortable and incredibly cute in their design. I get lots of compliments on my Nike jackets.  Some of them I have had for years.  I usually find them at TJ Maxx or the Nike outlet in Southaven. They can be a little on the pricey side so I always try to find them at discount places. Sometimes you can find them on sale at sporting goods stores.  If not, they are definitely worth the price!

Socks:
I have to add this category because if you do barre, yoga or pilates than you may like wearing socks with grips on the bottom.  The socks are beneficial for gripping the floor during your poses and planks, keeping your feet warm for a better workout and absorbing sweat from your feet.
My favorites that I just recently discovered because of a friend in my NEIGHBORHOOD barre class are ToeSox. They can be found on amazon and have multiple style choices to choose from.  I am loving mine. They are comfortable, good quality with great grips on the bottom and a great price.  I prefer the ones with the toes out because the grips are only on the bottom and not on the toes.

Other:
I love pullovers, sweatshirts and sweaters for over my workout clothes. Sometimes I prefer this over a jacket if it is really cold.
I love the sweaters from Athleta.  They have the only wool sweaters that I can wear. They are soft and don't feel like wool to me.

I think Target is a perfect place for this category as well.  They have some of the cutest pullovers and sweatshirts at great prices.  It has been a long time since I have purchased leggings and bras from Target but they have decent brands at great prices. Target, H&M and Old Navy are great places to get workout clothing that is decent in comfort and quality and great in price.

I think there are lots of great workout clothing brands out there.  I am recommending the things that I have tested and have become staples in my workout wardrobe.  A lot of the girls at the barre studio like the brand Alo but I have yet to try it.  It is also sold at the NEIGHBORHOOD barre studios.  I will hopefully try this brand soon and I can update you on it. If you have a specific brand for any of these categories that you like please let me know in the comments below.
Thanks for reading and have an awesome day!