Hey ladies! I thought it would be a great idea to follow up my The Empowering Colors for Spring/Summer 2019 post with one on spring trends.  Of course, there are always trends that continue from one season to another and we will see some trends from fall this spring. Seriously though, hold on to your seats because there are some new and surprising trends headed our way.
I am going to talk about 6 trends that I found intriguing for this season.  I have seen some of these trends hit the stores already.  It's going to be a wild and eye-opening season! Remember, just because it is a trend does not mean it's going to be worth wearing.  As the season gets going, I will follow up with some posts on trends I will definitely be recommending!
Biker Shorts Styled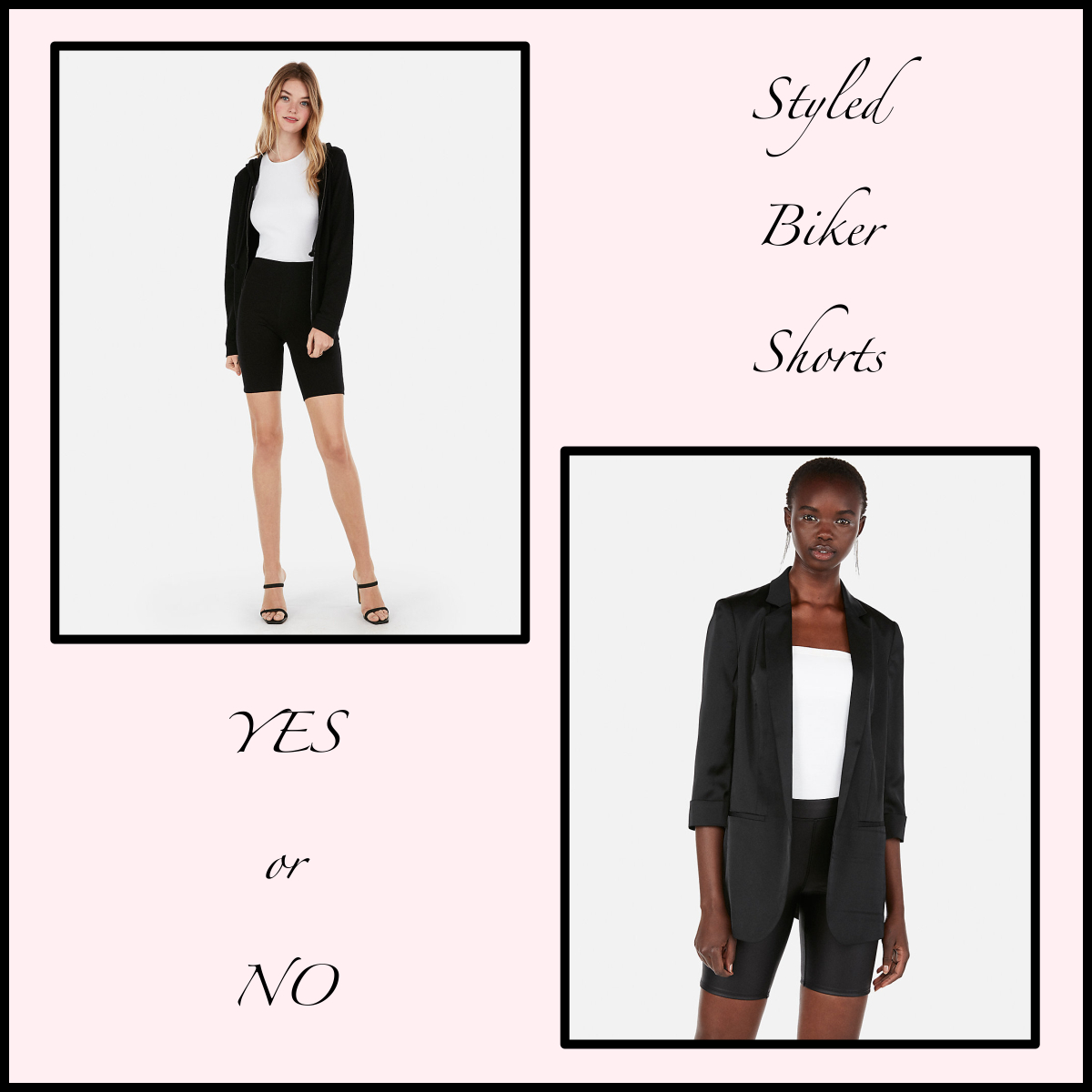 Express High Waisted Biker Shorts // Express High Waisted Faux Leather Biker Shorts
This is definitely one trend that that you need to think long and hard about whether it is right for you! I did a poll on my Instagram stories for this one and it was 100% NO! Absolutely no one liked it! I have to admit I'm not a big fan either. Each season you will see things like this that push the envelope.  Mainstream buyers will not even think about doing this.  There are a select few trendsetters that will execute this look very well but for us normal people it just isn't going to happen.
Crochet Tops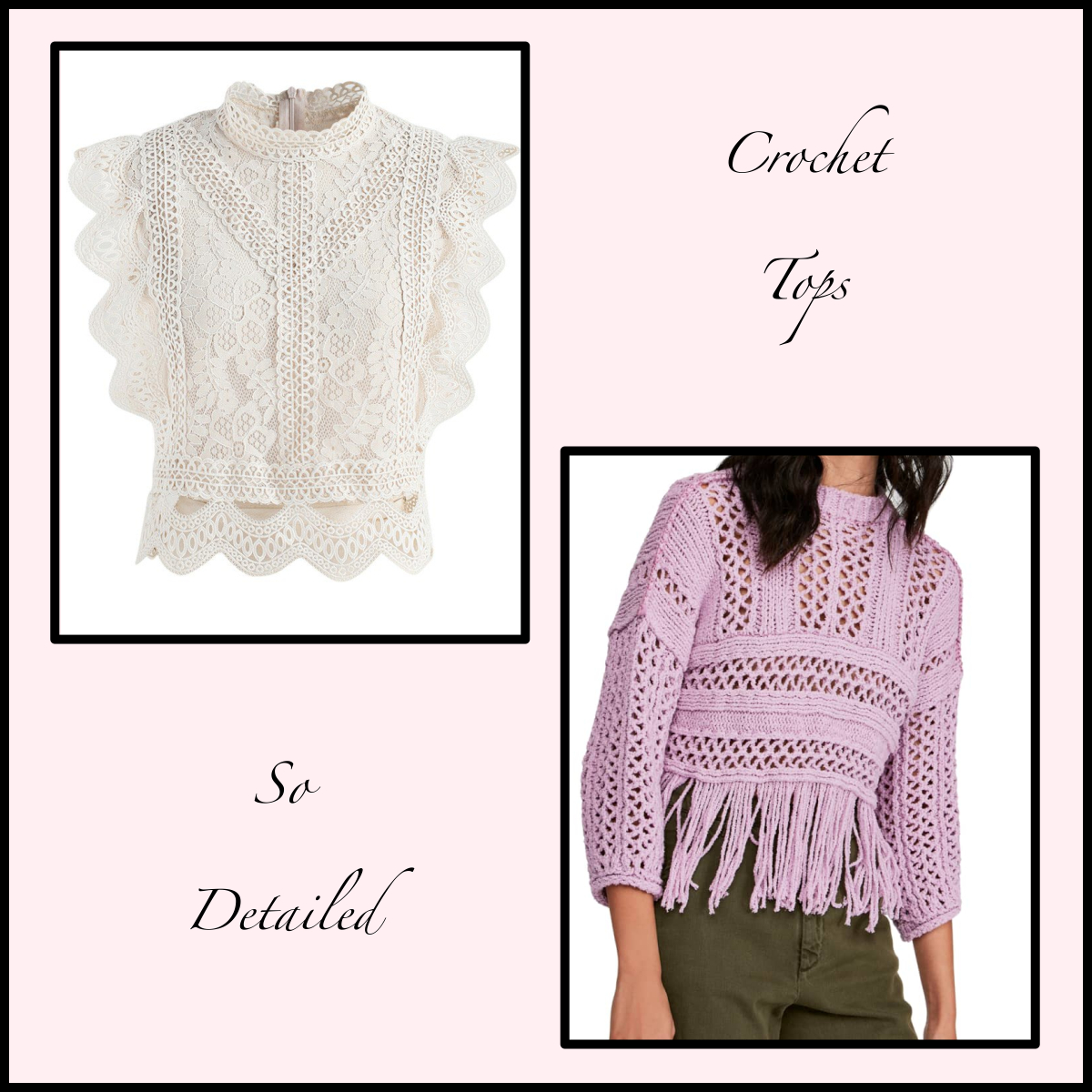 Chicwish Your Sassy Start Sleeveless Crochet Top  //  Free People Higher Love Crochet Sweater
I remember crochet from when I was a kid!  It was not even close to as pretty as crochet is today.  The amazing materials they use and the careful attention to detail is amazing.  I look forward to this feminine trend!
Wide Legs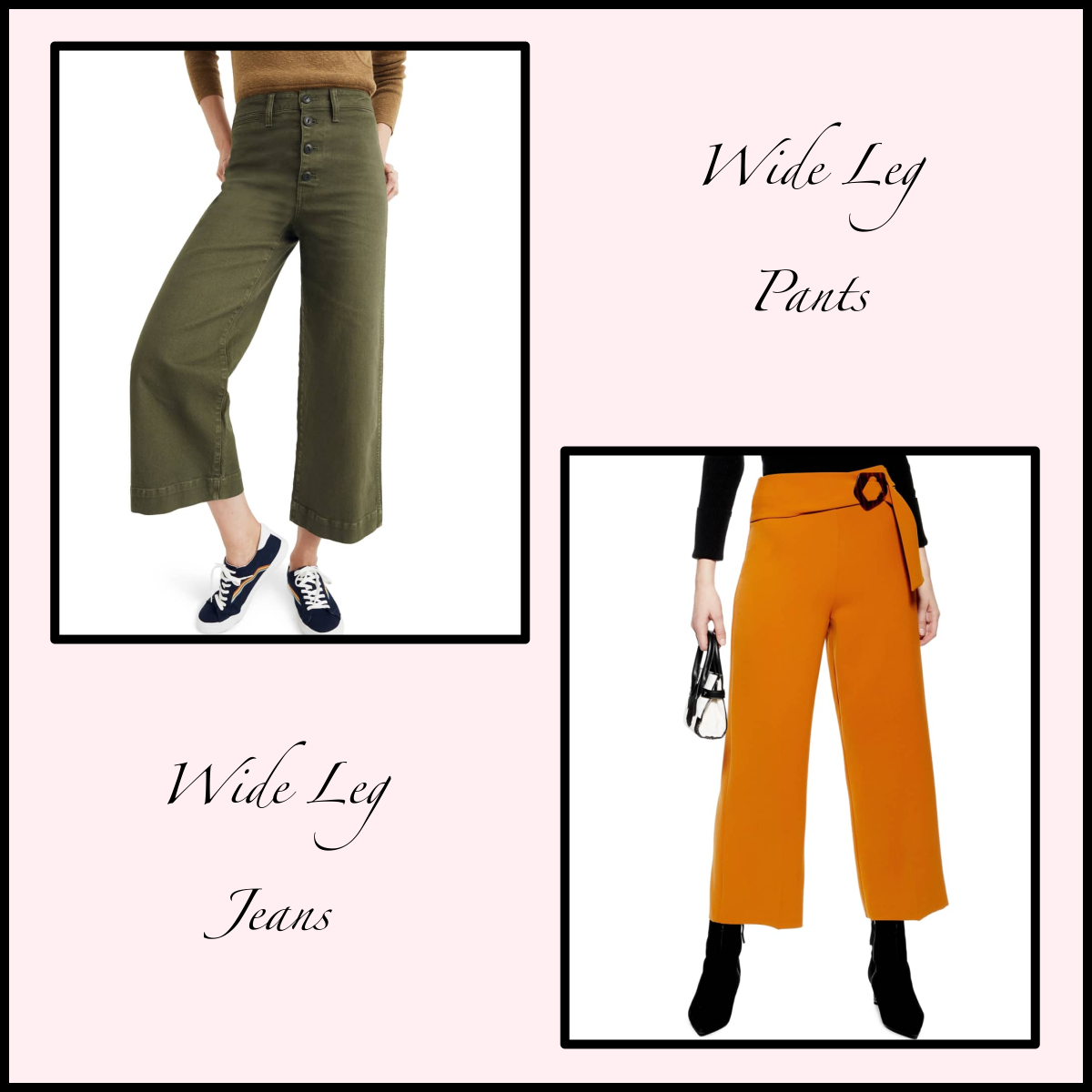 Madewell Emmett Crop Wide Leg Pants //  Topshop Buckle Wide Leg Pants
The wide leg has actually been trickling its way into fashion the past few seasons. I think we are going to see this in a big way this spring and summer.  It is already out in full force.  The styles are cropped and full length so you can choose which one suits you.  I personally like my skinny jeans so I am not sure if I am ready to dive into this. I purchased a pair in the fall and never wore them. I think it is just such an expreme from skinny legs that it will just take some getting use to.
Animal Print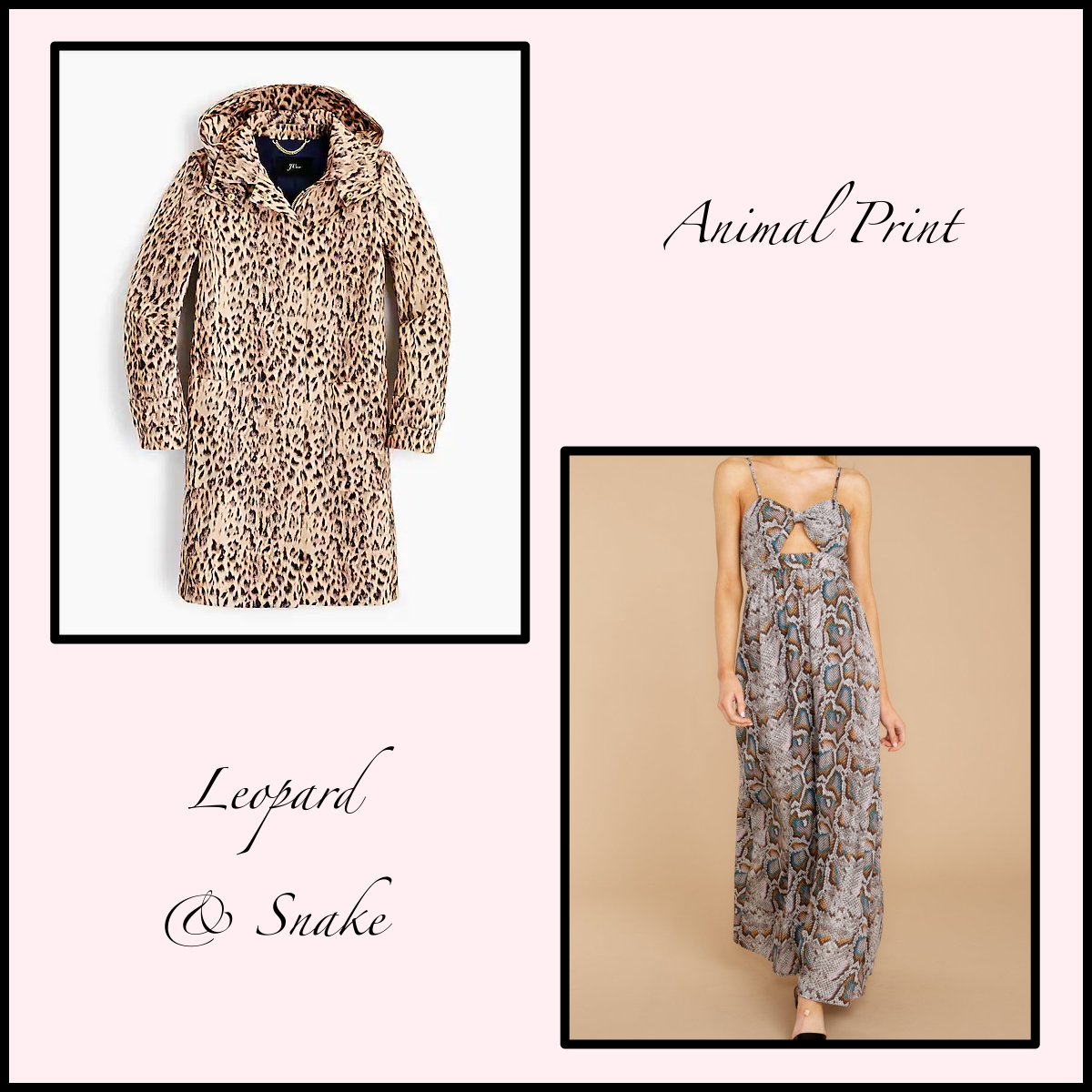 J Crew Leopard Print Trech Coat with Removable Hood //  Red Dress Boutique Siren's Song Grey Print Maxi Dress
I think animal prints are becoming a staple in our wardrobes. Leopard and snakeskin made their way into our wardrobes in a major way for fall and it will be no different in the spring. I'm hoping we will see some fun color ways for these prints in the spring.
Jumpsuits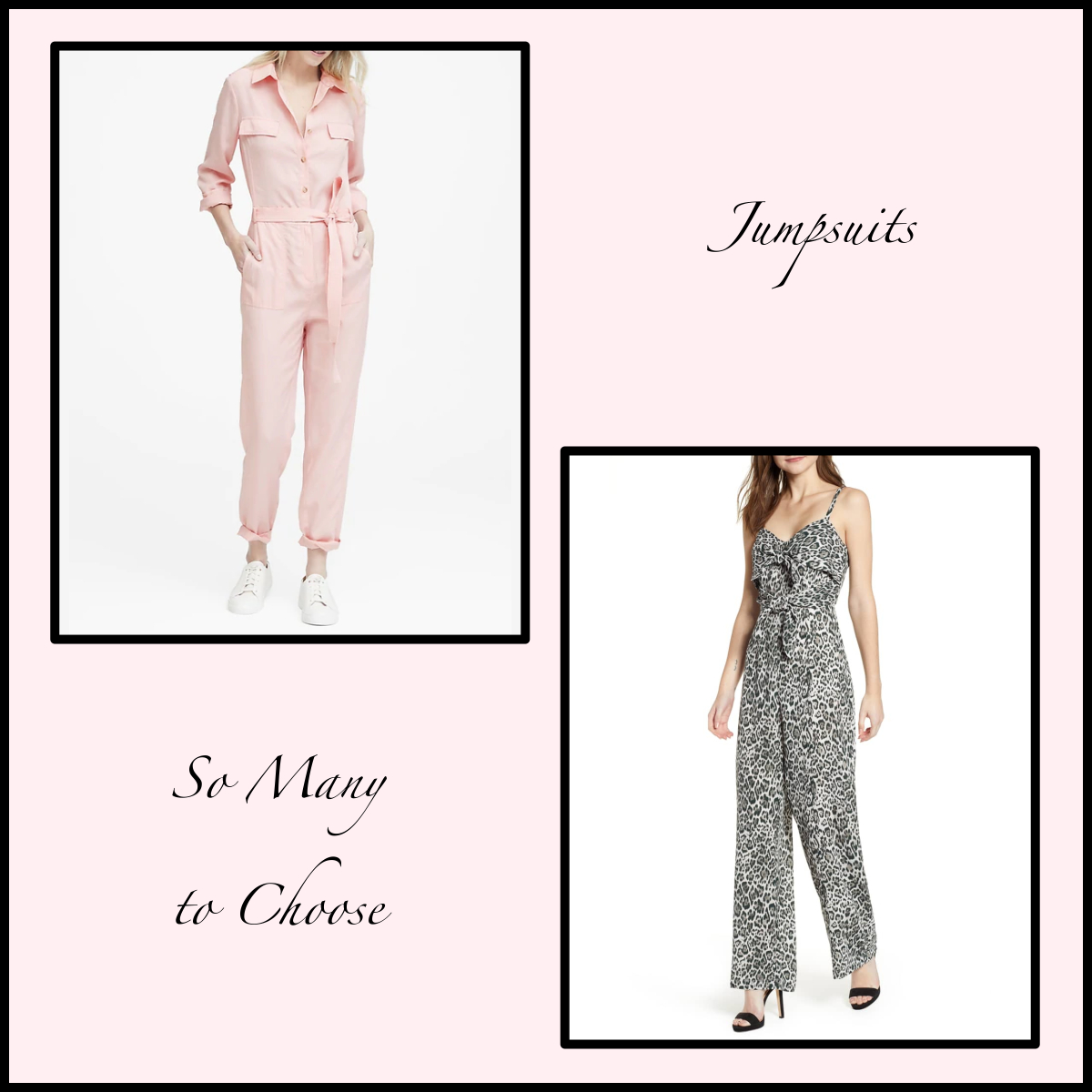 Banana Republic TENCEL Flight Jumpsuit // Socialite Tie Front Jumpsuit
Jumpsuits, boilersuits, flight jumpsuits and jumpers are all terms you will see on these one-piece suits this season. These, just like animal print, have been around but will be a prominent style for spring 2019.  I have seen a version at almost every place I shop. The only problem you will have with this one is choosing the right one!
80's Big Shoulders
ASTR the Label Quinn Bodysuit  //  Endless Rose Puff Shoulder Smocked Top
Watch out all you 80's babies because the big shoulders are back!  If you are in your late 30's and older you will remember the big shoulder pads that took over our tops and jackets!  Whether its shoulder pads or just voluminous shoulders this style is sure to appear in our spring options.
I would love for you to share with me what trend you are looking forward to wearing this spring.  I am looking forward to the animal prints and jumpsuits!  Hopefully the weather will start cooperating sooner than later!
Thanks for reading!