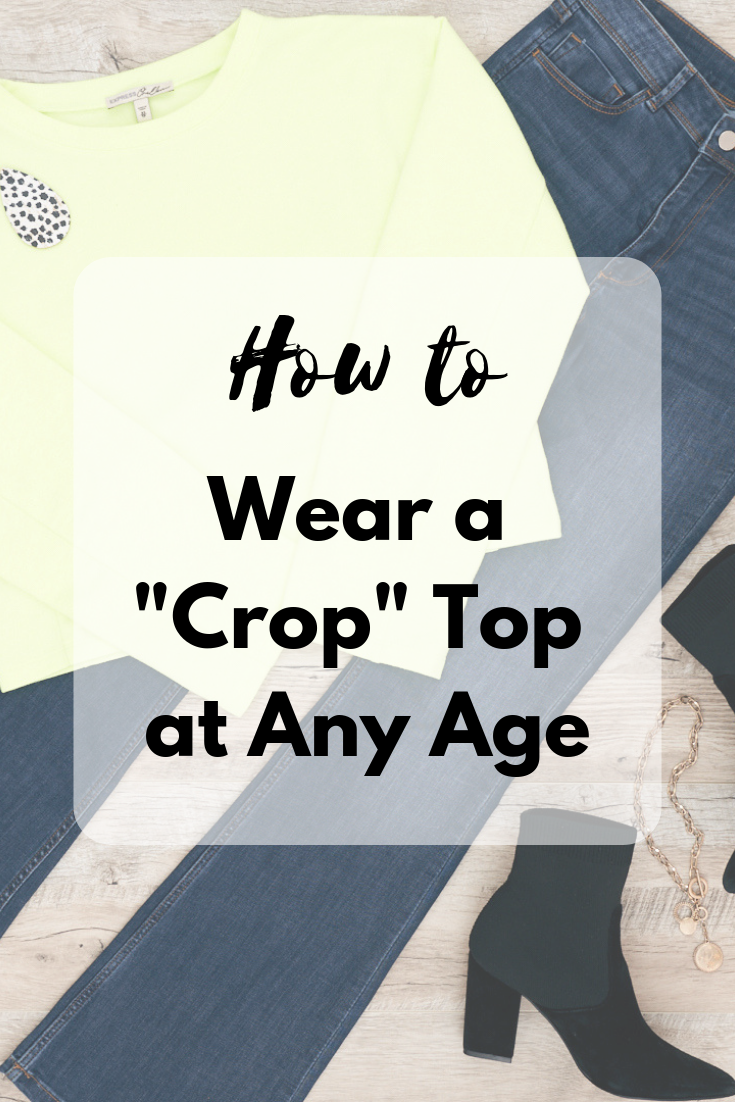 Hello ladies! I hope you will read this with an open mind! I promise you will be running out to buy shorter tops in no time! The crop top trend is back in a big way and I think there is a tasteful way for all of us, at any age, to style this trend. I will say there are crop tops and then there are CROP tops, if you know what I mean. The wearable version is called an abbreviated length and is a little bit longer than a crop top.  This is what I am going to be talking about today.
Years ago we went through a trend of tops getting longer and the rise of pants/jeans getting lower.  You probably remember this because mid-rise and high-rise did not exist. This made it extremely difficult for some people to purchase a good pair of comfortable jeans.  Well, now the opposite has happened and the tops are getting shorter while the rise is getting higher.  There are ways to make adjustments to our wardrobes to fit these styles in without compromising comfort.
I am actually over 40, just slightly over ha ha, and I purchased a semi cropped or abbreviated length neon green sweatshirt for an event.  When I showed it to my husband he was a little concerned about the length of it until I showed him how I styled it. He actually loves it now!
There are a few style tips I would like to recommend to you.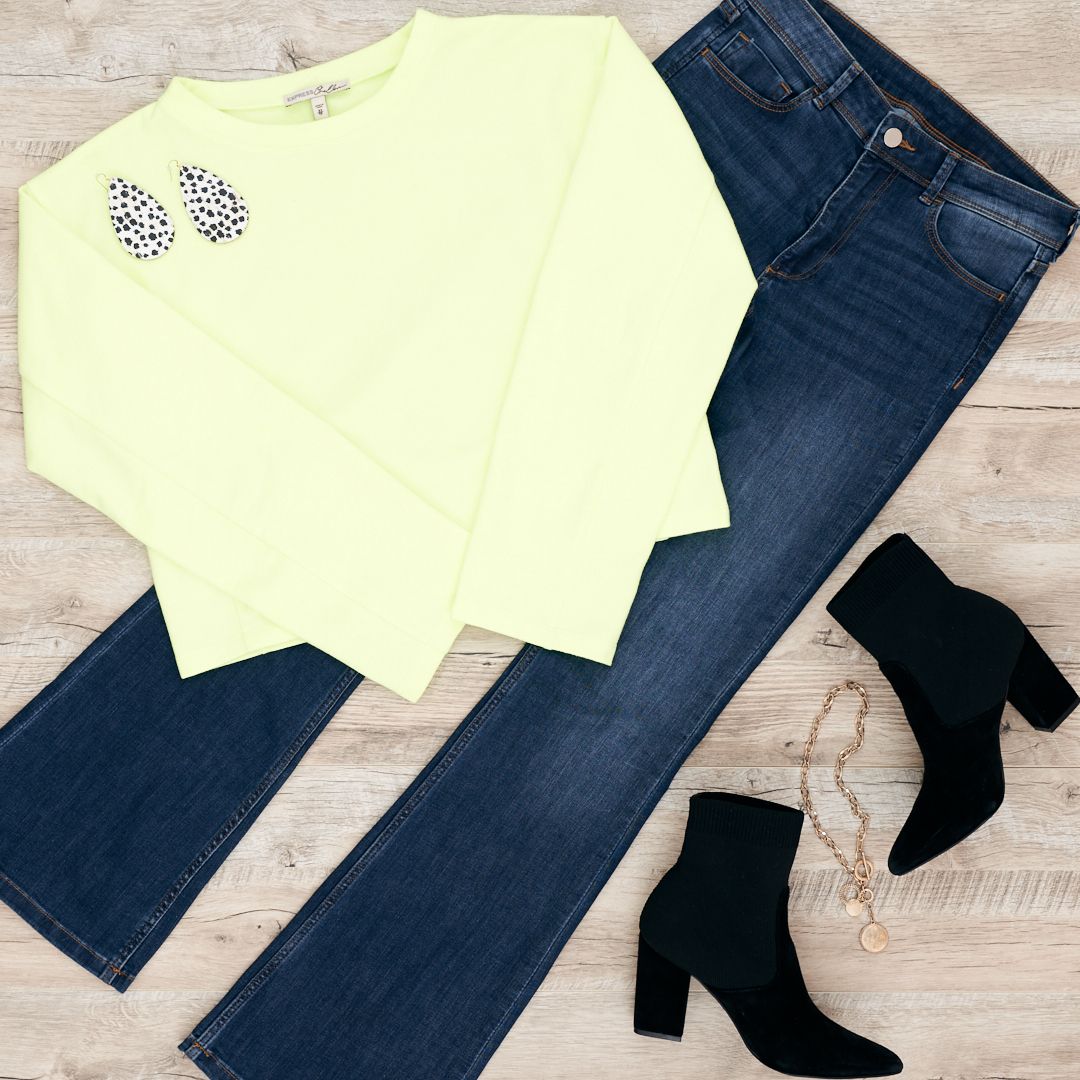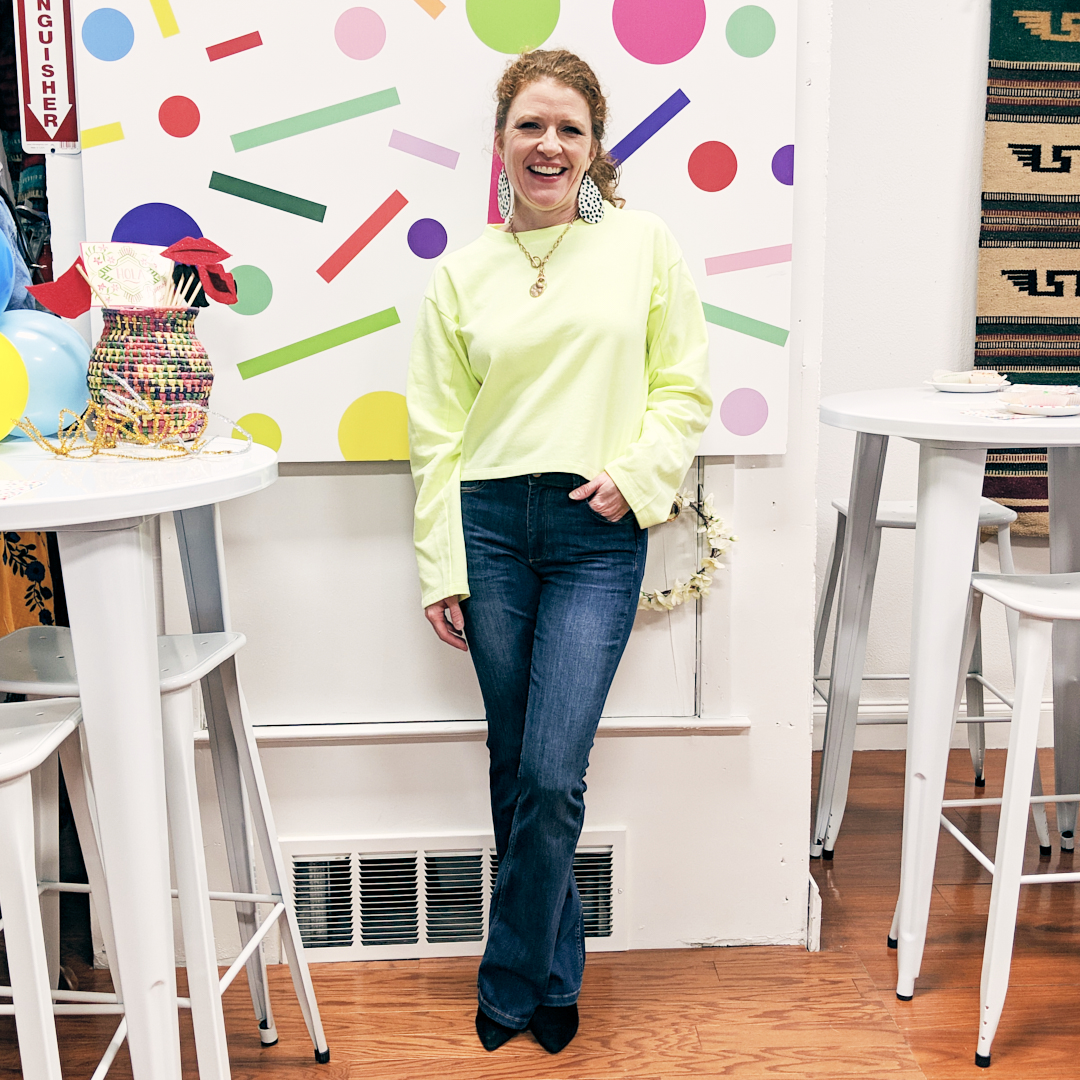 The number one thing to making a crop top or abbreviated length top cute at any age is to wear it with HIGH waisted jeans, pants or a skirt.  I mean ones that go all the way up to your belly button.

If your height is 5'5 and shorter I would also make sure the leg of the jean or pant is a straight leg, bootcut or a flare. This will help to elongate your body and make you look thinner.

Choose a shoe that has at least a 2 inch heel if you are trying to dress up a bit.

Try the top on and make sure it comes close to the top of your hips.

If you love it and it seems too short you can try sizing up one size.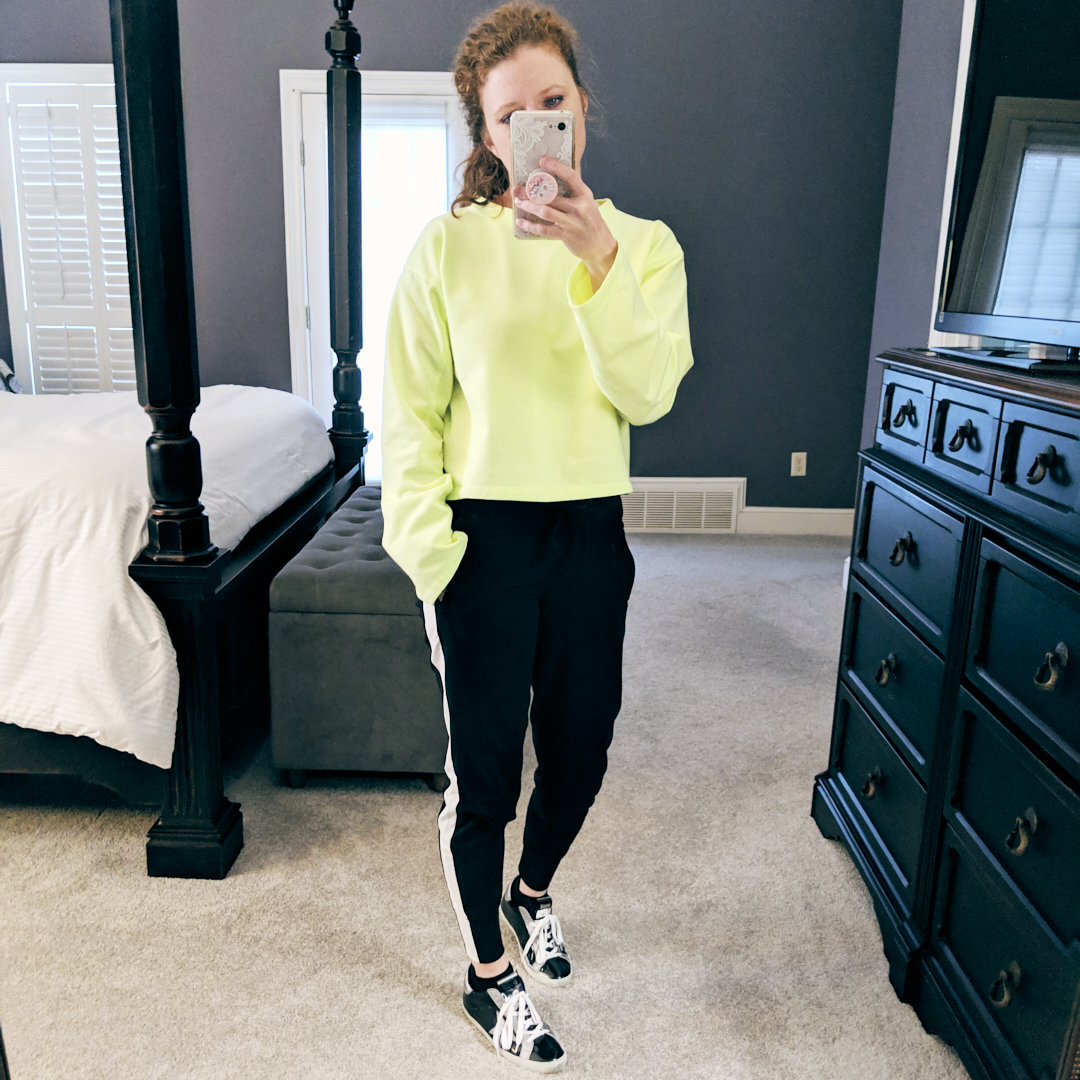 Since I chose a more casual semi cropped sweatshirt, I thought I would show you an athleisure version of it. This is actually my new favorite kind of sweatshirt and I think I am going to try to add another one like it to my wardrobe this season. I will definitely wear this with higher waisted shorts in the summertime.
It is amazing the amount of "crop" or abbreviated sweatshirts you can find out there.  I absolutely love mine with these high waisted joggers. The joggers are slim but not as slim as a legging, so it works.  I also paired a fun sneaker that tied it all together.

If you have followed along with me for any amount of time you know that I rarely buy something unless I can style it a few different ways.  If you are not a sweatshirt kind of gal you can find many different styles available in an abbreviated length. Maybe even better because you can layer a jacket, blazer or cardigan over it for another look.
This is a great example that if you style something right it can work for almost any age.  Not everything is that way but I wanted to show you that a "crop" top has more to it than meets the eye!
Thanks for reading and I hope I encouraged you to step out and try this trend! You will not be lacking in choices that is for sure!