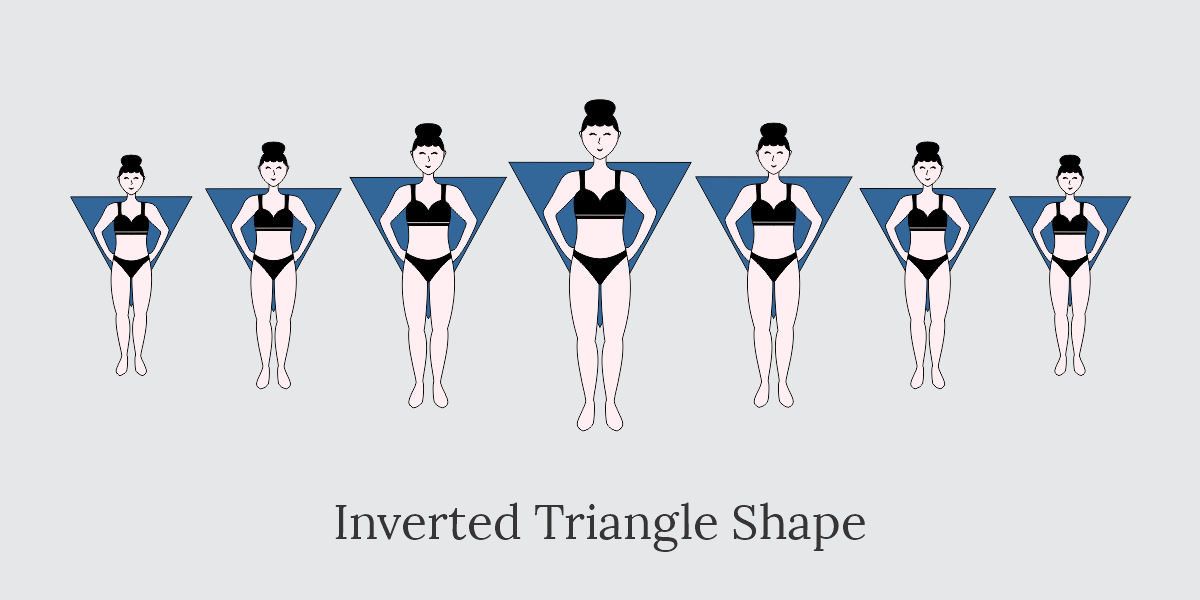 I am so excited to be on my last body shape for this series!  This post and video are all about the Inverted Triangle shape!  If you have struggled with what to wear because you have broad shoulders, then this content will be so helpful to you! I have broad shoulders, which makes it a struggle to wear things that I love, but with a few tweaks I have been able to make it happen. So I hope this will encourage you to check out all of the recommendations below.
If you are interested in seeing more outfits like the ones in my posts, they all come from my online style subscription called Your Guide To Style. If you click on the image it will take you to the console but you must be a member to view. You are welcome to sign up right there and it's quick and easy and there are NO commitments; you can cancel at any time!  There is now an entire guide group called Body Shapes that contains guides with hundreds of outfit options to choose from for each shape!  Click the image below it you want to check out our website as well!
Inverted Triangle Shape
What is the inverted triangle shape? The inverted triangle shape is when your bust or shoulders are larger than your hips.  Sometimes this wider silhouette is from the bust and sometimes it's from the shoulders or even both. The waist is typically undefined and narrow hips and bottom.
Style Focus:
Find items that bring focus to the bottom half.
Minimize the broad shoulders or bust area.
Define the waist.
This shape is often times a secondary shape because you could also be a rectangle or round/apple shape through the body and have broader shoulders. For example, I am a rectangle shape which typically has narrow shoulders but I have broader shoulders and an average size bust.  My shoulders are only slightly broader, but broad enough to cause me styling issues, so I use the recommendations for both of these shapes.  If I had really broad shoulders I would only be an inverted triangle.
All of these recommendations for each shape are meant to help you and not be hard and fast rules that you HAVE to follow!  Use what recommendations work for YOU!  Even though you might fit into this shape description you will still be shaped just a little bit different than someone else in this shape. Get what I'm saying? So, please take what works for you and just have fun with it.
Fashion and style should be fun and not complicated so do what works for you and what you prefer.
Here is the YouTube video if you want to check it out!
Necklines, Sleeves and Tops
Necklines
The main thing you need to remember when choosing necklines is to find ones that give your shoulders the illusion of being smaller. This is why a halter top and open necklines work well because they create lines away from the shoulders and move your eye down towards the lower half of the body. Try to keep your necklines more narrow and toward the center and not wide out towards your shoulders.
Best Styles:
Hip length or longer
Halter Neck
V-Neck
Scoop Neck
Cowl or Drape Neck
Asymmetrical
High Necks – turtle or mock
Strapless
Sleeves
The inverted triangle shape can wear lots of different sleeve styles.  The ones you want to stay away from are the ones that have large puffs or embellishments right at the end of the shoulder. This will cause the shoulders to look wider. Stay with styles that are fitted or drop from the shoulder.  You can wear fun flowy sleeves as long as the extra material starts after the shoulder line.
Best Styles:
Fitted
Sleeveless
Raglan
Dolman
Drop Shoulder
Kimono
Wide Straps
Tops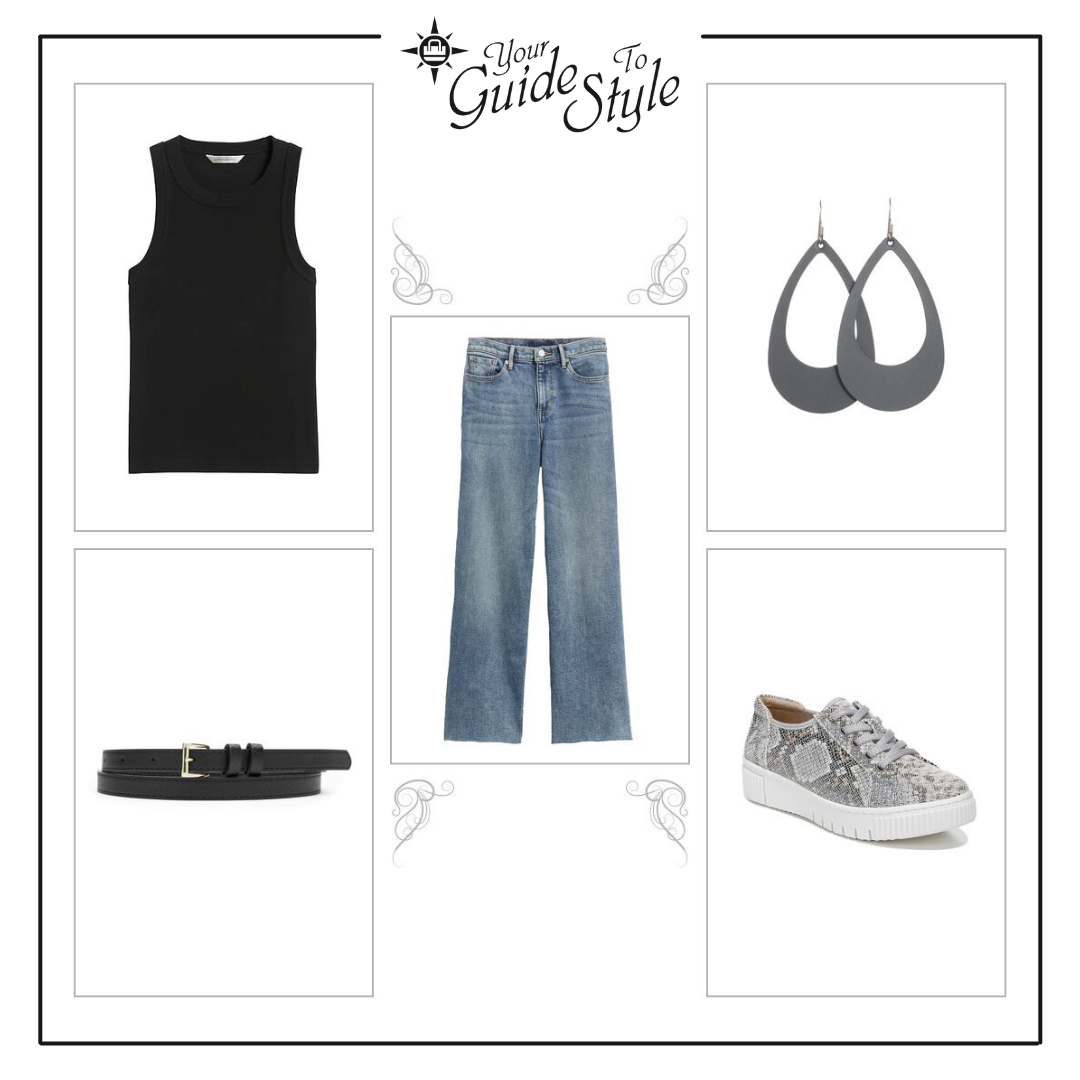 Picking the right tops should not be too complicated. Cropped or boxy styles have a tendency to make the inverted triangle shape look really square so I would stick with styles that come to the hips or longer and that A-line out from the waist to create balance with the shoulders.
More fitted styles with great necklines like the one in the Simple Wide Leg Style outfit above will accentuate the waist and are fine to be a straight fit.
You can also trick the eye and make the upper body look smaller if you wear darker colors and patterns like vertical stripes.
Best Styles:
Fitted
Relaxed – not oversized
Darker Colors
Vertical Stripes
A-Line
Trapeze
Peplum
Other Styles:
Crew Neck
Wrap – not too open at the top
Blazers, Jackets & Cardigans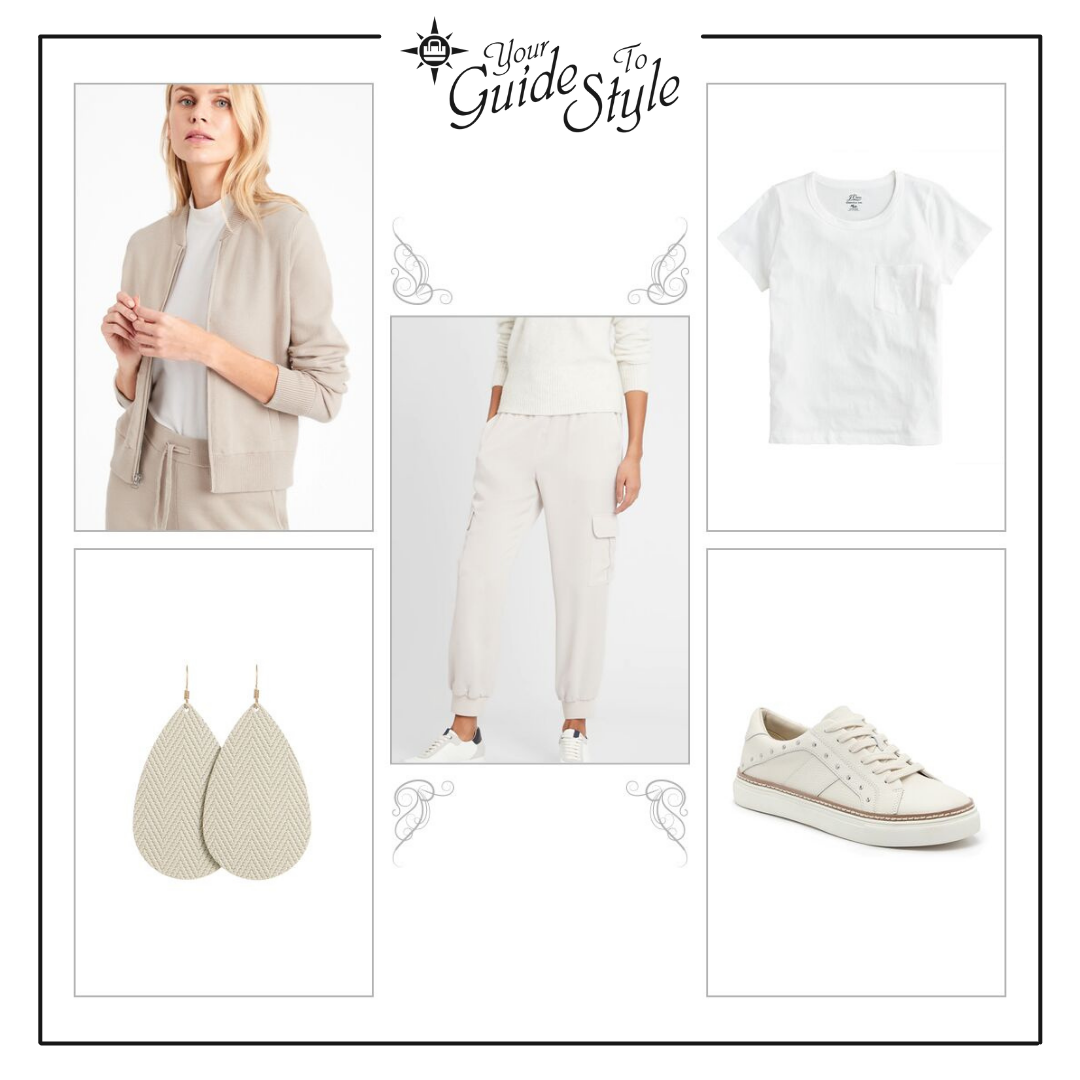 I absolutely love to layer and I have to be carful not to add too much bulk to my shoulders.  I also love puff sleeves and basically have to stay away from them in my blazers and jackets because they come out too far from my shoulders and I look like a linebacker.  So no shoulder pads either ladies!
Wearing blazers and jackets open will help to create a line that is flattering and will help even out the shoulder line. Other styles that are belted or tied at the waist are also great to create curves and define the waist. Just make sure these style come to your hips or a little past to add some fullness to the hips for balance.
Best Styles:
Single Breasted
Collarless
Structured
Fit's Shoulders Well
Comes In At The Waist
Hip Length or longer
Cardigans
Cardigans are a great option for layering as well.  Styles that fit your shoulders are best and lighter weight knits so you don't add too much fullness to the top half.  Remember, we want to add fullness to the bottom half, not the top.
Best Styles:
Light Weight
Hip length or longer
Solid
Vertical Stripes
Tie Waist
Waterfall Collar
Kimono
Bottoms
The inverted triangle shape can wear just about any bottoms. The straight and wider legs look the best, but really if you style a skinny right it can look good as well.  The best styles listed below for both are the ones that will look amazing and give fullness to the bottom half to get close to creating symmetry.
Pants
Best Styles:
Bootcut
Flare
Straight
Trouser
Wide Leg
Joggers
Loose Fitting & Harem Pants
Cargo Pockets
Jeans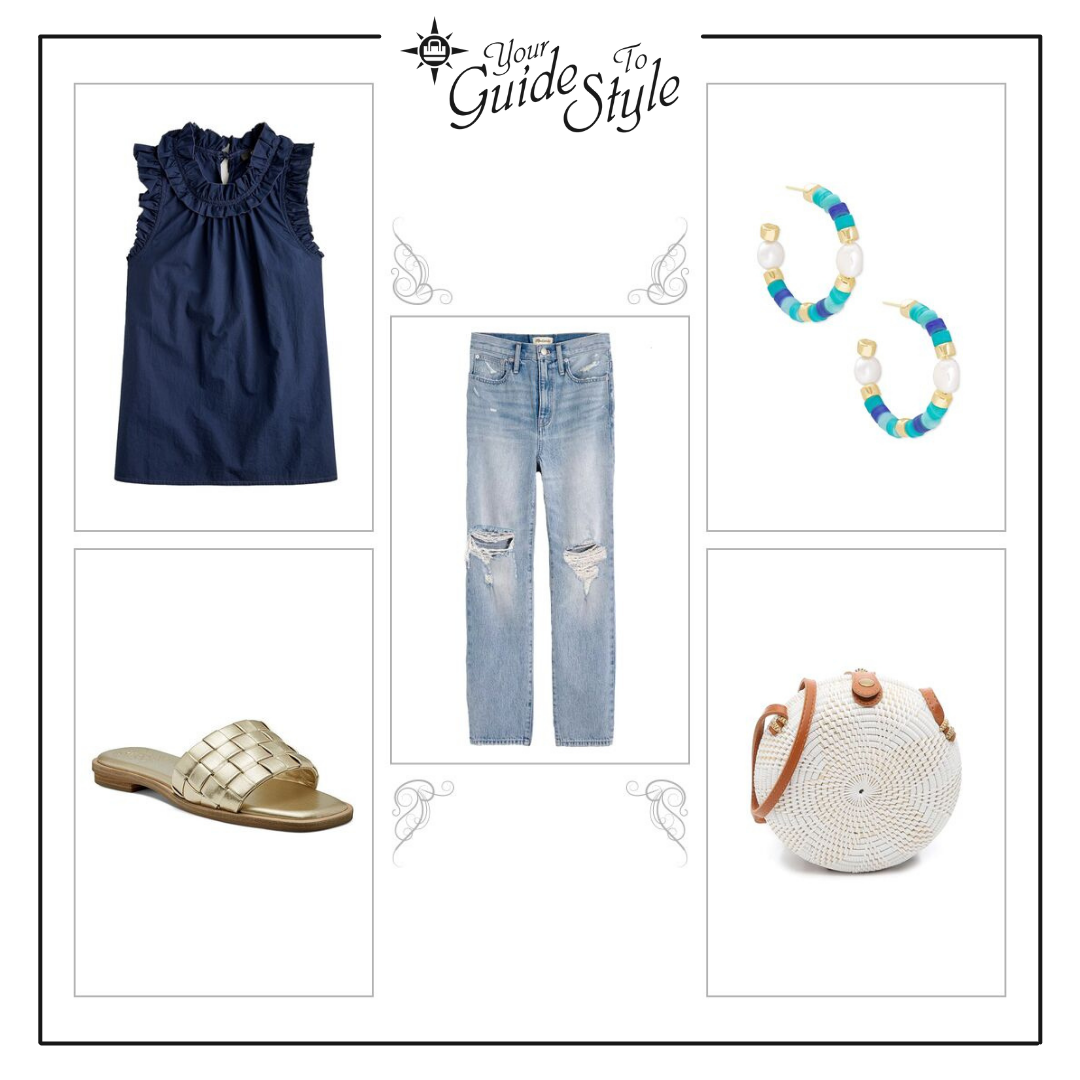 Best Styles:
Bootcut
Flare
Straight
Boyfriend
Wide Leg
Kick Flare
Cropped
Other Styles:
Skirts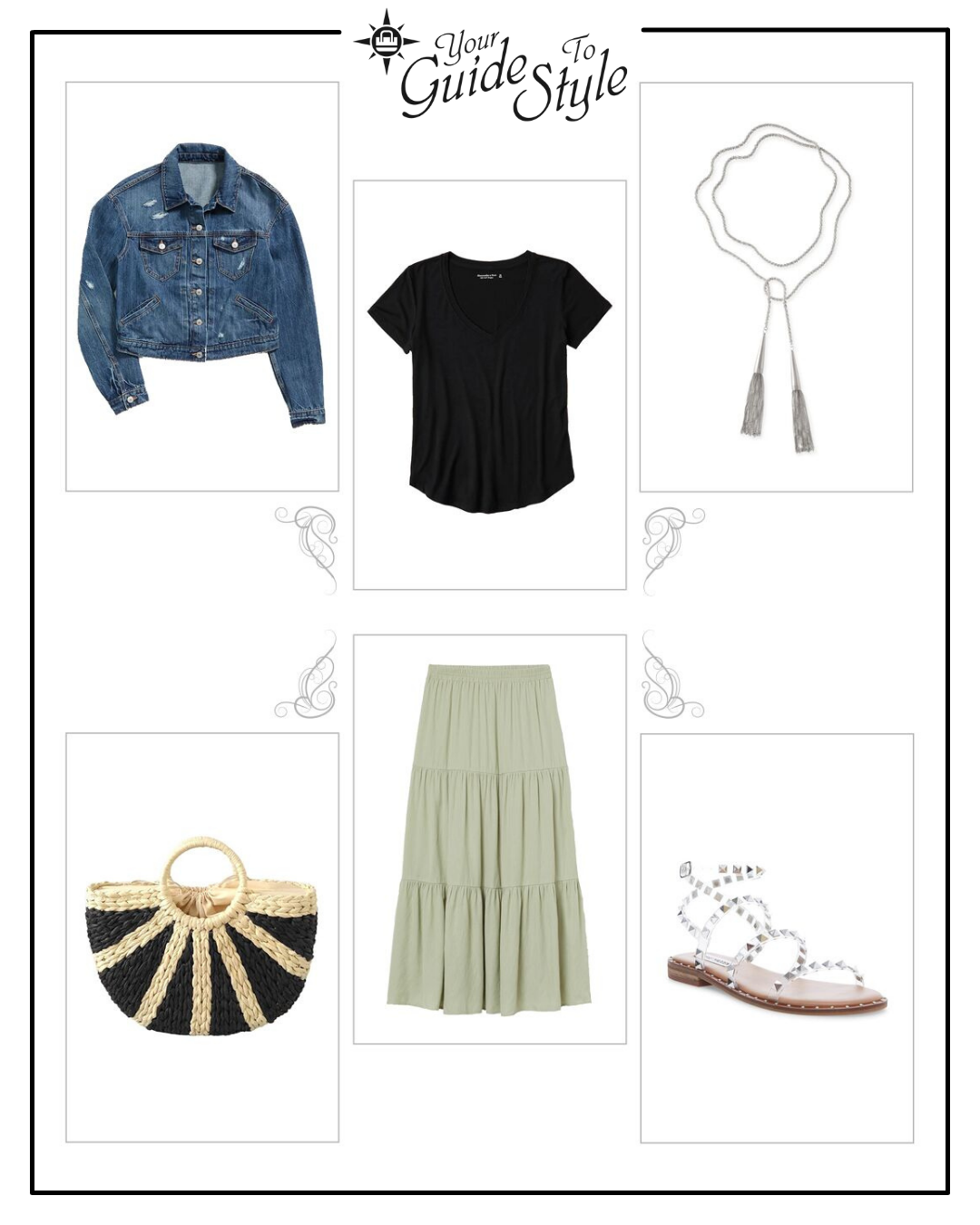 The skirts that work best for the inverted triangle shape are ones that are A-line and full.  You can do any length and wear whatever prints or colors you like!  A fun trick to make the eye not focus on the top half is to wear light or bright colors and even prints and wear a darker color top. You can play with lines and you can play with color to trick the eye! Fun right?!
Best Styles:
A-Line
Full Skirt
Pleated
Tiered or Layered
Print
Bright Colors
Any Length
Other Styles: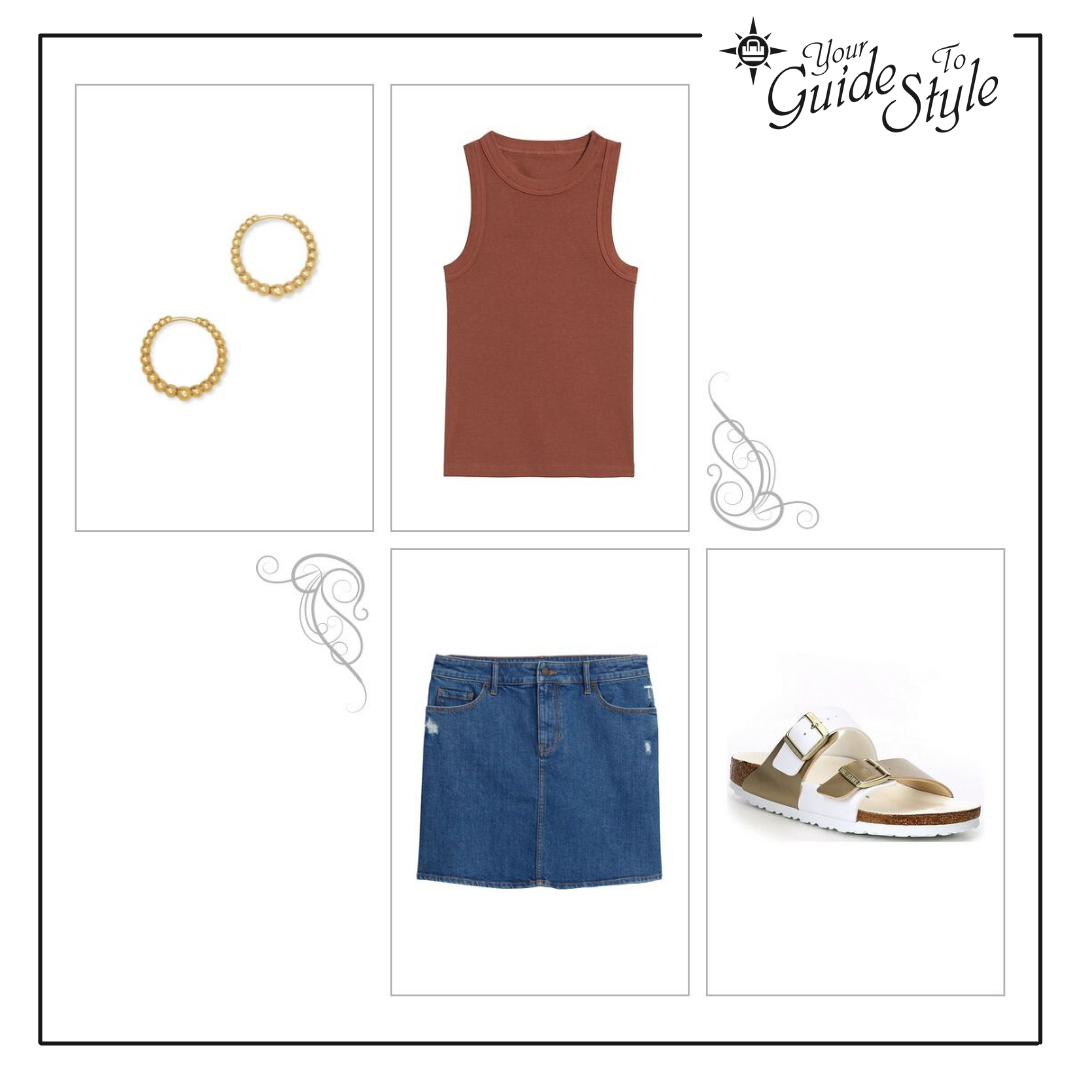 The A Mini For Your Vacay outfit above has a fun denim mini skirt that works great for summer paired with the same style halter tank from the first outfit. The top will help make the shoulders appear smaller and give some width to the hips to balance out the shape.  Wear the top untucked or tucked in; whichever you prefer.  With the top being fitted it will help define the waist.
Shorts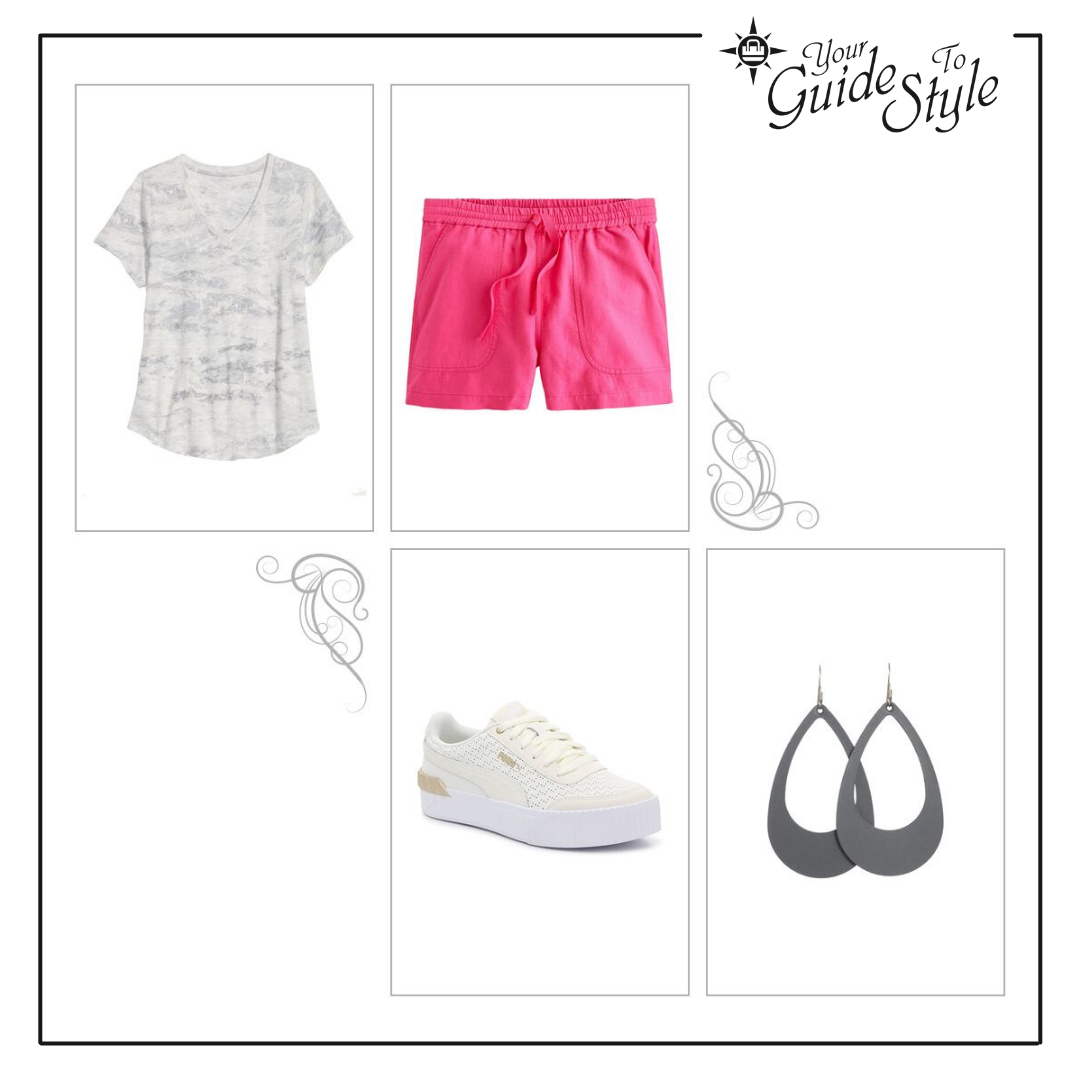 Shorts are my go to in the summer time, so I had to include a great outfit that you can wear when it's super hot outside! These shorts are loose and a bright color, so I paired them with a muted print which will automatically draw attention to your bottom half!  Just front tuck it to keep with the really casual style and you are good to go on your hot summer day.
Dresses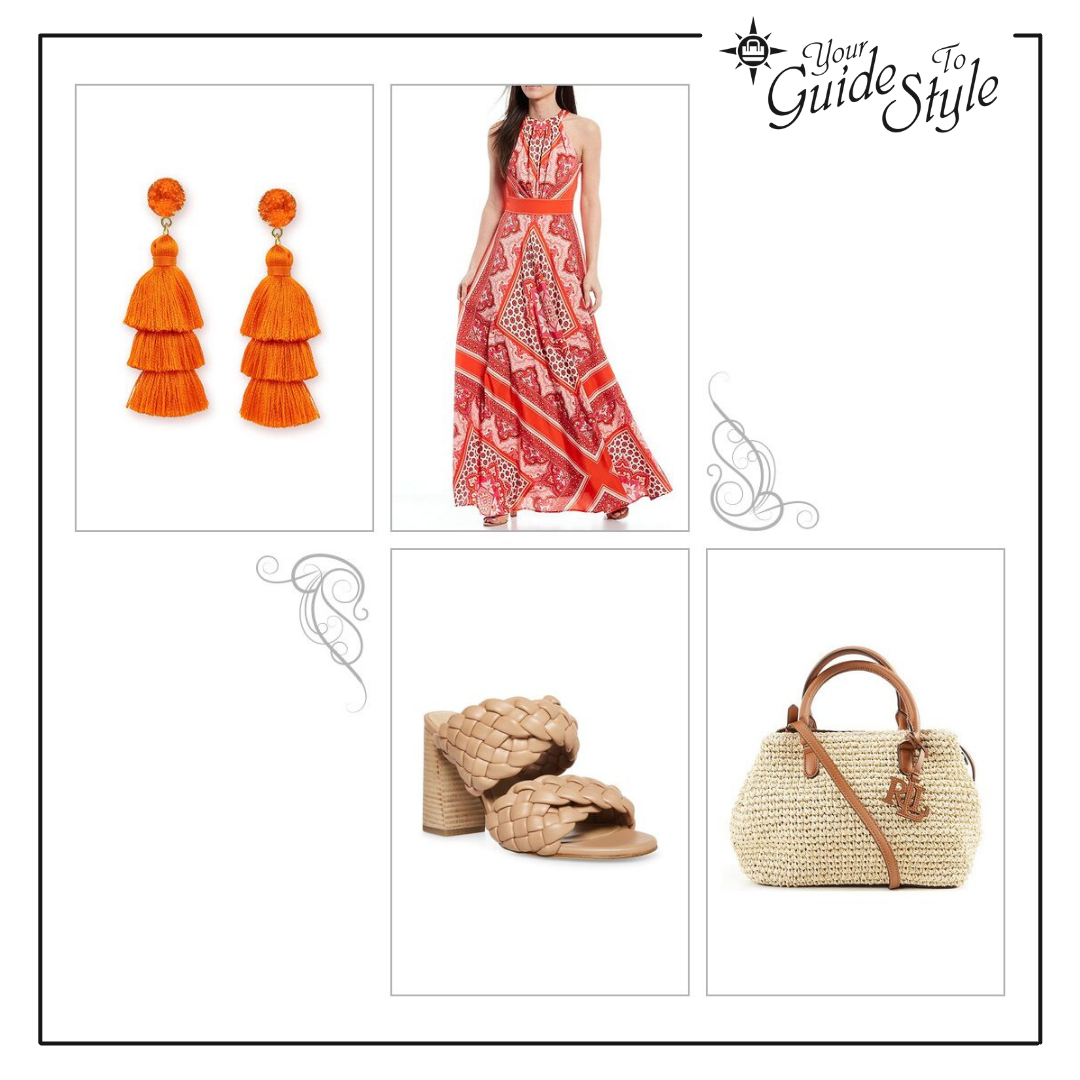 Dresses should come really easy for the inverted triangle shape because most styles without bold sleeves or shoulders will work! Even the babydoll styles that are wide and flowing can look great on this shape as long as the shoulders fit will or it's sleeveless.  The Maxi's Are More Fun outfit above shows the absolute most perfect dress for the inverted triangle shape.  It has a halter neckline, a banded waist and an A-line flowy skirt!  Remember this style when you are looking for something special for a wedding or event you have coming up.  Even a good everyday maxi with this shape would be perfection!
Best Styles:
Fit & Flare
A-Line
Wrap
Mini, Maxi or Midi
Banded or Belted Waist
Sheath
Other Styles:
Jumpsuits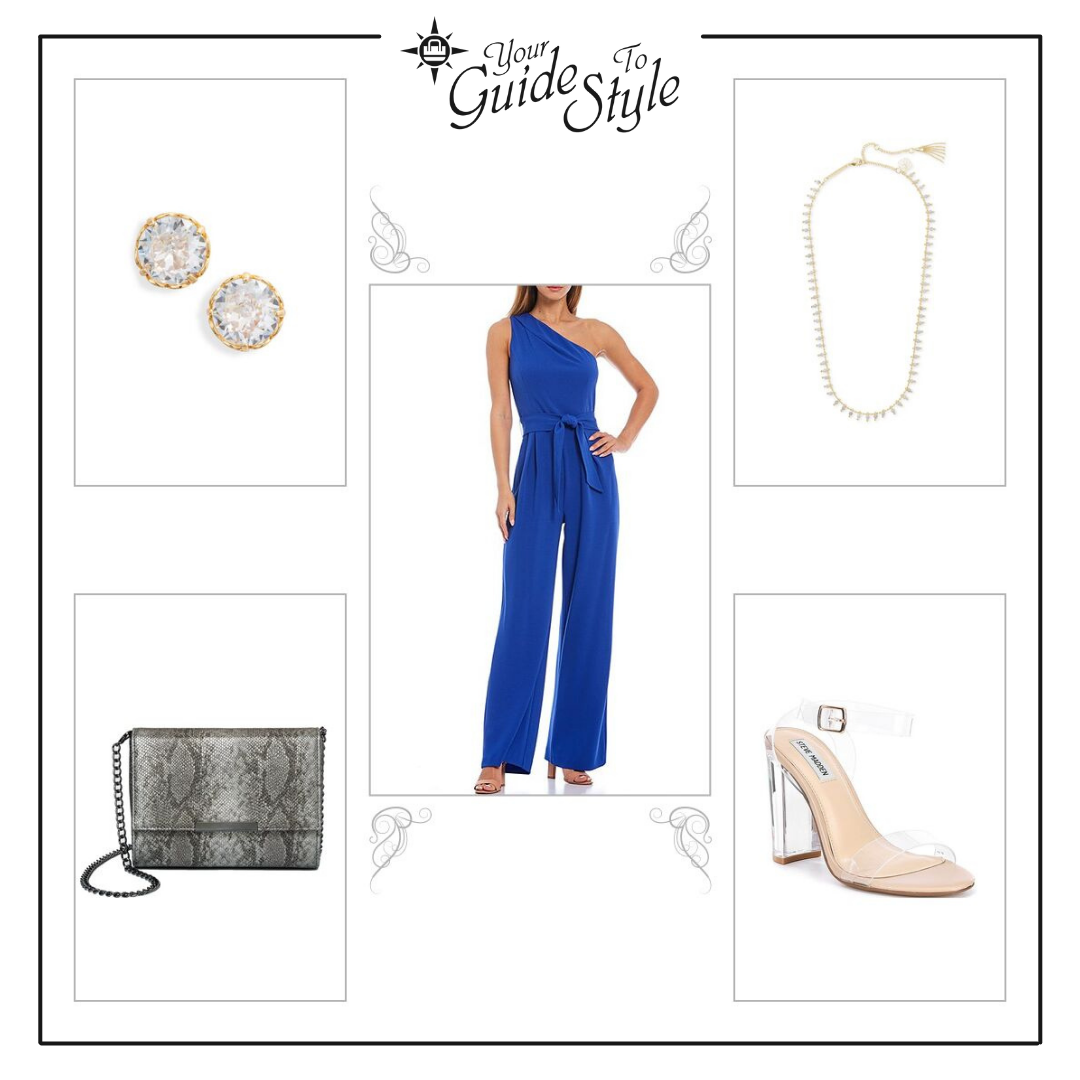 Just like the rectangle shape, a jumpsuit is a home run for the inverted triangle shape! Especially ones that have a fun asymmetrical neckline or even strapless.  Keep the top half simple and structured around the shoulders with narrower necklines and the bottom half can be straight or wide and flowy.  Skinny bottom jumpsuits may not work as well to create balance and could enhance your top half.
Best Styles:
Asymmetrical Neckline
Wide Strap
Fitted Waist
Loose/Wide Legs
Strapless
Coulotte
Tank
Utility – if top is not too oversized
Since we are all shaped so differently some of the recommendations may not work great for you but I encourage you to give some things a try and see what does work.  Keep trying until you are happy with the results and stick to what works!
Stylishly Yours,