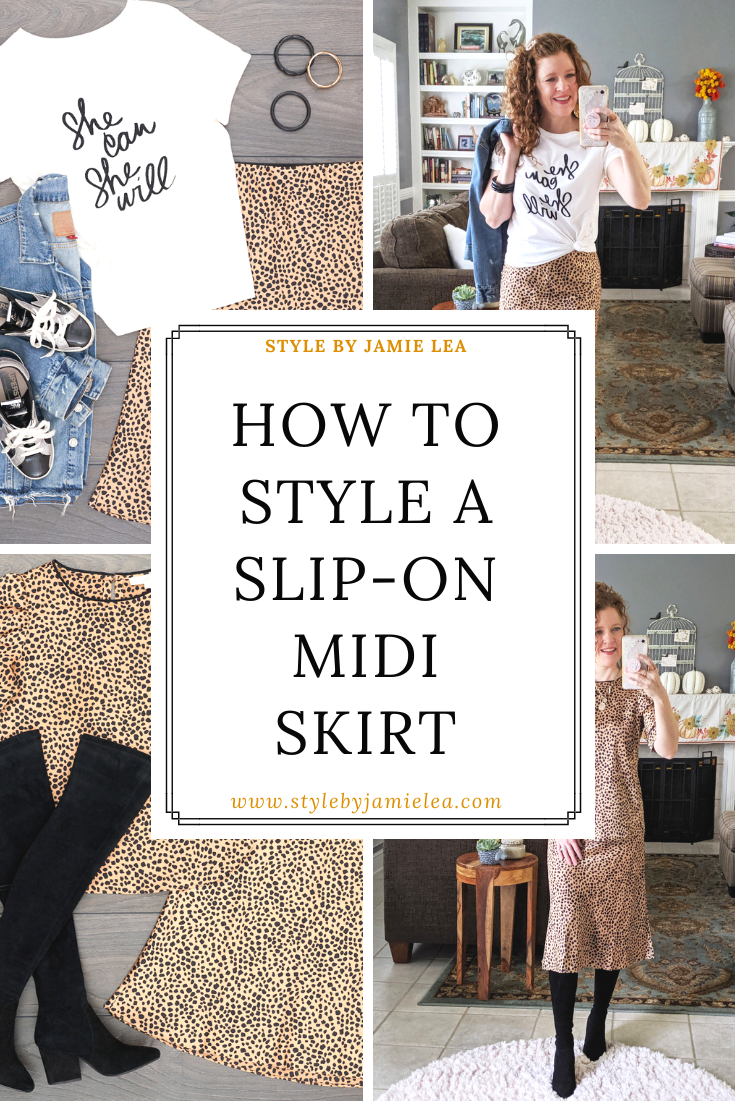 Hey there! One of my favorite items for this fall season is the pull-on midi skirt. Why? Because it is EXTREMELY EASY to style and looks good on just about everyone!
I am going to show you how I styled this lovely spotted skirt from Loft Memphis.  This one is sold out but you can find one at just about any retailer these days. It is one of the biggest trends of the season and I think it's going to stick around for a while. I will link some others for you to take a look at if you are interested.
Also, check out my Fall Wardrobe Essentials EBook if you want great styling advice for this fall season!
Key Points to Style A Pull-On Midi Skirt
Don't Over Think It
Just because it's animal print doesn't mean it's hard to style. This one from Loft has a gold background with black spots so I chose things that had black in them or complimented black.
My graphic tee for example is plain white with black letters. I would not put another color with it unless it complimented the gold or black combo.
The sneakers are also black and white so they were a great casual option for this outfit.  You could pair a solid white or solid black sneaker with this as well.

Keep it Simple
A plain black sweater and simple accessories make this an outfit you can wear just about anywhere. You will even look semi-dressed up.
Gold accessories are the best choice because of the gold in the skirt.  The necklace helps to make the black sweater not look so boring.
Add a fun bag if you are going out!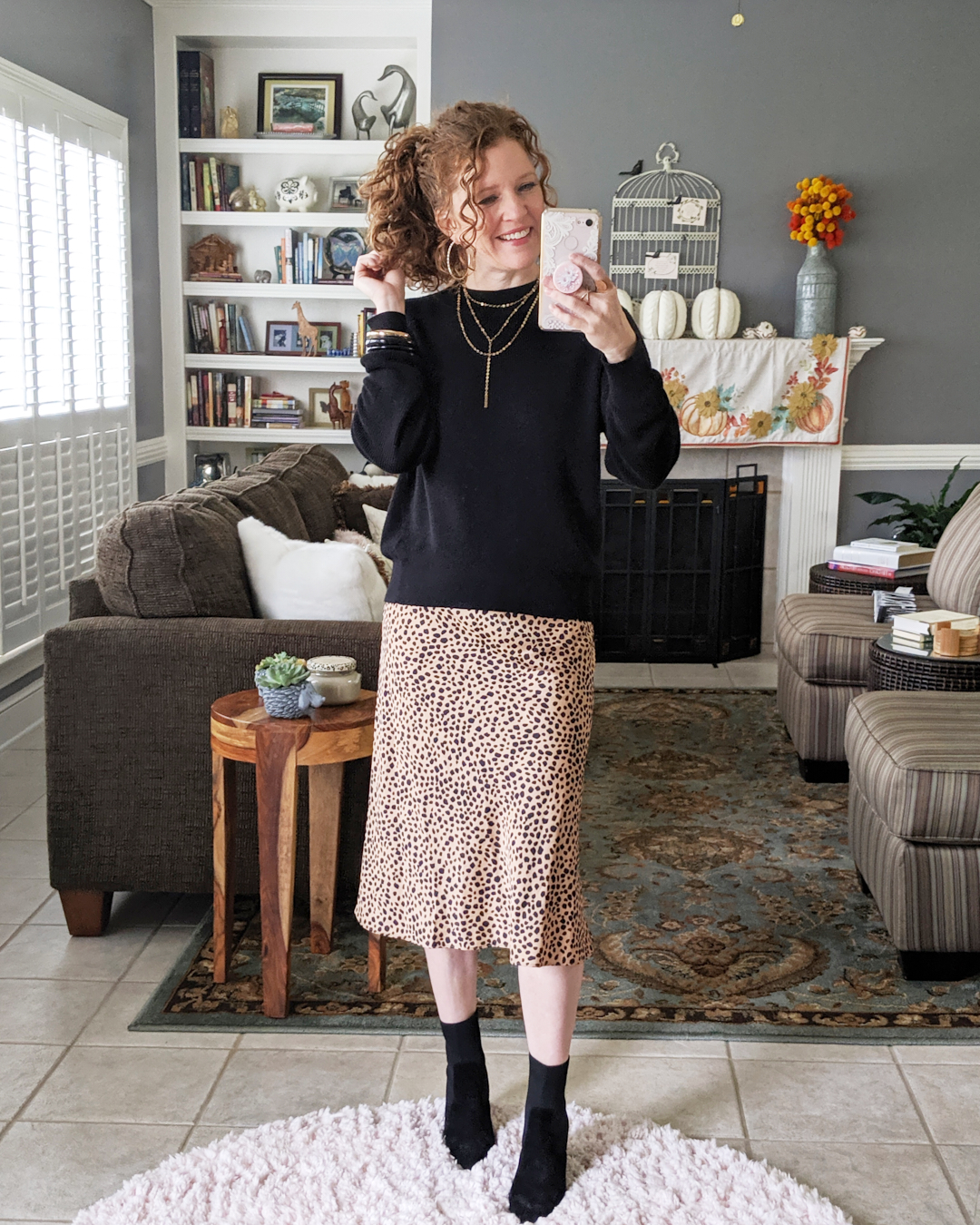 If It Has a Matching Piece Buy It
I am all about matching your outfit from head to toe! I actually feel like in this case it makes you look slimmer.  I didn't realize this until I saw it on myself in the mirror.
This is a very trendy way to wear this skirt that will make people look twice.  I chose to wear the shirt outside the skirt but you could tuck it in or add a belt around the waist.
The over-the-knee boot is perfect with this outfit to help you keep warm in the cooler months.  It also looks fantastic with it! You could also wear tights and heeled booties.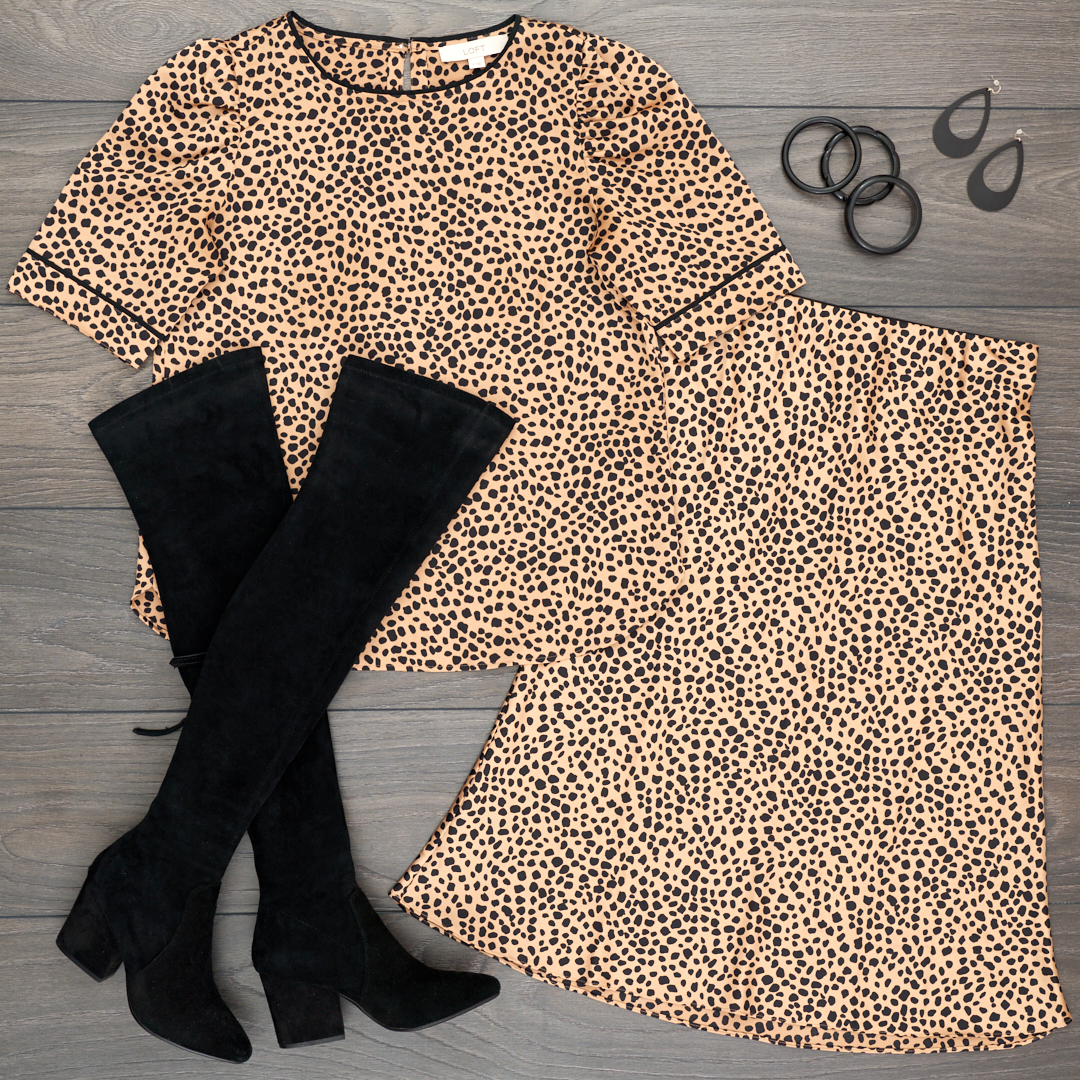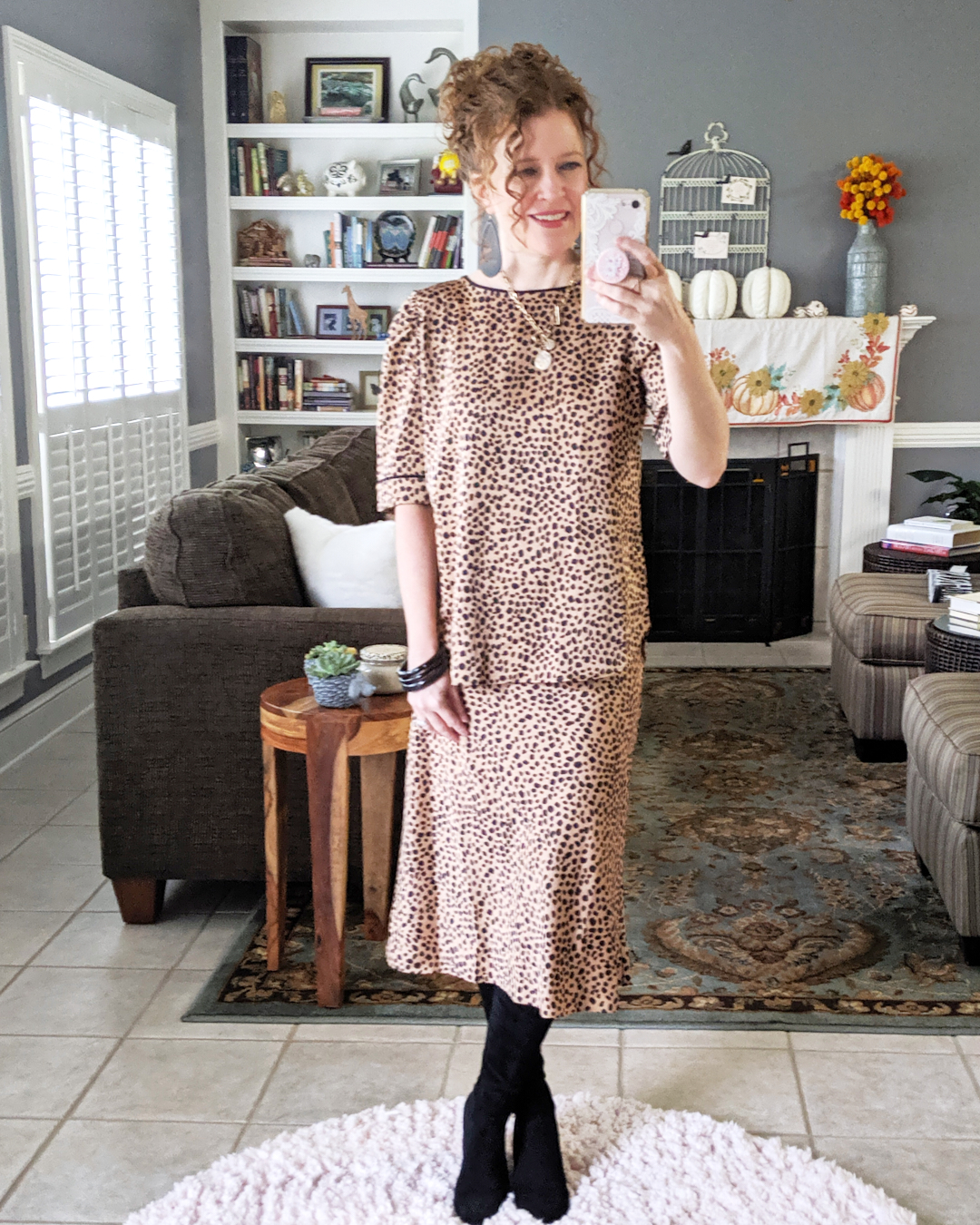 Two Additional Outfits
As I was taking pictures of the mirror shots I got carried away and did an additional 2 outfits for you.  I wanted to show you an edgier look and a workwear look.
This makes a total of 5 outfits with one skirt and really I could have made more!
If you want to know more ways to wear a slip-on midi skirt, check out my Fall Wardrobe Essentials EBook on Amazon Kindle.  You betcha I included a slip-on midi skirt in my essential wardrobe recommendations!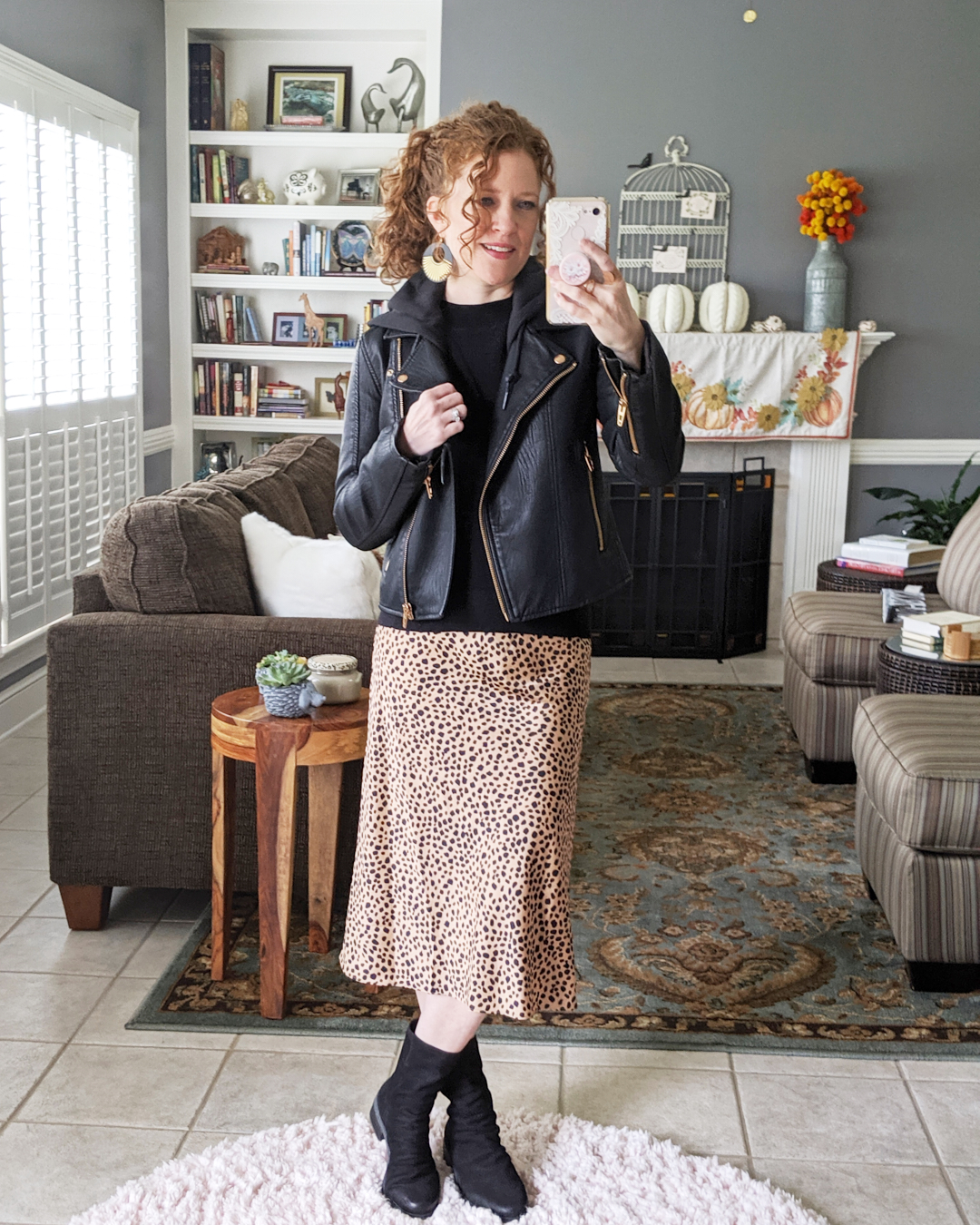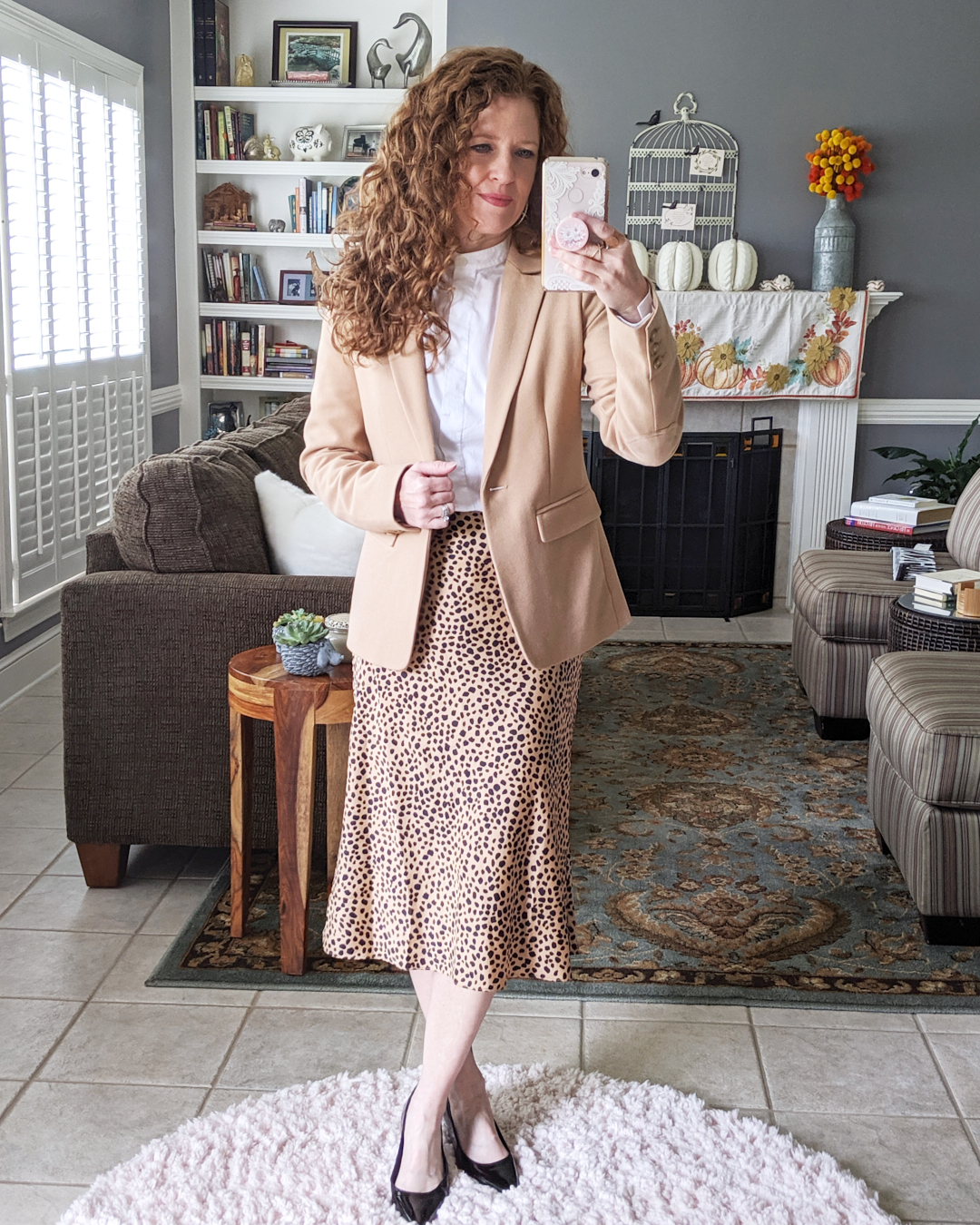 I hope this gives you some great inspiration to create your own outfits with a fun slip-on midi skirt.  Even if you choose a solid color I feel like it will serve you well in your wardrobe!