Hey ladies! With the big Nordstrom Anniversary Sale happening this week I really wanted to give you some of the trends you will see this fall season.  You will see most of these styles at the Nordy Sale and I thought it would be important to bring them to your attention.  I feel like most of these trends will mix nicely with some of the current things in our closet.  I actually love most of the trends for this fall season and can't wait to shop!
I know the sale is really good for those basic things that you can get at a great price. I also feel that there are some great deals on the trendy items for the season that will stick around for a while.  Some of your great basics are denim, sneakers, coats and basic sweaters for the season.  I will bring you my picks on those during my try on.  Right now I wanted to focus on the not so obvious that I think sometimes get overlooked.
This fall season I think is going to be one of my favorites. The options are going to be one extreme to the other and I think it will cover all preferences across the board.  You are going to see bright colors (even neons again), head to toe neutrals, all black feminine goth, animal prints, plaid. ruffles, 70's styles, 90's styles, jumpsuits, suiting, tiny bags, environmentally friendly designs, quilting, head to toe leather, tie dye, utilitarian designs, lots of pockets, chunky mixed with dainty, corsets, maxi and midi length dresses and skirts, lots of knits and the list goes on and on!!!! You will even see lots of floral again.  Most of the time what we see in Spring designs will also be seen in the Fall, just presented a little differently.
Trends Every Woman Can Wear
I want to give you the trends that you will see in mainstream clothing places that you and I will shop. If you want to add any of these types of items to your wardrobe the Nordstrom Anniversary Sale is a great time to do that.  I am not a big fan of trends that are really out there like layering a bra or camisole over your top (yes this is a trend for Fall 2019).  I try to make recommendations that will be practical and easy for any age to wear and not feel out of place.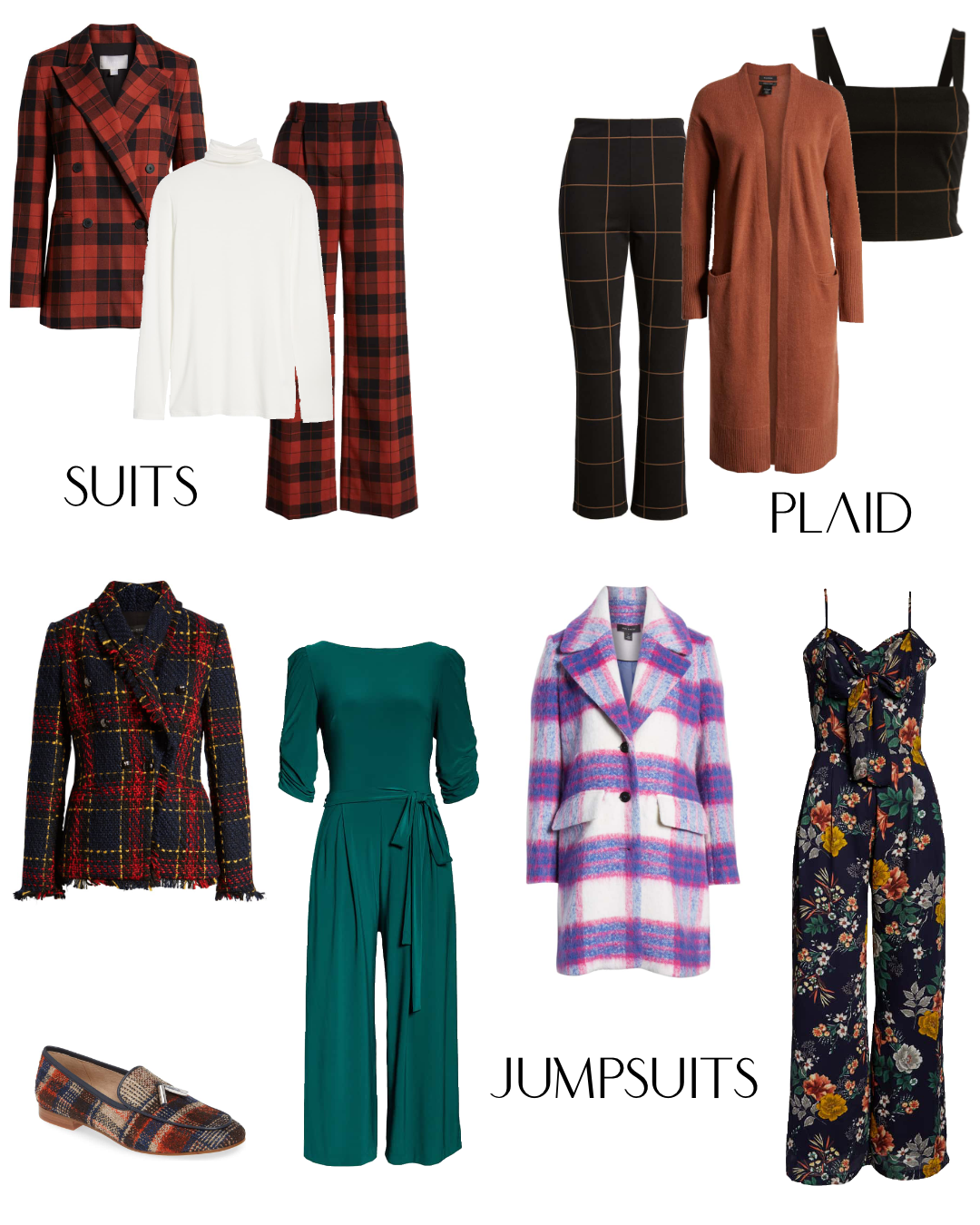 Fall Suiting – Y'all the suit is back and in a great new fashionable way!!!  I am in love with the two piece sets and how they are designed. It is a fresh take on the suit and I think it is totally fabulous. The suit styles are much more relaxed and fun than in previous years.  The suits are not just professional pant suits but you will find skirts and shorts as well.  The jackets are also more oversized and menswear inspired.  To me this makes them super versatile and you can mix and match the jacket and bottoms to make multiple outfits with other things. This is definitely on my list of things to try to add this season. There was a plaid suit I saw in the Nordy catalog for the sale.
The Dressed Up Jumpsuit – We have seen jumpsuits make a rise in fashion the past few seasons.  For Spring the jumpsuit was more of a utilitarian piece that was super casual.  This fall season it gets a little more girliness to it and is a little more dressed up. The styles are flowy and more dress like and show a little more skin.  They will be perfect to take you from work to play.
Plaid  – You will see a lot of plaid at the Nordy Sale.  It is the major layering piece for this season and will be found in jackets and coats as well as pants, tops and skirts.  Actually, you will even see it on shoes of all styles, so be on the lookout!  I think one plaid piece will be plenty for me.  I don't think I have any plaid in my closet, so I need to add this to my own list.

Snake Print Boots and Booties  – You are going to see snake print boots of all heights for this fall season.  You will have lots of choices for this slithering trend at the Nordstrom Anniversary Sale. If you choose the right color it can become a great neutral and mixed with lots of other patterns like floral and plaid.  You may have to step out of your comfort zone but if not pair them with an all black outfit with a little lace and you are also on trend for the season.
Midi and Maxi Length Dresses and Skirts – We are used to seeing these two lengths in dresses and skirts and you will continue to see it this fall.  I love the idea of a midi and maxi dress or skirt with booties and even tall boots!  A chunky sweater layered over these will be perfection as well!
Flare Jeans – This 70's trend has been trying to make its comeback for a little while now.  For some reason it's hard for us to give up our skinny jeans. I actually love the flare jeans and added some mini flares to my wardrobe in the spring and will wear them this fall.  There are a few different brands that you will see on sale at the Nordstrom Anniversary Sale that I think are a great deal.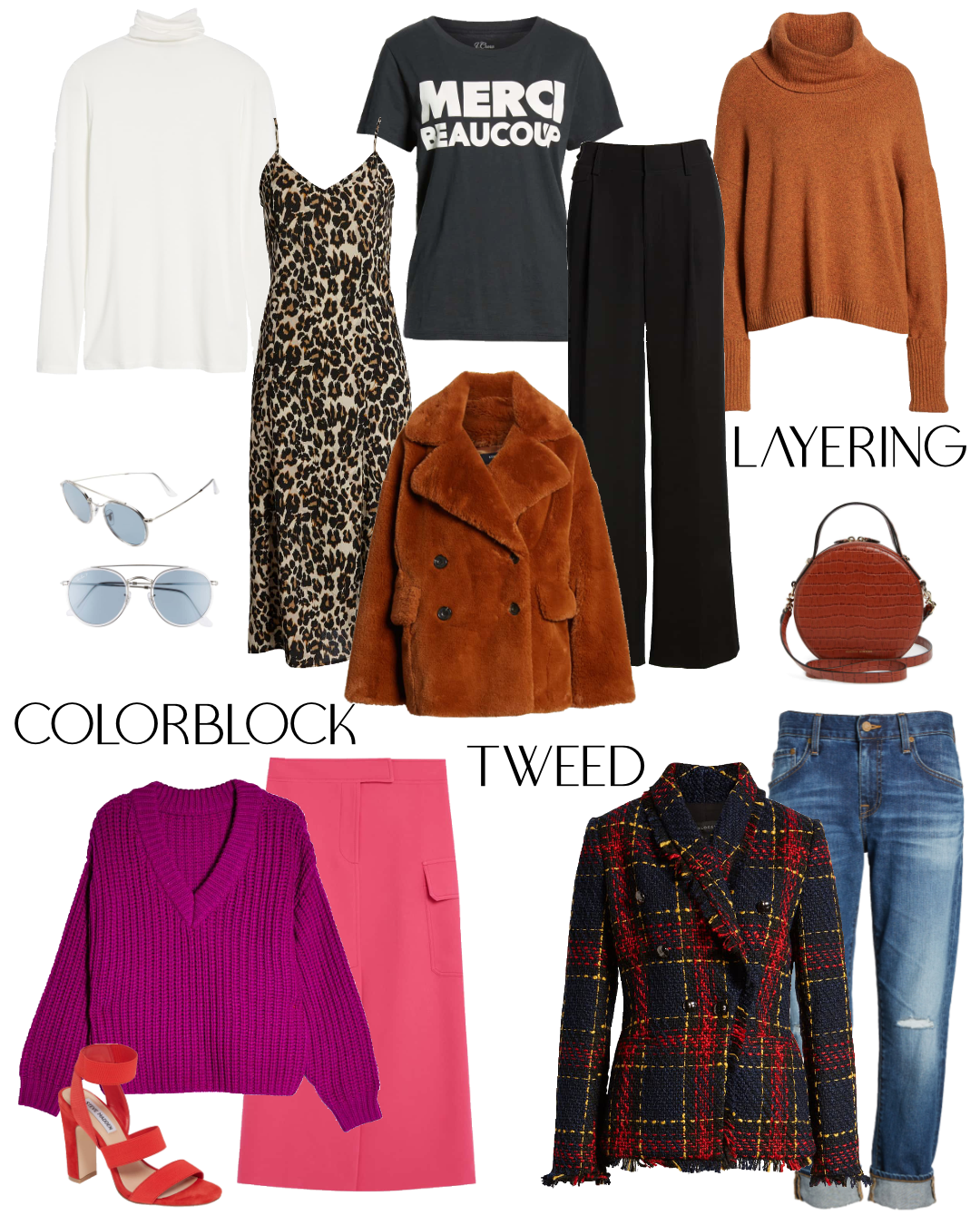 Tweed – There is the cutest Chanel looking tweed jacket in the catalog of the Nordstrom Anniversary Sale!  I am hoping we see more of this for the fall. It was seen on most of the major designer runway shows.  It appeared in pant suits, dresses, pants and skirts.
Layering – The runways showed layers upon layers to an insane degree.  Let's be honest, that is just not practical for most of us because of where we live.  You will see layering this season though and it will be by wearing tops under skinny strap dresses and jumpsuits and turtlenecks under blazers. This is a practical way to dress for most of us so you got this one!
Color-Blocking or Monochromatic – This could not be more opposite and it's in the same season.  I love both.  I think these are very fashion forward looks but are still doable for the average woman.  Color-blocking is accomplished by choosing hues from the same color family. A  monochromatic look is achieved by using the same color. If you look through the catalog you will see looks they have put together for both trends.
I hope this gets you excited for the fall season. I know it does me. All of these items that appear here will be available at the Nordstrom Anniversary Sale!!! I can not link them for you yet but you can check them out in the Catalog for pricing.  I will link all of these for you on July 12th so be looking for that email in the AM!! If you are not subscribed to my email list you can do so through the widget on the right hand side!
Thanks so much for reading and I hope you will follow along for the sale this week!