Boy oh boy, I could not wait to write about this one!  If you know me personally you know that I am a huge fan of Kendra Scott jewelry. I personally own 5 pairs of earrings and an awesome necklace. This company introduced me to my favorite kind of earring; the ear jacket.  If you are not familiar with that term, it is a type of earring that has the front part of the earring and another part that dangles from the back of the earring so it creates a "jacket" around your ear.  They are incredibly cool.  Four of my five pairs are ear jackets.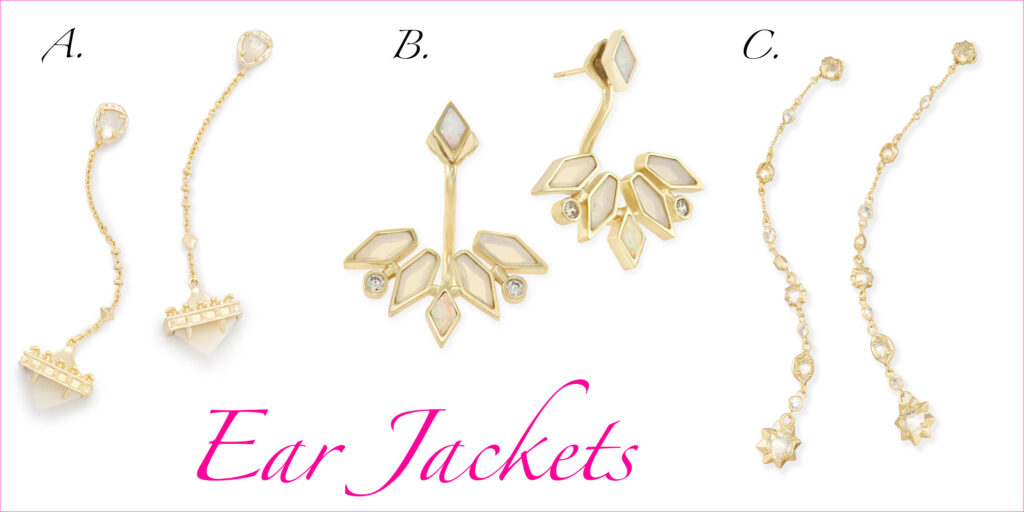 A. Gigi Ear Jackets  B. Collette Ear Jackets  C. Lydia Shoulder Duster Ear Jacket
Kendra Scott started making jewelry through her Austin, TX home in 2002 and started selling to local stores. In 2010 she expanded the company into their own brick and mortar locations throughout the country and there is one here in Germantown, TN! They still sell wholesale to other retailers like Nordstrom and other specialty boutiques.  Indigo is one of the boutiques in Germantown, TN that sells Kendra Scott. The jewelry is affordable and very good quality; which you usually only get one or the other. Since I have worn their jewelry for a few years, I can say that it is very good quality. I have not had any issues with mine breaking or even tarnishing.
Kendra Scott offers an awesome service that allows you to custom design your own piece of jewelry and home decor.  This is called the  Color Bar  and it allows you to select from various styles, stones and metal colors to create your own unique piece.  The Color Bar is offered in store and online. A trip to the store would make for a fun girls night out!
Most people will recognize Kendra Scott jewelry by the colorful pretty stones commonly used in the designs.  I like the stones, but think they do a great job with their other creative designs as well.  I have featured some of my favorite designs from the beginning Fall 2017 Collection along with a couple of staple earrings.  My absolute must-have favorite piece is the Heidi Choker Necklace (B.) in the gold (brass) color.  I love the little tassel that hangs off the end of the clasp; such a fun detail. I hope you will check out the the rest of the line at www.kendrascott.com or stop into one of the beautiful boutiques.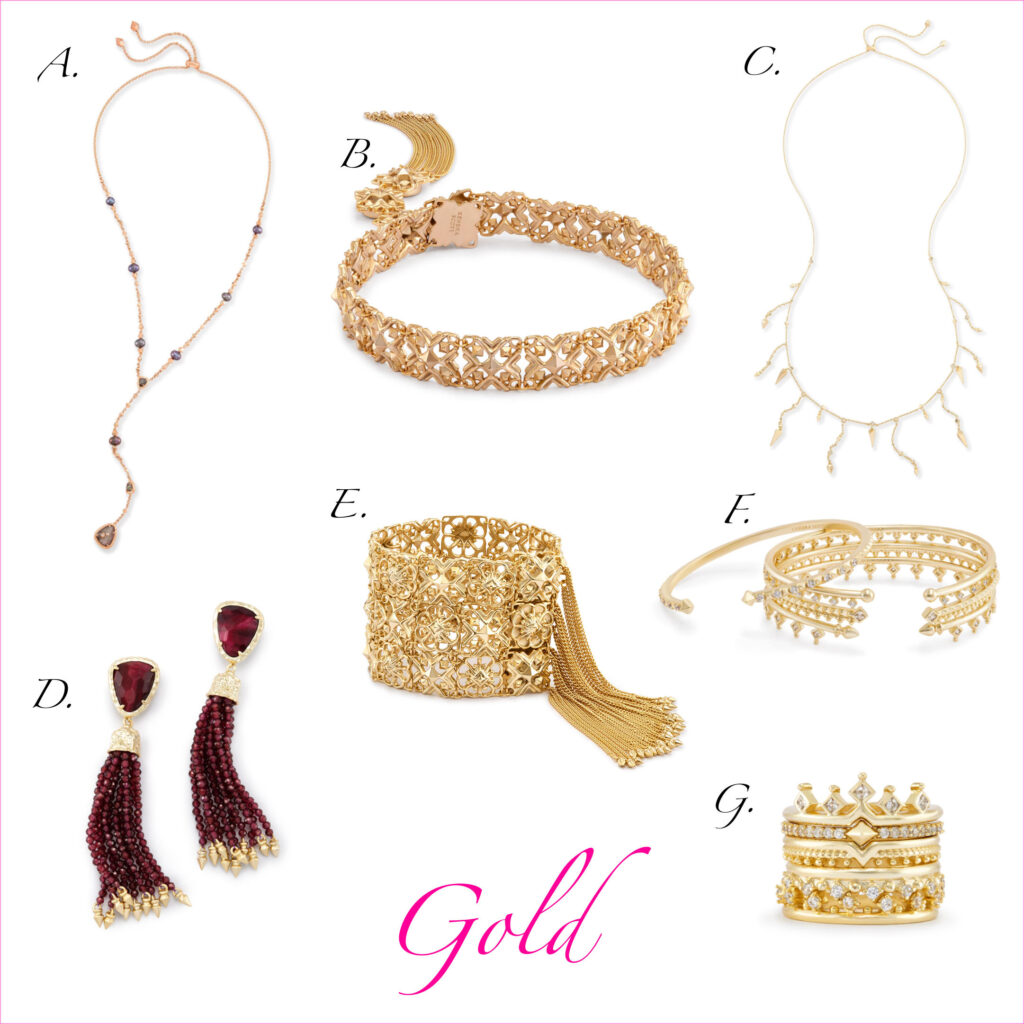 A. Lucielle Y Necklace  B. Heidi Choker Necklace  C. Loralei Long Triangle Necklace  D. Blossom Tassel Earrings  E. Iris Fringe Statement Bracelet  F. Delphine Pinch Bracelet Set  G. Violette Stackable Ring Set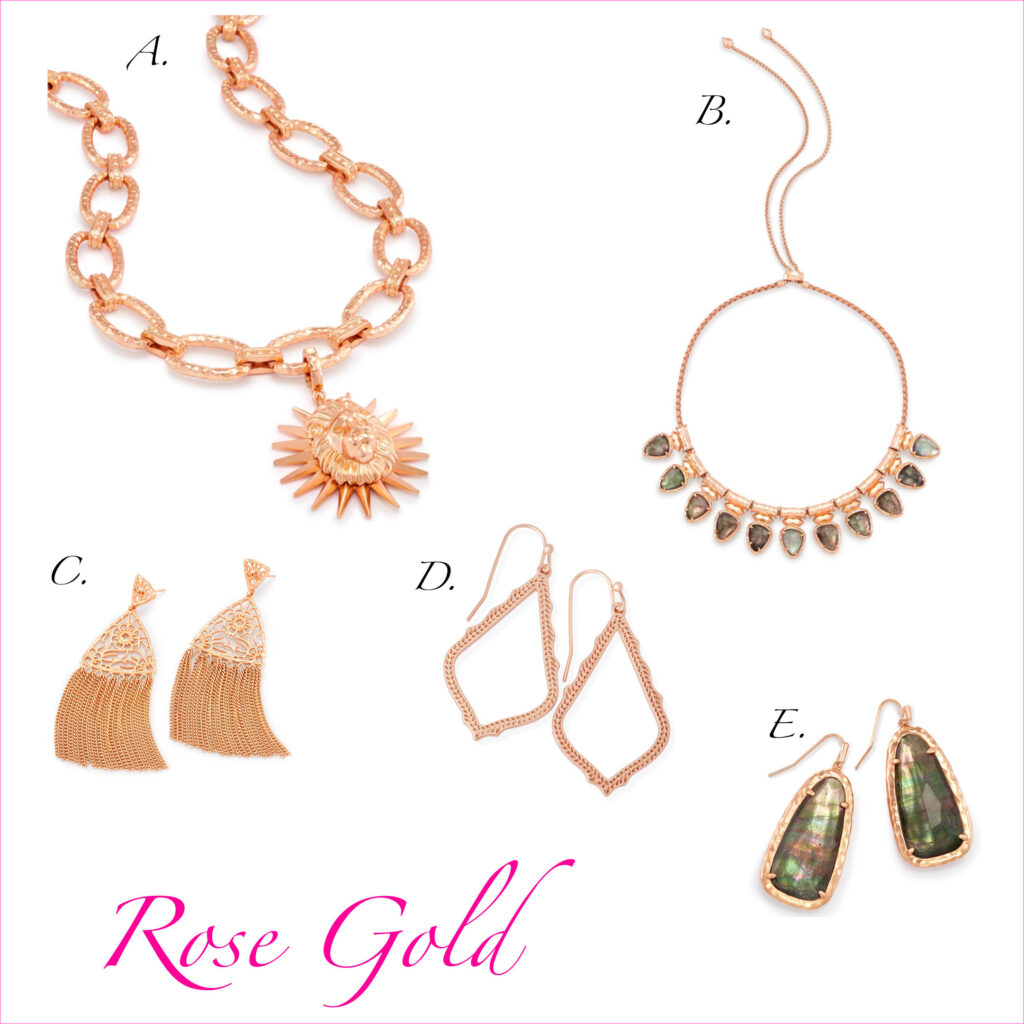 A. Athena Long Pendant Necklace  B. Willow Choker  C. Ana Tassel Statement Earrings  D. Sophee Drop Earrings  E. Lyn Drop Earrings