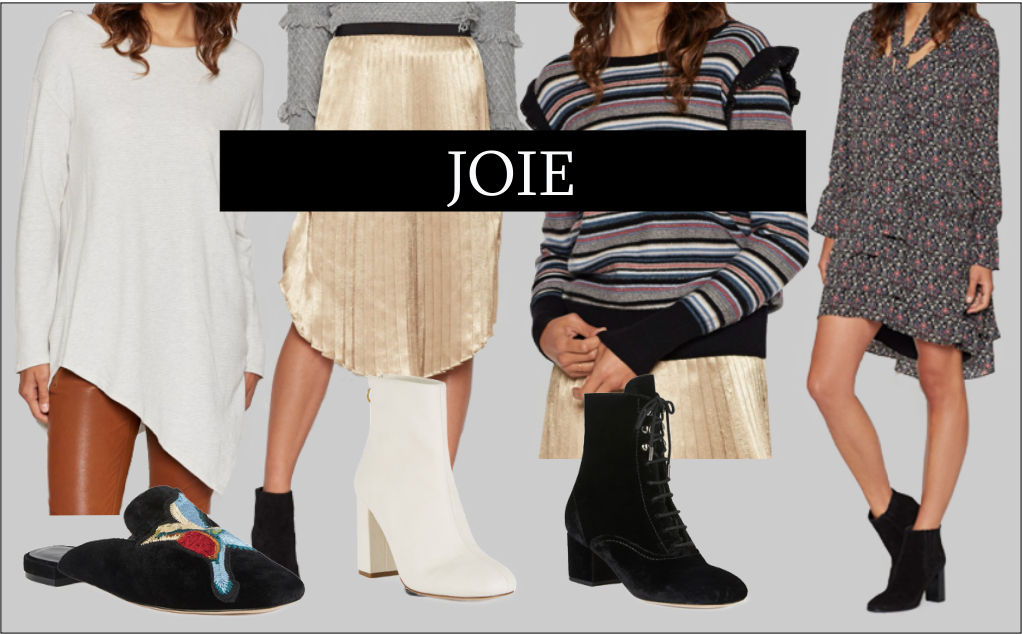 I am super excited about this Designer of the Week!  I absolutely love the look of this brand.  Joie was created in 2001 and is a Southern California inspired contemporary lifestyle brand. They cater to the moxie fashion-forward girl who loves easy modern styling with a cultured way of life. They describe themselves as "Casual, Comfortable and Luxurious" and say that one can not exist without the other. Joie encompasses clothing, shoes, handbags and other accessories.  I personally own a pair of Joie shoes that are incredibly comfortable and have cute vintage style. I never had to "break them in" and they fit perfect from the very beginning.
When I started looking at the website I was drawn to the unique styling of some of their pieces. My absolute favorite piece is the Kambree Satin pleated skirt in gold that curves the hemline on the sides. This gives this popular clothing piece a more modern feel and makes it more flattering than the ones you see with the even hem all the way around.  I love this paired with booties and a cute sweater or even a t-shirt! You can also throw it on with heels and a blouse for a night out! It would be a great versatile addition to your wardrobe.
They also have some basic everyday t-shirts, blouses and sweaters.  I chose the cute asymmetrical Tammy B Sweater  to feature here.  I liked the ease of wear it seems to have but it also has a fun element to it in the handkerchief hemline.   The tunic style will pair well with the oh-so-popular skinny jeans we all probably have in our closets!
Another feature of their designs that I love is the subtle additions of ties, ruffles and fringe without overwhelming your body. The Cais C Striped Sweater and Jamira Silk Dress are great examples of this. The subtlety gives the pieces feminine detail that make it easier to wear every day. I think it is great to mix fun pieces like these into your wardrobe to be on trend without overdoing it.
I have to mention their shoes!  I have such an obsession with shoes these days; I can't seem to have enough!  My favorites are the Jean Hummingbird Slide,  Yulia Lace Up Bootie, and the Saleema Bootie.
The Jean Hummingbird Slide is a new trend that has taken off this season.  It is great paired with just about anything from jeans to skirts and even dresses.  My favorite look for these slides is a pair of jeans, a white or grey tee and these slides so they can take center stage!
Both the Yulia Lace Up Bootie and the Saleema shell colored bootie are not going to be worn everyday or anything but are super fun to put on when you are feeling the need for something more edgy!  The modern and vintage styling of these boots would bring the style of your outfits up a notch!
I hope you have a new appreciation for the Joie brand. Check out their website to see the other great thing they create! They are so lovely in their styling and have easy but moxie pieces that will enhance your wardrobe style.