Hello again! For those of you who are new to traveling and are taking a long getaway I hope this article is helpful to you. This is a continuation to an article I wrote in August called Travel Essentials for those Long Getaways. My client that is taking the trip was so kind to let me photograph the wardrobe that accompanied her on her getaway. The temperatures predicted for her overseas destination were going to be in the low 40's or 50's and high 70's or 80's.  To allow room for future purchases on your trip, I recommend that you keep your choices at a minimum and practice packing them early to make sure they will fit properly (with room left) in your suitcase. There are a few key factors that influenced the decisions we made that are super important to consider when trying to put together a functional, yet stylish, travel capsule wardrobe.
NEUTRALS AND LAYERING
The most important consideration for your travel wardrobe is to make sure most pieces can be layered and worn with other pieces; which is why I called this a capsule wardrobe.  You will end up wearing some of the same things but by mixing things up you will make them look completely different than the first time you wore them. To keep things simple, try to stay with neutrals such as black, gray and navy for your main pieces. The main pieces would be jackets, sweaters and bottoms.  You can mix these neutrals together and pair other colors with them through your accessories and undershirts. Layering also allows you to plan for warmer temperatures during the day and cooler temperatures in the evening. For example, wear a cute t-shirt, blouse or sweater (if it's cooler) but bring a second layer with you that you can pop over in the chilly evening.  I really am a huge fan of color in a wardrobe but when you are traveling you are limited on how much you can take.  Neutrals make the pairing down process much easier.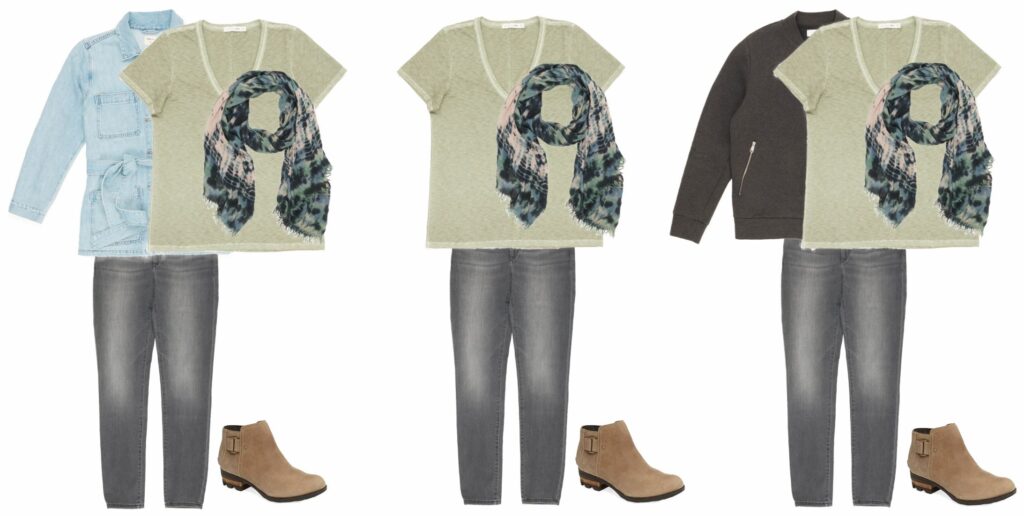 MORE THAN ONE PURPOSE
Try to give the pieces in your travel wardrobe more than one purpose.   For example, this Rag & Bone cold shoulder sweater will go with all three pairs of jeans and can be worn by itself or layered underneath a jacket when it gets chilly. Just by adding the black jeans and the black booties transformed this sweater from day to night.  We just created 3 outfits that take on very different looks with the same sweater! Yes, it is that simple!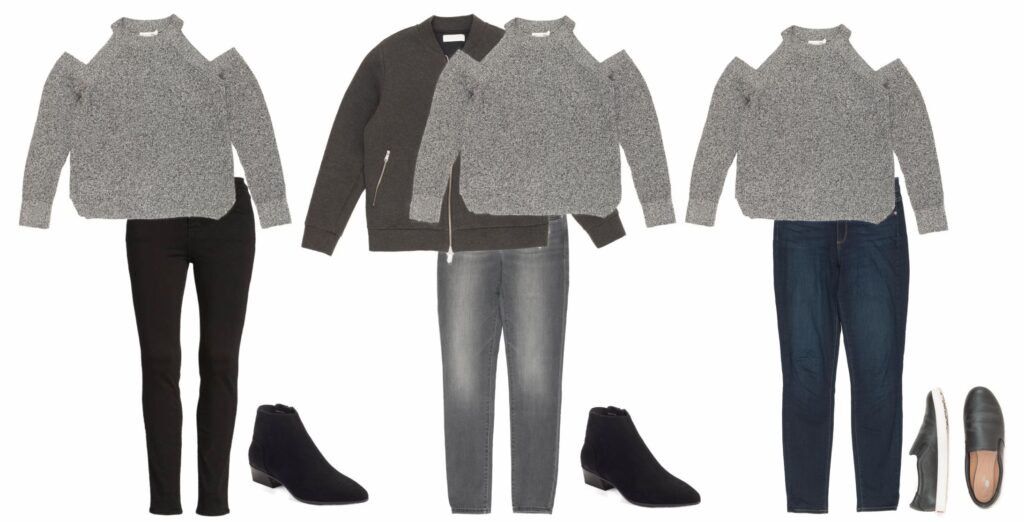 COMFORTABLE AND WEATHER APPROPRIATE SHOES
I know when traveling it is important to not only have comfortable shoes but for them to be versatile and cute as well.  SOMETIMES paying a little more for your shoes is worth the sacrifice of funds.  I think brands like Aquatalia and Sorel are great choices when it comes to quality and comfort.  If you pick the right style they are fashionable as well.  I love this Aquatalia Franca Weatherproof Bootie for lots of reasons. It can be worn day or night, be dressed up or down, and it's comfortable and looks sleek and pretty on the foot.  We paired these booties with everything from jeans to an evening dress.  The Sorel Waterproof Booties (linked to different color, original one not available) are a great option for those days you will be doing a lot of exploring.  They are designed for activity and hold up well through all weather conditions.
My August travel post showed a New Balance tennis shoe she purchased for the trip. Once she wore it she decided it was not comfortable enough to take with her. This is exactly why I recommended in the last article for you to never travel with newly purchased shoes without breaking them in first! You may discover, like she did, that they were not as comfortable as you initially thought. Instead of the New Balance she chose a Dr. Scholl's Scout slip on black sneaker. This sneaker is not expensive and provides an exceptional amount of padding which makes it super comfortable.  I loved this option because it is in style and works well with everything she is bringing except the evening dinner dress.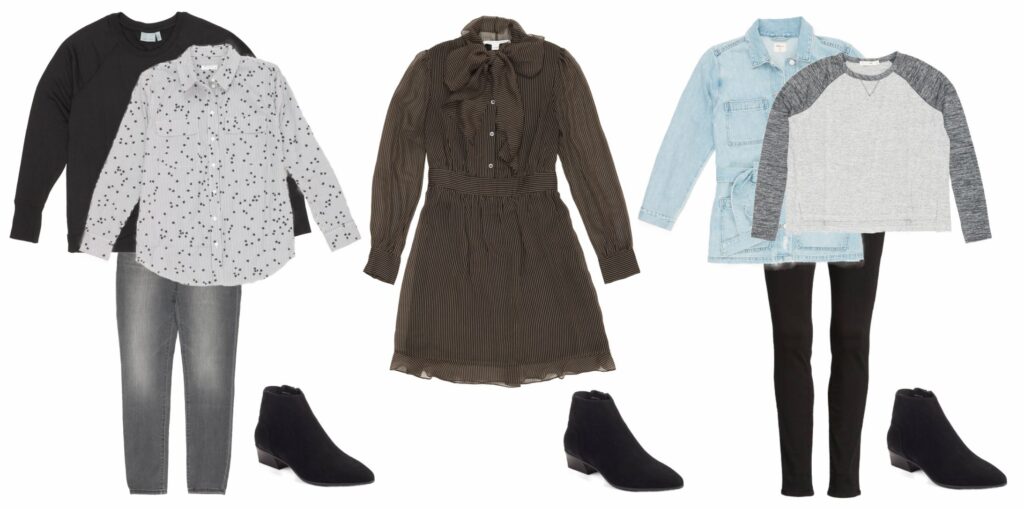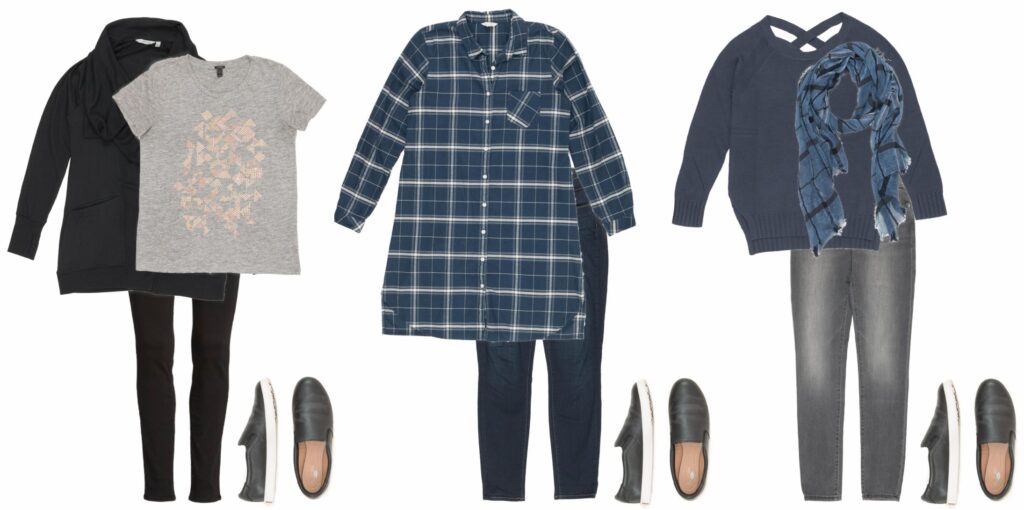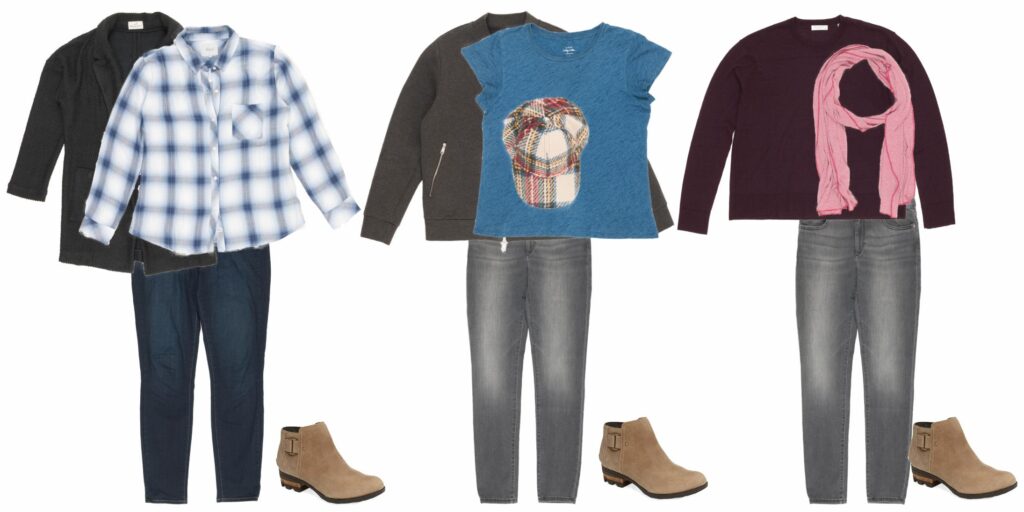 MAKE IT YOUR OWN
I feel like I read articles like these all the time that give you specifics on what clothing you should use for travel.  Honestly, it is important that You Do You.  I have a sign in my office that reminds me of this every day. You are the only YOU and remember this fact when you are building your everyday and travel wardrobe.  If you are traveling outside the country I do think it is a good idea to check the culture and make sure you don't wear anything that could be offensive. Other than that, pick things that you will be comfortable in, show your personality and will work together. The purpose of showing you these pieces is not for you to go out and buy them, but to show you how we mixed and matched all of our pieces and made a capsule wardrobe worthy of traveling in! I have added a few more outfits at the end to make sure I used all the pieces in her wardrobe! HAPPY TRAVELS!