Hey ladies! I am writing a quick post on what I recommend to wear over a cocktail dress. I had a client that struggled to find something to keep her warm when she was going to cocktail parties.  Well, I know that most women are cold ALL THE TIME so  I decided that other woman may need a solution for this as well.  I like solving these types of problems for people, so if this is you too then please keep reading!


A simple pashmina is a great solution to cover the arms but is really not a great solution for warmth.  For those that need a little more warmth  faux fur, sequins and velvet are great solutions. These materials are considered luxurious and therefore work with dressier outfits.  Most of my recommendations are faux fur which is so incredibly popular this year.  Due to it's popularity you may want to consider purchasing one even if you don't need it this year.  Get it while you can girls!  Even though faux fur is super trendy I think this look is timeless when it comes to wearing it over a cocktail dress.
I highly recommend a capelet or crop jacket of some kind so you don't cover your entire beautiful outfit. I am recommending a longer velvet blazer because I do think with a certain dress or pant this could make a huge statement!   Most of the faux fur capelets shown below would go over any cocktail dress or pant outfit.  Also, stick to a neutral color, it will last you for years to come if you do.  If you have any questions or comments please leave me a message below!  I love hearing from you!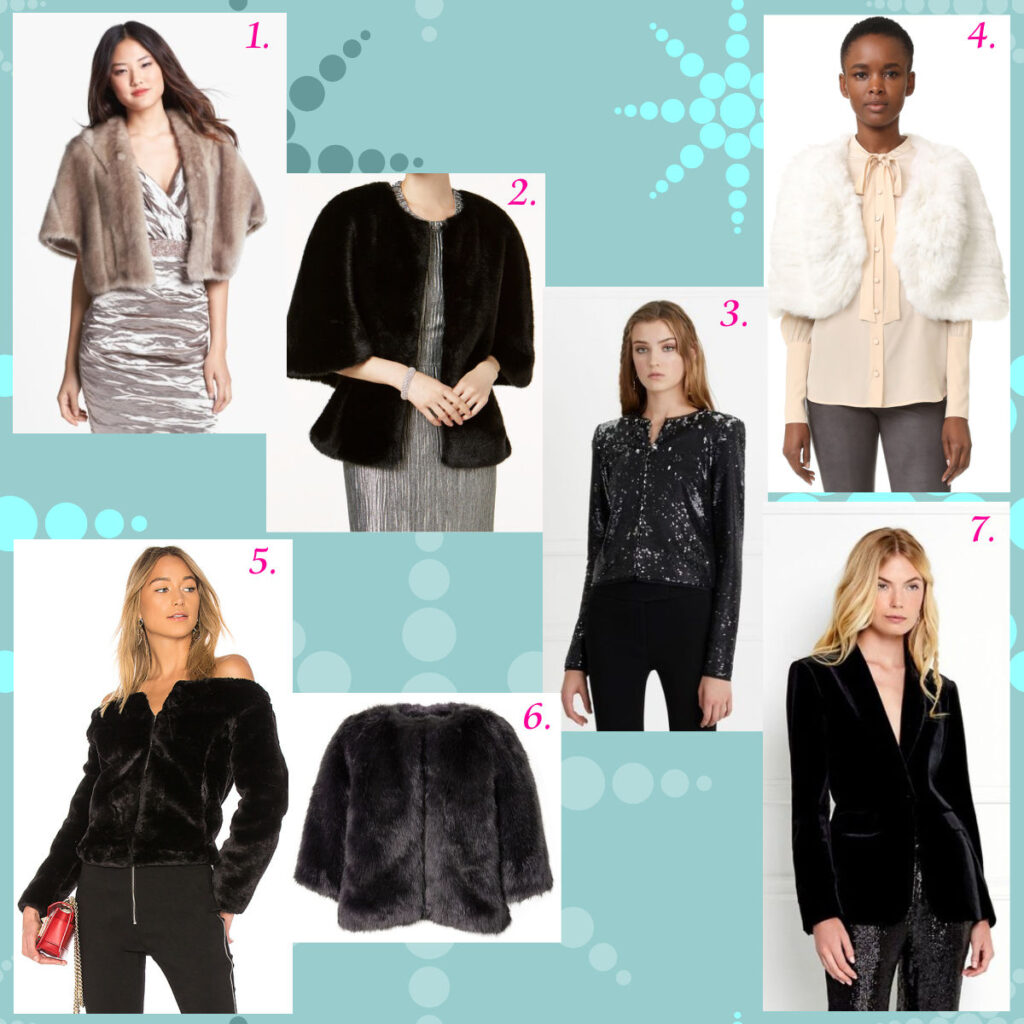 1.) Eliza J Faux Fur Capelet     2.) Adrianna Papell Faux Fur Wrap    3.) Rachle Zoe Rachel Zoe Dolly Sequin Jacket     4.) Adrienne Landau Knit Fur Capelet    5.) Endless Rose Faux Fur Jacket (LOVE this one)     6.)  Banana Republic Faux Fur Cape     7.) Rachel Zoe Rachel Zoe Eliza Velvet Blazer