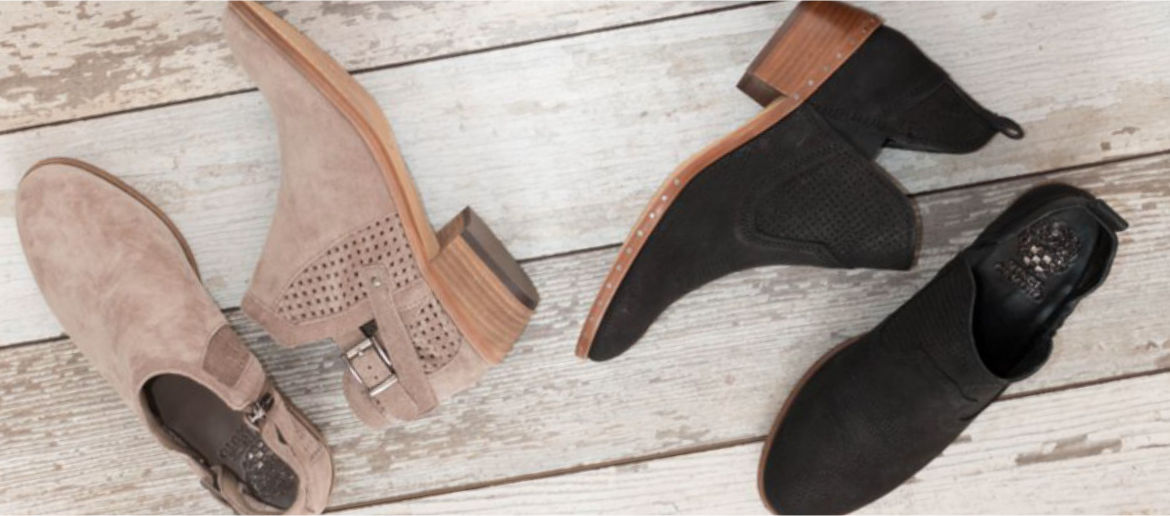 Hello Ladies! This week has gone by so fast and next week is Thanksgiving!! Who can believe it! I always tie my Designer of the Week post into what brand has been on my radar that week.  I just seems fitting to make my Designer of the Week about Vince Camuto since  I did an Instagram post on Monday that had two pairs of Vince Camuto booties in it that were purchased for one of my in-town clients!  Also, one of my personal favorite pairs of booties is by Vince Camuto  and I have used them in a ton of my flat lay photos!  So here ya go!
Vince Camuto was started under The Camuto Group in 2005 by the man himself, Vince Camuto.   He is also the founder of Nine West, which I thought was very interesting.  The Vince Camuto brand has grown into a very popular lifestyle brand and is known for it's high quality and high style.  They have more than  35 categories that embody this brand. The logo you will see on all the Vince Camuto products is the Camuto family crest! I thought that gave it such a personal touch and it gives the brand character, a sense of virtue and remembrance.
In 2012 Vince Camuto launched Two By Vince Camuto for ladies who are on the go and  want casual clothing for everyday life without compromising style.  In 2013 Vince Camuto's wife, Louise Camuto, launched her own brand called Louise Et Cie which is subtle and refined footwear, accessories and handbags.  Lastly, in 2016 Vince Camuto introduced Imagine Vince Camuto that is footwear designed for special occasions.
I am a big fan of the Vince Camuto footwear so far.  The booties that I own are very comfortable and I can wear them standing for long periods of time without them bothering my feet.  They are made with mostly leather uppers and either leather or synthetic lining and man made soles.  If I can find a boot that has a leather upper and leather lining I am sold!  The leather breathes better and your feet don't sweat as much (at least I think that anyway!).  If you struggle with finding shoes that fit well because you have narrow feet, definitely give them a try. Both my client and I have narrow feet and they fit us great and don't slip on the heel!
While writing this and going on and on in my head about the shoes I realized  I own a blouse by Vince Camuto.  It is one of my favorite blouses that I purchased last year and have worn it out! I actually purchased it at TJ Maxx and am always on the look out for more when I am there shopping but haven't seen much  in this brand lately. Of course it is available at many retailers like Nordstrom, Dillard's and Macy's.  The price point of the products are also very affordable, especially for the quality.
Check out the ones I have shown below. The bottom two booties in the picture (tan and black) are Vince Camuto.  I linked them below the picture along with the other cute ones in the photo if you are interested in those as well.  Hope you have a good rest of the week!  Lots of Love, Jamie
I will receive commissions from clicks or purchases on any of the links provided below.