I hope everyone has had a good week so far! Mine has been super crazy and busy with updating and adding a Shop My Instagram and Shop Currenly Loving sections to my website.  That has taken quite a bit of work to create! Whoo! I am glad I am mostly done. Now I just have to add things as I go.  In all that mess I kept avoiding writing this post! Not purposely but unintentionally would loose track of what I needed to be doing.  My husband keeps reminding me to be consistent and he is so right!  My goal is to keep on track with writing consistently even with other stuff going on.  So here ya go.  My Thursday weekly post of my Designer of the Week is going up on time even though I am writing this at 7:45 in the evening on Thurday! HA! I will eventually get time to write an arsenal of posts ahead of time but until then this will have to be what I do.
This week is another goody!  ATHLETA! How I love this brand!  The workout apparel and the "adventure" apparel they do are soooo good.  I have purchased lots of Athleta throughout the past few years and would purchase a whole lot more if I could.  What I love about Athleta is the price point, the quality and the design. The funny part about this article is that the idea to write about Athleta came from taking a photo for instagram with a pair of Athleta pants that I paired with a Lululemon jacket and Nike tennis shoes! I will post the picture because I am not afraid to mix brands in my athletic wear but I know some people will not.  There are certain things I like that Lululemon does (like their sports bra's) but Athleta is my go-to brand for my everyday workout and casual athletic clothing.
Most people know that Athleta is part of the Gap Inc. corporation and has only been around since 1998. Athleta specializes in high performance workout apparel that fits into a woman's everyday lifestyle and will take her from her workouts/activities into the daily grind. They take both beauty and functionality into account when making their designs and I believe that is very apparent. Everything I buy is incredibly cute, fits and performs well (I do work out in it as well) and great quality. As I think back to my purchases from a few years ago I still have them and wear them!
Althleta is not know for their discounts like some of the other stores under the same umbrella. They don't constantly have a 30% or 40% sale.  You are lucky to get 20% off at times. If you want something you should probably buy it when you see it because it may sell out fast.  They have staples that they keep stock of year round but otherwise you should just buy it. They also have seasonal sales but the really good stuff is usually gone before then.
When shopping at Athleta look at the numerous collections they offer.  I will usually start there and see which ones appeal to me.  For example with pants The Metro Collection is a favorite of mine because of the modern look and it fits me very well.  I tried The City Collection because I love the look but the fit was not great for my body so I just don't buy it anymore (although I wished I could because it's so cute).   If you find a collection that works you can usually fit into anything within that collection and that's why I make that suggestion.  The other thing to consider is your activity.  They have specific fabrics and fits that are better for certain workouts than others.  For instance if you need yoga or barre clothing your need will be different from someone who does hiking or crossfit.
I hope if you are a Lululemon fan, which I will stress again that I do like, I hope you will consider trying Athleta.  You will be surprised at how much you might like it!  If you are a fashion girl you will certainly like it because the designs are always so cute and on point with popular designs for each season. I personally love this brand and hope I have encouraged you to as well! Please give it a try, I dare you!
Like always here are some of my favorites that you can shop if you would like.  I will receive commissions from clicks or purchases on any of the links provided below.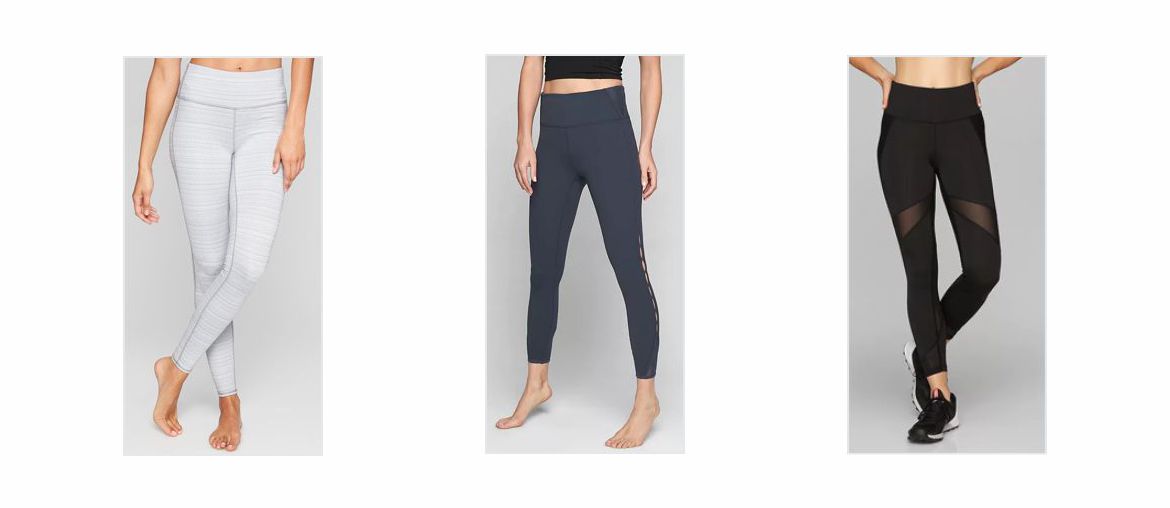 1. High Rise Charuranga Jacquard  Tight Slate Grey/White    2. High Rise Peekaboo 7/8 Tight Flint Grey    3. Stealth Mesh 7/8 Tight Black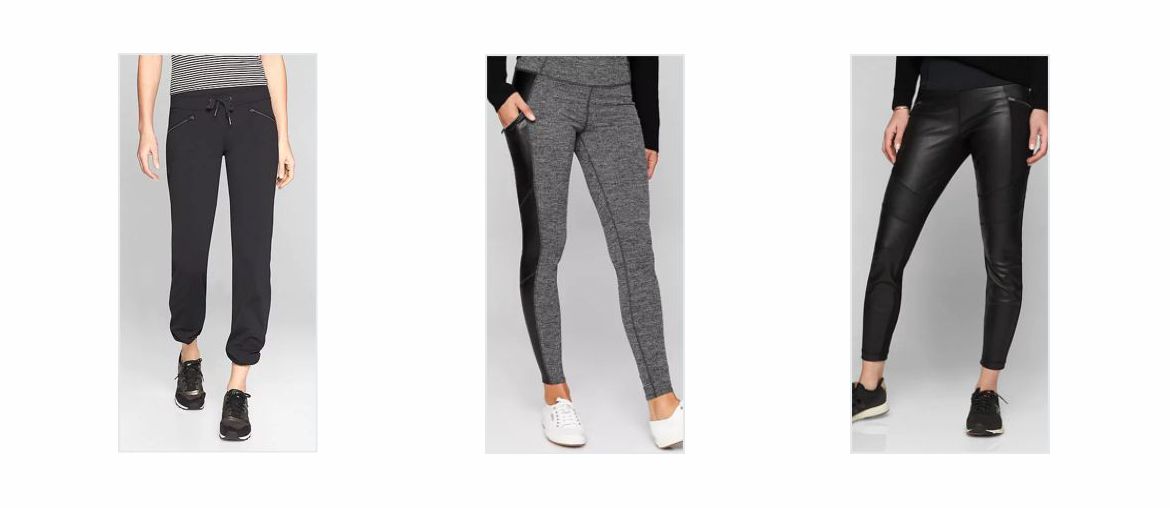 1. Metro Slouch Black-My FAV    2. Herringbone Luxe Metro Drifter Drifter Black    3. Ponte Leather Legging Black 
1. Cozy Karma Asym Pullover Oatmeal Heather     2. Wool Cashmere Ridgecrest Turtleneck Light Heather Grey/Foxtail Taupe    3. Criss Cross Sweatshirt Black- My FAV