I'm not gonna lie, this is my absolute favorite subject I have written about so far.  I am crazy about a good pair of booties, or several pairs for that matter! I am so glad short boots or booties have become such a staple in our wardrobes. The selections we have to choose from are numerous and can be quite overwhelming these days.  In saying that, I thought I would share some styles and colors of booties that I feel would be great additions to our fall wardrobes! Since I am completely obsessed with booties, you are going to see a lot of picks from me here (but not as many as you will find online or in a store)! And they are all reasonably priced (except maybe the Coach embroidered one – oops!). Choose your favorite; they are all my favorites!
The lace-up booties are not for everyone but are so darn cute! I featured one in my Designer of the Week: Joie blog post.  I did not feature that one again because I found one that was more reasonably priced for such a trendy item.  I know this style is available most fall seasons but this season we are seeing more of them and in materials like velvet! YES! The lace-up look gives your booties a vintage flare that looks especially great with dresses. I have to comment on the gray lace-up booties by Sam Edelman (letter b) because I fell in love as soon as I saw them! These beauties are made out of suede and the gray color is so dreamy!
We are also seeing faux lace-up booties (the lace-up is there for looks and doesn't actually function).  The one made by Sole Society is my favorite and has a great heel height and price, plus the color are very versatile.
If you do not prefer the lace-up, it has a sister, the crisscross strap.  I really love the ease and simplicity of the ones I chose below (letter a) by Sam Edelman.  The crisscross straps add some pizzazz to the booties without being complicated.  I think they can be worn with anything from a t-shirt and jeans to a skirt or a dress.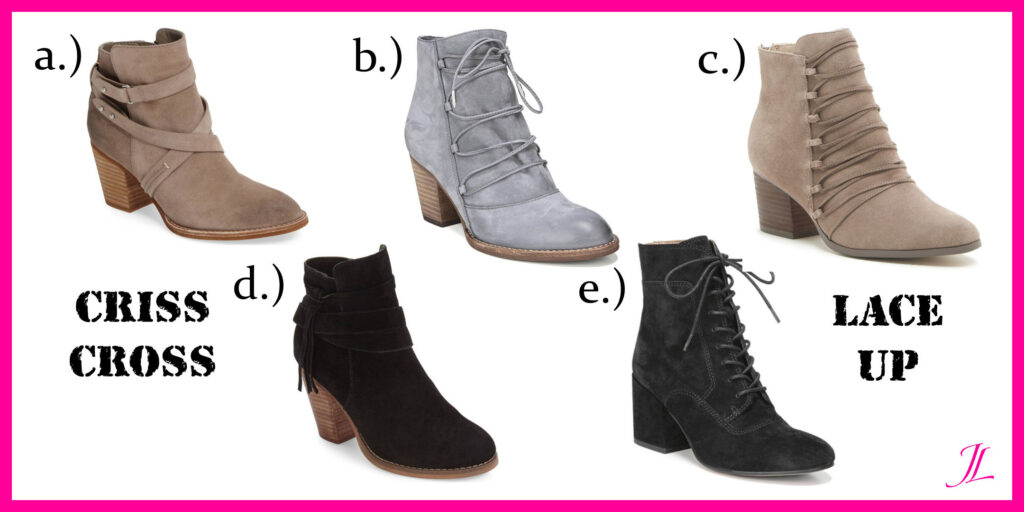 a.) Sam Edelman Merton Bootie  b.) Sam Edelman Millard Lace-Up Bootie  c.) Sole Society Bellevue Bootie  d.) Sole Society Rumi Bootie  e.) Franco Sarto Aldrich Bootie
The split shaft booties are another option with lots of personality.  They allow for you to easily slip them on and look great with skinny jeans.  You just have to get use to the fact that you can't wear socks with them; but you can wear a footie and it is not visible. They will also be cute in the fall with tights and dresses.
The cutaway booties definitely can NOT be worn with socks or footies. Due to this fact, I like this for a transitional shoe and think that it will pair great with your dresses as well as jeans and pants.
a.) Vince Camuto Fileana Split Shaft Bootie  b.) Vince Camuto Prasata Bootie  c.) 1.State Iddah Perforated Cutaway Bootie  d.) 1.State Asak Bootie
The next ones in the line up are these embroidered cuties!  This season embroidery is everywhere!!! On denim, tops, jackets, handbags and shoes! You just can't get away from it…jeez! In saying that, I do really love the boots I have seen with embroidery on them. They will make fun statement pieces in your wardrobe and keep you on trend if that is where you want to be. Have fun with them and don't be afraid to mix them with other prints as long as your colors in the prints match.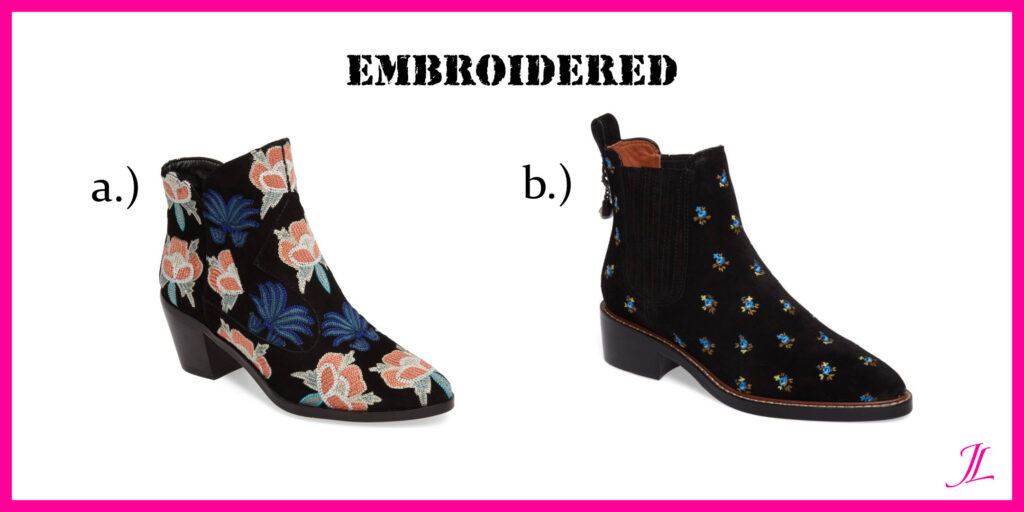 a.)  Rebecca Minkoff Lulu Too Flower Embroidered Bootie  b.) Coach Bowery Embroidered Chelsea Bootie
So, after all those cutie-pies there are still more choices!  The slouch, sock, embellished and bow booties!  Take your pick, they can all have a place in our closets!  You may have noticed I threw a camo print sock bootie in the mix. I just had to; it's my new print obsession for this season! Isn't it fabulous?!  Of course any of these lovelies presented in this blog could take center stage in your closet!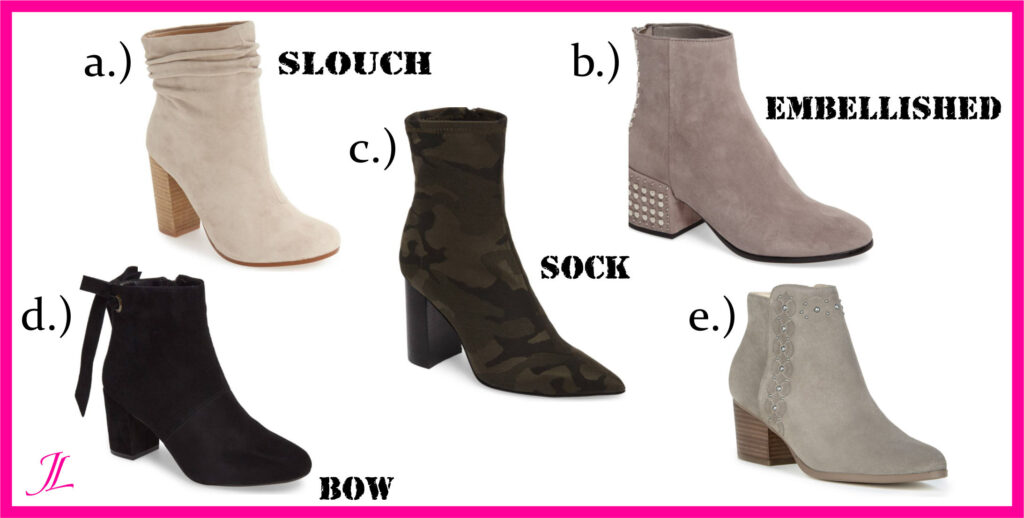 a.) Kristin Cavallari Georgie Slouch Block Heel Bootie  b.) Dolce Vita Block Heel Bootie  c.) Jeffrey Campbell Siren Bootie (sold out but available in animal print) d.) Sole Society Roxbury Bootie   e.) Sole Society Gala Studded Embossed Bootie