Hello again girlies!  My desire is to help women like you dress and feel better everyday of your life.  Having a great wardrobe can help bring out that confidence that is hidden deep inside you. We are all different and we should all be able to express that to the world. Since we are all different, I have a hard time telling woman they need certain things in their wardrobe without knowing what their everyday life looks like.  Your lifestyle and personality will dictate a lot of your wardrobe choices. You can have a powerful, functional wardrobe with just 15 to 20 pieces.  Whether you are a stay-at-home wife or mom or a corporate working woman, you can have a great wardrobe to suite your needs without spending thousands of dollars.
I am expressing these things to you because I was going to try to give you advice on a great fall capsule wardrobe for all woman but because of our differences I just don't think that would be very good of me.  So, I am going to write a few different posts for different lifestyle wardrobe choices.  I do believe no matter what lifestyle you have that you should build your wardrobe with mixing and matching in mind to maximize your outfit selections.  Just like we should not buy a kitchen appliance that just has one use; our selections for our wardrobe should be worn with more than one thing.
Well, I am glad we got that cleared up, shooo! So this article is going to be for the Casual Everyday Woman.  This woman is not in corporate america and has a casual work environment. She might have kids at home but might not.  She will have an occasional evening out and is involved in other activities.  Her wardrobe will be mostly casual but have options available to take her outfits from day to night.
There are 18 clothing and shoe options I have selected for her basic wardrobe. The accessories you add are up to you.  Scarves and earrings or necklaces will be great choices with any of these outfit options.  I always like to add in some fun optional pieces that make the wardrobe a little more fun, like a print blouse or another jacket or vest option.  These optional pieces are just that; OPTIONAL.  If you are not feeling it then this option is not for you. These are only examples for you to go by. For example, if you don't like the pleated style skirt, choose a neutral skirt that suites you better.  But I have provided a link for anyone that is interested in any of the items shown here!
Below you will find 24 outfits that I have put together with these 18 pieces. There are many more options for outfits that you can create with just a little imagination. Don't be afraid to try mixing things up.  Also, you can add black tights to some of your dress and skirt outfits.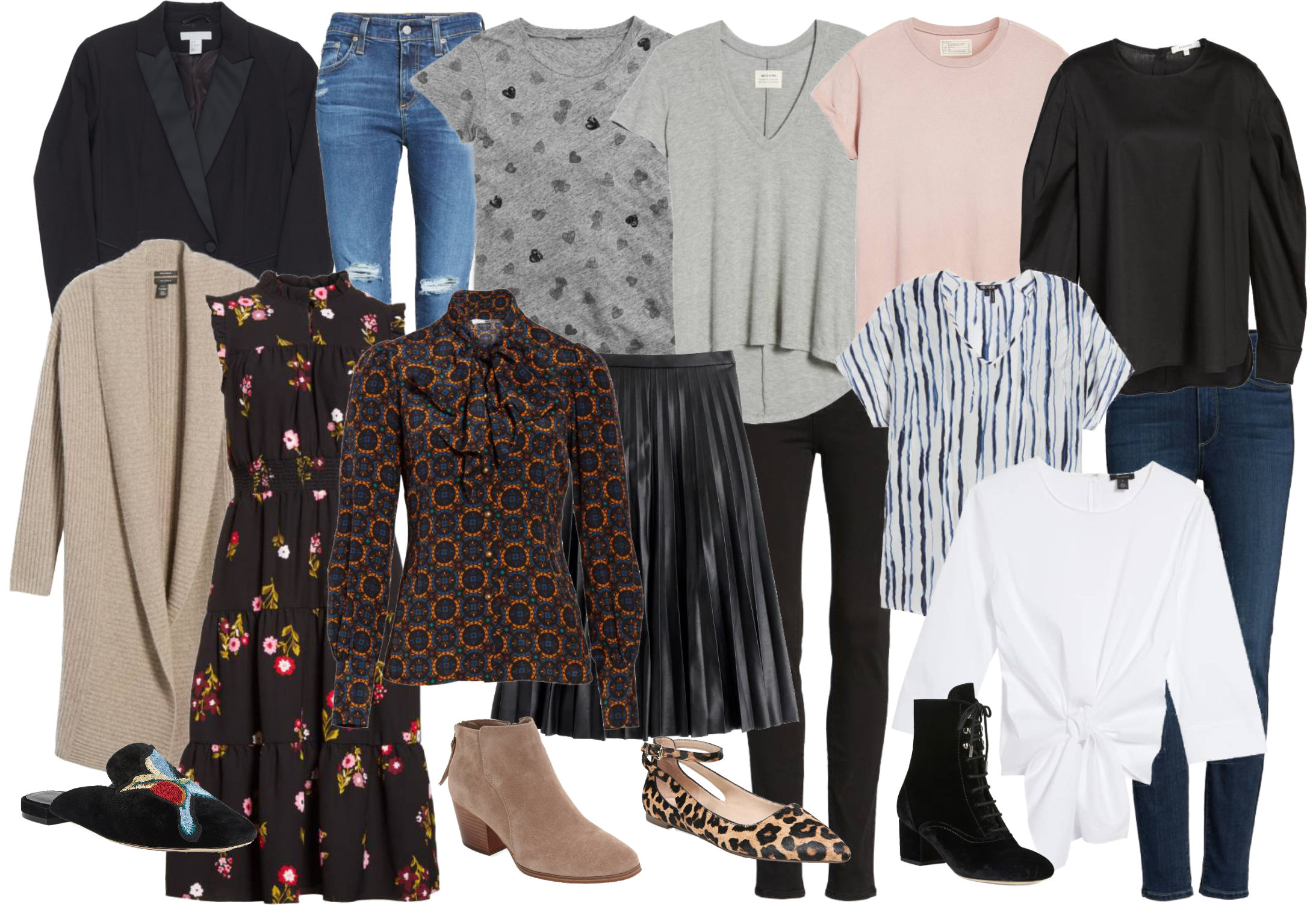 H&M Tuxedo Blazer , Halogen Long Ribbed Cashmere Cardigan, Kate Spade In Bloom Dress, AG The Farrah High Waist Skinny Jean, Tracy Reese Bow Neck Blouse, J Crew Heart Tee, J Crew Faux Leather Pleated Skirt, McGuire Ella V-Neck Tee, Current/Elliott The Rolled Sleeve Glitter Tee,  Pleione Bishop Sleeve Blouse in Black,  Nic + Zoe Fluid Ink Silk Blend Tee,  Halogen Tie Front White Blouse,  J Brand Maria High Waist Black Skinny, Paige Hoxton High Waist Ankle Skinny,  Joie Hummingbird Slide,  Sole Society River Bootie in Taupe,  Franco Sarto Sylvia Leopard Flat, Joie Yulia Lace Up Bootie