Although this spring season has been somewhat uninspiring to me, I managed to find some things that I think are super cute and great additions to your wardrobe.  I a.b.s.o.l.u.t.e.l.y love all the pink!  Blush pink is my favorite color in the world and it is everywhere this season.  My favorite new piece that I have added to my wardrobe is the blush pink jean.  It goes with just about everything in my closet from my t-shirts to my gingham button downs to my green military jacket.  This is a must have for all those fellow pink lovers out there.  The one shown below is an AG Jean but you can find them at many retailers like J Crew and Banana Republic.  Good luck on finding your size in stock though!
One of my favorite feminine touches for spring are ruffles! They bring the cuteness factor of an item up a notch.  But beware, ruffles can soon become overwhelming when placed improperly on an item, so just a touch of ruffle to the sleeve or waist can add a cute feminine detail that is meant to flatter. The frilled top and jacket below from Zara are just the right amount of ruffles to make them irresistible.
Another detail seen on shirts, dresses and bottoms for spring is embroidery.  I don't need to go into detail about this because you either love it or you don't. The blouse below from Zara is not only embroidered but it is also gingham, which I absolutely love and think is a great combo!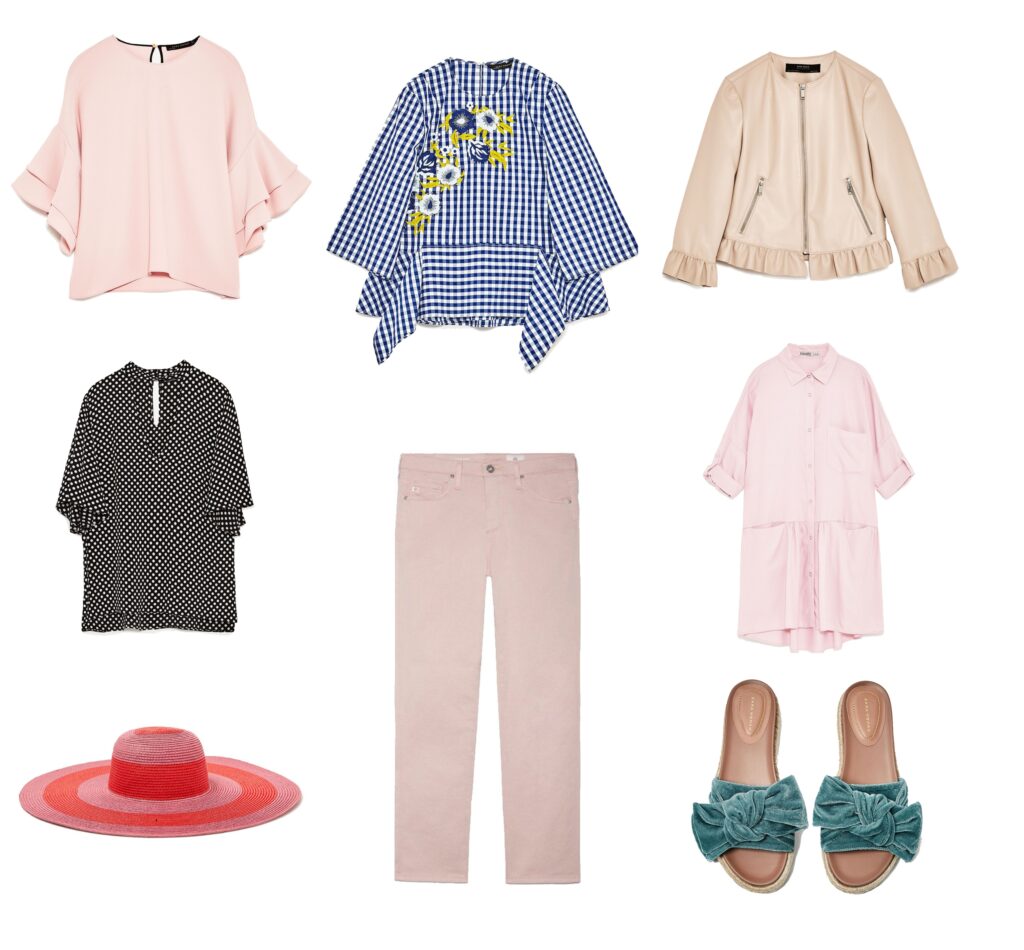 I would like to talk about the sexy choker top that you are also seeing a lot for spring.  I think this is such a great detail on a blouse or dress that elongates the body and can make you look a little more dressed up.  Put something like the polka dot blouse above (also from Zara) on with some skinny white jeans and a heel and you are ready for a night out on the town. For added sexiness put your hair up in a messy bun and wear a great duster earring!
A shirt dress is one of the easiest, no hassle items you could have in your wardrobe.  You can find them in plaid, gingham, fun prints and solid colors.  One of my favorites is this pink one from Zara that I would put on with my tennis shoes and call it a day. An added bonus of this one is that it has pockets as well!
To accessorize your outfits for spring don't miss out on the fun textures you will find in a cute floppy hat or some great velvet sandals! The hat does not have to only be part of your beach attire.  It is now a great option to accessorize your daily outfits for spring and summer.  The velvet sandal is definitely a unique item new to the fashion scene.  I was not sure about this at first but think the idea is a little quirky and fun!  That is what fashion is all about right!?