I have been wanting to talk about my favorite clothing item; blazers. The problem is, there are so many great jacket options other than blazers that I could not leave them out. The military or utility jacket, the bomber and the moto or motorcycle jacket are the trends for this fall/winter season. You will find options in one of these styles at almost any retailer.
The easy military or utility jacket.  Originally this was found in green and now you can find it in camo and lots of other colors. The ultimate color to buy is the green because of it's versatility. Not only is this jacket perfect for spring but makes a great layering piece for the fall.  This jacket is fun to throw on with lots of different outfits; especially ones that you want to keep simple and dressed down. This is especially cute worn over a dress or with at skirt. One of my favorite utility jackets is featured below and is from J Crew.
The bomber jacket is a new trend for 2016.  The number of options in bomber jackets is overwhelming and range from athletic bombers to nice suede or leather bombers.  In my opinion, this trend will be short lived but for this season it is a fun must have.  In saying that, shop for one that is reasonably priced and a neutral color.   My absolute favorite Bomber is from a store in Laurelwood called Sache.  It is a black bomber jacket with black sequins all over the sleeves.  Click the link to this November What to Wear article from StyleBlueprint to see it. This bomber would probably last in your wardrobe a couple of years because it is so cute.  You can dress it up with a skirt or dress or wear it with denim. You would rock this bomber either way.  I have shown a couple of other favorites below as well.
The moto jacket has been around for a few seasons.  You can find them in many different colors and fabrics. I own a moto jacket from Banana Republic in baby pink.  It is one of my favorite jackets and it's my favorite color!  I can dress it up with pants for work or throw it on with my ripped up jeans. This moto style jacket can take you from day to night in a jiffy. There is a very cute one right now at Banana Republic that has a ruffle on the collar!  What a great way to add a feminine touch to a masculine motorcycle style!
I am always on the look out for a great blazer or jacket to add to my collection.  If you are new to the blazer and jacket scene than you will have lots of great options. I posted some of my favorites blazers already in my previous post; Ten Essentials for Fall. Below I have added another tuxedo blazer that is great for the upcoming holiday season. I have also included other really cute jackets to choose from. No matter what you choose you will look fashionably put together with one of these choices as your outfit-enhancing topper!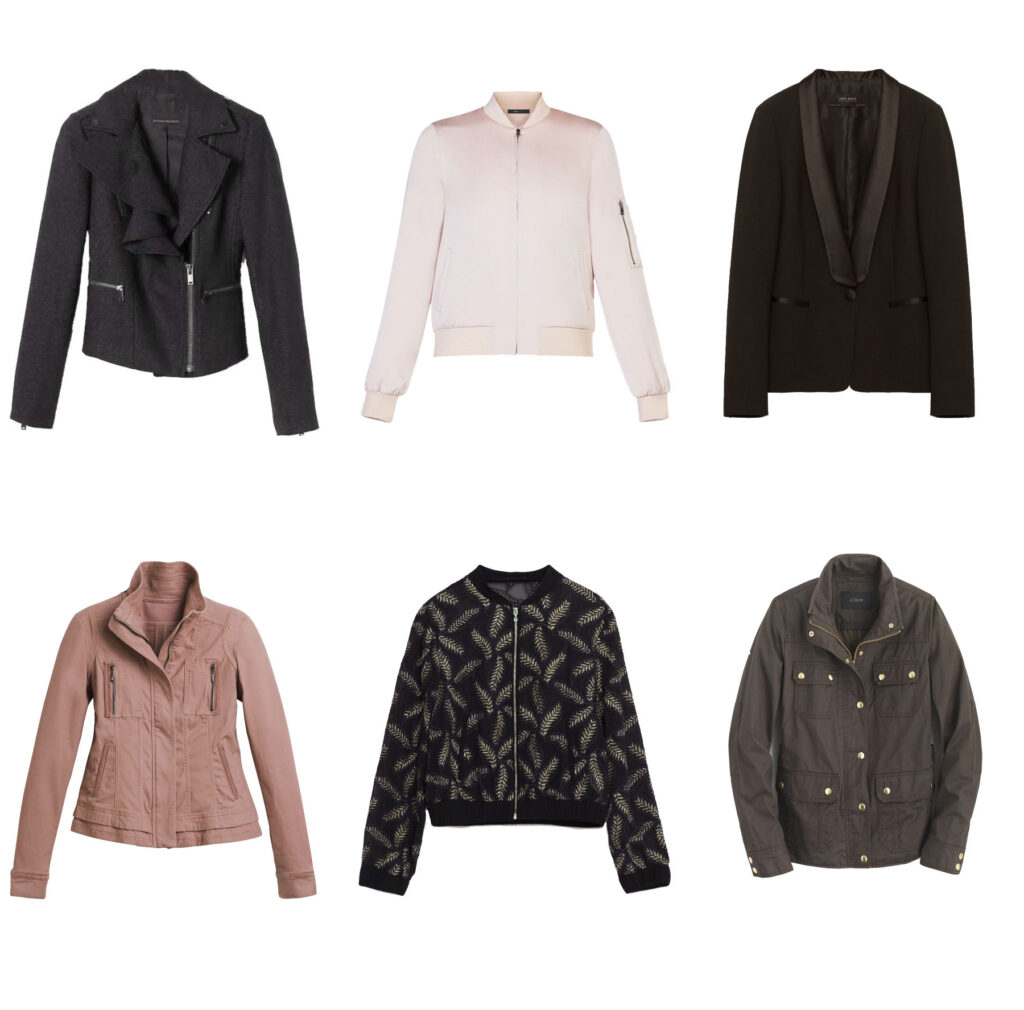 From Left to Right: Banana Republic Flounce Moto Jacket, BCBG Sammy Satin Pink Bomber,  Zara Tuxedo Blazer, WHBM Washed Mauve Jacket, Zara Gold Leaf Sheer Bomber Jacket, J Crew Utility Jacket