Fall is my favorite time of year and I love to be bundled up in fall clothing.  A fall wardrobe can have so much more depth than in the hot summer when all you want to wear is pretty much nothing! The things that bring depth to our outfits are the layering pieces like sweaters, jackets, scarves and boots!
There are some essentials that I feel everyone needs in their wardrobe for the fall season. With the crazy Memphis weather you never really know what you will need and when you will need it. It is just best to be prepared. Some of the items I chose can be used as layering pieces.  The greatest thing about layering is that you can take a layer off if you need to.
So, essential number one is of course the Blazer! I call this a Topper. It will be the last piece that ties your outfit together.  Everyone needs a good looking blazer and in whatever color they choose. I have multiple black blazers but also have navy, pink, purple, white and camel!  You can never have too many because they can always be that piece that pulls everything together.  If not a blazer, replace it with a cute jacket like a moto jacket or even a vest.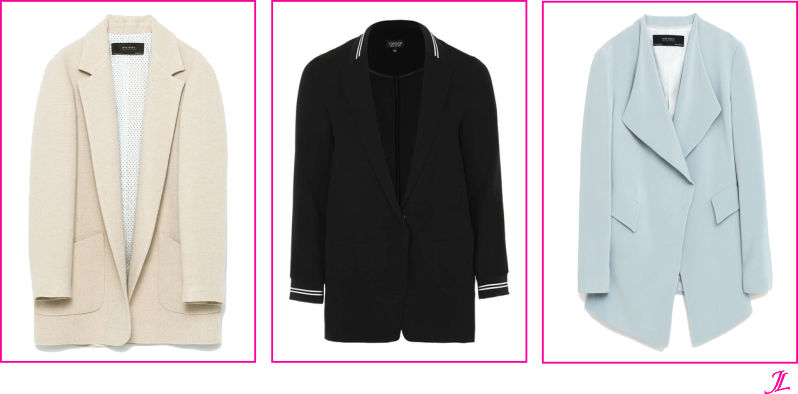 Zara Light Camel Long Blazer, Topshop Sporty Stripe Blazer from Norstrom & Zara Flowing Crepe Blazer in Blue/Grey
 A skinny black jean.  This can take you almost anywhere. It is great with heels, flats, tennis shoes or boots. I went last fall without this item and it frustrated me dearly.  This is one of the first purchases I made for this fall and will be living in them!
AG Farrah Skinny Black Jean & Banana Republic Skinny Black Ankle
A pair of flare jeans.  This style is tending right now and is flattering on almost all body types.  You will want this option on those "fat" days when the skinny jeans just aren't cutting it (by all means we all have those days, right)! Look for a higher waist style so you can either tuck shirts in or wear a shorter (not crop) style top with them.  You can layer the tops with a blazer or jacket of course. They also look great with a structured sweater.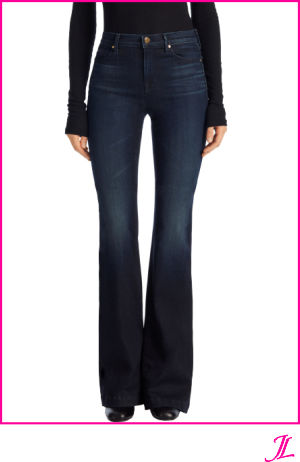 J Brand Maria High-Rise Flare in Innovation
A great pair of booties. Or two!  A neutral pair of booties like black, gray or tan will give you lots of outfit options in your fall wardrobe.  They can be worn with skinny jeans, flares, dresses and skirts.  This can be your go-to shoe for almost every casual outfit.  To stay on trend this fall season you should choose one with a block heel.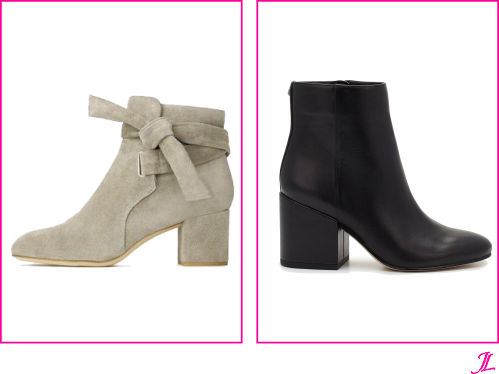 Rag & Bone Dalia Boot in Stone Suede & Sam Edelman Taye Heeled Ankle Bootie in Black
The tie neck blouse.  This can be worn by itself with jeans, dressed up with pants or layered under a dress, sweater or blazer. This is such an effortless wardrobe piece that you will want for those days that you just don't have time to put something together.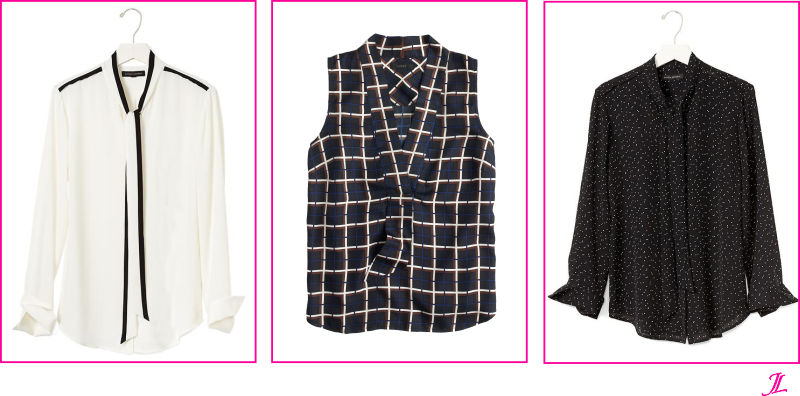 Banana Republic Tie Bow Blouse in Cocoon , J Crew Silk-Twill Top in Windowpane & Banana Republic Dot Print Tie-Blouse in Black
A great pair of versatile dress pants. Depending on your wardrobe, choose a color and style that will pair well with your blouses, sweaters and jackets.  My choice is always black because it goes with just about everything I own.  Maybe even a gray.  If you have clothing that has brown in it I would choose a camel or taupe colored pant. The style you choose should be the style that fits your body the best.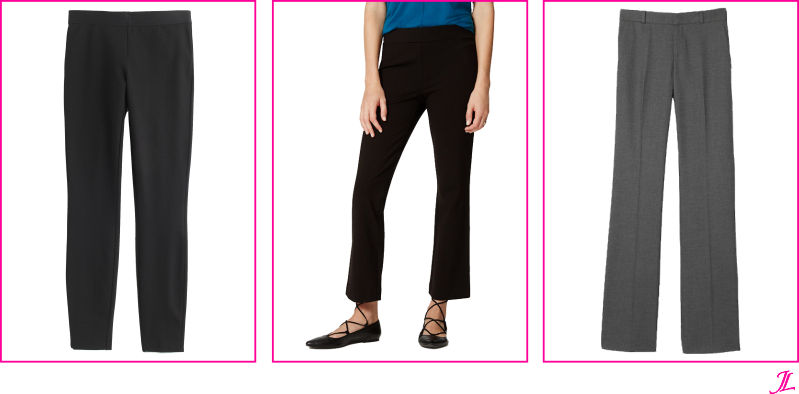 J Crew Pixie Pant in Black, Loft Ponte Kick Crop in Black & Banana Republic Logan-Fit Luxe Brushed Twill Pant in Dark Charcoal
A dress that can take you from day to evening.  This season the slip dress is very popular and I am in love with the one that Nic & Zoe made that is a maxi slip dress.  This could take you anywhere this fall depending on what you decide to pair with it.
Nic + Zoe Slip Dress in Black Onyx
An effortless sweater. For those crisp fall days that you just feel like being cozy by layering on a great sweater.  The options below will look great with just a camisole or a cute blouse layered underneath.  Wear them with jeans, pants, a great legging or even over a dress.
Madewell French Quarter Pullover Sweater in Pink Awakening, Zara Sweater with Front Tie in Ecru & Zara Round Neck Sweater in Gray Marl
Fall outfits would not be complete without an accessory, and the scarf is the perfect one!  It is hard to wear scarves in the spring/summer in Memphis because it gets so hot, so I always look forward to wearing them this time of year. The trend for this year is the square silk scarf.  I like this pretty feminine look mixed in with all the masculine menswear styles.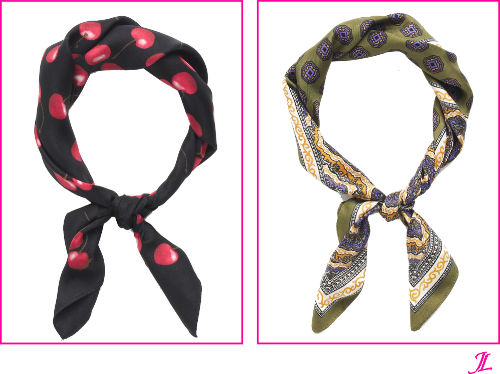 J Crew Italian Silk Square Scarf in Cherry Print & J Crew Italian Silk Square Scarf in Geometric Foulard
The fun slip on sneaker! I am in love with the sneaker trend!  My style is pretty sporty so when this trend became popular I jumped right on it.  I was always that person that wanted to wear my sneakers everyday anyway! The slip on styles are so effortless and a tad bit more flexible than the lace up version for what you can wear them with. There are lots of options out there but these are two of my favorites.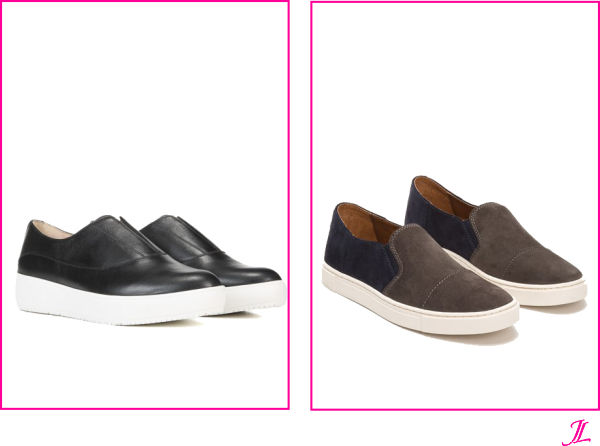 Dr. Scholl's Blakely Slip On Sneaker in Black & Frye Gemma Cap Slip On Sneaker in Smoke Multi
These 10 fall essentials are not the only pieces you need to have in your wardrobe but are important pieces to help you build the perfect wardrobe. If you start with these pieces you can add others and mix and match to create a wardrobe with endless possibilities. You should also be able to mix and match them with what you currently have in your wardrobe.